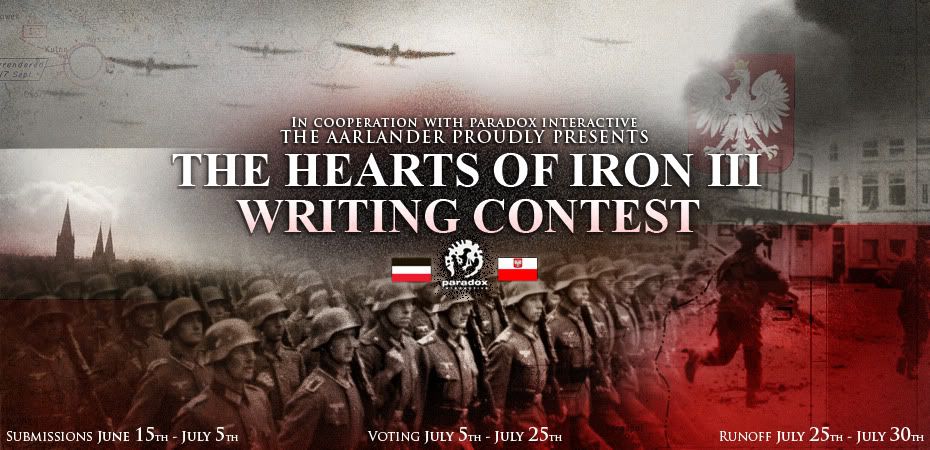 ​
The year is 1939.

An Austrian upstart has grabbed control of Germany and is prepairing to steamroll Europe. It is a time of turmoil and....... Wait a minute. I am not the one going to write this story. You are!​

First prize: a HOI3 hardcopy signed by the entire development team!
(yes, the winner will be the proud owner of Johan's autograph on the sleeve of his HOI3 copy)

Four runner-up prizes: Gamersgate download version of HOI3


So, sharpen your quills, write like you never did before and be prepared to cancel your HOI3 pre-order!




​
Contest timetable​

~ The deadline for the contest is July 5th. You will be able to post and edit your submission into the main Contest-thread (AARland main forum). July 5th 24:00 GMT the thread will be locked and the voting will start early the subsequent morning.

~ The voting will take place in the AARland main forum from July 5th. Everyone is allowed to pick his favorite three stories and cast their votes.
You will be able to choose a maximum of three stories* The first round of voting will close on the 24th of July.

~ A second round will be held from the 25th to the 30th of July. In a poll you will vote your favorite from a top five and decide who will get the much prized signed copy of HOI3. The five winners will have a weeks time to cancel their pre-order of HOI3.

~ The final winner will be announced and his story will be published in its full glory in the August edition of the AARlander.
* No extra weight can be added to a vote by voting for a single story. The order of voting doesn't matter and you are not allowed to vote for the same story two or three times.
Contest rules​

The rules are simple:
~ Look at the screenshots supplied below. Write your own story based on these screenshots (you don't have to use all of them and are allowed to use any other HOI3 screenshots or grapics or edit the supplied screenshot in whichever way you think best).
You can write about the events leading upto the events depicted, the events of these screens or the events which followed. Don't worry about niggling details, worry about writing a good story. Let your imagination run wild!

~ Use between 500 and 1500 words and let your creativity and writing skills go wild!

~ Post your submission in this thread (AARland main forum) before July 5th 24:00 GMT.

~ You are allowed to edit the story as many times as you like before July 5th 24:00 GMT.

~ You are only allowed to enter the contest with ONE AAR.

~ Since it will be done through free voting, everyone, including contest staff, moderators, etc are all eligible to join the contest and vote.

~ A writer is NOT allowed to vote for his own story.

~ Advertising your story is only allowed in the main commets thread (do NOT make any new threads or post in other threads about your entry).
When telling us about your AAR DO NOT SPAM . Use common sense and NO BIG FONTS .
You are FREE to use IMAGES as ways of telling us that your AAR entry is there but use common sense in those images and DO NOT spam us with images . Use ONE image as a main title image if you want to tell us about your AAR in here and try to limit the number of SMALLER images in this thread.
Inkwell and signature are fine as long as they follow forum rules

~ The five winners of the first round of voting will have to supply their email and home-adress between the 25th of July and August 3rd by PM to either Singleton Mosby or canonized. Paradox will ship the prizes on August 4th.


​


Please don't discuss the contest, it's rules or the screenshots in this thread! For comments and speculations we would like to refer you here.

If you have any questions please feel free to contact Singleton Mosby or canonized. We'd like to thank Johan, Susana and the entire Paradox staff for allowing us to run this contest and for graciously supplying the prizes, their time, and for making such great games. Thank you also to TRP for creating our cover.

​
​
Last edited: