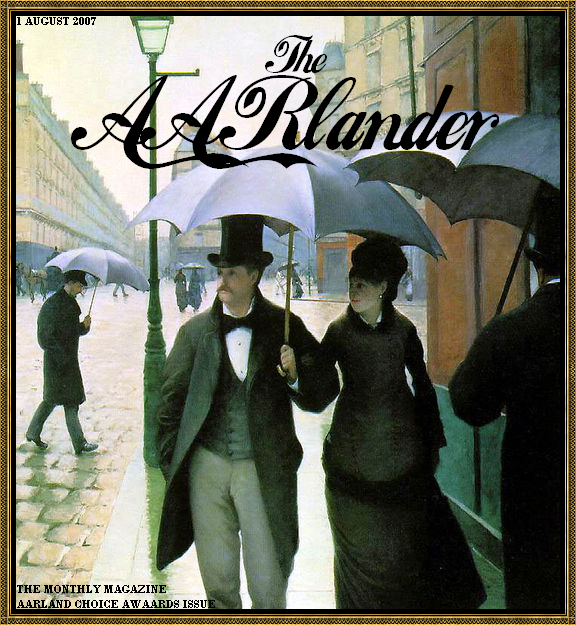 Editor-in-Chief:
anonymous4401
Assistant Editor:
canonized
Columnists:
Estonianzulu, phargle, Phoenix Dace
Contributing Writers:
Volga
Code:
[b]CRUSADER KINGS[/b]
[anchorlink=2][b]Inside Phargle's Head:[/b] Am I Imagining Things?[/anchorlink] by phargle                                 Post 2
[b]EUROPA UNIVERSALIS[/b]
[anchorlink=5][b]Triple Threat:[/b] EU3 Gameplay AARs[/anchorlink] by anonymous4401                                        Post 3
[anchorlink=6][b]Classic Review:[/b] Why Texas is a Fundamentalist Christian State[/anchorlink] by anonymous4401           Post 4
[b]VICTORIA[/b]
[anchorlink=8][b]History:[/b] The Plight of Poor London[/anchorlink] by Volga                                              Post 5
[b]HEARTS OF IRON[/b]
[anchorlink=11][b]Exploring WWII:[/b] The Brandenburgers[/anchorlink] by Phoenix Dace                                       Post 6
[anchorlink=12][b]The Evolution:[/b] Exodus[/anchorlink] by Estonianzulu                                                    Post 7
[b]AARLAND[/b]
[anchorlink=14][b]News:[/b] AARland Choice AwAARds 2007Q2 Results[/anchorlink] by anonymous4401                             Post 8
[anchorlink=15][b]You've Been Canonized!:[/b] El Pip[/anchorlink] by canonized                                              Post 9
Welcome to the AARlander!

by anonymous4401
​
To this, our historic second issue. We have far less articles for you this month, a fact that I blame entirely on you, the reader, for not sending any in. The AARlander runs on the blood of the community, its gears greased by the effluvia extracted from grinding them underfoot. We need, always, more articles, so send them in!
In this month we have for you another article in phargle's monthly column. In what will be the crown jewel of this month's issue, phargle talks about the details we fill in our heads as we play these Paradox games and how they affect the game and AAR writing. We also have two anonymous4401 reviews, which is actually four reviews, with the debut of
Triple Threat
, a three-for-one review that this month deals with three EU3 Gameplay AARs,
Tyrone: The Big Red Hand
,
Anhalt!
, and
Remedial Administration 152 - Ethiopia
. He, by which mean I, also reviews
Why Texas is a Fundamentalist Christian state, and other tales from Al-Andalus
, a Classic AAR that is from 2002 and 2005
at the same time
. Then we have the only article from a guest writer this issue, a History article on the Plight of Poor London written by Volga. Then we welcome our newest columnist, Phoenix Dace, with his debut article of his new column
Exploring WWII
, where he will be exploring the lesser-known facets of WWII, this month the Brandenburgers. We also have another article in Estonianzulu's column
The Evolution
, which will talk about the introduction of Hearts of Iron as well as other games and the impact they had on AARland's early community. And then we have an article that is the only article that many of you will read, unfortunately, and that is the results for the ACA 2007Q2. And to cap it off we have another interview from canonized, of AARland writer El Pip.
And remember what I said about The AARlander and its favored lubricant! Send in new articles or else you will continue to have light issues like this one. Just send a PM to me with your idea, and even if you don't have any idea but can write one, just PM me that and I'll give you an idea! And actually do it this time, you ungrateful sods. Don't forget to comment in the
discussion thread
.
Last edited: