The 1948 Arab-Israeli War , version 1.1.
This is a little battlescenario I've made, dealing with the war that ensued after the formation of Israel. It took me a while to complete, as I worked out the intricacies of modding HoI2, and it's very short in duration, since it begins in 15 May 1948 and ends in 24 February 1949, while the belligerents are all micropowers in regards to their ICs, but I hope it will provide some entertainment.
I've taken care to create a completely vanilla-friendly scenario, for HoI2, Doomsday and Armageddon. No game files are overwritten at any point, and there is no effect on the actual game, apart from the addition of the new scenario. Due to HoI2's hardcoded time limit, I made a separate version for it, where all events are shifted to the past by two years. So in the HoI2 version the war begins in 1946 and ends in 1947. I've also changed some ministers who only become active after 1947.
Here is a screenshot of the scenario selection screen, where you can also see the map and belligerent nations: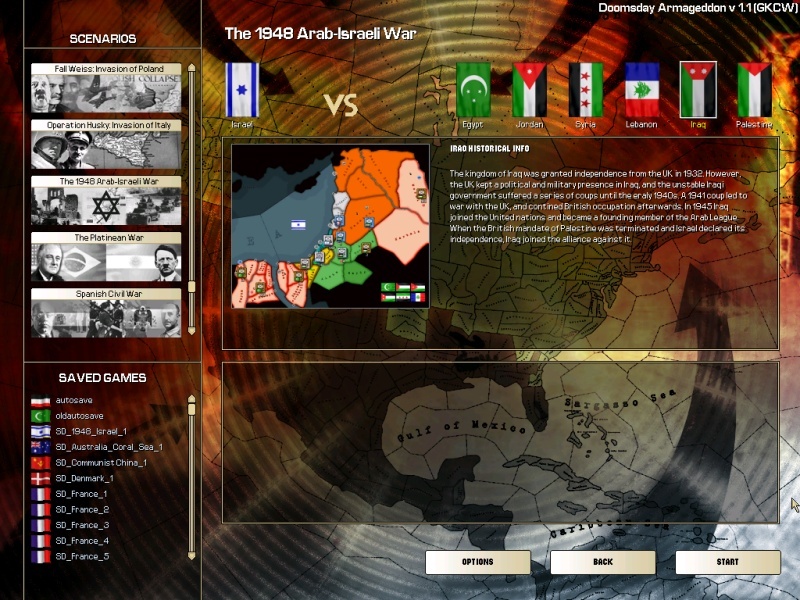 Downloads:
Here is the scenario for Doomsday/Armageddon:
View attachment Palestine_1948_DD_Arm_1_1.zip
and here is the same scenario for HoI2, adapted for the earlier timeframe (the war begins in 1946 instead of 1948):
View attachment Palestine_1948_HoI2_1_1.zip
In each case, copy the contents of the zip to [your version of HoI2]\
It should appear as a selectable scenario when you launch the game.
No game files are altered or overwritten at any time. Both zips are about 266kB in size.
Changes in v1.1:
- Renamed some Israeli divisions.
- "Beaufighters" event now activates a CAS squadron for Israel.
- Added one point of IC and some population and resources to Egypt.
Last edited: