Second Lieutenant
59 Badges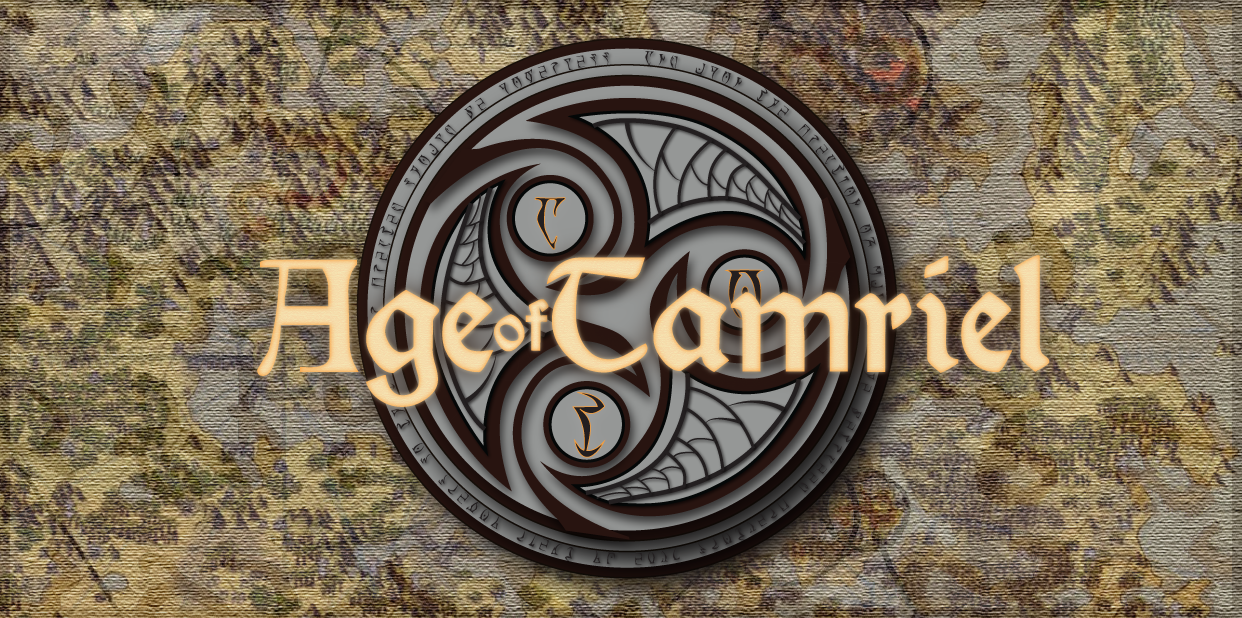 This will be the main thread concerning the progress on my Tamriel mod. A project that will add the world of The Elder Scrolls to Age of Wonders 3 as previously discussed in the old AOW forum thread
here
.
The discussion thread on the Steam forums can be found
here
.
It's been in the workings for about a year and a half now and, bar some recent issues, has come a long way. This is both a recourse and a giant addition to the game. The aim is to make it fully compatible with the vanilla game (and modifications to it).
Current WIP image of the World map:
So, here's what's going on:
Main features:
All 10 races of Tamriel fully playable with unique visuals, abilities and units according to lore.
At least 2 XXL maps of the Tamriel continent (almost twice the size of a vanilla XL map)set in different Era's. Currently a TES IV: Oblivion (end of E3) and TES V: Skyrim (E4 201) maps are planned with the basic map in its final stages.
Unique world structures such as inns, tombs and ruins.
Location specific custom enemies. You'll find Frost Trolls, Sabrecats and Snow Wolves in the high north, Naga's, Swamp Leviathans in the Blackmarsh and all types of ancestral undead in their corresponding resting places.
A rudimentary faction and religion system. Units and heroes can be members of guilds and political groups or follow specific religions. The available religions and factions will be dictated by Era, race, chosen racial governances and such. The gameplay impact of it all will, in most cases only be morale based (although religious feuds will play a more active role) as not to interfere too much.
Multi-level playing field. I wanted to bring the sense of exploration and vastness of the world that the TES games bring into the project. As such the maps feature known mountain passes, tunnel systems, caves, lost cities and vales and other places of mystery to explore and be wary of. This will provide both challenge as well as wiggle-room in scenarios where borders are set from the start.
Unique recruitable units based on locations. At the moment every city has their own Guard units. Some cities have local local Knigtly orders. Based on chosen religions, specific priests are recruited at temples. This includes Aedra, Daedra and local deities like the Almsvi. Every region will have apropriate units roaming about: the reach has forsworn reachmen, te Rim has Renrijra Krin, Vvardenfell has Ashlanders, etc.
A-symmetric play. This is a thing I prefer and an inevitable part of the political landscape. E.a. in a E4 201 scenario, playing as a member of the Third Aldmeri Dominion will start you out relatively comfortably while playing as the Stormcloaks or Dunmer will have you on your back feet from the go.
Dependency on the Decodence Map Editor Content pack to help bring the world to live.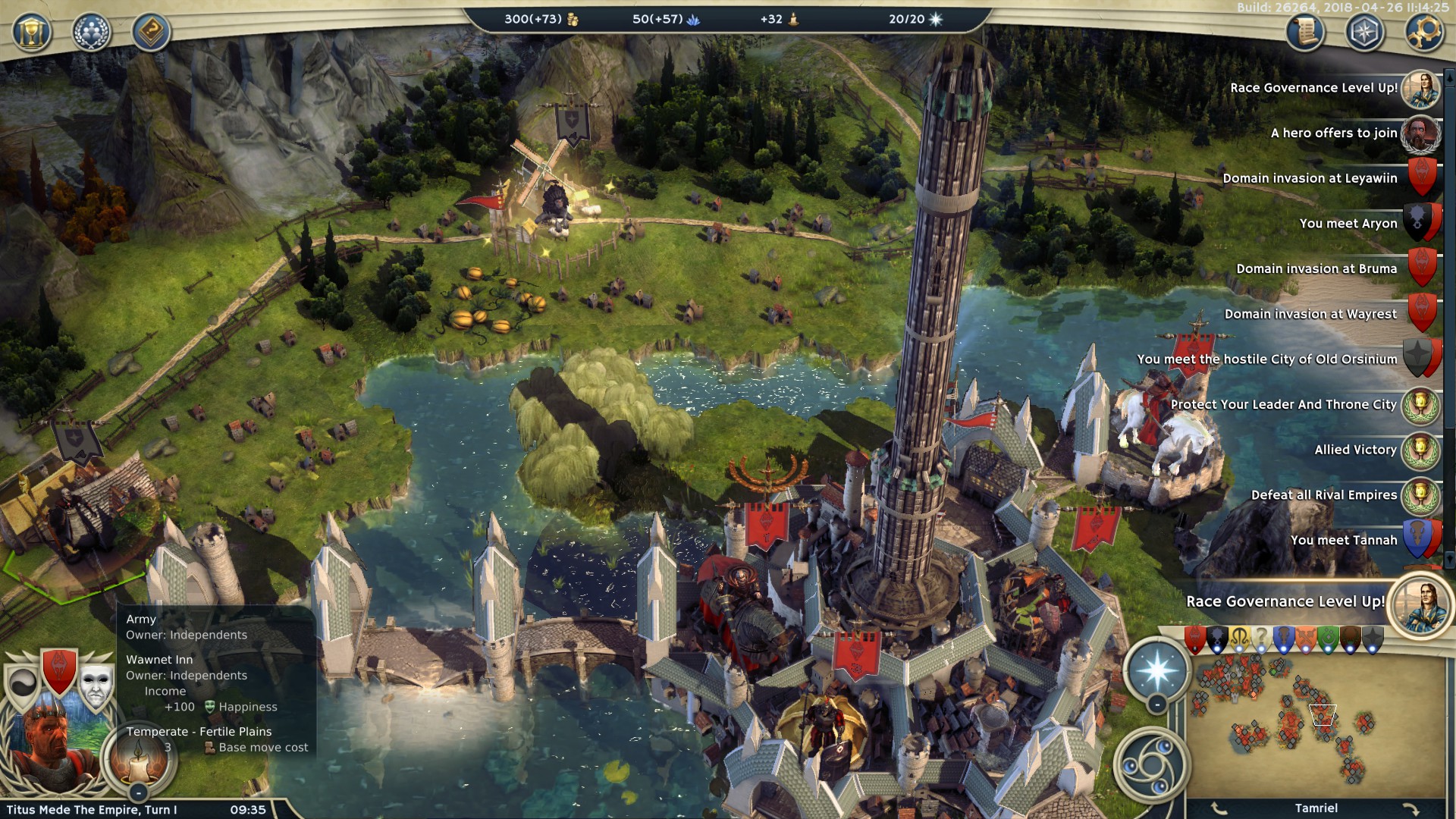 Planned features:
-A calendar adhering to the calendar of Nirn. This includes a proper constellation cycle.
-An enormous multi-surface level map of the planet Nirn with all known continents.
-Empire quests to hand out tiles and commemorate historic conditions.
E4 Year 201- Skyrim Map
This is furthest along and features the following playable factions.
-
The Empire
. Including most of Cyrodiil, and some of High-Rock. Allied with Skyrim.
-
Skyrim.
With The Empire as an Ally and control over its western Holds. Starts at war with The Stormcloaks.
-
The Stormcloaks.
In control of the eastern Holds. Starts at war with Skyrim.
-
Altmer.
Summerset Isles with Thalmor enclaves and camps on the main continent.
-
Bosmer
. Valenwood, allied to the Altmer and Khajiit.
-
Khajiit.
Elsweyr , most of the Pellitine cities and some of the Annequina holdings. Allied to the Altmer and Bosmer.
-
Redguards
, parts of Hammerfell, tbd. Either Crown, Forebears or Lhotunic cities.
-
Saxhleel
, in control of Argonia and some of the ex- House Dres strongholds.
-
Dunmer
, in control of most of the northern Morrowind mainland. Exluding VVardenfell and including Solstheim.
I have been dealing with health issues and ran into some work-stopping memory problems with the editor which have ground down the progress for the last few months.
With a big thanks for the help from Liberty Valance, Charlatan and Gilafron the files are now accessible again!
I will now be getting back into it slowly and am hoping to start the closed beta again soon.
I'll try to go more in depth on specific features in the near future and am hoping on some fresh views from people here. So by all means, ask questions, make requests!
Last edited: