First Lieutenant
84 Badges
After making WC as Afghanistan, Poland, Luxemburg and fast-run as Soviets (WC finished in 1942) I decided to achieve something REALY HARD - World Conquest as Tannu Tuva.
Tannu Tuva is a landlocked communist country with 2k manpower and 87k total population. It has 1 silly infantry division and almost no techs at start.
Historical Info: Tuva entered World War II with the USSR on 22 or 25 June 1941, three days after the German attack on the Soviet Union. A voluntary funding campaign in Tuva helped the Red Army in the fight against the Axis Powers. Additionally, Tuva despatched thousands of horses, skis, overcoats, and leather goods. On 11 October 1944, at the request of Tuva's Small People's Khural (parliament), Tuva became a part of the Soviet Union.
During the fight in Galicia and Volyn Tuvan cavalry made fear on enemy soldiers. A German officer G. Rehmke, captivated in January 1944 in the battle of Derazhnya (now Volyn region of Ukraine) said during the interrogation that his soldiers "unconsciously perceived these barbarians as the hordes of Attila "and lost all fighting capacity. It is known that in German circles Tuvan cavalry had the nickname "Black Death" (it. «Der Schwarze Tod»). This is largely due to the fact that tuvin soldiers, in accordance with their national military notions of ethics, basically did not take prisoners.
I failed more than 20 starting ironman attempts due to my own mistakes and random (like 60% world tentions in june 1937 and China joins Allies after Japan attacks) before this good run I'm playing now.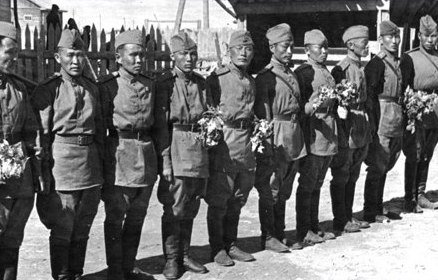 So, what you have to do, playing as Tannu Tuva?
1. Casus belli on Sinkiang.
2. June 15 - casus belli on Tibet.
(optional, august - cb on Nepal)
3. ~October - casus belli on Xibei San Ma
4. ~March - casus belli on People's Republic of China
October 27 you start a war with Sinkiang win 2 divisions. main goal is to take territory VERY FAST with no battles. If lucky, Tuva will get all regions.
After that, ~March 37 it's time to attack Tibet (no invites for ussr and mongolia or german troops will spawn). Again, fast capital rush with no real fights. Same in Nepal.
When the time of war with Xibei San Ma comes, you should already have artillery in divisions, without it victory can't be achieved.
Needless to say, all political power except for CB should go to manpower plans. When 10% is gained, next 150 can be put into +30% pp advisor.
If possible, better not to press 20% plan before 39-40 year due to huge loss of production speed.
The point of taking Xibei San Ma is to pass this mountain-desert huge area to be able to press fast attack on Sichuan.
The point of making cb on Mao is that Nat.China will not know about that (since they are not allied before the war) so Nat.China will not put troops on your border and Tuva will have some time to freely advance while Japan breaks chineese defence.
Unfortunately, Japan did gather more warscore than me, but anyway I managed to get a lot of rich regions which will make future wars possible (it's 10% conscription plan on screenshot)
Next post tomorrow
Last edited: