I wanted to do something other than a WC for a change and so I thought I would try playing a taller type of game. I picked France because they have a lot of farmlands, a lot of cloth, and a strong and relatively easy to unite culture group. The basic strategy is to stack up development cost discounts and develop in batches with as many active as possible. Full economic grants 20%, prosperity plus edict is another 20%, happy burghers is 10%, and quantity-economic is 10%. This modifier pops up in a few other places, like renaissance and universities. The other important aspect of this strategy is to maximise monarch point income. This means disinheriting and abdicating, power projection, and promoting advisors. Winning the elections in Poland also helps with both MP and prestige which translates into MP.
I opened the game by immediately declaring on England to reconquer my cores. No waiting for the Maine event – the war is easy as an offensive war and you can easily take all your cores in a single war without having to land on England. I also immediately sent a diplomat to fabricate on Brittany. Brittany now start with no allies and no one much cares if you full-annex them which I did. By taking my 6 cores and Brittany within the first 5 years of the game I boosted my development by 149 and set myself up as the major power of Europe. It is important to note here that I went out of my way to avoid containing the Ottomans because I want them to grow big and strong so I can maintain a rival throughout the game. One rival plus 3 age objectives is enough for permanent 50 PP which is crucial. That is a lot of MP.
I allied Poland early on but was careful to avoid letting them call me into any serious wars. I wanted to protect them so that I could keep winning their elections and eventually get my dynasty permanently on their throne. I was successful here and I could have PUed them around 1600 but saw no reason to do so. It might have put my rivalry at risk and would have granted me no useful benefit.
My other foreign policy considerations were to befriend Castile for a useful early ally and good chance of a PU, and to keep Austria as weak as possible so I would have a free hand to conquer the French land in the HRE. I was extremely successful at both of these. Castile disinherited Enrique and then Juan died in 1450 giving me an instant uncontested PU. This was very lucky and ensured no threat to my south. I eventually took full advantage of an isolated Aragon to conquer Rouslion and release Catalonia from it. I made them a trade power march and then reconquered the rest of their cores. In that war I also took Napoli and released it as Naples and did the same thing again. That gave me total control of Genoa. Both marches have been quite helpful militarily as well. I repeatedly crushed Austria by attacking into the HRE, winning the war and doing as much damage to Austria as possible. I would then peace Austria out (and only them) only to immediately attack into the HRE again to call them back in and crush them all over again. That secondary war also prevented them from demanding unlawful after I took land from the first war. By doing this repeatedly and releasing everything out of Austria that I could I made the HRE a joke. So much so that the Protestants won the League War easily without my involvement. I dismantled it soon after which in hindsight I could have done much sooner.
Initially I had only intended to take French cultured land plus Calais, and Savoie. But then I inherited Tuscany (always look out for Tuscany, they usually form with an old heirless ruler) and my plans changed. I grabbed Liguria to connect my lands. That worked nicely and so then I figured I might as well take the Low Countries after I dismantled the Empire. I did accept Tuscan, Ligurian, Flemmish, and Dutch cultures so it's still adhering to mostly tall-play principles. I also beat up Portugal for its colonies a couple of times since I didn't bother with Exploration. I think I'd colonise more actively if I played a game like this again.
The results of all this have been powerful to say the least. By 1678 every one of my 75 state cored provinces (I have a couple of territories that I took for coring range) has 30+ development.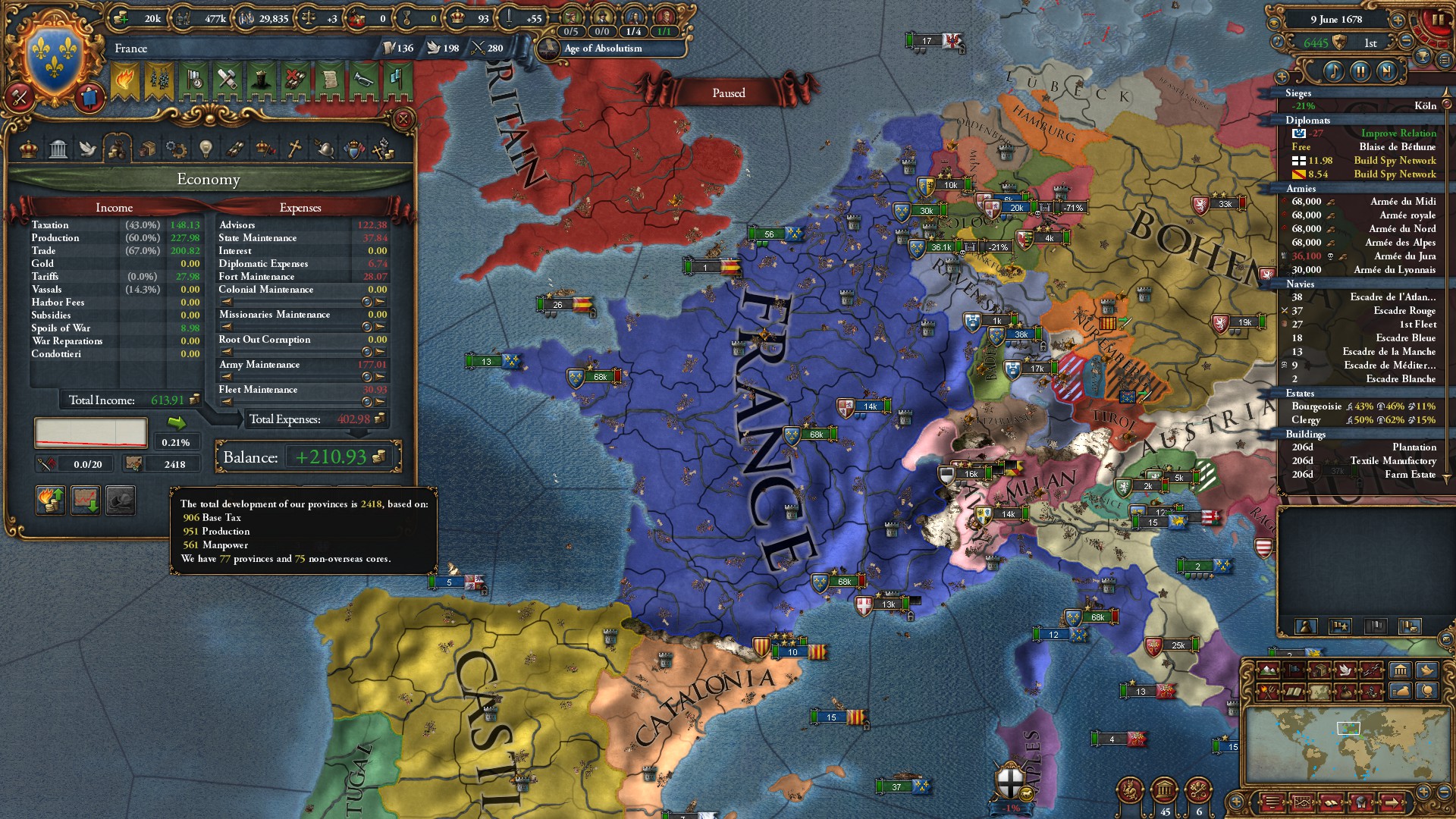 In the above screenshot you can see my 2400 development empire. That manpower is over-capped because I slacken whenever I hit 100 professionalism. If I slackened it all away I'd have over 2 million manpower. My army is space-marines. 120 discipline, +30% ICA, +20 morale, +20% fire damage from French Musketeers. I have Quality-Economic-Innovative. I recently got the chance to put my army to the test – Tunis attacked the Pope for a claim on Rome. Obviously this was completely unacceptable so I moved to enforce peace. To my surprise Tunis were not going to accept – I investigated further to see that they had called in the Ottomans. This was even more unacceptable so I got myself into the war with enforce peace. Commonwealth apparently felt the same way and did the same. I was hoping super-Bahmanis (they control all of India) would join as a great power but they didn't. Anyway, my troops absolutely melted the Ottomans. Most battles were over after the second fire phase. Good fun. To underline this, I inflicted about 400k combat casualties on them for the loss of about 60k. I didn't lose a single cannon in combat and that was without any reserves or extra infantry. Ming have since rivalled me so I can probably now set about dismantling the Ottomans if I want. Only problem is I have about 11 absolutism because I have a parliament.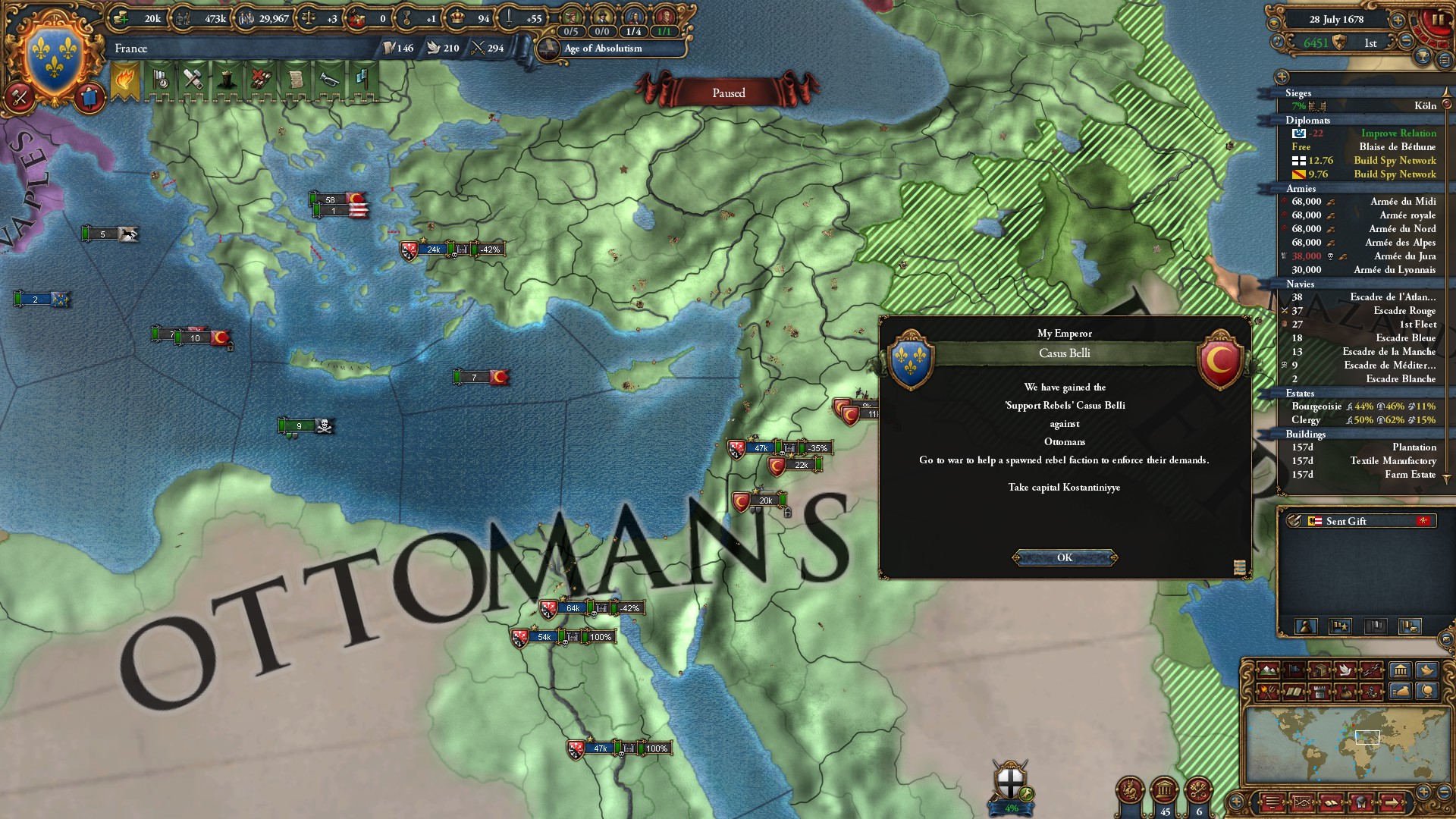 A after this war I had a bunch of spy network in the Ottomans so I figured I might as well support some rebels as a thank you for being such a good rival. 4000 ducats later 272k particularists appeared. They were no more than a minor pest to the green menace but it was amusing none the less.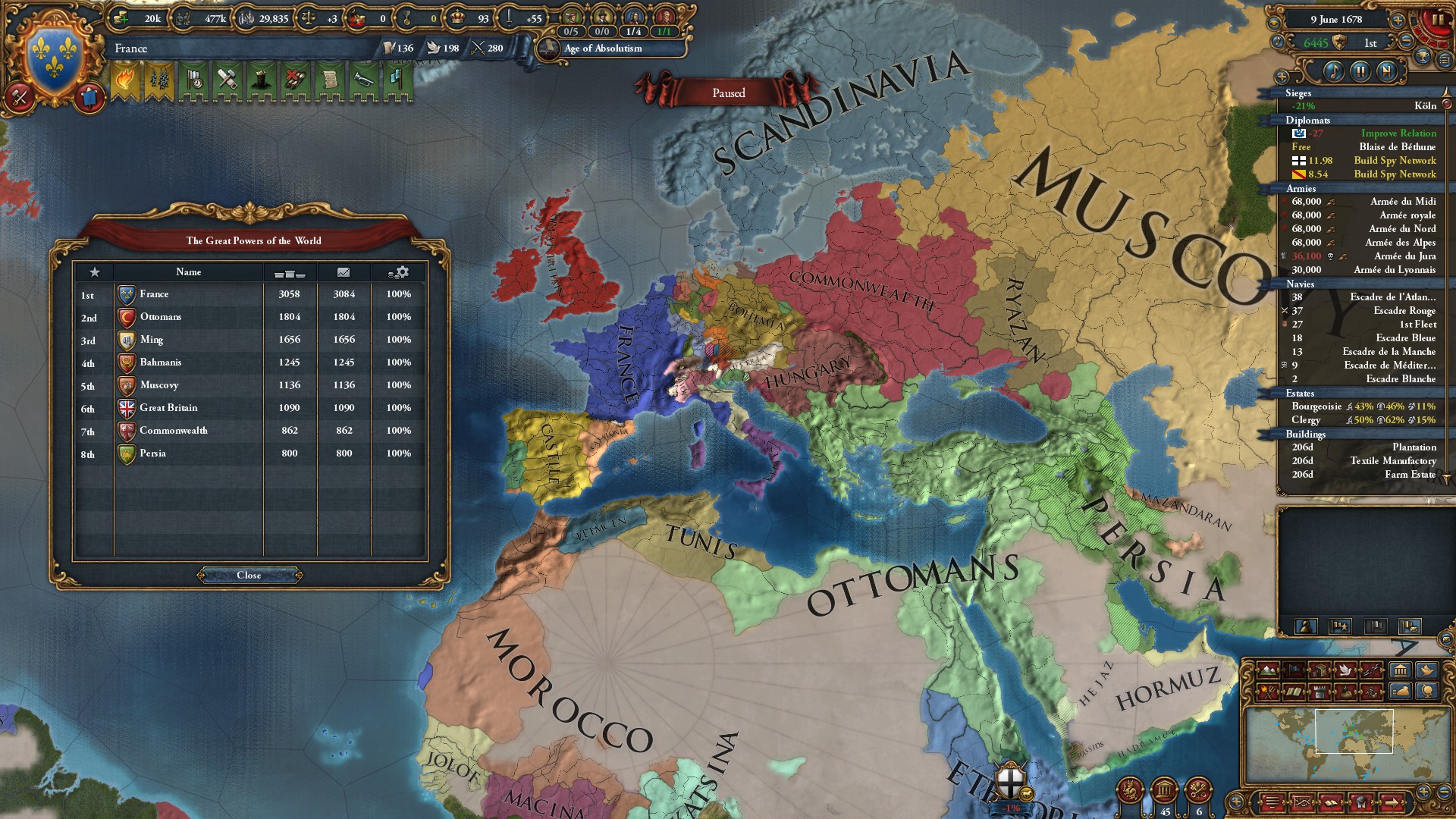 The great powers of the world are mostly unsurprising. I'm not sure what Muscovy needs to form Russia, but I don't see them getting it because they won't attack the Commonwealth while I'm allied to them. I also won't let the Commonwealth attack Muscovy because they are allied the Ottomans, Scandinavia, and Great Brittan. Actually I might let them invade since I have nothing better to do. Muscovy also managed to both fire and win court and country which I have not seen an AI manage before. Norway did some colonising and ended up with a CN that they imaginatively New Norway which owns one province in Canada and two in Florida. I have no idea how that came about. Old Norway is now an OPM in the Falklands since Sweden decided it wanted all of Scandinavia. I've been allied to Bohemia for a while, they are the only alliance from the former Empire that I kept long-term.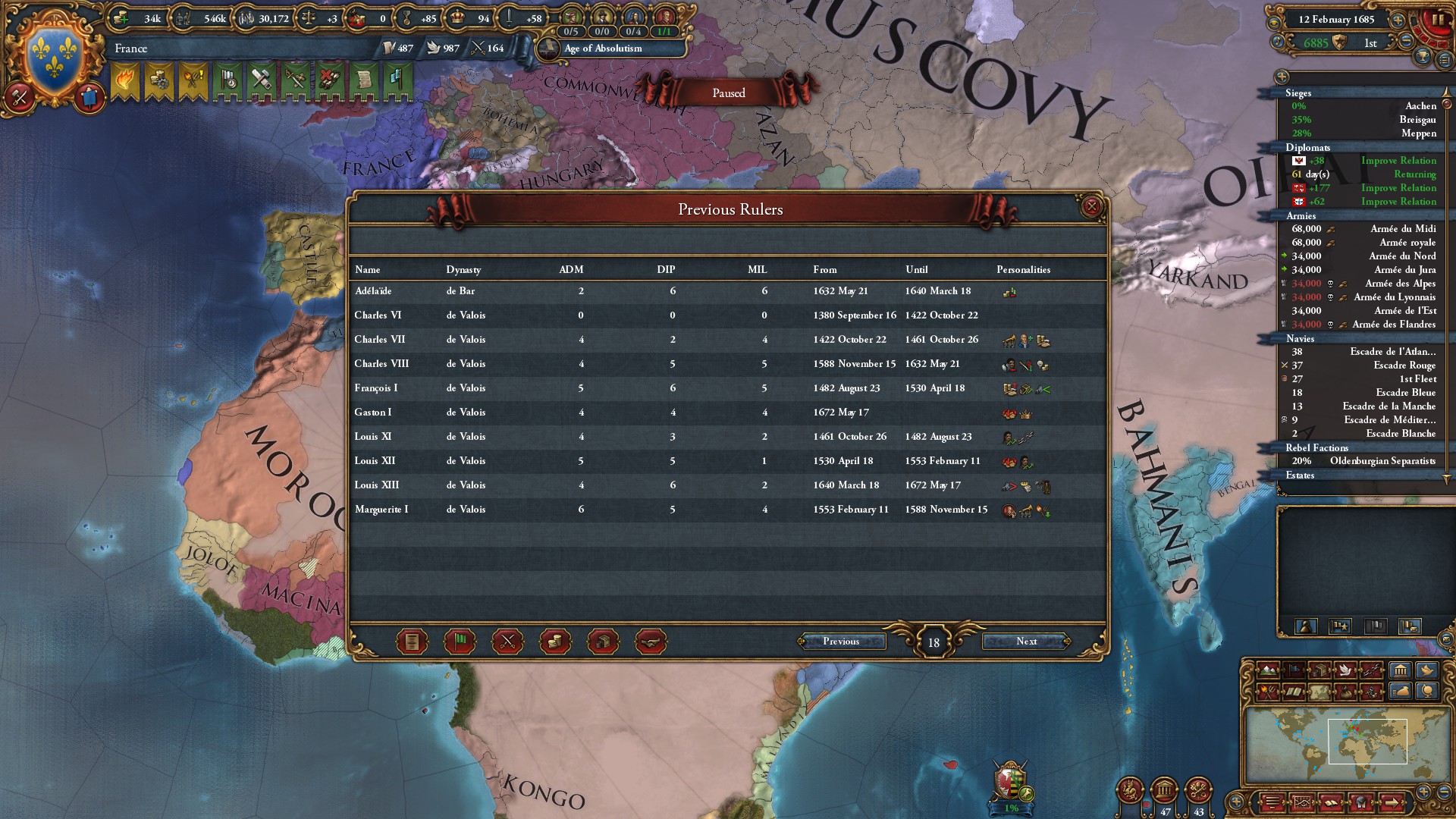 A mixture of a lot of disinheriting and a couple of abdications has lead me to have extremely good monarchs for the whole game. It's not an accident that the best rulers ruled for the longest time, either. I aim to keep a good age gap between my ruler and my heir, and then I abdicate ASAP if the heir is better. I've managed a time adjusted average of 13.1 MP rulers in this game. I kept the initial ruler and heir because it's harder to farm prestige in the early game. During the era of reformation you can generate a ton of prestige by converting provinces. Once you're strong enough you can just beat up your neighbours whenever you need to and force them all to change rivals to farm prestige. If you disregard the period during which the starting ruler and heir ruled, the average rises to 13.8. Getting disinheriting and abdicating correct takes a lot of practice and experience and defies easy reduction to a formula. Getting the age gaps right is more important than it seems and so is being aware of when a consort-regency would be an acceptable outcome. Hopefully this game demonstrates the potential power of getting it right.
My conclusion to all this is that playing tall is very powerful. I can crush anyone I want any time I want. I have massive quantities of income and manpower. France is extremely stable as a result of not constantly conquering massive swathes of territory. I didn't need Humanist or Religious. Fun fact: Catholic France can achieve +3 heretic tolerance without Humanist. I took Economic-Diplomatic-Quantity-Quality-Innovative-Offensive so far. Those military groups mean my troops are basically invincible against AI. I've run out of things to do with money and I could probably double the size of my army if I wanted to with my current economy even though this would put me way over force limit. Doing so would actually enable me to generate more manpower since I'd generate more professionalism and be able to slacken more often. The reason I don't do it is that I don't want to risk losing my rivals. From here I will keep developing to see how tall I can get, and maybe try to invade and dismantle either Ming or the Ottomans. Maybe both since soon I will be able to grab a quick +100 PP from a victorious war against one or the other so I can coast on that for most of the rest of the game. Despite long periods of doing nothing much, this has been a fun game because I've made a point of doing things differently. I've learned some new tricks and gotten a better handle on how a strong power base can be built without blobbing into every trade company region on the map. Trade companies are so OP that that is still a better strategy overall, but for a different type of game tall, state-based play can be very powerful.
1

1
Reactions: