Hello and welcome.
I'll be playing as Nogai Horde using Magna Mundi Ultimate mod, starting in 1441. Goal is to roleplay, hopefully achieve interesting alternate history to write about, survive powerful neighbours and eventual Russians, and if possible modernise. Should be fun since MM has both - deep, complex, and difficult modernisation system and whole nomadic/tribal system.
Style would be rather compressed history book with images and custom made, photoshoped maps. Similar to my other AARs like
Legacy of Mansa Musa
, or
History of the White Eagle
.
I hope you'll enjoy.
Oh, and I have very limited knowledge on Tatars/Mongols, mostly based on Wikipedia :blush:, so any corrections from the experts on this field are welcomed.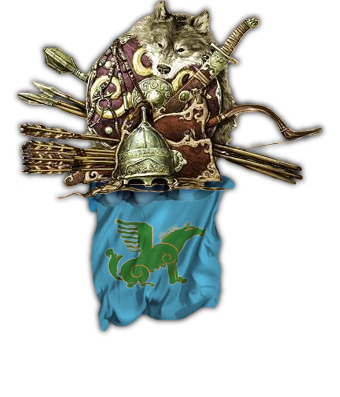 TALE FROM THE STEPPE - HISTORY OF NOGAIS


Introduction
​
Nogai Horde was a confederation of several Mongol and Turkic tribes, occupying steppe territory to the North and East of Caspian Sea. Nogai dynasty derives it's name from Nogai Khan - 13th century ruler of the Golden Horde, and descendant of Genghis Khan. Their confederation, or Horde, came to being in mid 15th century, after Golden Horde collapsed after decades of internal conflict, divided into several independent Khanates.

Nogai rulers, called Beys, had very limited control over their people. Nomadic subjects were divided into tribes, or Uluses, that were de facto independent and it required either - prestige and diplomatic skills, or military might, for Beys to even barely control them. Uluses often fought among themselves, raiding for loot and slaves, and in case of serious conflict with Bey could simply leave his lands to join one of his neighbours. Leader of an Ulus was called Mirza (aristocrat).

Nogais were steppe nomads, and as such they didn't have permanent settlements, nor did they practice agriculture. Only exception was Saraychyq - semi permanent caravan town and seat of the Bey. They moved from pasture to pasture with their herds of sheep, horses and camels, sometimes raiding nomads from neighbouring Ulus for horses and slaves. Bey himself had difficulty to always extract tribute from his Uluses, and other sources of his income came from raids and taxation (or robbing) of few caravans passing via Astrakhan-Bukhara trade route. In the end however, power and wealth of the Bey were so small, that it required truly talented individual to achieve anything of significance.

When embarking on a raid or war expedition, Bey called for his Uluses that could or could not send their men to join him. Such Nogai army consisted exclusively of cavalry. Most of the warriors were poor, and armed with very primitive weapons - clubs, spears, or flails. Richer ones were armed with composite bows, while Mirzas and Bey's retinue often had access to armour and more refined weaponry.

To the west, Nogai Horde bordered with their former masters - Golden Horde. Even though it was greatly reduced in territorry, their Uluses were numerous, and Khans profited greatly from many caravans passing through Volga/Caspian city of Astrakhan. To the east and south was Uzbek Horde. Their Khans ruled over huge territory, including ancient cities in the south. Even though they had troubles with rebellious Kazakhs, they were much more powerful than Nogais. To the north was Kazan Khanate - strongest of Nogai's neighbours. Most of their people lived in cities, inherited from pre-Mongol Volga Bulgaria, and they were much more populous and developed than the rest of Tatar Khanates.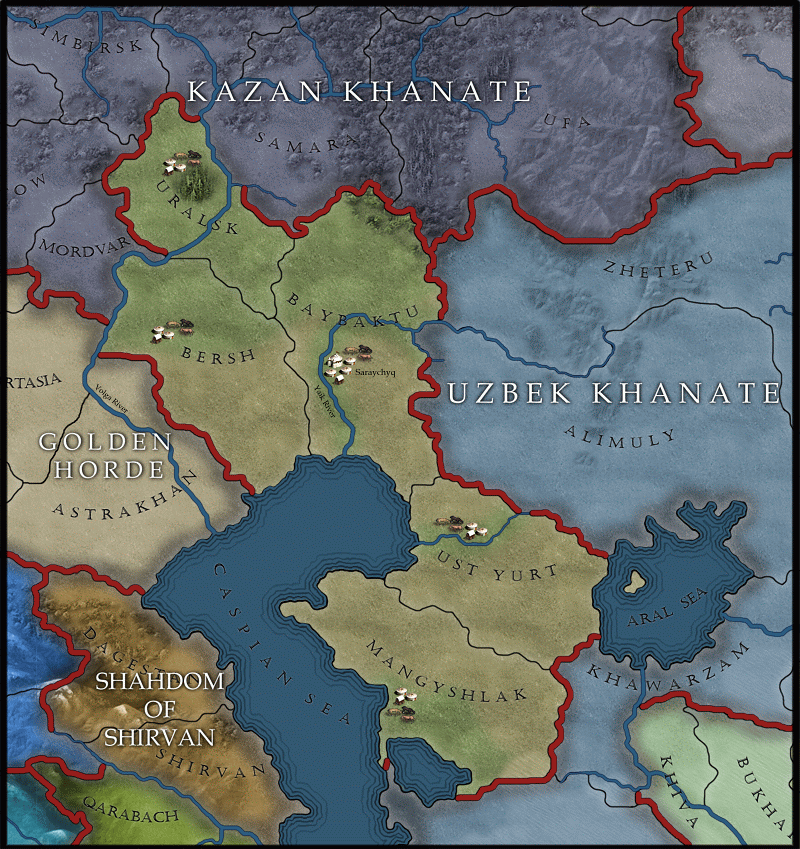 Nogai Horde and neighbours in year 1441
​
Last edited: