Bestest Overfriend
49 Badges
Integrated in to SVN 555.
This submod uses interface skins from vanilla to add some variety to the appearance of the game. SVN 499+ is required due to the changes to Kahjiit religions.
Currently adds:
Character frames for Tsaesci Matriarchy, Confederacy and Mane governments
An interface to each religion group
A modified society interface to stop the ranks going out the window
Era ToolTip - Adds an "E" button next the date that shows a tooltip with era information
Character Frames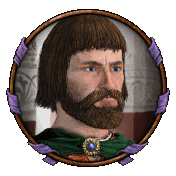 Interface Icons
Society Ranks
Modifies
z_ek_governments.txt
and
00_religions.txt.
Any other submod modifying these will potentially be incompatible. Adding this submod as a dependency will fix some issues but will revert parts of the interface to their base EK appearance.
In the .mod of the other submod:
Code:
name = "EK - Other Submod"
path = "mod/ek_other_submod"
dependencies = { "Elder Kings Dev" "Elder Kings" }
Should become:
Code:
name = "EK - Other Submod"
path = "mod/ek_other_submod"
dependencies = { "Elder Kings Dev" "Elder Kings" "EK - Interface" }
Last edited: