Community Manager (Stellaris)
Hello Stellaris: Console Edition Fans!
I'm AC, I'm here to talk today about some of the new features coming in the MegaCorp expansion, specifically, unique the MegaCorp authority civics, and a new type of subject, the subsidiary.
Subsidiaries
Subsidiaries are a special kind of subject available to MegaCorps, which replaces the other normal forms of subjects (Vassal, Tributary, Protectorate). Subsidiaries have some independence, in that they can expand their territory and wage war amongst themselves, but are required to join their overlord's wars, and pay 25% of their energy income to their overlord. Subsidiaries also cannot be integrated.
While the MegaCorp authority comes with a unique set of [number] civics, that are unavailable to other authorities, there are several special civics available to the MegaCorp authority that can significantly change the way a MegaCorp plays:
Criminal Heritage
The Criminal Heritage civic represents an empire where criminal elements have taken control of the government. Existing outside the law, they do not form commercial pacts, but also do not require a commercial pact to build branch offices on planets. This civic also has no ethics requirements or restrictions, but cannot be removed.
Income from Criminal Heritage MegaCorp branch offices scales based on the level of crime present on the planet, and have their own set of crime-causing Branch Office buildings. Generally, these branch office buildings will increase crime on the planet, but that does not necessarily mean that the effects will always be negative for the planet owner, especially if the planet owner chooses to peacefully coexist with the criminal elements on the planet. It is also possible to reverse the effects of a Criminal Syndicate with the heavy-handed use of law enforcement, and it is possible to have an event fire to shut down the criminal Branch Office.
Gospel of the Masses
Gospel of the Masses turns your MegaCorp into a Spiritualist MegaChurch that gains a significant boost to spiritualist ethics attraction, and which gains economic benefits on their planets and branch office planets from spiritualist pops. They can build a special Temple of Prosperity building on their branch office planets which boosts Spiritualist attraction, resulting in more spiritualist pops and economic benefit to both the MegaChurch and the owner of the planet, though an empire that does not want its pops to turn spiritualist may want to consider carefully before allowing a MegaChurch to gain a foothold on their planets.. Providing they have a choice, as Gospel of the Masses and Criminal Heritage can be combined.
Remember to catch our Stellaris: Console Edition MegaCorp release stream,
Tuesday, January 26th at 10:30 AM CET! (9:30 AM UK, 4:30 AM ET, 1:30 AM PT)
Since there are so many civics available to the MegaCorp authority, here are all of them: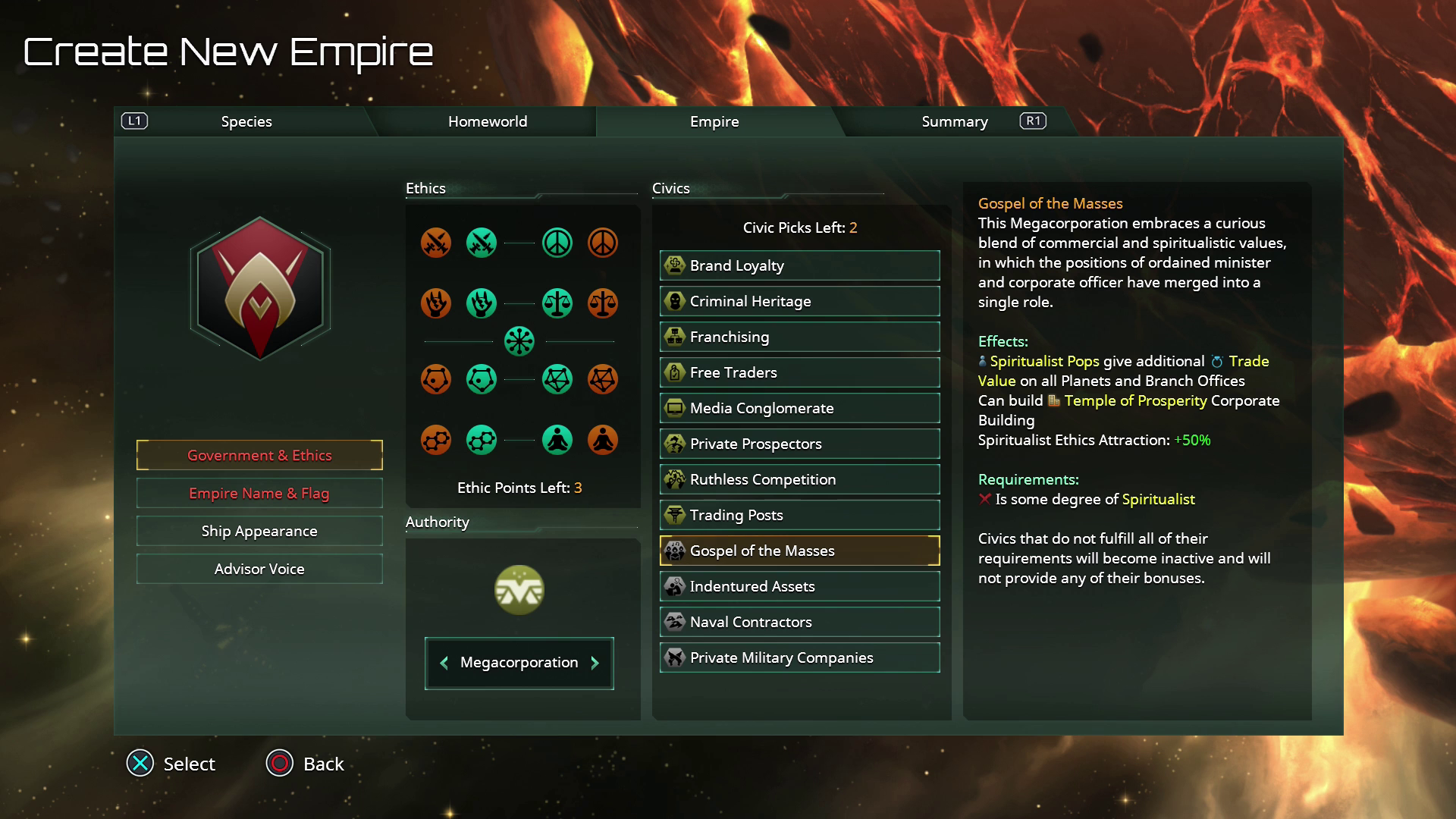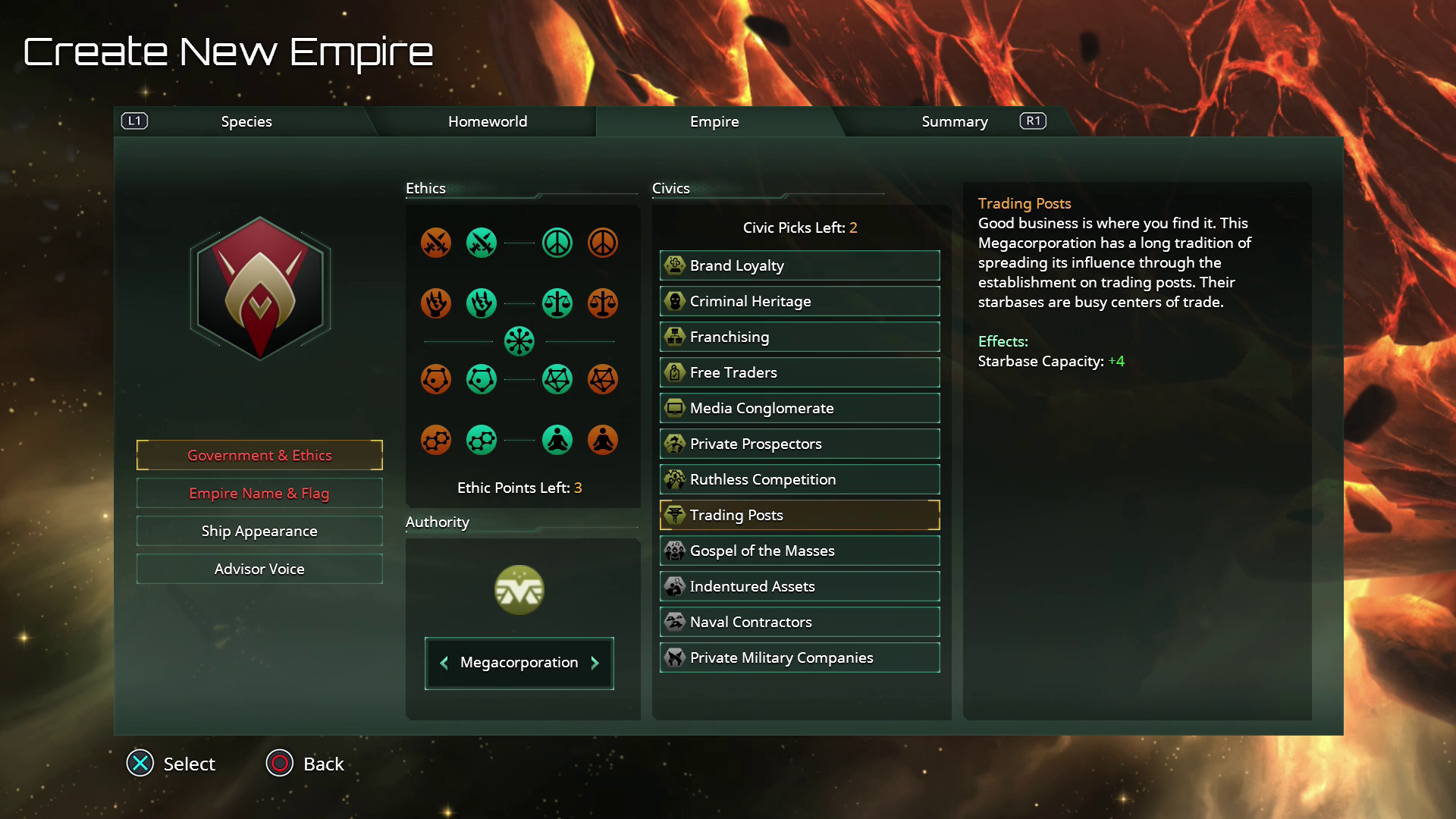 Last edited:
3

3

1
Reactions: