I don't know about you, but I've found the late game of HOI to be a tad disappointing. If you are like me then you'll usually have created a big boring communist/democratic/national socialist world well before the 1964 end date. Furthermore, any "Cold War" that you wage will either go hot or be decided by the number of victory points that the factions picked up during WW2 .
Why not show the superiority of your ideology/nation/head of government by competing in Space instead?
The Space Race mini mod is the first part of a larger project (to be announced later), but it stands on its own. Thus, I will be releasing it separately in another week or two.
FEATURES
• 15 new Space Race techs
• Multiple new tech components with their own icons
• Decisions related to the various Space techs like launching espionage satellites
• The ability for all countries to compete against one another in special space race decisions
• New and Revised Tech Teams for GER, USA, and SOV
Below are some pictures:
This is a picture showing the first of the new decisions added in this mod: Create a National Space Agency. This is necessary to unlock the Artificial Satellites tech.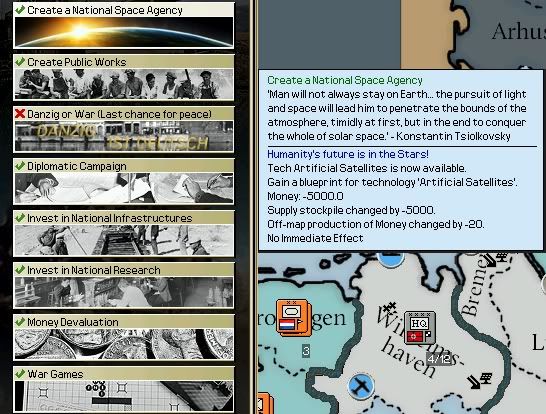 The second picture shows some of the new Soviet Tech Teams and the 15 new Space techs on the Secret Weapons page. It also shows some of the new tech team components like spacecraft design, spaceflight training, and robotics.
The third picture shows some of the USA's new Tech teams.
Last edited: