The Grand God of Fried Eggs
Sombreros, Submachine-guns and Social Revolution! - A Mexican mod-33 AAR
(Flag by Juan Manuel Gabino Villascán, April 19, 2001)
Using mod-33 - Doomsday 1.3 (One of the best around with an imperfect but nice translation since my French is rather bad
Difficulty: Very easy/Coward - Some may say that must be a joke - it isn't - I am playing Mexico - ME - XI - CO. I start with bad tech-teams - really bad ones I think - I start with 185 manpower and + 0.12 pr day (thank God the almighty it isn't minus)….and 21/16 IC so I am even 4 IC's from the second tech-team and cant even build IC until I have researched roads/bridges 33' which will take until may 1933.
Now in order to spice up the game a bit I have made certain that the US civil war will trigger so that I not only will have a chance to meddle with politics in the south but also in the north - this will give me opportunities but will also present some dangers - this lovely game gives you nothing for free - especially not if you are Mexico and play the 33 mod.
Anyone who still wants to bitch about the Very easy/Coward level - press the back button on your browser and select another AAR - don't load off your negative comments on that in the AAR - feel free to PM and flame me there if you really have to load that off your chest to keep your physical and mental health in working order. Tactical comments, suggestions and historical facts on Mexico etc however are very welcome if you feel like sharing them with me and the other readers.
Now let us all put on our sombreros and may I suggest finding the Tropico game and play the music - it will surely put us in the right mood - if you are still lacking the right feel - play some of the small videos from the Tropico game or hear your advisors comments on some of the more foolish things one can do in that game…..gave me some laughs when I played it…okay back to the actual mod-33 Mexico AAR - here we go….
Chapter 1
Mexico 1933
Once the cornerstone of the Spanish colonial empire - later independent and an empire still though shaken by inner turmoil and underdeveloped compared to many other nations - the playground of international ambitions from both old Europe and the growing northern neighbour USA - if civil war, warlords and actual war with other nations didn't plague the country - famine, hunger, corruption and incompetence was always ready to take up the task of making life a living hell for those so unlucky to have been born in Mexico - That however is about to change - the Mexicans may be suffering but they are a proud people willing to fight for their beliefs and ideas - the test of time has deemed the Mexicans a people that will prevail and their fight for greatness and power shall now be told….
As I mentioned in the intro - Mexico isn't much to look at - It hasn't got Chinas huge manpower or many natural riches - there is some oil which will be vital to trading for energy money and goodwill - especially since nobody really likes Mexico even if it starts out with a social democratic government.
But before we go into the political debate lets look at research and start up the basic tech we are going to need of we want to see Mexico grow up..
Roads/Bridges '33 - and don't expect to see any tech-team with better stats than 5 - but one can manage somehow - right?
Now democracy may be fine and all but it puts certain restrictions on ones ability to act with force - especially if it may be viewed as an act of "aggression" by other nations because pure lust for the spoils of war drives one…I am also the type of player that doesn't really like to take orders - if I am playing a game l like to be in control even with a minor like Mexico - one might even add that being a minor makes the option of free reign even more important.
Now since this kind of altering Mexico's politics may take some years while I build up and indoctrinate the Mexican people towards war I have decided to guarantee the independence of every country likely to be thrown into war - gamey some may say but I am not planning on showing the peaceful industrialization of Mexico 1933 to whenever the game ends so I will simply call it the Mexican route to an active foreign policy in an attempt to better its relations with the outside world and being up to the responsibilities of an independent nation in a turbulent time….yada-yada-yada - add more political nonsense if you feel like it - you get my drift right? HEHE
Here is the glorious Mexican army and Airforce……not that bad actually when a revolt has to be smashed but apart from that not really needed but ill keep it just in case even if it drains my supplies-pool
In the lower corner you can see that I have put all my available industrial capacity into supplies until I can build more capacity - that will give me a reserve when I need it - I could make money instead but buying it I think is cheaper since I am rather ineffective at money production and money is a low "priced" commodity to trade with.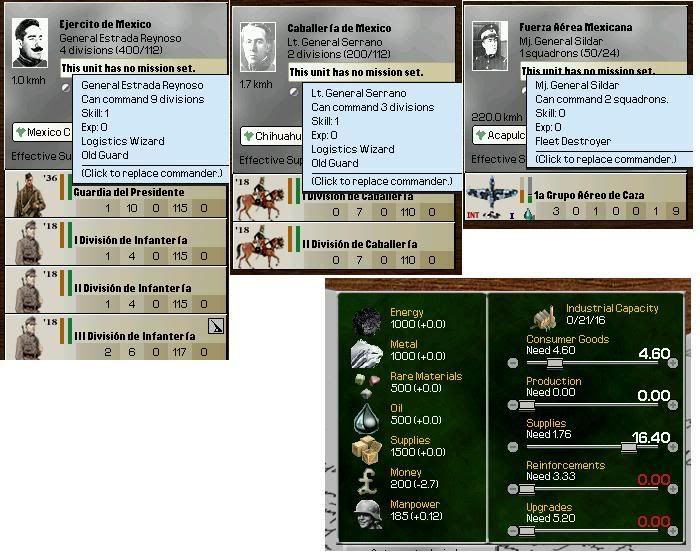 Now - before we end this first chapter and actually start the game let us return to the political "debate". One might ask - What are your goals and plans with Mexico? - do you have an actual agenda with Mexico?. An agenda? - No not really - I like to decide on certain things as they present themselves - yes I am a bit of an opportunist - with a pretty relaxed tendency to play it safe - I don't like to gamble but then again I have certain moments were my brain lacks sufficient nicotine or caffeine to function on a rational level - plainly speaking - I go into the cowboy mode - or since we are now in Mexico - the Pancho Villa mode…..
I have dreams of greatness for Mexico however - making Mexico a great power - and taking all the Spanish speaking areas in the Americas may be my great goal - or vision depending on how mad you judge my ideas to be - trying to take back what Mexico lost to the "States" also wouldn't hurt but I have no plans of taking the whole world or erasing the US from the map…..I might be a little crazy but I am not a loony toon - if Spanish speaking people are one day to rule the US or the like let them gain power from within the apparatus - I am not going to force Mexico City upon them as their capital….
Now let me end this chapter here before I bore you to death…..or one last word of warning in case you haven't noticed - I tend to "blabber" on for ages on a theme if I do not restrain myself a little - for that I am sorry - it is one of my weaknesses but I hope you enjoy reading anyway.
"CC" - also called CrazyChicken in real life - for a reason
Last edited: