Truly the title of this AAR should instead read 'Soks to be Me', as Sokoto is not quite the easiest nation to play and I am rather terrible at playing V2. However I felt this title, whilst very accurate, was a tad too self-defeatist hence my actual choice. I have written a few AARs already and currently have
another on the go at present
(huzzah for blatant self-promotion!) but they have all been for EU3. As such I felt it was finally time to inflict my drivel upon another board on the forum.
I have played as Sokoto a few times before and experienced varying levels of success with them (read as; I have failed numerous times with them). My only real goal this time is to survive for as long as possible and conquer as much as possible. Although being able to paint all of Africa Sokoto's incredibly masculine pink is a priority should I live long enough.
The game itself is being played on very hard difficulty, with all other settings left at default, with the 1.4 beta September 26th patch. I have never before played V2 on very hard difficulty so I am expecting a mercifully short game.
WARNING: This AAR shall contain a large number of screenshots to compensate for my poor writing. However there is far worse as it will include a large number of attempts at humour. Sadly these attempts will be nearly as awful as the gameplay on show throughout the AAR.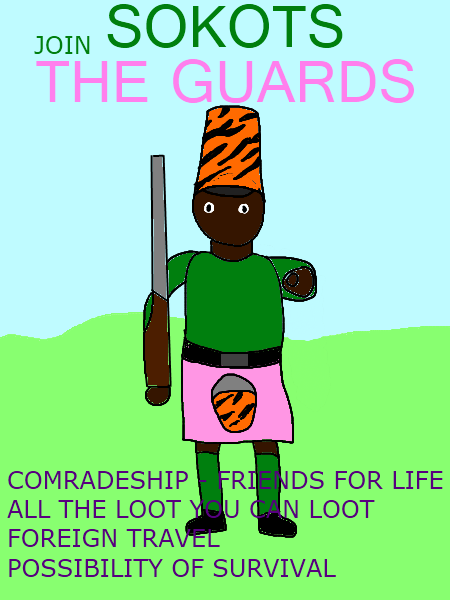 A recruitment poster for Sokoto's elite guards brigade created by Fyregecko. More of his brilliant work can be seen in his excellent AAR.
​
Last edited: