Thus one reaches the stars, an SPQR defensive pacts no vassal Pope guide
​
Introduction
WARNING - WALL OF TEXT AHEAD
Greetings!
I have recently got the SPQR achievement with Defensive Pacts on, and it provided the best possible sort of challenge: hard enough that you have to understand to the specifics of the playthrough, but still leaving room for error, and leaving you a much better player than you were. It took me two tries, totaling perhaps 50 hours of gameplay, and my final success was one of the most satisfying moments of a gaming career stretching back to 1999.
This text is ostensibly an SPQR guide, but it is really about the intermediate to advanced concepts your success depends on. My point is not to give you the fastest way to get SPQR, otherwise we wouldn't be using Defensive Pacts at all. It is to show how to deal with the challenges Defensive Pacts pose to a super-empire in an on-the-rails, no abuse playthrough (this also means no vassal popes). If SPQR is too ambitious for you, many of the tips also apply to the more standard Mend/Restore playthrough. Threat will be extensively discussed, as I did not see many explanations or full guides on Defensive Pacts. I will also put latin quotes as paragraph titles, because I like world conquest better with cheese.
Game settings
The playthrough was done in patch 2.6, the Reaper's Due patch. I used the following DLC: Conclave, Legacy of Rome, Sword of Islam and The Old Gods. Some other DLC might make the playthrough easier (viceroyalties) or harder (Sunset Invasion), but I don't own them.
Defensive Pacts and Shattered Retreat are on, Women Status laws are available. I have set Slower Conversion and Restricted culture spread because it feels more realistic, but that doesn't really matter. All other rules are unchanged.
I CONSILIUM - DEFINING A STRATEGY
My first try from the 1066 start failed because my last-ditch effort to annex the HRE was thwarted by its dukes, who managed to turn the empire Elective when faced with the prospect of my son inheriting it. I would have been mad if this hadn't been a brilliant move from the AI's perspective.
I decided my second attempt would be a Catholic run. We are not going to Mend the Schism. I took that decision because, in the late game, Defensive Pacts essentially limit you to one war per decade, forcing you to grab as much land as possible in a single war, more on that when we discuss Threat. Crusades are pretty much the only way to conquer an entire kingdom from Musli.
I began my second run in 867, and I'm fairly certain that it is the best start date.
The world in 867
The Byzantine begin the game in a good position. They are the first military world power and led by the capable Basil I. The Abbasid are your most powerful enemy, but they are not strong enough to cause serious damage unless they catch you in a civil war. The other large realm is the Umayyad, but they are on the other side of the Mediterranean and someone else's problem. The rest of the world is more fragmented than at any other start, which is for the best since it means less coordination inside the Defensive Pacts.
The immediate threat is a large muslim force besieging Syracusae. Historically, the city fell, but these enemies are comparatively much weaker than the 1066 Seljuk invasion. Mobilize quickly and destroy them. With the infidels out of the way, let's refine our strategy. We want to use Crusades, which can be activated by the following triggers:
Fall of Rome: Rome is held by non-Christian or heretics. Very unlikely.
Byzantium, France or Germany Threatened: One of several critical duchies controled by non-Christian. The one that could realistically come under any serious threat is Toulouse, should the Umayyad push into France, but you can't rely on it.
Reclaiming the Holy Land: Year is past 1090 and Jerusalem not held by Christian.
That's it. If you claim Jerusalem before 1090, your only way to start the Crusades is to take Rome, convert to a Catholic heresy and switch back. While doable, it qualifies as gaming the rules and will not be considered. So we will Restore the Eastern Empire around 1100. This is much later than your typical playthrough but it doesn't really matter, you have enough Holy War targets to remain busy until then.
Restoring the Empire requires the following duchies : Thrace and Athens (already owned), Antioch (Syria), Alexandria (Egypt), Croatia (Croatia), Tunis (Africa), Jerusalem (Jerusalem) plus 7 duchies in modern Italy. This gives the general direction of our game : expand in Italy and Eastern Mediterranean until the Pope is ready to claim the Holy Land, then Restore the Empire and start the northern expansion.
II INTER ARMES SILENT LEGES - GETTING STARTED
When under arms, the law goes silent
Playing with Conclave, I cannot give any advice on Crown Authority. With Conclave laws, you have quite a few reforms to pass. Our first strategic objective is to claim Italy while preparing the Empire for centuries of war.
The Conquest Begins
Expansion should start as soon as you have a cushion of 1k gold or so, this is a contingency in case you get an unexpected civil war and need mercenaries. Push the Muslim out of Sicily (one Holy War is enough) and work your way north. A good habit is to give any new duchy to your family members, they have an opinion bonus and are more likely to be Content when councilors. Just don't grant any good land to a pretender to your titles or younger sons.
Expanding in southern Italy and Serbia is simple as you have De Jure claims there. Start fabricating claims on Venice, Latium and the duchy of Croatia. Once you have a majority of these duchies, usurp them, and you will have De Jure claims on the other counties. Re-create a merchant republic if the conquest of Venice destroyed it, they provide good income. If you plan on making Rome your capital, do it right when you conquer it. The game will suggest it once the Empire is restored, but that won't happen before the 1100s and Constantinople will be so far ahead technologically that it would no longer be practical to change. Keep Constantinople in your demesne no matter what, it's one of the few 7-holdings counties in the game.
While the purple slowly creeps up the Adriatic sea, your first real test is not military but political: can you bring the kingdom of Italy into the Empire?
Doing so county by county takes far too long to be viable.
The best case scenario is that a prince with a Strong Claim is willing to join your court. In that case, invite him, grant him a county (from your own demesne if necessary) and immediately press his claim. Since the claimant has land in your realm, he is your vassal and will remain a vassal even if he becomes king.
More realistically, you will find a weak claimant or marry an Italian princess to get yours. In that case, watch the weak claim button and wait for the opportunity to claim the kingdom. Land the claimant as above.
Should the heir to Italy happen to be a girl, secure a betrothal to your heir. You grandson will inherit both the Empire and the kingdom of Italy, resulting in a rare non-violent conquest.
If Italy is elective, get the duchies of Latium and Genoa. Give the Genoa duchy to your claimant, which makes him eligible, and use your Latium title to vote for him. He will also vote for himself, and two votes should be enough to make him third in line and press a weak claim.
More details when we reach France in paragraph IV.
Once Italy is yours, and you have claimed every stray holding in the Boot, you can make your triumphant entrance in the Eternal City :
Early game laws
With this author's style, your law tabs should by this point look something like this:
We want vassals to expand the kingdom whenever they can. Whether they grab stray holdings or mop up the remnants of a Muslim empire, they will not face Defensive Pacts, and a conquest you didn't personnaly participate in only adds a negligible amount of threat. This can save decades in a game where time is a concern.
External vs Allowed is debatable. Imperial administration already gives you the power to revoke Duchy titles and retract vassal of vassals, and Allowed is +5 Opinion vs External -5. Still, I find External to be worth it if vassals focus their energy on outside expansion, saving you more Threat.
With Imperial administration in place and your Empire about to dramatically expand, Absolute Rule cannot compete with the stability provided by War Declaration Commitee. Let the nobles pretend they have a say, and they won't do anything stupid when a battle goes wrong.

The most important part here is the two levels of Levy Focused Noble Obligation. This severely reduces your income but notably increases your forces. I find this worth it because vassal contributions will soon dwarf whatever your own demesne can produce, so upgrading it is not as important as at duke or king level. Burgher and Church taxes are shifted in the opposite direction to provide a bit more income, but it only becomes relevant once you establish merchant republics.
III PATRIARCHAE ORIENTALES – THE ROMAN RESTORATION
The Patriarchs of the East
You may have ran into defensive pacts when expanding in Italy, this is the part where the game starts revolving around them.
Threat and Defensive Pacts
I
love
Defensive Pacts. Without them, the late game is an endless series of curb-stomp on weak realms that stand no chance against your retinues alone. With them, you have to stop and actually plan your actions, while still enjoying more security from your world-power status. This is particularly true in SPQR, and it is very important to understand how they work.
As their name suggest, Defensive Pacts are a treaty where members of a certain religious groups agree to help each other in case one of them gets attacked by a specific enemy. Who will join these alliances depends on your Threat level, their number of troops and their distance to your nearest border. Each county you conquer adds an amount of Threat, proportional to the total number of counties in your realm. The amount is halved when pressing a claim for someone else or using a De Jure claim. A single county cannot add more than 15% and any event cannot add more than 50%. At 50% Threat, all Defensive Pacts except the one of your own religion essentially become one. At 75%,
all
Defensive Pacts will fight you. You may defeat a Muslim/Pagan alliance, you will not defeat Muslim and Pagan and Christian all together. Therefore, the magic number is 75%, declare a war whenever your Threat is lower than that.
Threat caps at 100% and decreases at the rate of 0.21% per month: returning from 100% to 75% takes 10 years. What can you do in the meantime? Not much that directly contributes to the restoration. There are only two ways to bypass this limit: granting independence to territories you don't need (Scotland, Crimea, anything north of the Danube...) and attacking revolts (rebels are never accepted in a Defensive Pact). If you don't have anything to do, increase speed and do whatever will keep you busy. Prompt factions to revolt now rather than in the middle of the next war, clean up internal bordergore, invite claimants to your court (see paragraph IV), This is the least attractive part of the playthrough, and the only good reason I can think of to allow achievements with Pacts off.
On the other hand, this is a part where a player's skill will show: check how much Threat a county will add, and attack realms in an order that will bring you either lower than 100% threat, or far above it. Declare a war when you are at 74%, and find a way to declare a second one before accepting the first surrender (threat only increases when the war formally ends). Do whatever you can to either minimize the downtime, or maximize the amount of Threat that will "overflow" above 100%.
Marching East
With Italy secure, or about to be, you can turn your attention to the Muslim East. The 900s are a favorable time for expansion: fort levels are low and garrison rarely number above 1500, most holdings can be Assaulted with 10k men or so. Antioch lies at your eastern border, Tunis is within striking distance from Sicily.
In the Middle East, the Abbasid have no real target for holy wars and should quickly collapse from decadence. The successor emirates will grow stronger over time and are close enough to assist each other effectively in battle. To the South, the Tulunid will overwhelm the Coptic Christian and become the strongest Muslim on your side of Mare Nostrum. Their Sultanate of Egypt is a juicy target; Alexandria is needed to Restore the Empire, Cairo is a 7-holdings county you can put into your demesne, and the duchy of Aswan can be used to establish trade posts in the Red Sea. Note however that conquering Cairo will unlock Jihads. The other Muslim in North Africa pose comparatively little threat.
The plan is to control most of Egypt, Syria and Armenia Minor, plus Tunis, by the time of the First Crusade. You can go to Africa as well, though the Pope might eventually call a Crusade for it. Expect the fighting to be fierce. The Muslim are deceptively strong in the Skirmish and Pursuit phase, so don't take unnecessary risks. All Muslim in the pact will instantly assist your target, and the Pagan will also try and siege some of your northern holdings. I recommend going for the largest realm first, multiple weaker enemy are easier to deal with because they tend to attack separately rather than making doomstacks.
Warscore goes from -100% to +100% and is calculated as follows:
75% for the destruction of the (initial) army. Allies are included in the calculation, so don't expect to gain much on that front
5 to 10% per holding, but only for holdings owned by your main target (occupying holdings of other Pact members doesn't do anything). If the realm is small, occupying a holding will add a much warscore, so that occupying every holding gives a total of 125%
Whoever controls all holdings in target area gets a bonus that depends on the duration of the war. This ticking warscore does not reset if the target area becomes contested again
Capturing family members of the primary contributor gives a bonus of up to 50% for a son and 100% for the ruler himself.
Most enemies will surrender above 95%, especially when you are not contesting their primary title
Your levies will be spread all over the Mediterranean, but the Byzantine have so many fleets that transporting them to the front is not much of a problem. There are three main strategies against Defensive Pacts:
Blitz: the defending realm is one or two county large and can be Assaulted into submission. Bring your retinues and the Varangian Guard to the border, declare war, spam Assault. Blitz targets should be saved for when your Threat is at 100%, since they will be completely occupied before the Pacts can do anything.


Interior lines: the target is too large for a Blitz, but isolated enough that your besieging armies will be more or less undisturbed. You need 20k or 30k men in the target territory, while the bulk of your forces fights enemy stacks or plays whack-a-mole with smaller groups.


Full-scale war: the same armies will have to siege and fight. Typical in the Middle East and France, this is the situation where the target and the Defensive Pacts are on the same side of your realm. It's the most difficult type of war: winter supply will be an issue, you may have to interrupt sieges to assist neighboring armies, and you might need to defeat everything the Pact throws at you before you can occupy enough holding to finally reach 100%. This also means you have to raise levies for a long time, potentially causing unrest.
Jihads will unlock in year 1000 if you control Tunis or in the 900s if you take Jerusalem or Cairo. They are about as bad as the Muslim/Pagan Defensive Pact, so if you could conquer these territories, you can probably defend them.
If you are aiming for a standard Restoration/Mend the Schism playthrough, this is where we part. Make a holy war for Jerusalem, Restore the Empire, profit - and bonus points for doing it with Defensive Pacts on. If you are reaching for the stars, you can convert to Catholicism at any point. Different DLCs may open different options, with Conclave, I sent my son to be educated by a Catholic priest and picked the Faith focus, which converted the child in a couple of years. Once a Catholic ruler takes the Purple, all vassals who like you will switch and send their Court Chaplains to convert their provinces.
Crusades will unlock in the late 1090s and will be launched soon after. Join and crush the current owner the Holy Land, which should be largely surrounded by your own provinces. The point of taking Jerusalem only now is that you will get several Muslim duchies at once – up to 4, if the Kingdom was unified. This can save 20 or 30 years of holy wars and waiting. The Second Crusade, which normally target Andalusia, will be even larger.
You can now Restore the Empire.
IV ROMA INVICTA - THE IMPERIAL RECONQUEST
Unconquered Rome
Tunis, Genoa, Antioch and Alexandria mark the borders of the Eastern Roman Empire at his greatest expansion - under Emperor Justinian in the 6th century. We enter the second half of the game with Byzantium as strong as it ever was in real History.
Restoring the Roman Empire is mostly notable for the cosmetic changes and the
Augustus trait (+10 vassal opinion). You also gain the Imperial Reconquest Casus Belli, which can be used against any Christian ruler. I didn't use it much, because it only targets one duchy at a time and is woefully inefficient for taking over large kingdoms. By now your threat jumps to 100% every time you conquer more than a single county, so better swallow kingdoms whole.
The Imperial Borders
In Crusader Kings, the old Roman Empire is divided in a number of Provinces of variable sizes. Provinces are not visible in game, but a message appears when you conquer every single holding in them, as in the case of Italia during the Restoration. From the 867 start, you will need 10 such messages to complete the achievement. The Provinces are Italia (kingdoms of Italy, Sicily and Venice), Illyricum (kingdoms of Serbia and Croatia), Syria Palestinia (Jerusalem and Syria), Cyrenaica (duchies of Cyrenaica and Cyprus), Aegyptus (kingdom of Egypt), Africa (Africa), Mauretania (Mauretania, including the Canaries islands), Hispania (all of Spain), Gallia (France, Aquitaine, Burgundy, Brittany) and Brittania (England and Wales). Screenshot these messages when they appear, they might be useful later to see in which part of the world you might have missed a holding.
The full list of duchies is given below, extracted from the game files by an
anonymous Reddit contributor
.
1 completely_controls = d_northumberland
completely_controls = d_lancaster
3 completely_controls = d_york
completely_controls = d_norfolk
5 completely_controls = d_bedford
completely_controls = d_hereford
7 completely_controls = d_gloucester
completely_controls = d_canterbury
9 completely_controls = d_somerset
completely_controls = d_gwynedd
11 completely_controls = d_deheubarth
12 completely_controls = d_cornwall

13 completely_controls = d_latium
completely_controls = d_venice
15 completely_controls = d_verona
completely_controls = d_susa
17 completely_controls = d_lombardia
completely_controls = d_genoa
19 completely_controls = d_modena
completely_controls = d_ferrara
21 completely_controls = d_toscana
completely_controls = d_pisa
23 completely_controls = d_ancona
completely_controls = d_spoleto
25 completely_controls = d_benevento
completely_controls = d_capua
27 completely_controls = d_apulia
completely_controls = d_salerno
29 completely_controls = d_calabria
30 completely_controls = d_sicily

31 completely_controls = d_oultrejourdain
completely_controls = d_edessa
33 completely_controls = d_antioch
completely_controls = d_aleppo
35 completely_controls = d_tripoli
completely_controls = d_syria
37 completely_controls = d_damascus
completely_controls = d_galilee
39 completely_controls = d_jerusalem
40 completely_controls = d_ascalon

41 completely_controls = d_aswan
completely_controls = d_alexandria
43 completely_controls = d_damietta
completely_controls = d_cairo
45 completely_controls = d_sinai

46 completely_controls = d_cyrenaica

47 completely_controls = d_tripolitania
completely_controls = d_tunis
49 completely_controls = d_kabylia

50 completely_controls = d_carinthia
completely_controls = d_rashka
52 completely_controls = d_dioclea
completely_controls = d_slavonia
54 completely_controls = d_bosnia
completely_controls = d_croatia
56 completely_controls = d_dalmatia

57 completely_controls = d_normandy
completely_controls = d_berry
59 completely_controls = d_anjou
completely_controls = d_orleans
61 completely_controls = d_champagne
completely_controls = d_valois
63 completely_controls = d_burgundy
completely_controls = d_aquitaine
65 completely_controls = d_toulouse
completely_controls = d_gascogne
67 completely_controls = d_poitou
completely_controls = d_auvergne
69 completely_controls = d_bourbon
completely_controls = d_brittany
71 completely_controls = d_provence
completely_controls = d_savoie
73 completely_controls = d_dauphine
74 completely_controls = d_upper_burgundy

75 completely_controls = d_galicia
completely_controls = d_castilla
77 completely_controls = d_aragon
completely_controls = d_barcelona
79 completely_controls = d_valencia
completely_controls = d_mallorca
81 completely_controls = d_navarra
completely_controls = d_asturias
83 completely_controls = d_leon
completely_controls = d_porto
85 completely_controls = d_beja
completely_controls = d_algarve
87 completely_controls = d_cordoba
completely_controls = d_murcia
89 completely_controls = d_granada
completely_controls = d_sevilla
91 completely_controls = d_badajoz
92 completely_controls = d_toledo

93 completely_controls = d_marrakech
completely_controls = d_tangiers
95 completely_controls = d_fes
completely_controls = d_alger
97 completely_controls = d_tlemcen

98 completely_controls = d_nikaea
completely_controls = d_samos
100 completely_controls = d_aegean_islands
completely_controls = d_thrace
102 completely_controls = d_adrianopolis
completely_controls = d_thessalonika
104 completely_controls = d_dyrrachion
completely_controls = d_epirus
106 completely_controls = d_athens
completely_controls = d_achaia
108 completely_controls = d_krete
completely_controls = d_cyprus
110 completely_controls = d_cibyrrhaeot

111 completely_controls = d_anatolia
completely_controls = d_thracesia
113 completely_controls = d_charsianon
completely_controls = d_armeniacon
115 completely_controls = d_paphlagonia
116 completely_controls = d_trebizond

117 completely_controls = d_coloneia
118 completely_controls = d_armenia_minor

119 completely_controls = d_vidin
completely_controls = d_turnovo
121 completely_controls = d_karvuna
Managing a super-empire
As your Empire grows larger and larger, some usual CK2 rules no longer apply.
You personal levies don't matter anymore (but your demesne income still helps).They are perhaps 5% of your total force and dwarfed in power by your retinue doomstacks.
Avoid going above your Demesne limit. Every holding above the limit inflicts a -20% in vassal taxes and a -20% in vassal levies. If there is land you want to keep but your demesne limit is low, grant it to your heir.
The only stat that really matters for your ruler is Diplomacy. The overwhelming majority of your power comes from your vassals, and the happier they are, the stronger the Empire.
Your vassal limit is somewhere around 50, and you will hit it soon enough. I prefer
not
to create kings in Greece and Anatolia, for fear they would desire the Byzantine Empire and get -25 opinion. On the other hand, putting kings in charge of foreign territories makes it easier to control Independance factions (which Greek and Anatolian rulers never seem to join). Plus, raising the levies is more practical.
As with demesne limit, always stay below your vassal limits. If you tend to go above it, check if one of your vassal count doesn't happen to be the de jure vassal of one of your dukes, and Transfer Vassalage if they are. If necessary, you can reduce Centralization or grant minor powers to the Council – Banishment and Execution committees each add +2 to the vassal limit.
Noble Obligations should remain at 2 towards Levy, but you can Tax burghers more as Legalism increases. You should establish at least 4 merchant republics, as far away from each other as possible.
* One in central Mediterranean, it can be Venice or any duchy in southern Italy.
* Aswan, to get trade posts in the Red Sea.
* Either Brittany or Wales, which are the territory in the North Atlantic that Western kings won't desire
* One in western Spain
Lukania and Sinai are blocking each other, there is room for one more on the Spanish coast
Trade zones in the late Empire.
In short, cover the entire coastline with trade posts and tax the trade. Women Status laws should be passed as they unlock, you are wasting half your councilor and commander pools when they are not.
Revolts
You have several tools to control powerful vassals. Advisor slots take two kings out of the factions, a third, competent king can usually be put at a regular spot, and Chancelor + Spymaster can dissuade two more from factioning – all this without the opinion bonuses you can stack in the late game. With proper use of Council positions, revolts should only happen at succession.
Increase Council Power factions are the most likely to trigger. Crushing them can be useful to re-organize the realm or gain the opinion bonus, but their ultimatum can be accepted if it happens at an inconvenient time. You can get these powers back in a few years. Note that in 2.7.1, the faction will change two laws, which may be more problematic.
Gavelkind ultimatum should be met with force, though if the unthinkable happens, you should expand fast enough to pre-emptively land younger sons until you can return to Primogeniture. Or make them bishops, if you want to exploit that.
Independance and Elective revolts should be drown in blood, even if that means surrendering other wars. You didn't spend these decades of expansion to start over, and the Empire has way too many dukes to reliably influence an elective succession.

The War of the Gauls
The Muslim should be largely subdued, and Western Europe awaits. This part of the playthrough is slower than the holy wars, it involves more plotting and more marrying. You will fight fewer wars, but they will last longer as castles become difficult to Assault. You have four large kingdoms to conquer: Burgundy, Aquitaine, France and England – plus Bulgaria if you haven't swallowed it already. It is naturally possible to conquer some of these kingdoms before the First Crusade.
As the legions enter modern-day France, you will make contact with the Umayyad. Unlike the Abbasid, they have enough holy war targets to keep their decadence in check and should be locked in battle against a coalition of French kingdoms. Strong as they may be by normal standards, you can crush their armies single-handedly and should join holy wars when possible: every duchy Aquitaine controls when you absorb it is one less war you will have to declare in the late game.
The Pope will quickly launch the Second Crusade, which normally targets Andalusia. Andalusia is a
massive
kingdom, 8 duchies or more depending on what the Umayyad control when they form Hispania, and the heart of Umayyad power. You will cut it out all in a single blow. The Third Crusade might target Africa if you haven't conquer it yet, all others will target random kingdoms you don't care about.
A reminder of how claims work:
All children of the dying ruler gain a weak claim upon succession, even in elective. In some successions, including primogeniture, the second and third in line get a strong claim instead. The difference is that a strong claim can be pressed at any time, while a weak claim can only be pressed in certain situations. All claims can be inherited once, but strong claims become weak upon inheritance. Crucially, marrying your heir to a princess means your grandson will have a claim.

The question is therefore how to press weak claims.
Female rulers: If the queen has no children, marry her to your heir. Your grandson will inherit both realms, and that's one less war you have to fight (though you will still get Threat on succession). Otherwise, overthrow her.
Regencies: The king suffered an unfortunate accident while his child was underage. Interestingly, going into hiding also results in a regency, so you may manage to press the claim even if an assassination fails
Claimant is third or above in the succession line: mostly useful against Seniority and Elective kingdoms. As previously mentioned, two votes are enough to press a weak claim in Elective. Use imperial reconquest to get them.
Title already contested: some revolts count as contesting the title. If this happens, press your own claimant immediately.
If an opportunity unexpectedly rises, and your threat is still above 75%, you can grant independence to some territories you don't need for the achievement – for example, whatever your vassal conquered north of the Danube and the Black Sea. Carefully check the titles and vassals of the local lords, and revoke as necessary to keep SPQR lands intact.
The Christian Defensive Pact is much stronger than its Muslim counterpart, but this time, you can weakening by signing non-agression pacts with individual members. Have many children and marry them with in the family of any kingdom you are not currently targetting (which you might want to do anyway to have claimants of your dynasty).
You are yellow, your friends are in black. The rest of the rainbow wants you dead. Good luck.​
You might have to mobilize all of your forces to fight the first wars. After about two kingdoms, you have topped the ridge and things will finally go easier from there. With most of modern France back in Roman hands, and non-agression pacts in central Europe, there may be a window where you can defeat the three pacts simultaneously. In that case, you can potentially go all-out and break truces against Muslim if you don't mind the Prestige hit.
V ASTRA INCLINANT, SED NON OBLIGANT – ADDITIONNAL GOALS
The Stars nudge us in a certain direction, but they do not bind us
An SPQR run will bring a ton of achievements. Divine Blood (reach a score of 100k), Celebrity (get 15k Prestige), Merchant Prince (get 20k gold) will happen once your empire gets large enough.
There are a number of other achievements that are not directed on your way to SPQR but can be obtained if you so desire (or if you feel you won't make it to SPQR).
And Stay Out! – Throw the Aztec invaders back into the sea
I don't have the DLC, but I
think
you can use crusades to reconquer the Aztecs conquered fast enough to get SPQR before 1453. They will land in a realm you need for SPQR so you can't possibly ignore them. Still, they should be easier to defeat than the Mongol due to their reliance of quantity (they won't immediately join pacts) over quality (no cavalry). You should have over 150k levies to the 200-250k Aztec event troops, so even if you lose a kingdom, you probably won't lose two.
Medieval Schliffen – Be simultaneously at war with the Aztecs and the Mongols
It will trigger more or less automatically once the Aztec are weak enough to join Defensive Pacts.
Empressive - Play as three consecutive generations of empresses
You already start as an Emperor. As an Orthodox, or with a vassal Pope, you can always excommunicate adult sons and imprison them without tyranny. As a Greek, you can castrate them to instantly remove them from the succession line without suffering kinslayer penalties. Sons who are not heir to anything may be granted bishoprics, so one castration per generation can be enough.
Peace in our Time - Enforce peace for 6 or more vassals
Switch war declaration law from External to Allowed. Wait until the first three vassal attack their neighbors, and enforce peace.
Pentarch - As an Orthodox Christian, hold Rome, Constantinople, Alexandria, Antioch and Jerusalem
This strategy requires to turn Catholic before you grab Jerusalem, but nothing stops you from briefly converting to Orthodox and switching back. You don't need to mend the Schism for this achievement.
Protector of the holy places - Have Rome, Jerusalem, Mecca and Medina within your realm
Your holdings in Syria are within striking distance of the duchy of Medina, which includes both Mecca and Medina.
VI AD VICTORIA - TO VICTORY
The Muslim have scattered in the desert, and the Western kingdoms are back in Roman hands. Only a few pockets of foreign lands stand between you and total victory. I completed the playthrough in 1305, so you have safety margin if some things go wrong.
The Mongol invasion
The Mongols in one sentence: don't fight them if there is any way to avoid it. They will lose their event troops around 1350, and breaking them before that date is not worth the effort. Their deathstack will join Defensive Pacts, and though central Europe is far enough that you should have time to finish your wars before they arrive in contested territory, consider white peace if they are closing in.
If you
want
to beat them anyway, the Roman Empire is one of the few powers that stand a chance, but understand that this is unlike any war you have fought before. The deathstack is immune to attrition and far stronger than its troop number suggests, this fact
will
catch you off-guard. Tactically, you need a bait stack of at least 20k to lure the Mongol in favorable terrain while as many troops as you can gather fill adjacent counties to the attrition limit. The Mongols will not engage if the troops marching towards the province far outnumber them, but idle troops in adjacent counties don't count. The moment the battle starts, order everyone into the fight. The bait stack will take horrendous losses and only serves to give crucial terrain bonuses to the other legions, so it should consist of expendable mercenaries/holy orders. Try to time the arrivals so several stacks join simultaneously. Barring the threat of a dangerous faction, this is the one case where there no such thing as too many troops: if you can bring 200k men, do it. One silver lining is that the event troops don't really reinforce, so even if you lose, you might inflict enough casualties to beat them in a second war.
The hour of triumph
As the purple covers the last patches of color in the Empire, check your kingdoms for any small crests that shouldn't be there. They indicate baronies or cities owned by foreign realms, and you need every single holding for the achievement.
Fortunately, most the cleanup phase can be subcontracted to your vassal kings. The most powerful ones can field 30k levies, which is enough to holy war the remnants of the Umayyads or reclaim random baronies somehow owned by the king of Norway. As before, you should focus on the largest realm and target the largest duchy.
If you control all the land but didn't get the achievement,
don't panic
. You get an in-game message when the imperial borders are restored, so if this didn't show up, you can be certain that you missed something somewhere. Check your screenshots (if you took them) for the "province restored" messages, and check the ones you don't have county by county. The holy orders probably have castles near Jerusalem: you can't use the Holdings casus belli against them, which is annoying, but it is possible to revoke the county, grant it to the holy order and then press a de jure claim – if your vassal king doesn't beat you to it. If you really can't find it, open the list of duchies given in paragraph IV and check them one by one, using the "De Jure Duchy" map mode.
And then, finally: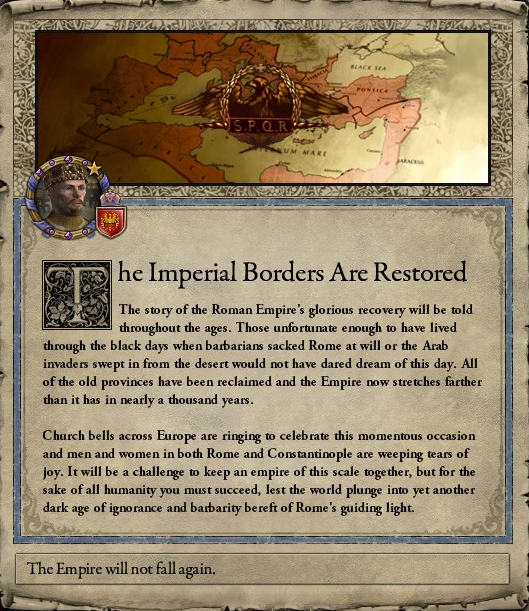 How do you say "gg" in Latin?​
Conclusion
According to Steam statistics, the SPQR achievement is held by 0.4% of the players. Most of them did it before Defensive Pacts were added in 2015, so if you succeed, you are most likely in a 0.1% club. The Roman Empire doesn't have the punch of the Abbasid Caliphate when it comes to painting the map, but the Defensive Pacts and the Christian limitations in casus belli makes it one of the longest, deepest and most satisfying experiences in the game in this writer's opinion.
So, is this the end? Well, in addition to the achievements mentionned above, game files have more Provinces than is necessary for SQPR. Conquering Scotland, for example, creates the Province of Caledonia. What are the others? I have no idea!
This guide is long in number of words, it is short compared to the playthrough itself. It hopefully taught you a thing or two about the game, if it didn't, I hope you have found it entertaining. Thank your for reading, enjoy the game!
Last edited: