The Shared Burden civic requires Fanatic Egalitarian and forbids Xenophobe, ostensibly on the rationale that a society which desires perfect equality cannot practice institutional speciesism.
Why then is it still possible to have synthetics under servitude? I'm not talking about pre-sapient robots and droids, but full AI. Any justification given to allow this ideological blindspot could apply just as well to other biological species:
"Oh, the Tzynn aren't really intelligent. They're more like wind up toys."
"Humans aren't capable of real thought, just convincing simulation."
"They don't have the special divine spark like we do."
"Blorgs don't experience true suffering, they simply respond to stimuli."
And so on.
As it stands, only Spiritualists could be assumed to believe in some fundamental ontological distinction between flesh and machine intelligence, and even then the wording of the "Artificial Intelligence Outlawed" policy choice suggests that biologicals in general do recognize synthetics as sapient, they just consider sapient AI very dangerous.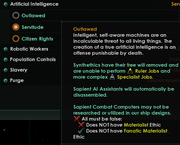 Materialists must allow AI, and are forbidden from outlawing it. Yet they still have the option of keeping them in servitude.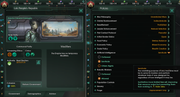 So, suggestions:
Allow Shared Burden + Xenophobe:
Shared Burden types are only required to seek equality between members of their primary species. You can play speciesist commies (nazbols) and bioconservative commies (hippies) if you want.
Forbid Robotic Servitude:
Robotic Workers Allowed + Citizen Rights is a package deal. Anyone building synths would have to grant them citizen rights, or not build them at all. This still creates the problem that if you conquer a world with synths, you'll end up automatically disassembling them in the name of "equality". AFAIK you can't displace them as refugees.