Strategy GuidAAR
28 Badges
Sforza!!!
FYI -
Index Added!
This is an AAR I am playing (vers. 1.1 - (later upgraded to v 1.3 in about 1573 or so, and to NA v 2.2 in about 1637)) as the Mediterranean trading power of Milan. I actually had a fairly extensive Beta AAR (of the same name and general style) but I'm not going to take time to get approval for a Beta AAR now that the real thing is here.
I'm playing without a net here, by starting the AAR as soon I start my first game. It's slightly possible I may meet some tragic fate, but during the Beta phase Milan was one of my favorite countries to play, and I am confident I can forestall disaster!
Thanks, Hajji, for honoring Milan with
your demo-AAR
-- fun country, eh?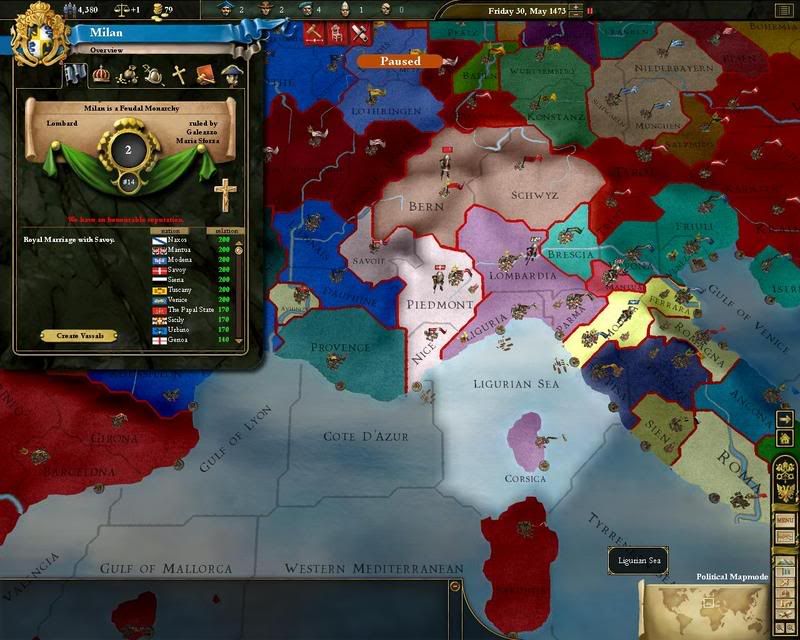 My King is the vaunted Galeazzo Maria Sforza, who is a gifted administrator, but isn't that great at a whole lot of other things. My concentration in this early period will be to build alliances, build my economy, and raise a defensive army – one army in 3 of my provinces (1 cav & 2 inf) and a galley for my navy in Liguria.
Milan starts in May 1473 (an arbitrary start date) with good relations with most of its neighbors. Her most powerful neighbor is Venice, but fortunately they're pretty tight diplomatically. I expect Venice to get into a fair amount of trouble, though, so I'm not going to ally with her.
Other Italian powers of note include Sicily, and the Papal States. Austria and France are both uncomfortably close, and not very friendly. Switzerland is not a friend, but neither is it very powerful. Other worries include Aragon (with which we have relatively good relations) and Burgundy.
Savoy, just next door, is diplomatically friendly, and has some potential as an ally and/or annexation target. Neighboring Mantua is dinky, but I want to work toward diplo-annexation of her too. Modena would be nice, too. Fortunately, in my initial days Savoy offers an alliance, which I accept, and both Mantua and Modena accept my overtures for alliance.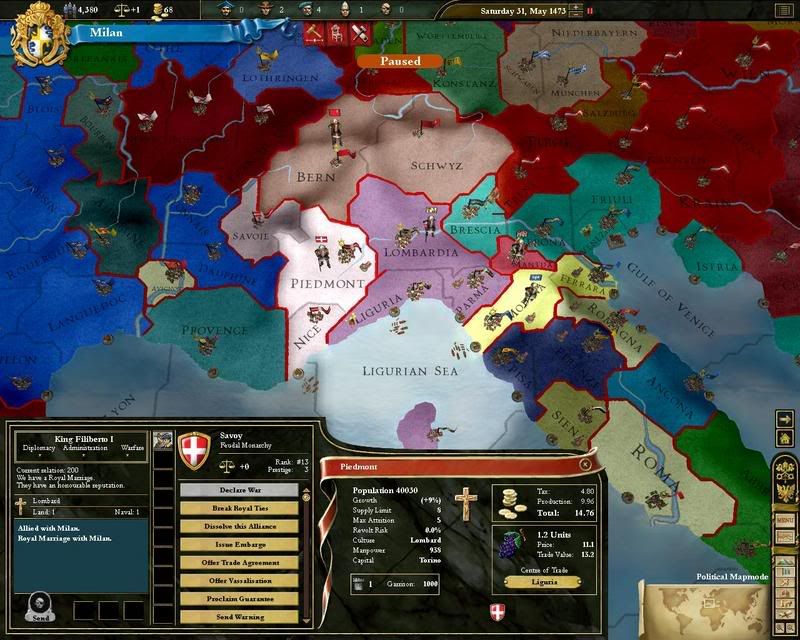 The advisors at start are forgettable – I start with a 2-star philosopher and a 1-star artist (+2 to prestige & +3 to stability investment). Armies are Latin Knights and Latin Medieval Infantry (stock troops, with no alternative types, yet).
I have a University at Parma, and a Center of Trade at Liguria, both of which will be very helpful as I try to expand my economy and influence. I set my tolerance sliders like a good Catholic merchant cartel should – preferring our own, but not excluding those of other faiths who happen to have nice ports nearby.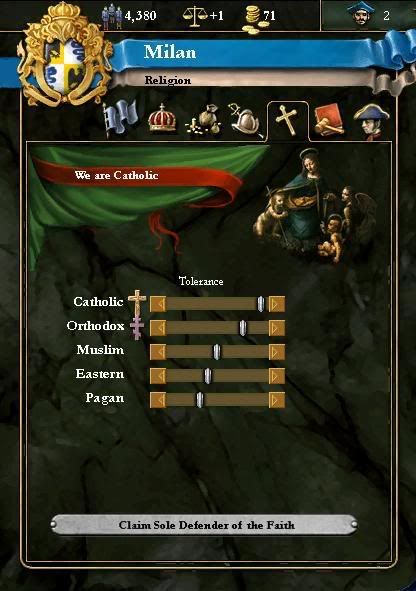 I set my budget to prefer trade over anything else, and start off favoring economy over military, though that may change once I get those first levels. My income from trade is limited at the start, but will improve soon.
Last edited: