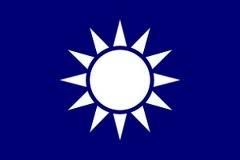 Generalissimo Chiang Kai Shek was rather depressed. A good part of that had at least something to do with the fact that he was dead. He wasn't sure what, if anything, he'd expected out of the afterlife but this certainly hadn't been it. Ever since that white light had enveloped him the late President-for-Life of Nationalist China had been stuck in what for all intents and purposes appeared to be a pristinely clean subway station. Where all the announcements were in Quebecois French. Chiang wasn't sure how he even
knew
that it was Quebecois.
Dozens of people were in the subway, but all of them had better things to do than to speak to a great leader such as himself. So Chiang had taken to sitting on a gold-plated bench, resting for lack of anything better to do. As he sat there, he began to think over his life and all that had gone so terribly wrong. From the de facto leader of China to the dictator of Taiwan, and his greatest rival and terrible poet in charge of his homeland.
Regret filled him as he dwelled on the failings of his Nationalist China. The rampant corruption and oppression that had occured under his regime. Empty promises of modernization. Refusal to fight the invader and instead attacking his political rivals who should have been wartime allies. That incident with the dam. Yeah, that'd been bad. Not listening to advisors and losing the mainland in the resurgent civil war. The more he thought about it, the more he began to wish that he could do it over again. Maybe he'd be able to do a better job and keep the Republic of China unified. But that was just a dream.
"I say, having second thoughts about your life?" a British male's voice asked.
Chiang looked all around and didn't see anyone, "Perhaps... where are you?"
"Doesn't matter, my good man. Doesn't matter in the slightest. Now, what if I were to tell you that there is a way you could go back and do it all again?" the voice asked, totally ignoring Chiang's legitimate question.
"Then I would do it.. but that's impossible," the general answered hesitantly.
"Not if you can defy the laws of physics, old chap," came the response, "Just say the word and you'll be back to life, younger, and President of the lands you once held. More or less."
"This is too good to be true. And defy the laws of physics?!" Chiang shot an accusatory look in the direction of a station speaker, for lack of a person to glare at.
The voice laughed and told him, "Maybe not, maybe so. But you're hardly in a position to turn me down. Now, in front of you shall appear a device that will take you home, should you accept the offer. You'll have 10 seconds to decide once it shows. Best of luck, old bean!"
Before he could ask anything else of the voice, there was a strange whooshing sound as something rectangular materalized in front of him. Something blue, rectangular, and with a little light on the top that flashed. Like it was out of some low budget science fiction film from America. Chiang tenatively stood and poked it, which caused the door to slide open and himself to jump back in surprise. That hadn't been expected. But neither had the offer either. 10 seconds? Chiang had every reason to distrust a disembodied voice in the terminal, but still.. his mind made up, he leaped into the box just as it began to dissapear.
The box shook a bit, then came to a stop and made that kind of annoying sound again. Had he arrived somewhere? Was he dead again somehow? And boy was it cramped in that box. He'd almost expected it to be bigger on the inside to ensure comfort. No such luck. When the door slid open, Chiang hesitantly stepped out with one foot and peered outside. It was a splendid day, and all of the buildings were quite nice looking and of an old, quaint style.
Wait, old and quaint? He stepped out the rest of the way and looked around for other identifying locations. After a total 180 spin, he could tell for certain that he was, in fact, on the island of Taiwan again. And he did feel a youthful energy about him, one that he hadn't felt in decades. Maybe the voice had been truthful after all! A large group of people came up to him just then, staring in disbelief. All but a few, dressed in peculiar suits and uniforms, who looked relieved. Was this some kind of festival?
"There you are! You shouldn't wander off like that, it's not befitting the President of the Republic," one of the men said in an almost scolding tone.
"How dare you speak to me like that!" was Chiang's immediate response, and then he realized something was dreadfully wrong, "Wait.. what is today?"
"The first of the western New Year," one of the apparent soldiers reported, "1836."
"What?!" Chiang began to protest, then shrugged. After all, he'd come back from the dead, and was young and energetic. So going back in time? Not really that big of a shock. Plus, now there were all sorts of things he could change...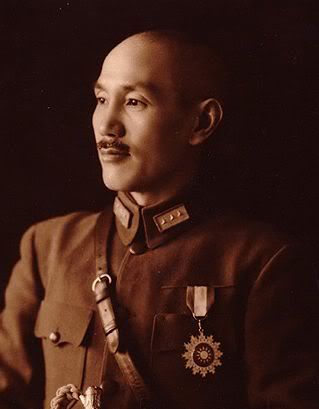 Chiang Kai Shek, President of the somehow-existant Republic of China on Formosa of 1836.
Back at the odd terminal, a man in a redcoat uniform smirked as he lit a cigar and remarked, "Isn't destroying history as we know it grand?"​