First Lieutenant
23 Badges
So, as with my other mod, this is now defunct. I don't have the time or energy to fiddle with things and so forth anymore. I don't know if this is still compatible with the latest patch but basically, I'm going to leave it here just in case it is or if anyone wants to use the basis of the coding for their own work.
What is this?:
This, my friends, is a Saxon England mod...yes...another one. The other one's are all dead. It's focus is entirely on pre-1066 England. It just adds a little bit to the whole 9th century in England really. The second release is live below.
I hope to add a few more England in general features down the line, such as the Prince of Wales title. Oh and I plan to make a few 'Graphical' changes too but that will be a long way off as I'm really useless with that stuff. The gist of those will be to change the 4 Kingdom flags in 865, which won't be much trouble, but the one that will give me hassle will be replicating a mod I saw the other day that has since gone out of date that has three flags based on whether the Saxons, Normans or Norwegians hold England.
If you have suggestions or want to offer your aid then come right in and leave a comment or message me, my ears are always open. Also, report any bugs below.
I am aware of some historical inaccuracies, such as Burgred fleeing to rome rather than dying, the fact that the 874 scenario is likely a decade too early and the fact that there's no evidence that Æthelred is Burgred's son. I didn't want to leave Burgred alive and Æthelred's dynasty is usually considered to be Of Mercia so i just felt like making Æthelred his son...as for the date of the Alfred's stand scenario, the whole time frame froom the era seems too drawn out for my liking, I find it hard to believe that it took them twenty years to conquer two kingdoms after they'd already subdued Northumbria. And I speak of the puppet king issues in the description.
Images:
Bare in mind that I have fiddled slightly since these were taken, the High Reeve image was just to show the name change, the character who holds it is now dead by that year.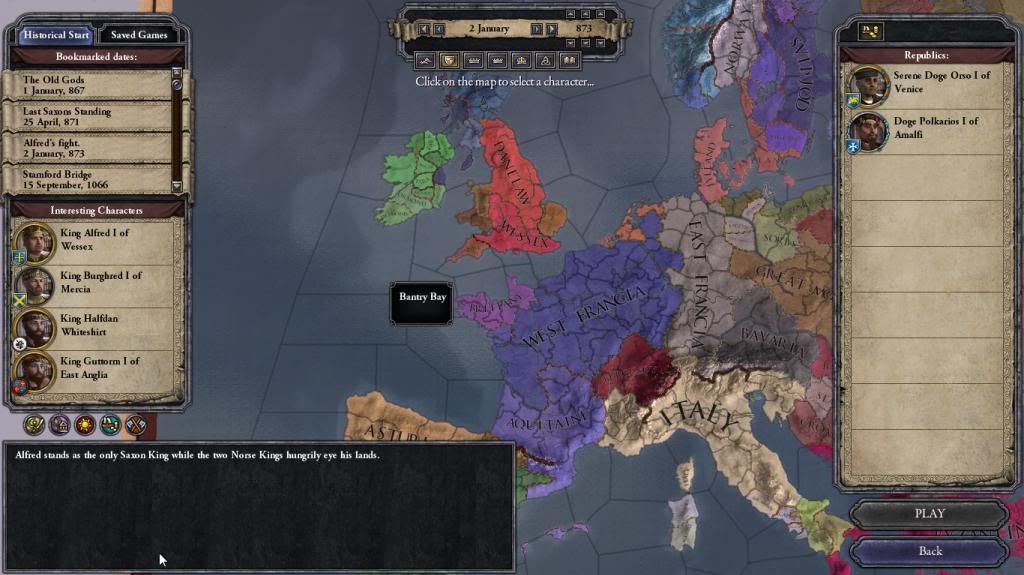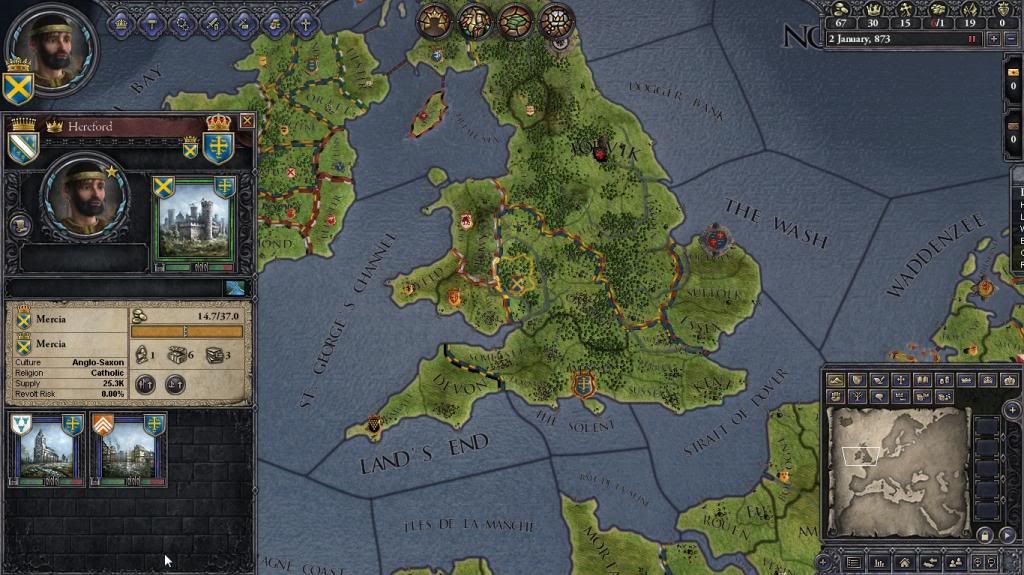 Current Version:
1.04 - October Sixth 2013
Download Links:
Changelog from last version, AKA, Why should I download this new one.
Fixed a hell of a lot of bugs that I was experiencing and gave me one HELL of a headache. King of England was unformable and the events for EFCHM weren't working right and all manner of things. I don't know if this was the case across the board but this patch should finally make this mod actually playable.

The King of England is now only formable by decision, which requires such an amount of gold and three of the four Saxon Kingdoms. You will NOT be able to form it normally, you have been warned.
Compatibility:
SB is compatible with all DLCs and 1.111 patch

Other than that, as with my other mod, I don't know...I know it's not compatible with No Requirements.

This mod includes an altered Landed Titles.txt, Defines.lua, Bookmarks.txt and an altered history file for most English titles, along with altered Saxon and Norse character history files. Any mod that alters any of these will likely cause issues with mine, especially one's that effect Landed Titles or the history of titles, those are key to this mod moving smoothly.
What It Does:
Version 1.00:

Defines has been messed with to remove all CD penalties just because I hate them so much.

Defines has also been changed so that 81% of a Kingdom is now required to create it and 90% to Usurp it. Adds a bit more of a challenge but it's also for reasons to do with the events.

Saxon Dukes are now Earldormen who govern Earldormancies

Saxon Counts are now High Reeves.

The 865 English Kingdoms are now full blown de jure Kingdoms. You heard me. But there's a twist. These Kingdoms are in turn De Jure parts of the Kingdom of England which is still de jure part of Britannia. The Kingdom of the Isles has the same treatment.

Two new start dates. 871 where Alfred and the king of Mercia stand alone against the King of Danelaw and the King of East Anglia and Mercia has lost Lincoln and Leicester to Danelaw. The King of Danelaw is Halfdan because it is impossible to create a puppet Saxon King. 874(i think), where Alfred is the only Saxon king left. The son of the former King of Mercia serves Alfred as an Earldorman of Mercia though most of the Kingdom now belongs to Danelaw.

Revised borders of the Kingdoms of England. East Anglia now has Essex, which is de jure part of the duchy of Norfolk, Mercia, at first, holds Middlesex but loses it to Wessex control by 871 start date. Mercia, in 865 and 871, also has Oxford. I feel this is more historically accurate, though i could be wrong. The main reason for Middlesex and Essex's changes is that London marked the border of the three Kingdoms but in itself was Mercian. Now, if Wessex holds Essex and Middlesex then one, it holds London and two, London is now a whole county from East Anglia.

None Saxon duchies, Lancaster and York, are now locked off from Saxons, these titles weren't created till much later.

Three Events. One that fires if England is formed by the norse, naming it Daneland, one that fires if the saxons get there first and one that if the Norse got their first but the saxons took it back. The first two serve only to destroy the four lower King titles, which is why the requirement is now at 80% to form a Kingdom, since otherwise Danelaw could form Daneland real quick in 871/874 and rob Alfred of his Kingdom of Wessex. The last one simply reverts Daneland back to England...simple, right?

I have also messed around with the character files, removing/killing people who were making the coding rather annoying.

I think that's all...

Added in V1.01
Removed Ivar and Halfdan's doomstacks in the two new scenarios.

Fixed really major and really annoying bugs resulting from an added character who's ID must have been out of the game's range or something cos his presence messed up a lot until I gave him Harold's baby son's ID number...however this does mean that in 1066 Harold has an infant child with the 'twin' trait but their twin is no longer even in the game...he's now the son of the King of Mercia. Still, as they're infants and Harold often loses, I doubt anyone will mourn it.

Fixed bugs where some people ended up independant of the crown after 1066 bookmark.

This is mostly just a clean up patch that makes the mod actually playable.
Added in V1.03
The inclusion of 'EFCHM - England Flag Changing Mod' by Athalcor.

d_wales, a title that, as of 1301 is given to the Heir apparent of England in the start. You may then grant it to your first born son from then on. It exists as a titular title before then but doesn't actually do anything etc. I still need to script events for it.

Correct flags for King of Wessex title.
Coming in the next update
Credits
King_Kovu:- I built the mod

The creators of Elder Kings:- Whose coding I...borrowed and reshaped to fit my needs

The author of Saeculum Obscurum:- Who's mod gave me the knowledge to that inspired this mod. I had wanted to make a Saxon mod but having seen the 'King of the world' title that de jure included all empires in that mod I learnt that I could make the Kingdoms of Wessex, Mercia etc into full blown kings with the full De Jure they deserve.

Athalcor:- Whose mod, EFCHM, is incorperated
Last edited: