Debased coinage
35 Badges
Rain
It was winter, and in the quiet duchy of Savoy it was raining again. Duke Amedee sighed, and put down the pen he was holding. Once again France and England had gone to war, and all his patient efforts at mediating a quick peace had ended with nothing but vague promises never to be fulfilled. The annoying, irregular pitter-patter of rain broke the Duke's concentration, and a lesser man would have cursed, or vented his frustration somehow. But not Amedee, for he was a peaceful man. Indeed, he was so well reknowned for his desire for peace and co-operation that he was known by many as Duke Amedee le Paisable.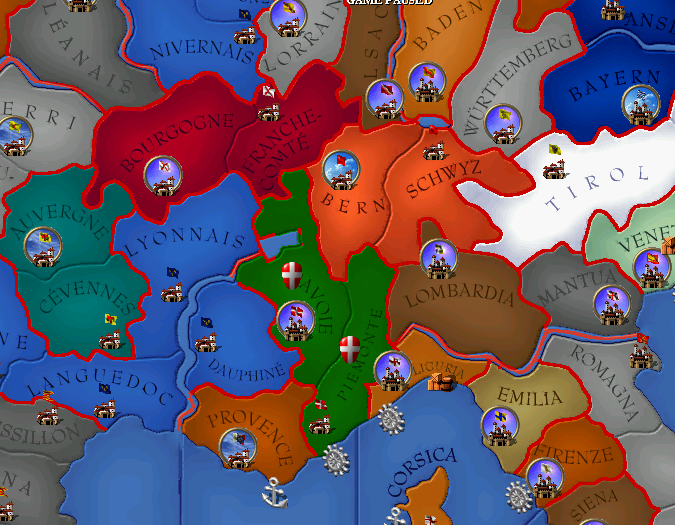 Savoy, an island of tranquility in a sea of conflict
​
The war troubled him, but at least Savoy had not been forced to choose a side; good relations were maintained with all the belligerants, and to ally with one against the other was just something unthinkable to Amedee. To join forces with England would be to betray France, and vice versa. No, Savoy, with her breathtaking snowtopped mountains and vast panoramas would remain, a fortress shielding itself against the outside world, untouchable and unbreakable.
Amedee turned his thoughts away from the war to the more mundane issues of administering the duchy. His goal was to make Savoy a more profitable realm, and so as the new year came a series of tax reforms were initiated, with the appointment of a professional tax collection office in Chambery, as well as some reforms that took away some privileges from the nobility, giving more power to the Duke. This caused some disquiet amongst the nobility, but it was generally accepted.
Several weeks passed, and sometimes the rain became snow, but the heavens remained generous. The news that King Henry V had invaded the Duchy of Orleans with a large army came in February.
"France is weak!" said Pierre de Megeve, First Marshal of the Army of Savoy and not a man who totally approved of Duke Amedee's approach to European politics, "Just think about it, my lord. We could benefit greatly from the collapse of France; Lyon could be part of our lands! We must strike now into the southern lands of France, before the opportunity passes by."
Amedee nodded and smiled, as he always did, and various other courtiers put forward an opinion, and Pierre knew that, like always, he would be ignored. 14,000 troops were ready and willing to go to war, and no doubt more could be raised from the peasantry, but Amedee was firmly set on the path of peace.
As he sat in his room, treasonous thoughts crossed his mind. "I could, couldn't I?" he muttered to himself, stroking his fine beard, "he would thank me in the end, I'm sure."
And so, over the next few weeks, plans were put in place. A forged signature here, a royal stamp there, and Pierre was set. He was betraying Amedee, and he felt bad and ashamed about this, but he had spoken to many other members of the nobility and most had given their tacit apporval for his plans, still annoyed about the privileges taken away earlier in the year. If Amedee objected, he would opposition from both the nobility and the army, he would have no choice but to accept what Pierre had done.
Pierre knew that King Henry of England was currently besieging Orleans, and so in mid-February he began his journey, with everything he needed. As he rode through dangerous, war stricken lands, he knew that everything hinged on England accepting the offer.
"Soon," he said, "the standard of Savoy shall be seen on the battlefields of southern France!"
The flag of Savoy
​