Manager of Micro
53 Badges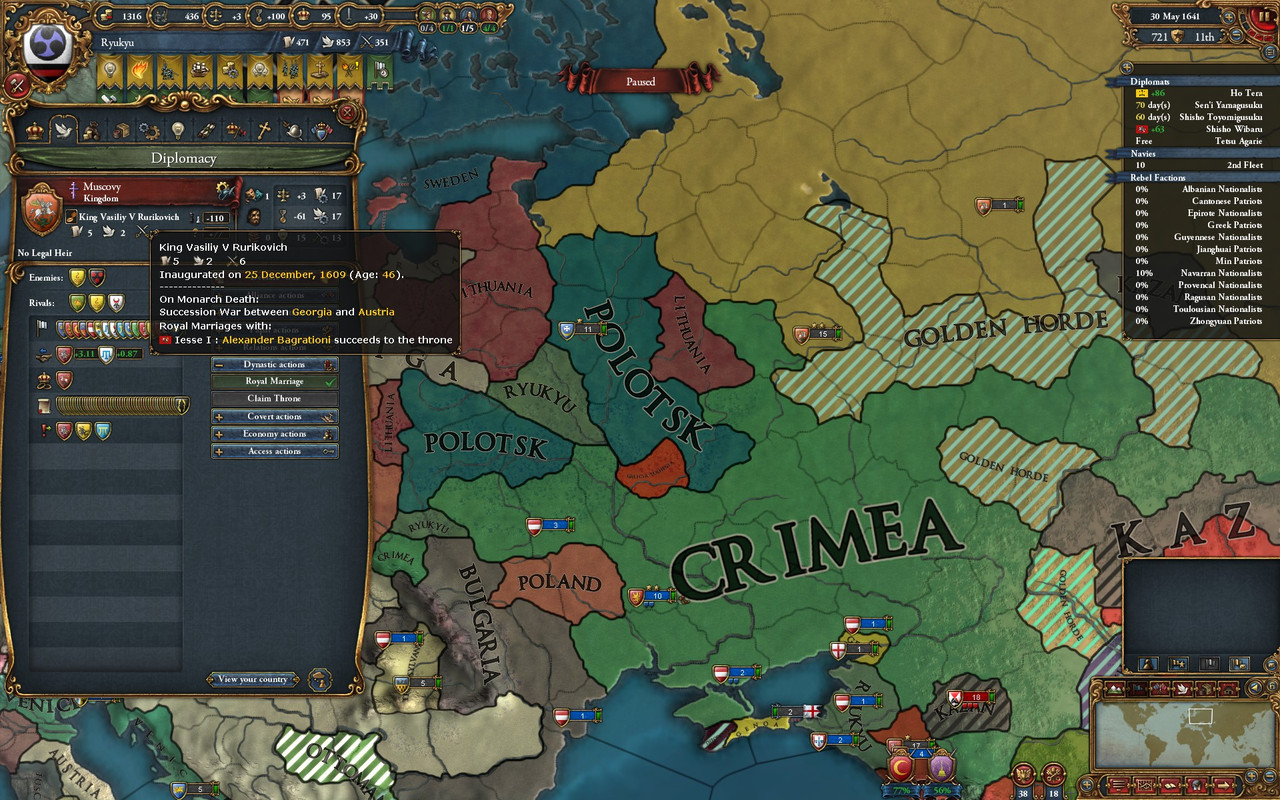 Time for something else entirely.
Personal union mechanic!
Muscovy was in a coalition war with me before, remember. Muscovy is really weak military wise after I bashed them in that coalition war. Other nations declared too. Muscovy is no longer outraged, but threatened attitude.
My -3 to diplomatic reputation due to integrating vassal expired. Muscovy has tiny army, since they just got out of being occupied 60%.
....and guess what?
I can RM Muscovy now with maybe 60 positive malus, and -58 against so to speak. Muscovy has *one* RM partner (Georgia), and a 40+ heirless king. I did a royal marriage with Muscovy; I maybe had a window of a few months to do it, before Muscovy produced troops again (and a fleet). If Muscovy got a big army again, I likely would have lost the chance to do a RM with them... Because the malus increases if the target nation has big army.
As you can see, Georgia would have gotten Muscovy as minor PU subject when Muscovite ruler died, and Austria would contest it. We can NOT tolerate that
So, I did royal marriage with them while they were weak and threatened by me, and the succession status changed from Georgia versus Austria to Ryukyu versus Austria.
I put that 'trick' in PU guide:
It is possible to get a RM with a country that has -200 opinion of you and threatened status (hostile and outraged status give malus making RM impossible!) due them wanting the provinces you conquered from them earlier. It doesn't take this into account. With high enough diplo rep, a diplo rep advisor and some luck you might just pull a RM off with a non-outraged/hostile -200 opinion neighbour of same religion. If you grow very big, you can even RM-200 opinion heretic countries that are reasonably far away from your nearest province.
I was counting on Muscovy declaring reconquest war pretty soon against its former agressors, and they did. The succession status changed then from succession war to "a noble of the von Habsburg dynasty ascends to the throne". If the old Rurikovich king dies heirless now during these wars, I'll be waiting to start force PU war immediately… I just hoped Muscovy would be entangled in reconquest wars until they defeated their former agressors. That's risky, but you *have* to take risks in PU mechanic. The worst thing that can happen, is Austria that declares on me in a succession war over Muscovy. And yes, they can do that, even when they are ally, even when they are fighting war with you (they drop out of first war then and start a nother AGAINST you) and even when you got +200 relations and high trust with them…
Err right. Are you still with me? Gotta love complicated PU mechanic huh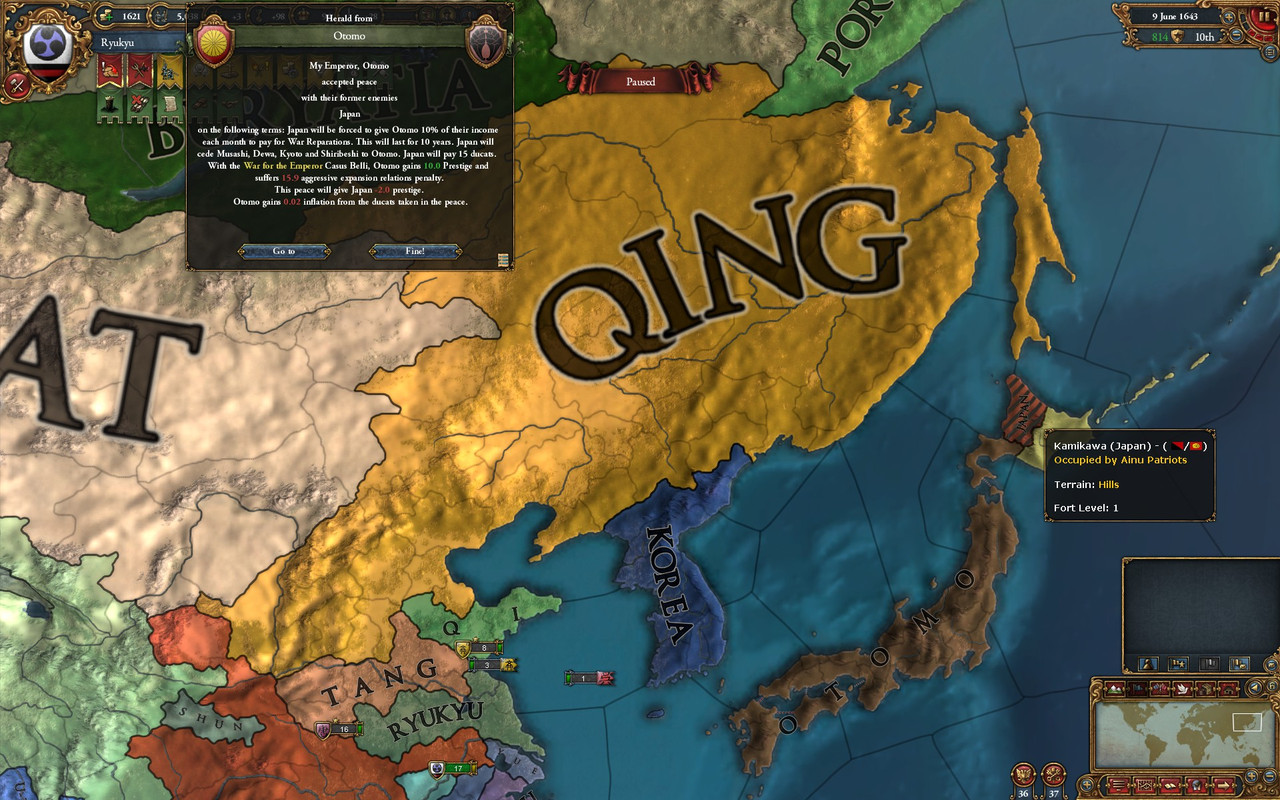 In other news: Otomo ate almost entire Japan
I have simply never seen a nation annexing the original Japan… Nice work, Otomo! Japan just had a province in the north left… occupied by rebels.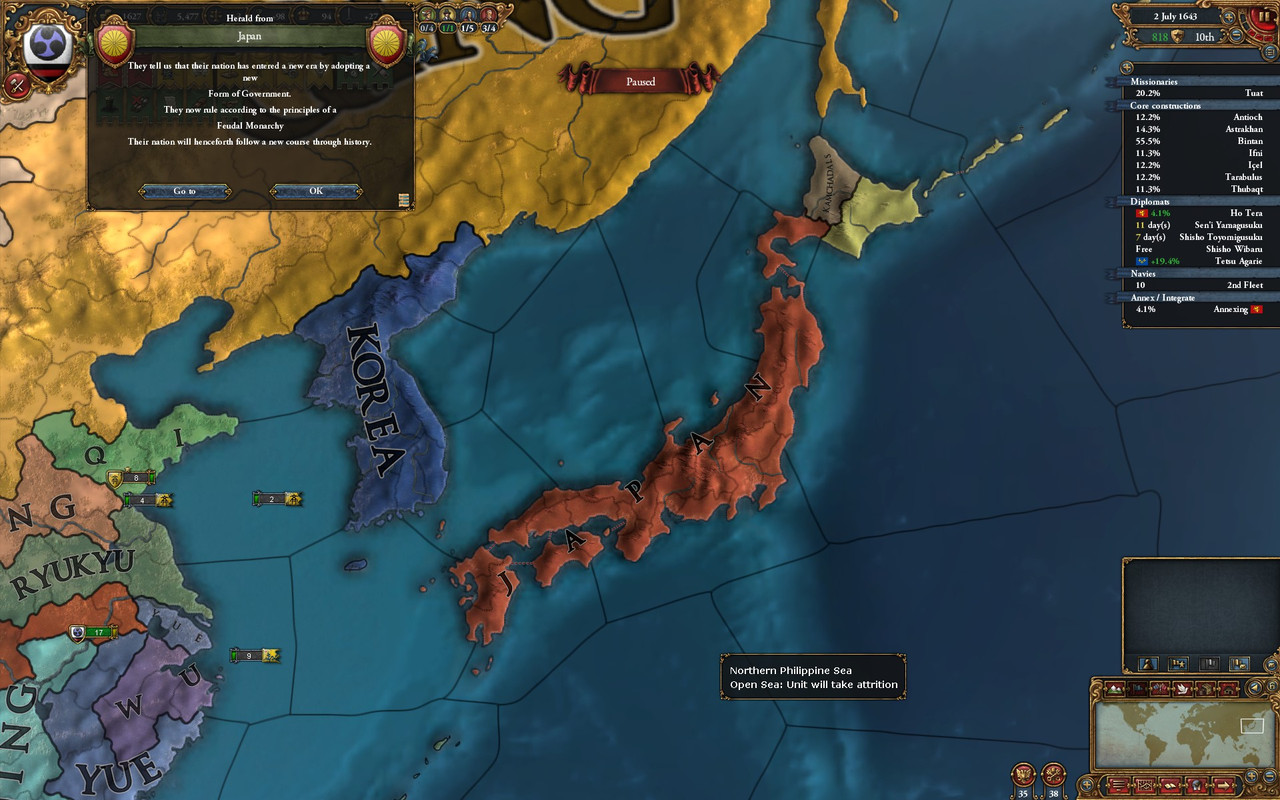 The next month, the rebels there enforced demands, and Japan vanished for a day. Then…. This happened
Otomo formed Japan… again. And.. Japan is catholic!
We can do royal marriage and alliance..
But that has to wait.
Austria integrated Pomerania. Austria now has ports and cores inside the Baltic Sea area. Don't look at me, nothing to do with it
And they are becoming friends with Poland, Riga, Lithuania and Polotsk. Diplomacy can be as OP as expanding militarly, rest assured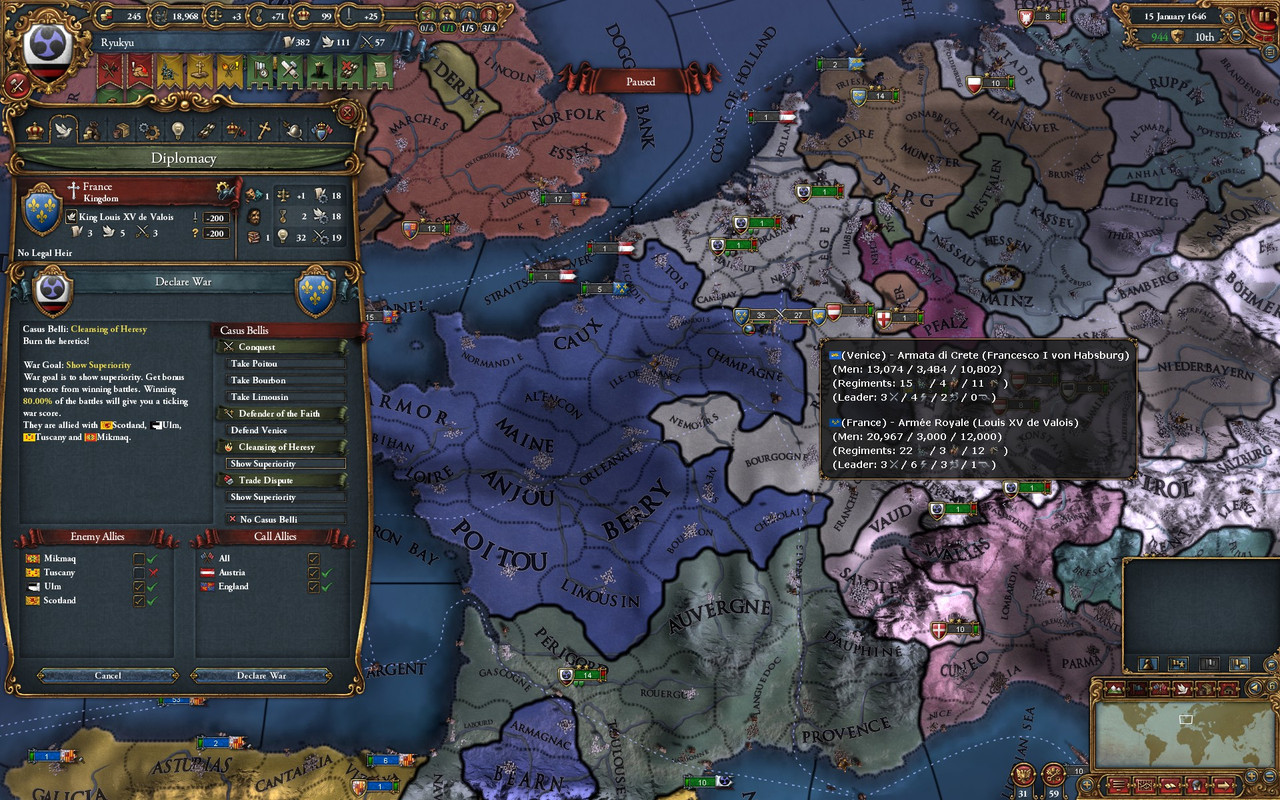 After a breather of 2-3 years, its time to attack France again. Our supply of baguettes was low
Tuscany didn't join in because they were at war with Venice, who is at war with France aswell over Corsica. Pity. I wanted to feed Austria a corridor all the way to Sicily… That has to wait. Ulm did join. And Scotland. I made both co-belligerent.
I placed some 1k merc stacks on top of Austrian stacks in the Alpes, and they attached immediately after the DOW.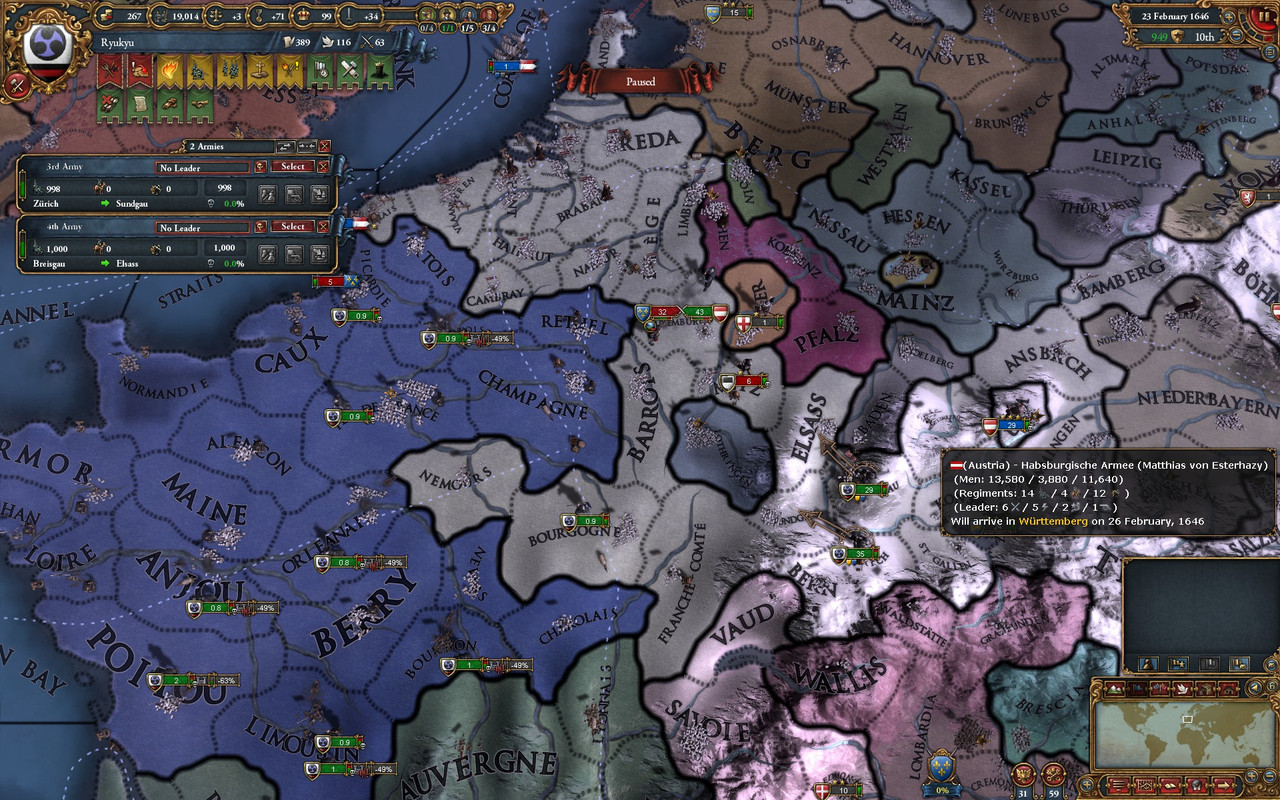 I'll demonstrate the "use 1k stacks to prevent a nation from routing far away" trick again.
I kinda hope it gets patched, since its way too powerful. Its not really an exploit in my book; the routing mechanic was designed to work this way. I just use a flaw in that design to my advantage.
France attacked a stray stack in Austria, and I moved all other stacks of Austria towards that province. Meanwhile, I used my own troops to spread across France from the South to loot, stop troop production, ….and to eliminate ALL possible routing paths for France after that battle is over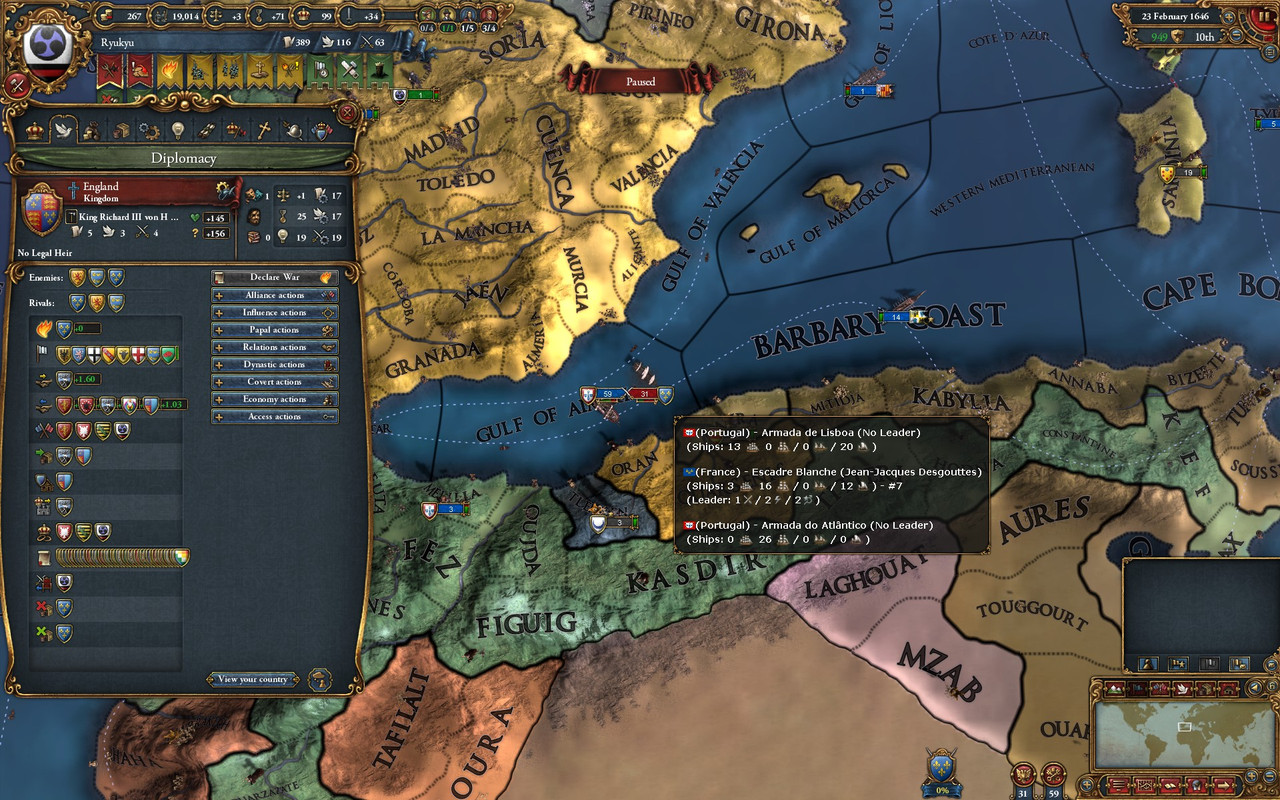 A glance at the disputed succession window learned me England has disputed succession. Wait what?
They had young heir in regency before.. Seems the heir died now, of natural causes, in his twenties. I didn't see an "heir dead" event in England. Now this is promising
England has an old heirless king now. BUT I asked them to join the war versus France. ARGH
I got to hope England stays heirless until this war ends. Since their king is old, I got good shot at it. Even IF England (and Muscovy too, for that matter, they are heirless too remember) gets a dynastic event that gives them heir, then the heir is usually weak claim.
And you can still do force PU war on a same dynasty nation that has weak claim heir.
We can't do anything but sit and wait… For now.
Meanwhile, Portugal is making short work of the French fleet. Blubblub France.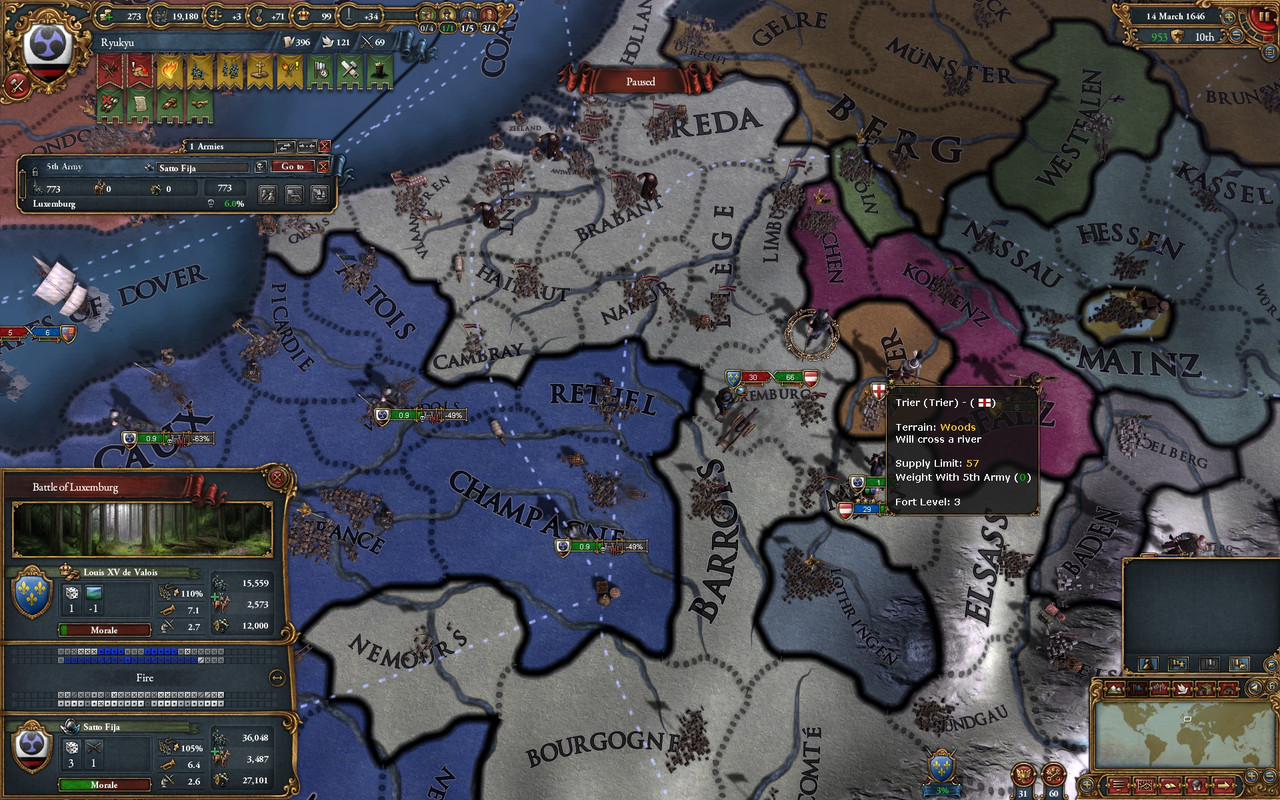 I reinforced the battle against France with more and more troops, and France is losing. Meanwhile, I positioned my troops in France to await the end of the battle. I stopped troop production in France by shuffling 1k stacks around.
Important tip
: If you hover over the smith icon in a province, you can see WHEN that province will finish its troop production. In case of mercs being built there, this can be quite quick! So if you attempt to repeat this trick, WATCH TROOP PRODUCTION TIMERS and act accordingly to stop it.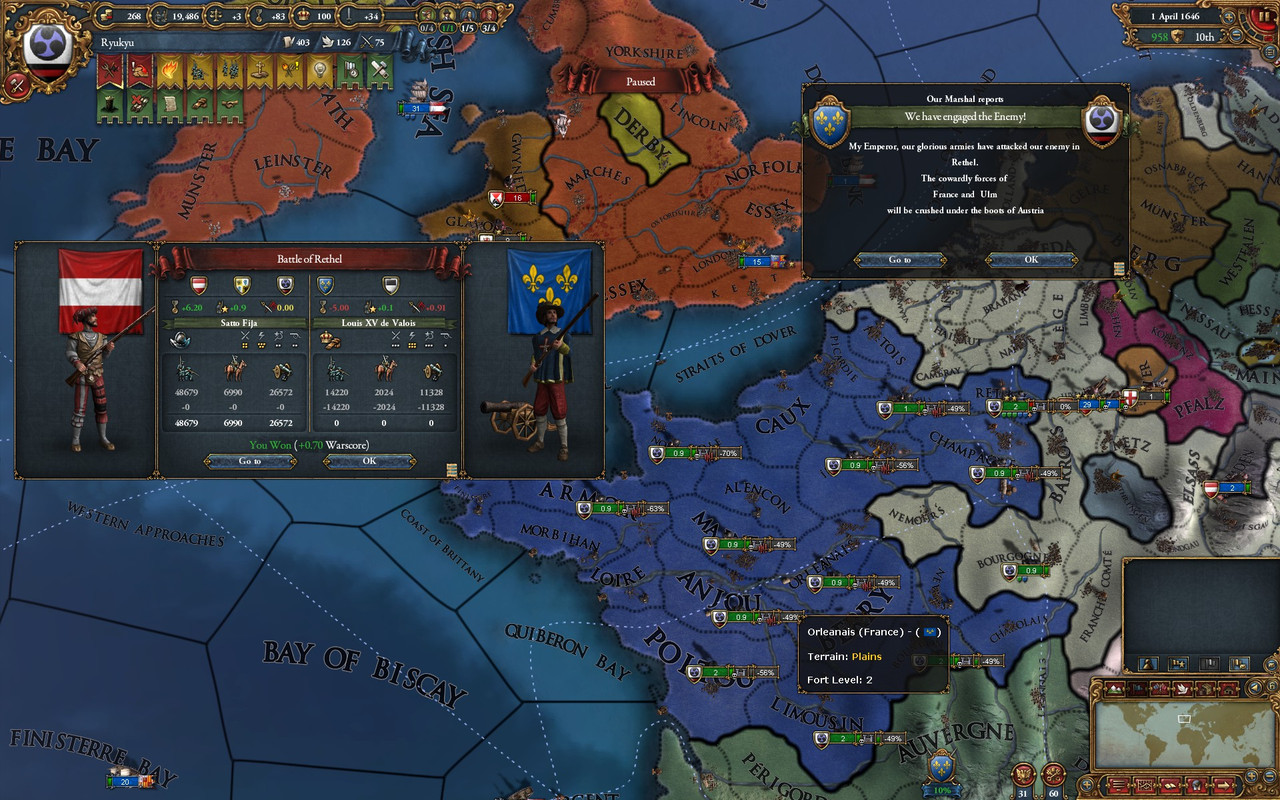 The first battle versus France ended, and France got routed…. To the next province. Louis XV de Valois saw his *entire* non-overseas army ob-li-te-ra-ted
France defeated within 4 months. New record!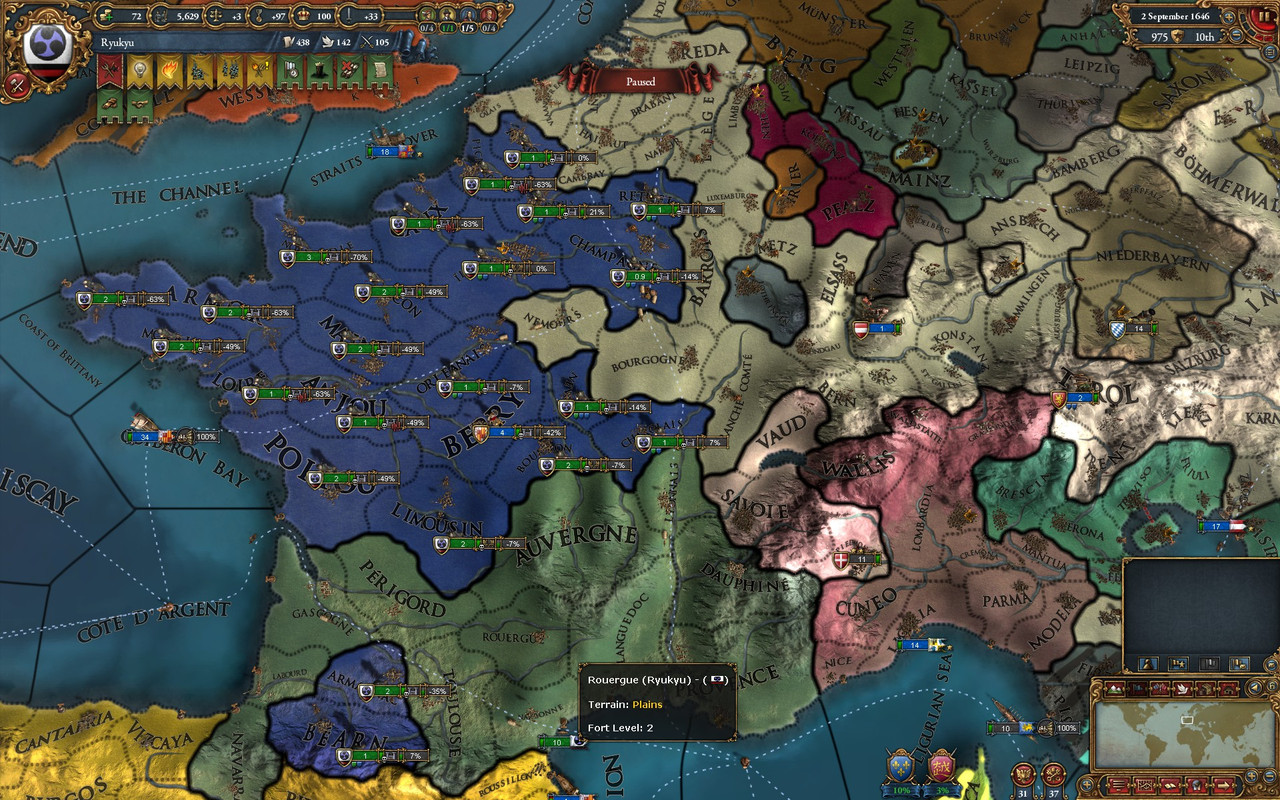 A few months later, France is being FULLY sieged. This is getting too easy. Yawn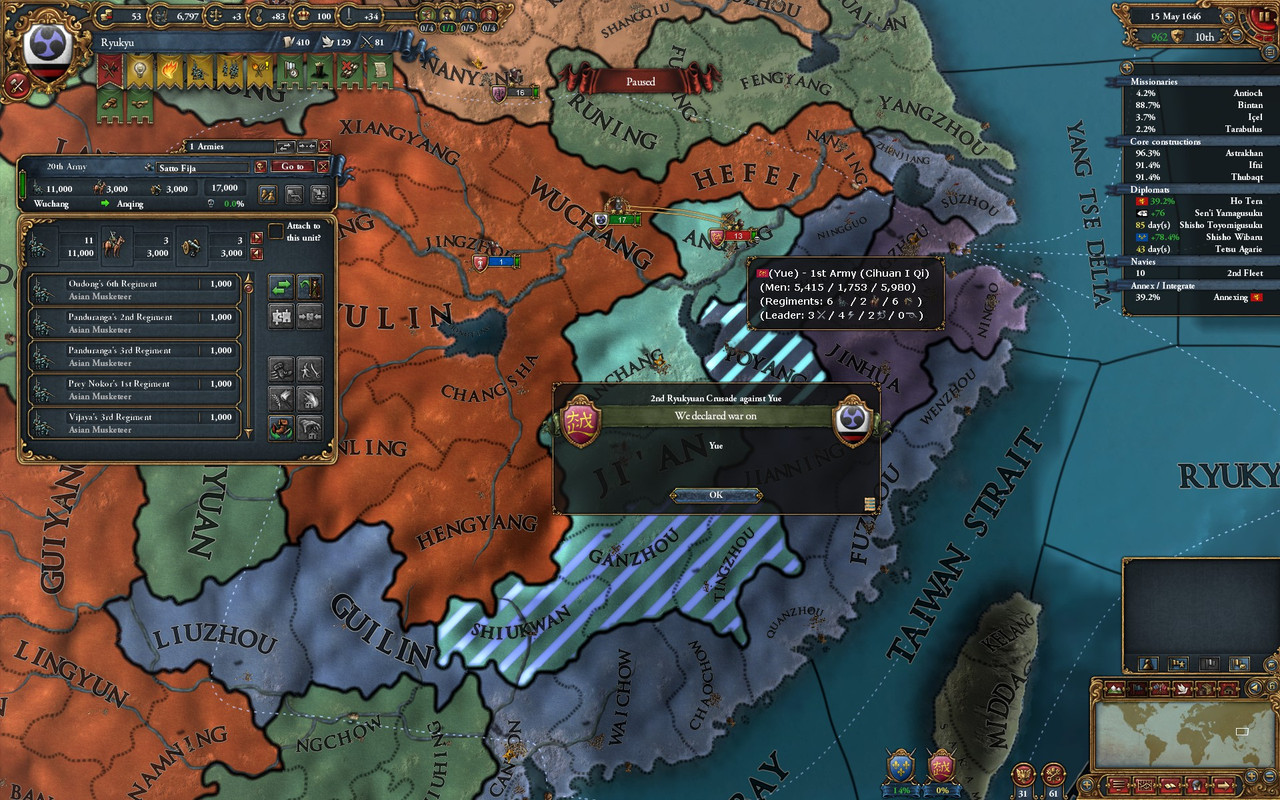 I guess we open another front then. Yue declared on Ning a while back, with the result that neither of them could join a coalition versus me as long as that war is ongoing. Using the opportunity, I asked military access from Ning, and declared on Yue the day after. I led my main Asian army (Ryukyan OP troops versus non westernised low military tech/low military tactic troops
) to attack the main army of Yue. They got bled BAD so far, they have no manpower, and even after growing considerably (thanks to integrating Ming) they are a paper tiger.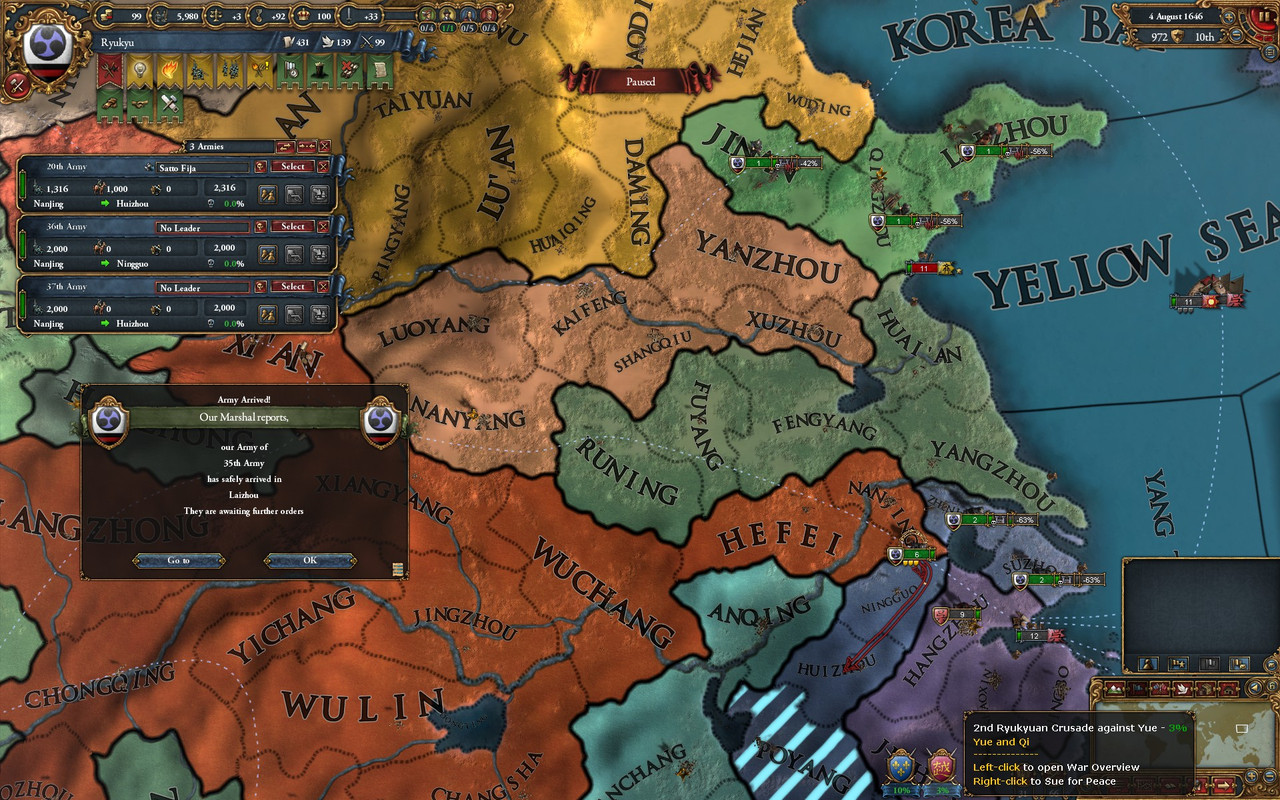 The fight wasn't even a fight. The difference in military tactics and unit pips is SO big now that I win each fight with less then 1-2k manpower loss. I attacked Qi (they joined in) and occupied them. I intend to just occupy stuff I got my eye on, and let the participants of the other war kill off Yue. That worked nicely.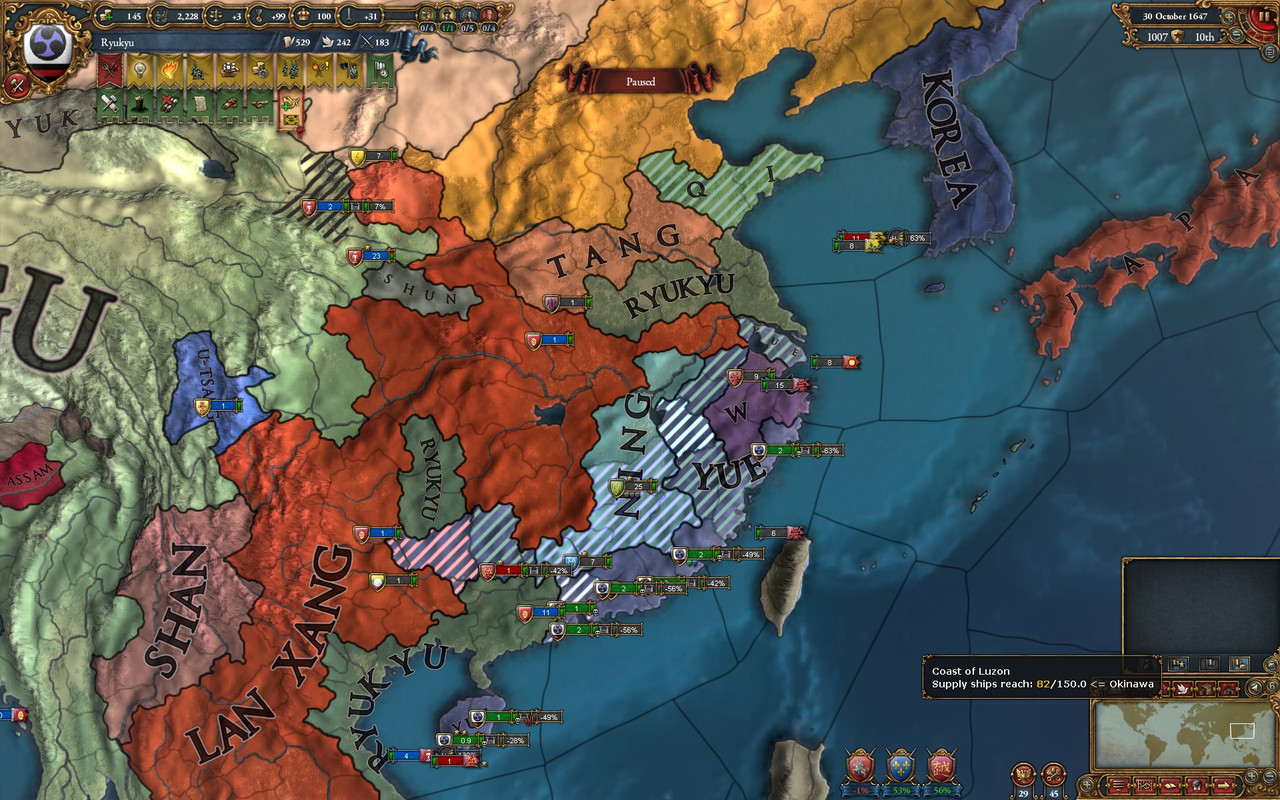 A year later, Yue and Qi are being sieged completely.. I intend to do 100% peace deal, so the war dragged on.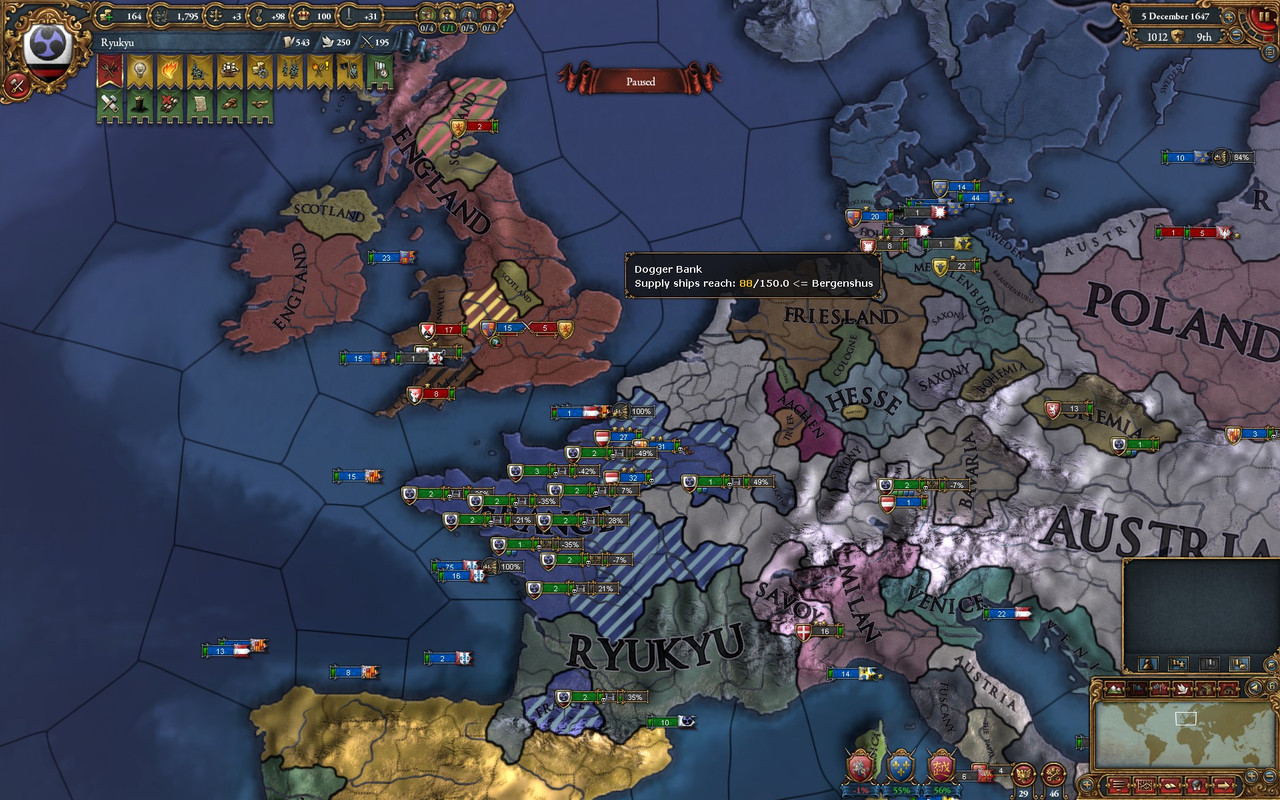 England is sieging and fighting Scotland. I meddled in the long run, and helped sieging Scotland up in their home turf AND in the colonial nation Nova Scotia. France has two colonial nations too in North America; SWEDEN ferried troops there without me even noticing it. Nice job, Sweden
In the end, all the colonial holdings from France and Scotland got occupied aswell.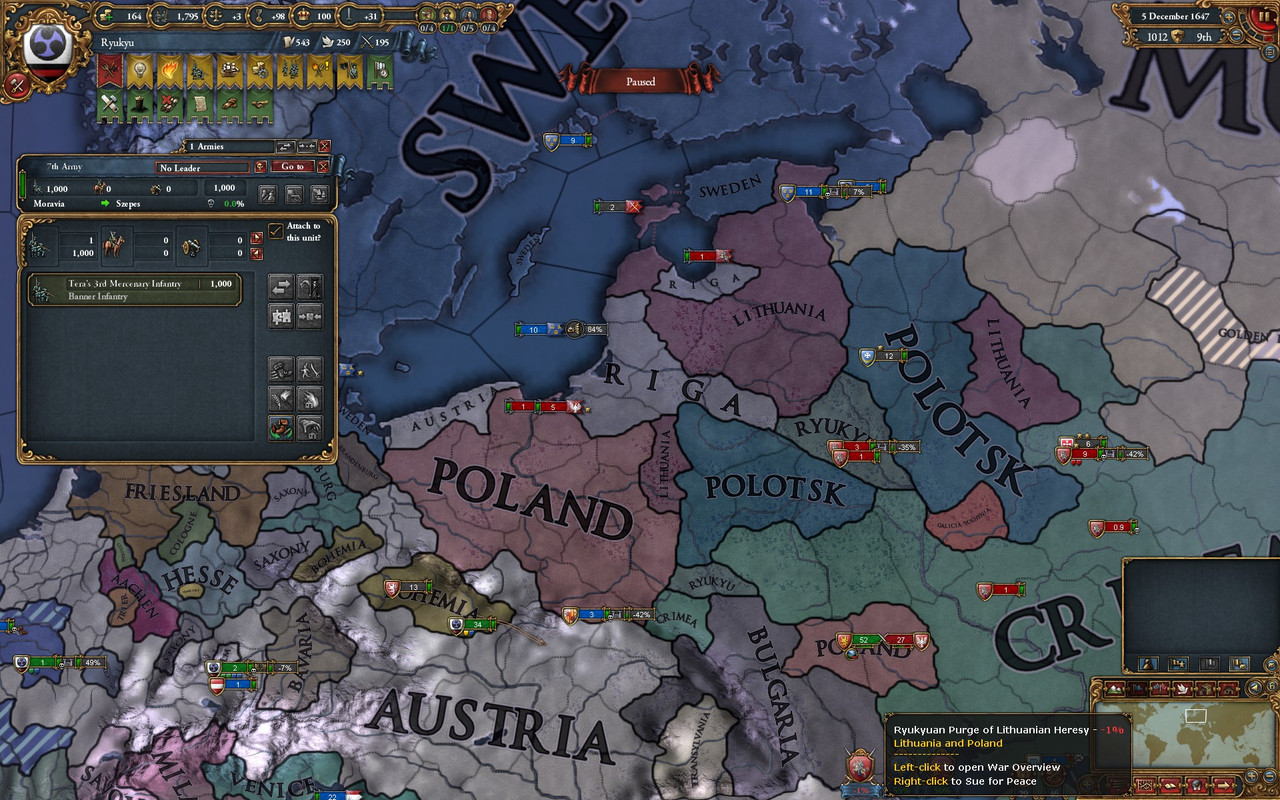 Time for another front. I attacked Lithuania, and Poland joined in.
Both Poland and Lithuania are allied to Austria. But since Austria is in a war with me on the same side, both nations are relatively easy pickings now.
Austria can't help them.
I didn't make Poland co-belligerent, since they have a load of allies in the HRE. I got ages left to deal with Poland. God forbid, Austria might diplo vassalise them in the long run
I directed Spanish and Portugal stacks eastwards, and caught the main Poland army near Bulgaria. See that stack in Bohemia? I led it north to Danzig.
That stack would wipe the entire Polish army after they routed all the way north there. I led the stack in Bulgaria towards Lithuania and sieged the capital. The idea is to give Lithuania -50 warscore FAST here. If Austria would do separate peace (they won't, but let's assume) then they won't join the Lithuanian war anymore. I think (not sure, feedback appreciated) in this situation Austria would never join the Lithuanian war ONCE Lithuania is losing badly (aka -50+% warscore).
Not sure on the exact trigger number. But it does work this way, pretty sure of that.
On a sidenote: Ulm is being sieged also.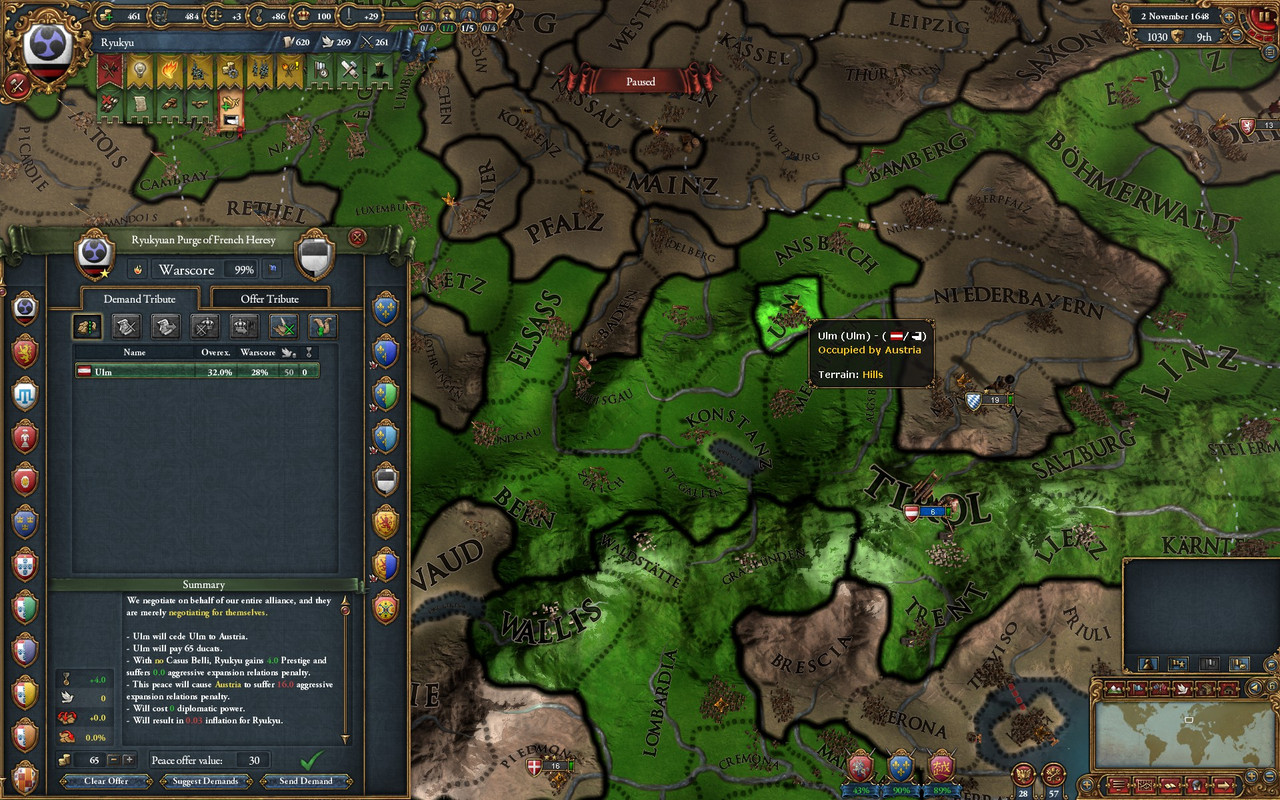 Ulm gave up, and agreed to become a part of Austria.
Austria fed and happy.

I just wished Tuscany had joined in.. I would have fed Austria a corridor all the way up to Sicily.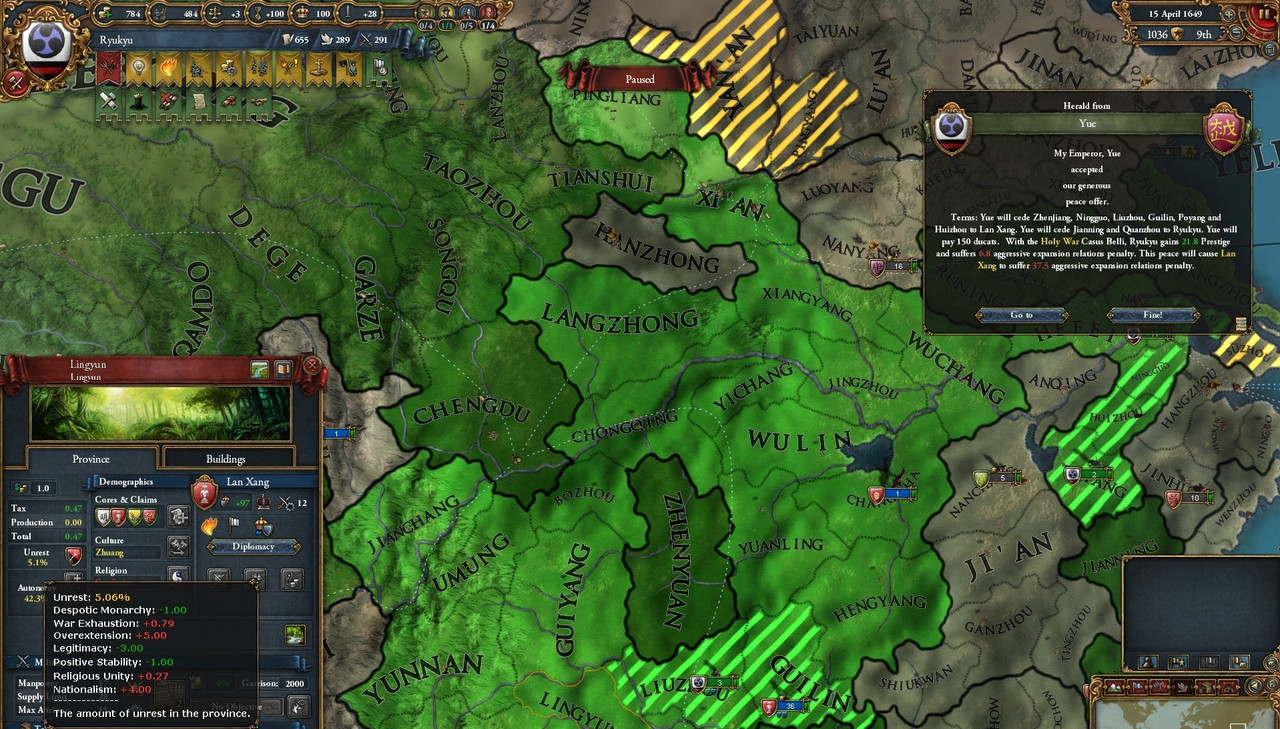 This is the peace deal I did with Yue. Qi just paid me all their gold and reparations.
Qi can wait.
I made this weird corridor from Nanjing to the coast, to split Yue in many pieces. This, because WU declared on Yue aswell. So I took a few coastal provinces that are NOT cores of WU.
After this peace deal, I gained holy war cb on Ning and WU again.
Lan Xang got fed exactly 100% overextension.
Lan Xang fed and happy.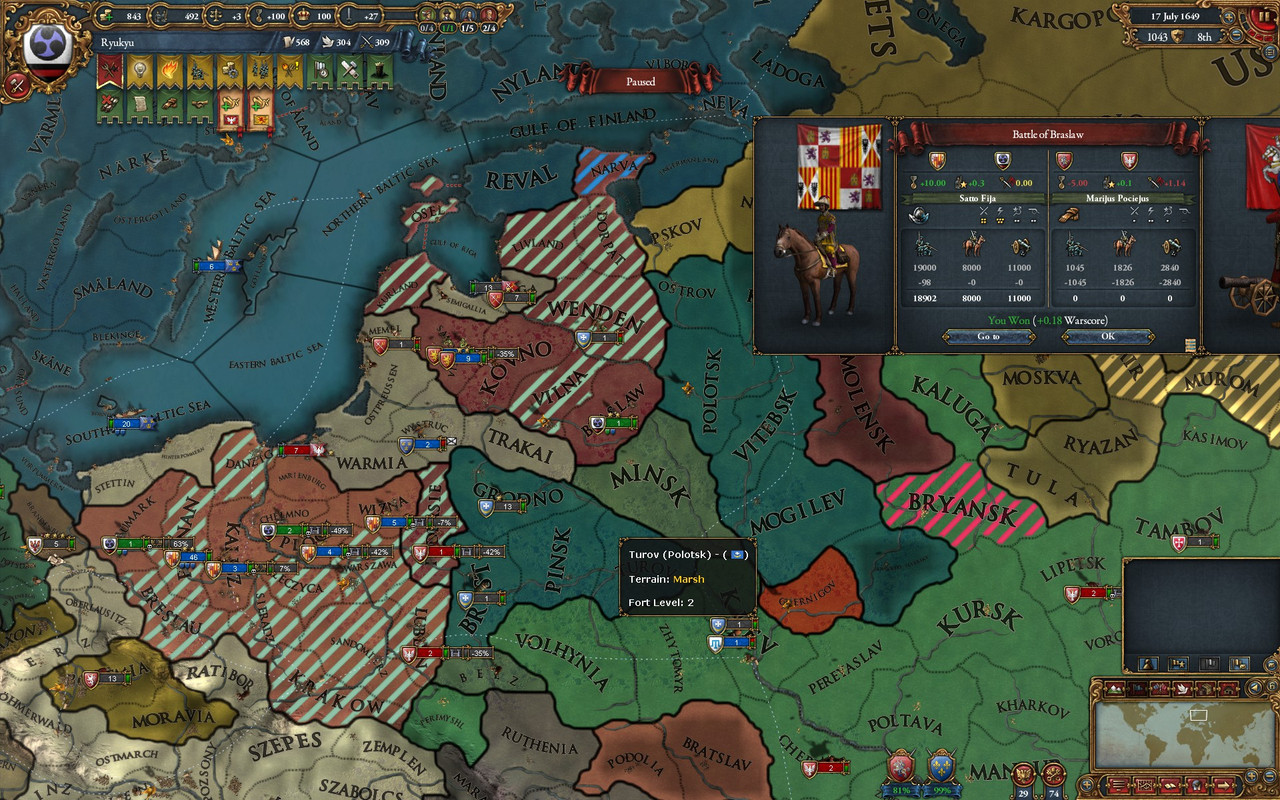 Lithuania and Poland gave in quickly aswell.. Time for some more peace deals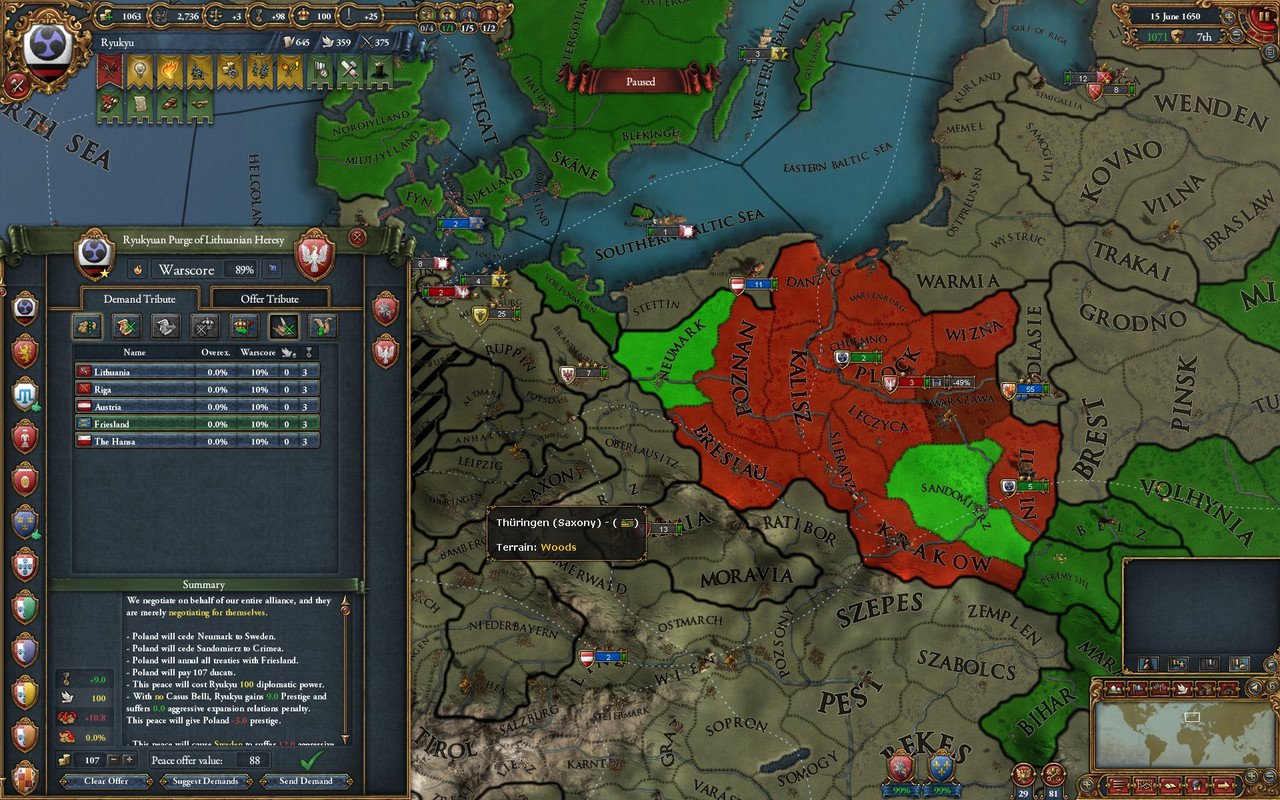 Poland gave Sweden a claim, and Crimea got one province. I annulled alliance of Poland with Friesland, as I had no intention to start a fight in northwest HRE anytime soon…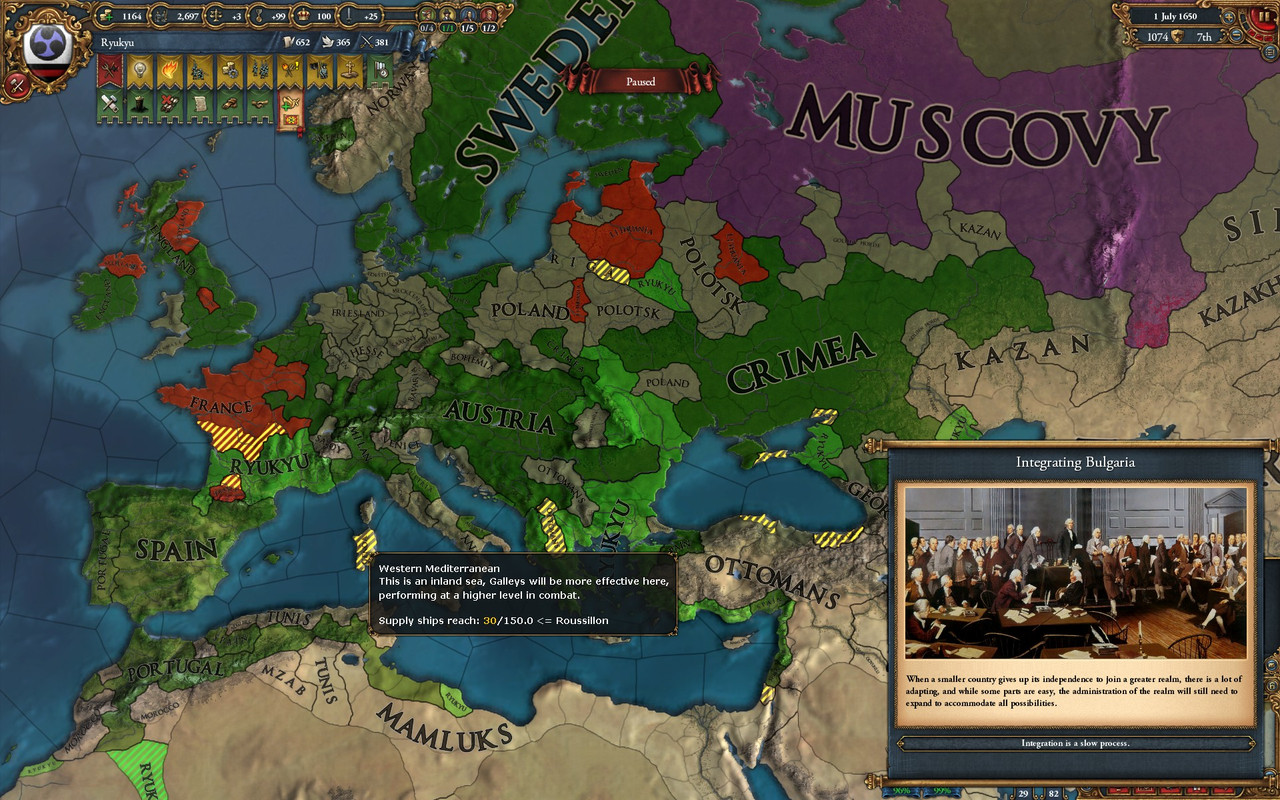 Bulgaria integrated. This is a diplomatic snapshot of Europe
Muscovy is purple because I have royal marriage with them.
In the long run, I want to attack Mecklenburg and Holstein to create a corridor from Sweden to Austria.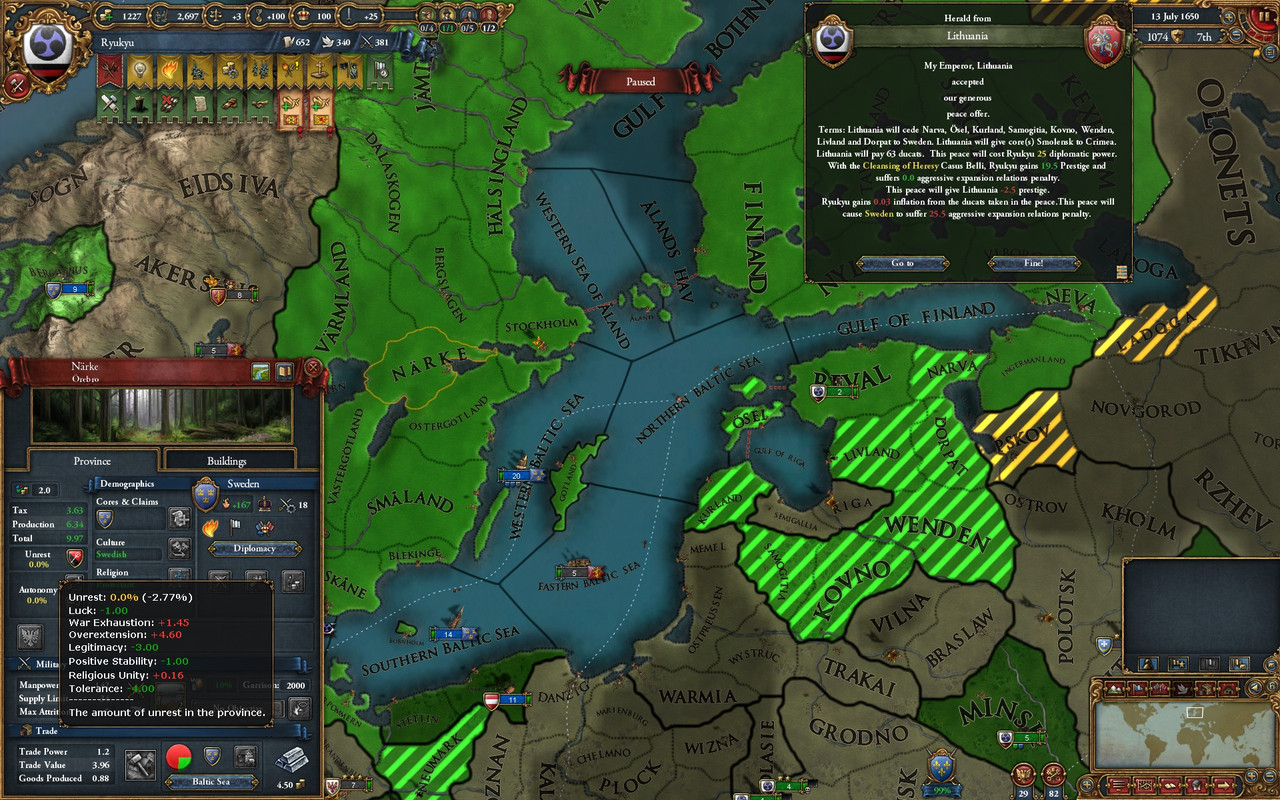 I fed Sweden a huge part of Lithuania, worth 92% overextension.
Sweden fed and happy.

Polotsk declared on Lithuania , and its Possible they eat Lithuania entirely. Since Lithuania was 2/3 occupied after this peace deal, Lithuania couldn't call in Austria for defense, yet again.
Muscovy took revenge on the former agressors. Relentlessly. Sibir and its vassals were first victim.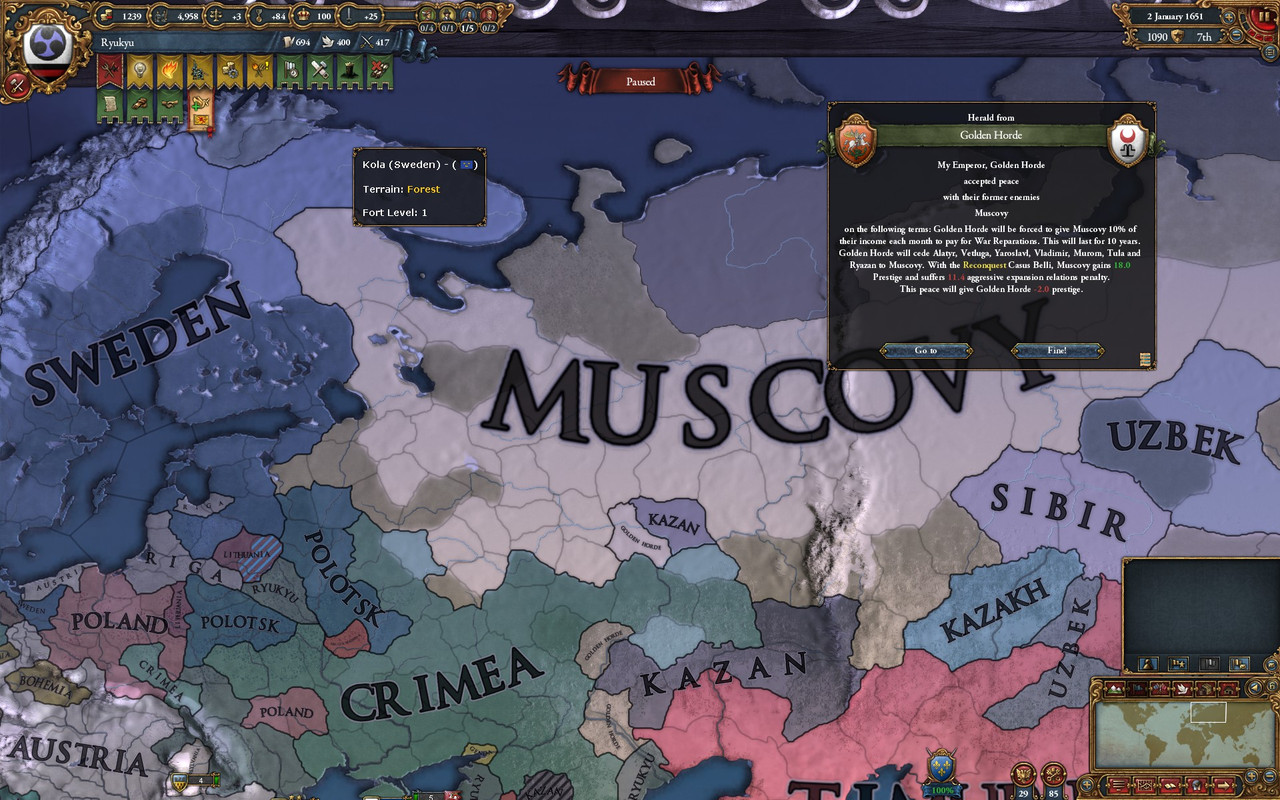 Golden horde was the second Victim. They got reduced to 3 provinces, and Muscovy took all their cores back.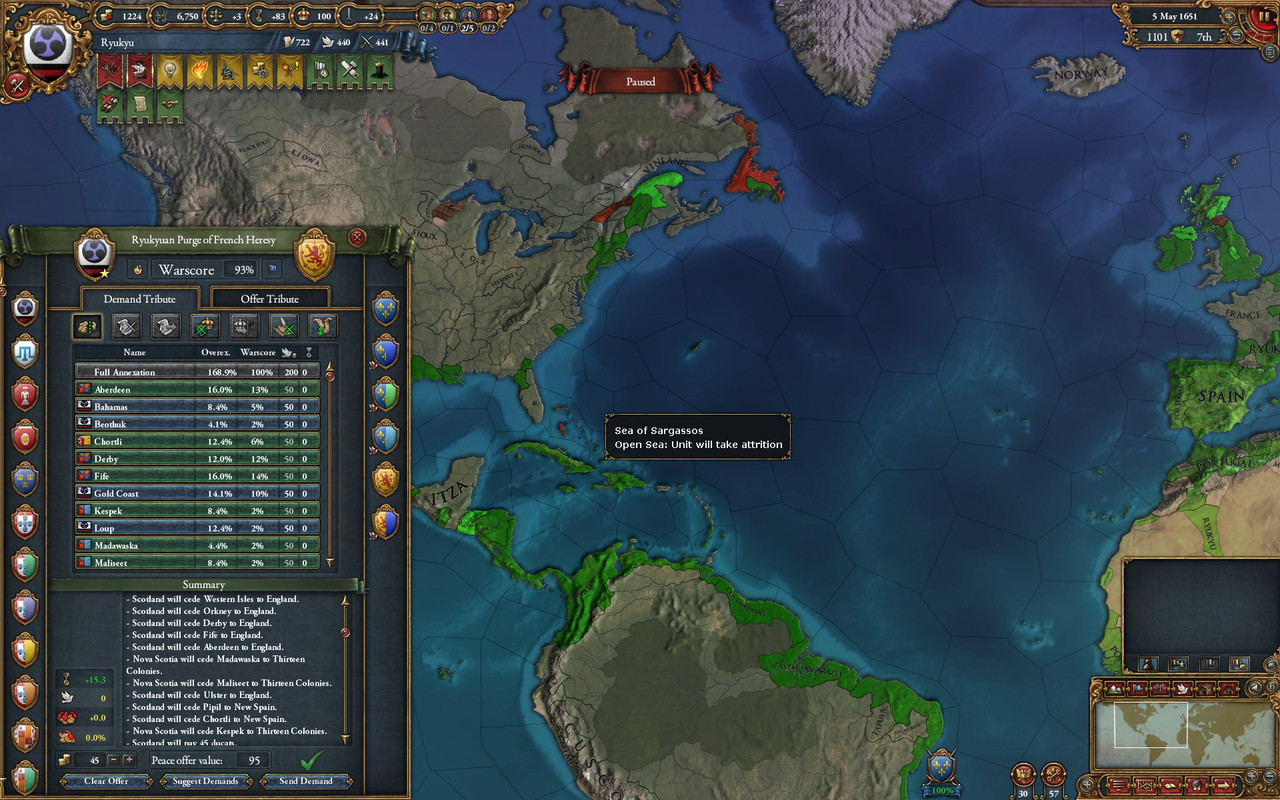 This is the peace deal I did with Scotland. Scotland got reduced to OPM inside England, and lost a great deal of their colonial holdings in Canada and Middle America. I let them keep the Bahamas and a colony in Gold coast in Africa.
I wouldn't be surprised now if Scotland actually moved its capital to another continent now, and abandoned original Scottish territory entirely. I have seen them do that in my 1.7 Savoy Run. They placed capital in Gold coast then. It seems Scotland is hardcoded to colonize Gold coast!
England got all Scottish territory except their capital.
England fed and happy.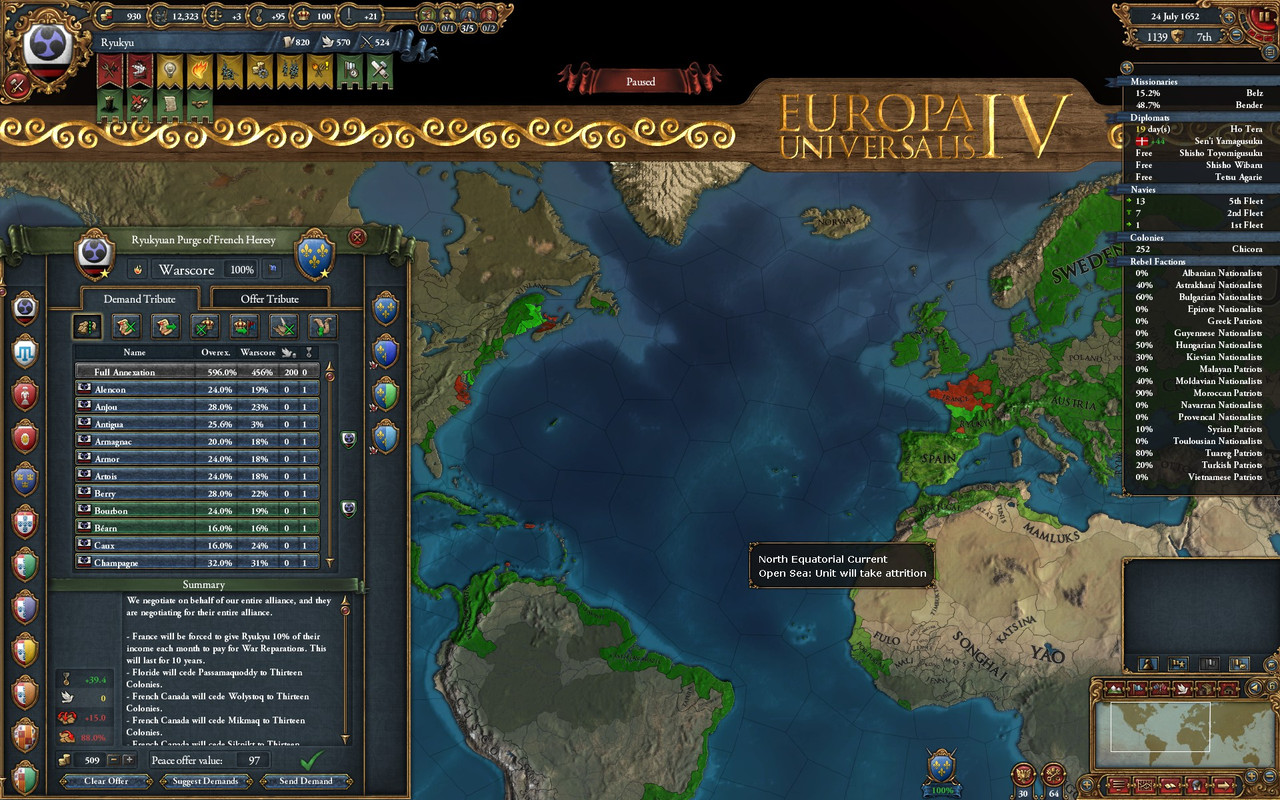 I had to wait a year after, to finish coring the Yue provinces I took. Can't overfeed myself here…
Thirteen colonies got fed with provinces from French Canada and Nova Scotia (before) and one province from Floride (french colonial nation around Chesapeake bay).
Thirteen colonies fed and happy.
I took four French provinces for myself
: Poitou, Limousin, Bourbon and Béarn.
Ryukyu fed and happy..
because they found a few caches of baguettes!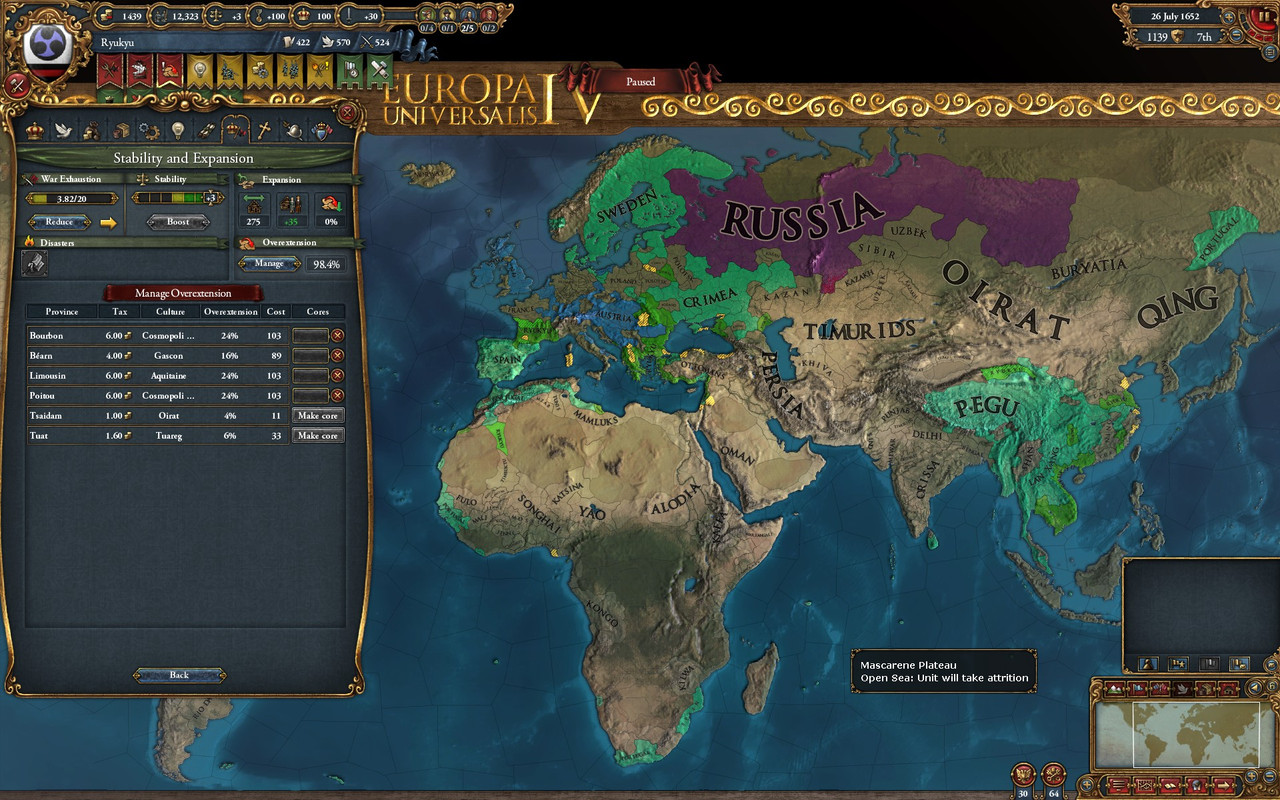 On popular demand, I end with a diplomatic scope of the world around 1650. Muscovy formed Russia after ending the Golden Horde war.
First thing next chapter will be force PU war on England (nope, the old bugger didn't get an heir yet), and hopefully a force PU war on Russia. IF I get those two, I wouldn't be afraid to do a force PU war against Austria if the opportunity arises. And if all that works out, I'll be snowballin' forever after.
Hope you enjoyed this chapter!
Last edited: