Blasted Conniving Roman
99 Badges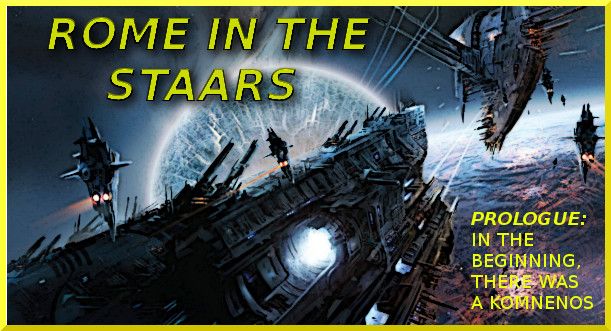 January 1st, 2200



Asperity.

A roughness of tone or character. Sharpness, even abrasiveness.
Romanos Komnenos, First of His Name, let the word roll over his tongue as he watched the worldwide holo-broadcast. It wasn't the first time he'd done so.
"Ironic."
he thought.
"After all this money, blood and tears, and our first ship of discovery is named a synonym for being a prat."
For once, Romanos was alone in private office deep inside the enormous Palace of Emperors. He was grateful at this moment he was not in front of some functionary, let alone the press, or the mob. He as one man, watching the most important moment in human history, like countless billions of men and women that shared this planet. Not
Megas Komnenos
, but Romanos, the man who as a child stood on his father's tanks to look up at the stars.
Eighty billion in credits,
he mused,
but the IIP did it. Finally.
Even as the child of him watched in wonder, the bureaucrat in him had cringed at the untold fortunes being poured into the research of the International Interstellar Project, treasures that could have sped up rebuilding the world in the image of the old. But the IIP had been humanity's shining hope after the nations of old rained radioactive fire on one another. It'd been the tendril on which a starving, broken world had clung—at least, until the New Eagle Alliance, headed by one Solomon Martin arose to forge a new world by force of arms.
And now, it's creation's engines were finally aglow, stars and space shifting red around the rim of the
ISS Asperity
as its hyperdrive coughed and spun up for it's first ever test, live for millions to see.
For Romanos, this was also a key component of a larger project, one started by Solomon Martin, handed to his son Demetrios, and now to his grandson Romanos.
The world before 2100 had, by and large, been lost. The great capitals were in ruins, their nations laid to waste. In their place, bandits, warlords, and corporations gone rogue held sway, like so many petty kings squabbling over the corpse of a dead empire. Solomon Martin had been among them, but unlike the others, his dream was not to hold power on a peninsula, or even a continent.
It was to unite the known world, as it had once been united, in the days of the old Komnenoi.
Even now, seven centuries after the collapse of that empire, its very name conjured images of power and majesty, law and order, peace and prosperity, across the wide swathes of land that it had once ruled. Solomon spent years cobbling together bits and pieces—lands here, an army there. The wars had been sharp, some had been bloody, but the tired masses of Terra were eager for law and order after chaos and lawlessness. It was thus on a cloudy day in June, 2128, that the remaining powers that be gathered in the ruins of Constantinople. Riot police lifted Solomon in the manner of the ancients, and proclaimed him a title that called on the medieval glories of an empire lost to war and plague.
Megas Komnenos,
Emperor of the Romans, Lord of the World.
Solomon promptly named himself Basilieos, Eighth of that Name, and pronounced he would rule in the light and manner of
Hagios Basilieos
of long ago. He would unite the faiths of the world, suppress tyranny, promote law and order, and that one day, his people would stretch their hands past their meager home to the stars.
Romanos watched as
Asperity's
hull seemed to ripple, the announcer formally starting the countdown.
T minus one minute...
Eighty billion credits, and countless insurrections from anarchists, Earth Firsts, religious fanatics and democratic rabble that wanted to see the failed states of the 20th century come back—all was an immense check, an IOU to history, that the physics calculations of Dr. Ibrahim ibn Ahad now would attempt to cash. If those drives failed...
...yes, the military was on alert, and Romanos' staff had the Great Patriarch in Konstantinopolis and the
Khalifa
in Hormuz on rapidcall. The investment banks of Orsini and Sons, JB&P, the Bank of Sortmark—their heads were in this noose as well. Yes, they could short term inject liquidity in the market, but if eighty billion credits went up in smoke...
No,
Romanos shook his head. The army would not save them, the banks would not save them, and the religious leaders would turn and say that this was proof that the Komnenoi were corrupt, that money needed to be spent at home, and he would not blame them. Humanity's treasure and hope had ridden on this promise, promulgated by the 'Komnenoi' and enacted by the IIP. If that promise proved false, the world would slide back into anarchy, chaos, and destruction.
Hagios Basileios save us all,
he murmured.
3...2...1...
The holo screen hung still for a moment, before
Asperity
and the space around her suddenly bent, warped, then disappeared. Half a second later, there was a distant bright flash of red and blue light. An agonizing minute, then another went by.
"Mission Control, this is Communications Array LD6-8. We have laser whisker communication with Asperity, over. Hyperdrive functional, jump of 0.3 AU achieved, engine functioning at 126.1% of expected efficiency..."
Even deep in the palace, Romanos could hear the whoops from his staff, and the cheers of a world leaving a dark past, for a brighter future.
=========*==========​
Long ago, in a galaxy far far away, I wrote a Crusader Kings AAR, called Rome AARisen and I never managed to get a mod set up to follow up what happened with my Byzantine Komnenoi. Then came Stellaris, and the story that has unfolded in the game was simple too amazing to pass up. I'll work on it when I can, but here, hopefully, is the beginning of Rome in the StAARs...