Rigid with FeAAR – MMP 1.402 Navarra
​
This is not going to be a world conquest, well, I probably won't conquer a single province, so those interested in aars on world domination might be a bit disappointed.
Start date: 1453. English is not my 1st lg.
I aim at:
> surviving
> putting trading game to the test
> in an almost off-hand game watching what's going around
> possibly inheriting something ;-)
This is not going to be a typical narrative aar, there won't be much of a history book either. This is my first aar, and it'll be a sort of pictures speak for themselves thing. Yet I have to admit I played up to 1571 before the idea of writing an aar came to my mind, so no pop-up pics of the pre-1571 times. Anyway, there's not that much going on in Navarra ;-)
Any comments are welcome.
Part I
Juan II
Is it nice to be sandwiched?​
King in Nothing but the Name
Squeezed between two great powers Castile and Aragon, the basque nation of Navarra was never really sure of its independence. Neither king Juan II felt prestigious enough with his paltry kingship title, he had to face it he was a king in nothing but the name. He was no more powerful than counts of Foix and Armagnac, and these were vassals of Charles VII, king of France. This didn't bode well, actually it clearly pointed out what the fate of Navarra was: falling into one of its neighbour's sphere of influence – it seemed to be just a question of time. Some of the nobles actually supported either French or Aragonese or Castilian influences in court; it was the rivalry between the three great powers, their strive to maintain the balance and – Juan had to admit it – the poverty and insignificance of his land that has secured Navarra's relative independence so far. Juan suspected it was French or Aragonese money that made some of his courtiers cherish foolish ideas of conquest:
it goes without saying that Juan II took no notice of such nonsence
Merchants of Venice
With no room for expansion what so ever, poor mountainous land, almost no manpower Juan II started pondering what to do. His first decision was to sponsor some risky trade enterprises in Venice and to offer a royal marriage to Alfons V of Aragon. These two steps shaped the policy of Navarra for the duration of Juan's reign. Financially, the speculative trade operation in Venice has become the main source of income for the country.

the great four
Of Thank-you-notes to Berber States and The Seige Engineers Club
On political front, royal marriages and military accesses with all its neighbours were established with a view to securing Navarra's independence. It has to be said, however, that as for foreign affairs, Juan's plans have fallen through. Throughout his whole reign not a single country offered Navarra an alliance. None of the big neighbours considered such a move a possible option. With time Aragon has grown hostile towards Navarra and sent a few insults; luckily most of the time it was busy waging a war against Berber states. To remedy the Aragonese threat, partly out of his personal interest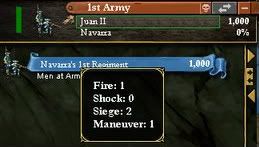 Juan seiged many a fortresses ...in his dreams
and rather panic-stricken, Juan employed – at a great cost – famous engineers to make his stronghold hopefully impregnable; thus setting up the famous social circle: The Seige Engineers Club, of which he became an honorary chairman.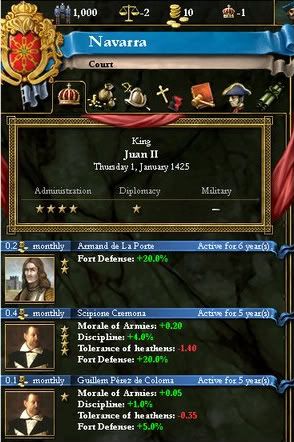 the king-chairman and the club most prominent members
Why People don't Love their King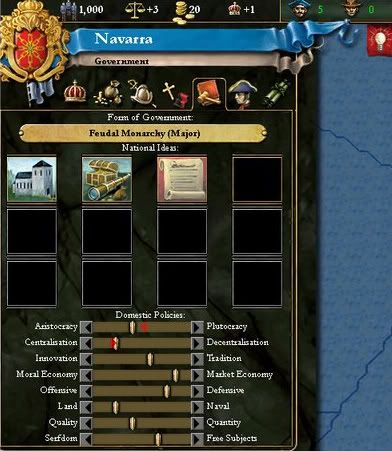 old ideas
The third, and most important decision Juan II made was to critically assess Navarra's national traditions and – to a general outcry – relinquish them. Obviously, the nation resented the move despite seemingly logical rationale behind it: 'What do we need missionaries for if there's no one to convert?', 'It's easy enough to manage revolt risk and stability costs in such a small state as ours', thought Juan. Following the success of the Venice operation, the king decided to focus on trade. Also, to have a chance to profit from it directly he had some banking procedures instituded, hoping some of the money will end up in the royal treasury: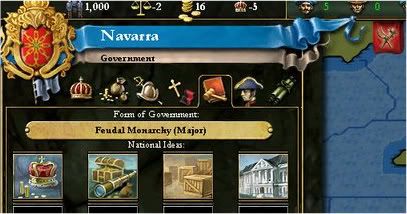 new ideas
This wasn't a popular move: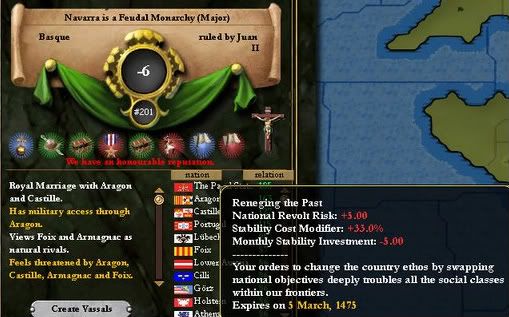 everybody hates the king
and let to a widespread oppositon:

from the army

and the country's manufacturers
The king persistently put up with those as, predicably, the merchants who profitted on the Venetian adventure staunchly supported the king: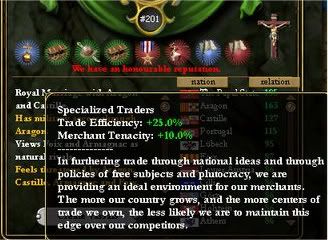 will the gains outweigh the losses?
Troubled Country
When Juan II died in his sleep in October of 1459 he left Navarra in the state of rebellious commotion and his favourites from Seige Engineers Club without protection. His son was immediately called back from Venice where he'd been trying to ensure the merchant's support for his father's reforms. He presented some interesting reports: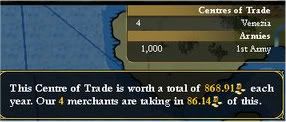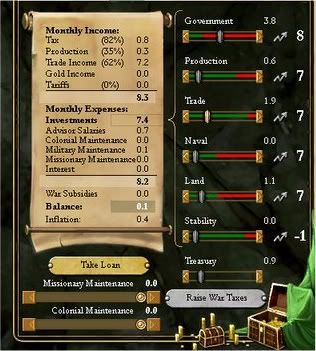 finaces of Navarra at the death of Jaun II
and officially announced a year of mourning for his deceased father whom he called a great and Visionary man.
Last edited: