Revolution Rises in the East
A Kaiserreich Communist Japan AAR
​
"But whatever may be the circumstances of my death, I shall die with unshaken faith in the Communist future. This faith in man and in his future gives me even now such power of resistance as cannot be given by any religion . . . I can see the bright green strip of grass beneath the wall and the clear blue sky above the wall, and sunlight everywhere. Life is beautiful. Let the future generations cleanse it of all evil, oppression, and violence, and enjoy it to the full."
--Leon Trotsky
The following is an excerpt from
Red in the Land of the Rising Sun: The People's Revolution in Japan:

. . . failure of Marxist uprisings around the world. In Russia, the White faction eventually beat the Russian Red Army, and its leaders Lenin and Stalin were executed. It was not a total loss, for Leon Trotsky managed to escape into exile, and his writings would inspire and influence many in Japan.

In Europe, there were uprisings in Britain, France, and the Sicilies. However, these were not true Marxist revolutions, but merely syndicalist movements. As the Leader Nosaka has told many times, the Western revolutionaries produced Marx, but stopped progressing soon after. Only in the East the ideas of Marx, Trotsky, and Nosaka would come together and come alive.

Yes, it was Japan where the first True People's Revolution would take place. After the embarrassment of the loss of the Great War, the spirit of the Japanese people had taken a blow. The Japanese people worked on, but when the true nature of the Capitalists was seen during the Devastating Depression of the black years of the 1920s, it hurt their spirit even more. The Japanese Communist Party, influenced much by the works of Marx and Trotsky, worked underground, planning their move. After the turmoil of the Imperial family being killed in the Opera House Fire, the Vanguard Party made its move and liberated the Japanese people from the Capitalists and militarists in the Japanese Civil War.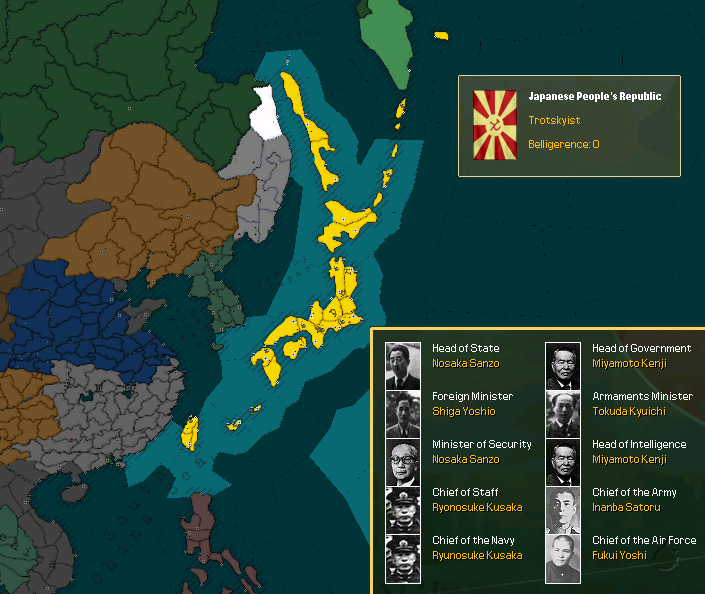 The new nation, the Japanese People's Republic, sought to spread the International Proletarian Revolution. It need to grow stronger, for the Imperialist Germans in Mitteleuropa and even the Capitalists Pigs in the Entente were stronger than the Japanese led (and as of 1936, Japanese only) Communist International. But the will of the People is strong. . .


Last edited: