HQ Units and Planning in HoI 2 (The Invasion of Poland)
This AAR is more a discussion of the use of HQ Units in HoI2.
It began as a more general AAR and that will still be completed at a later time.
(Link to be posted here)
However, while writing the AAR I realized that this particular element could easily stand alone as a discussion of HQ Units, their influence and their effect on operational planning.
HQ units are new to HoI2 and many people (myself included) are still coming to grips with their correct use. Some people still doubt that they are even necessary. Well, perhaps not, but I replayed this scenario several times and at first I tried to "HoI" it. That is, I played the HoI way – no HQs.
Let's just say that things did not go well. This is not HoI.
If you want to do well at HoI2 you have to be prepared to use the new tools at your disposal; HQ Units and the 'Support' command. Using these new tools I found that I was much more successful and the time taken in this particular case was much more 'historic'.
First of all it is probably worth restating some of the Rules with regard to HQ units as kindly posted by
Fiendix
LAND LEADERS
============

Definitions
-----------
Unit - The smallest element - a tank, infantry, motorized, mech.. etc.
Formation - All the units grouped under a single leader.
Stack - One or more formations located in the SAME province (zone).
In battle, a stack of formations is commanded by their most senior leader.
Div list - The list of divisons that appears in the combat window

1. Command Penalty Capacity (i.e. the -75% penalty)
---------------------------------------------------
1.1 This is a parameter for each stack. It is worked out separately for each stack.
1.2 For each attacking & defending stack, it is is the capacity of the most senior
leader in the stack.
1.3 This capacity may be doubled by an HQ adjacent or in the same province.
The HQ does not have to be present at the start of the combat - as soon as
the HQ becomes adjacent to or present at an existing combat, the combat eff
values alter accordingly.
…
1.8 There is a limit to the number of attackers in one stack - 24 per territory (under an
FM with a HQ present).

…

3. HQ penalty
-------------
3.1 All units that have a HQ unit next to them or in the stack get a bonus to attack (?)
and defence efficency.

…

Please note that there are many more modifiers that have an effenct on the final outcome.
ESE is one of them.




So, HQs provide a bonus to the number of units a leader can control; a bonus to the attack and defence efficiency; HQs provide a boost to a units ESE (Effective Supply Efficiency) by an HQ adjacent or in the same province.

Look at the next screen shot. I have placed an HQ we will call "Red Command" in Oppeln: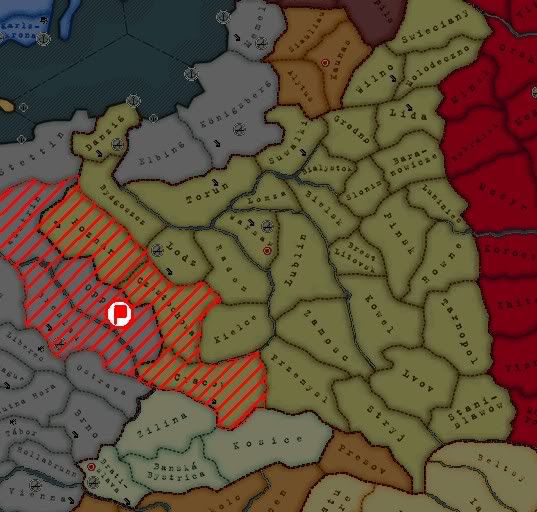 What it shows is that a HQ unit based in Oppeln provides direct support to allied units based in Kustrin, Brealau, Poznan, Czestachova, Cracow and of course Oppeln.
Now obviously some of these are Polish provinces so that means that the HQ will assist any units attacking from Kustrin, Brealau and Oppeln into Poznan, Czestachova and Cracow.