Good afternoon, would-be conquerors and other assorted miscreants. If you're here, I'm assuming you're not one of Professor Ebbesen's dragons or better. As a matter of fact, I'm rather certain most of you are abject failures at almost everything. Except, that is, not managing to get yourselves killed on your first deployment. Congratulations! We'll try much harder next time, but apparently high command wants you people to actually be SUCCESSFUL in your administration of whatever backwater world you're dropped on, so I fear they've sent you to me.
I'm Proctor Nakar, a graduate aide. Now, before you scoff, bear in mind that like at least a few of you, I happen to still be alive. And while my qualifications for instructing wanna-be gonna-be army smashing star generals are certainly in question, my capacity for survival is unparalleled.
Bluntly, most of you are in the same position I was in before. Conquering an entire world is so daunting! You touch down and unload the marines and start rolling out and a couple months later it turns out you're bankrupt or something, goodness me. You managed to learn the obvious lessons from the esteemed professors, but you're still losing! How unfair is that? Well, here in Remedial Administration 152, we'll try to get you back on track with the simple things so you can concentrate on the proper occupation of warmongering. Don't worry, there will be plenty of that too, as you will see from the simulation.
Speaking of which, let me take a moment to introduce you to the simulation we'll be using for this little effort. As I'm sure you're all well aware, the software was overhauled recently as a result of rampant student cheating. Who would have thought any of you would be smart enough to actually learn history? Well, we're having none of that, ladies and gentlemen. This version will set all the initial parameters and from there, nothing is sacred. But you're already aware of this, so let's look at the particular primitive historical Earth nation under our governance this semester.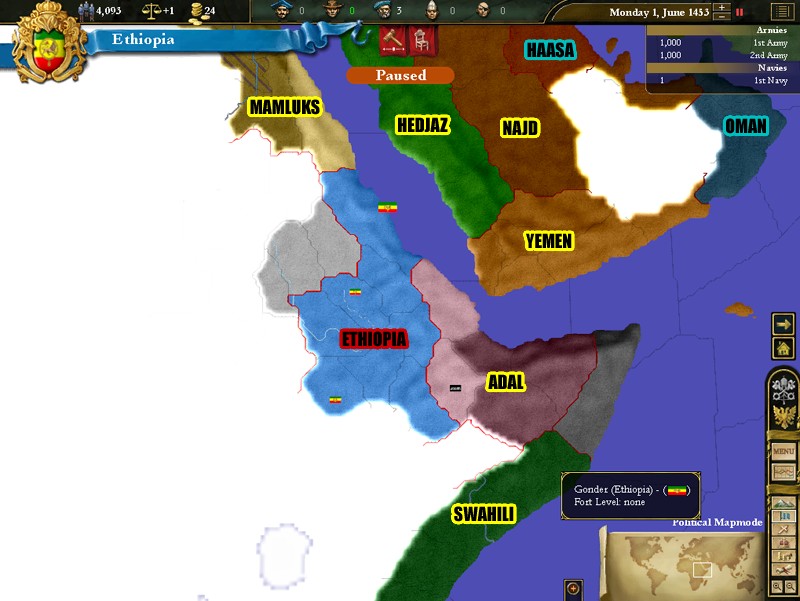 Ethiopia! The stately ancestral land of northeastern Africa. Ethiopia! The mysterious and uniquely Christian land in the midst of Islam! Ethiopia! The best flag I've seen in a long, long while. Seriously, look at it. A lion. Really inspires confidence. Not a bad preassigned color, either.
Unfortunately, that will be about the only thing to get excited about. As you may notice from the simulation map, Orthodox nations are in red, Sunni Islam in yellow, Shi'a Islam in blue. There is a tragic shortage of the foremost. In fact, it's exactly one nation. The last major Orthodox neighbor was extinguished earlier in this year of history, and the Russians are far too remote to even be considered. On the plus side, the Balkan Christians are somewhat indifferent to us. Everyone else more or less dislikes us.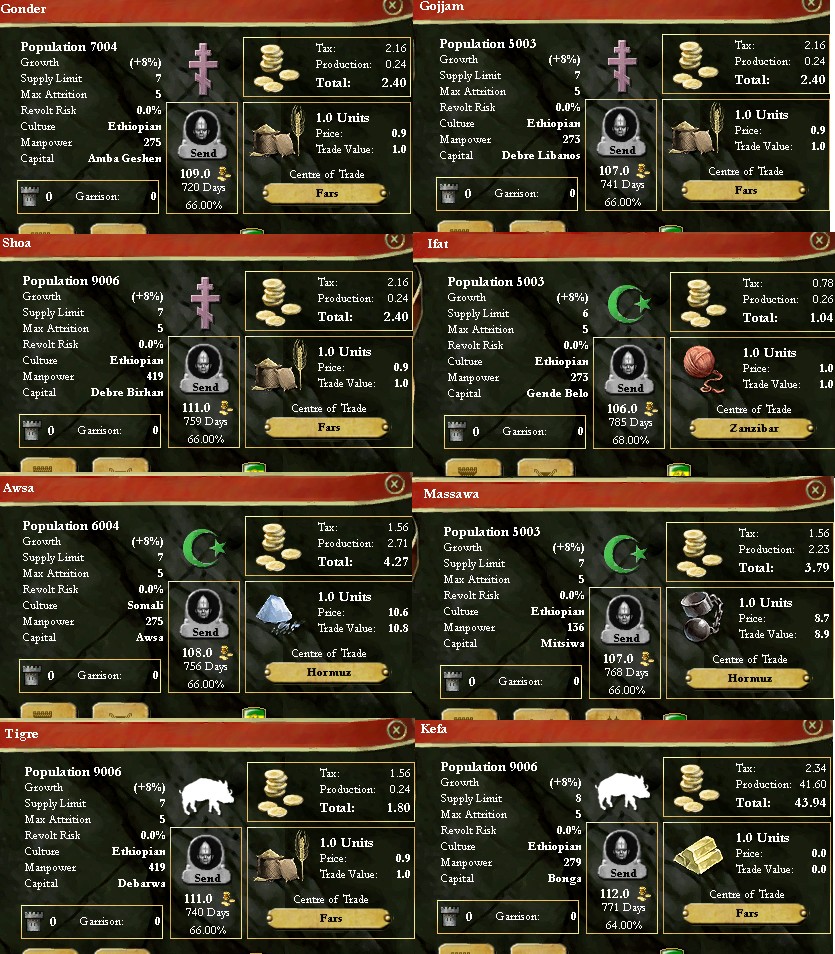 Let's take a look at our provinces. As you may have noticed, we are an Orthodox Christian nation eight provinces in size. Of these, exactly three provinces are Orthodox, all of them grain. If your professors have taught you anything (and I'm starting to wonder), grain provinces are for looting, not owning. The simulator is also very fond of the Bad Harvest event, which will incite riots and drain the treasury if a nation has four or more grain-producing provinces. We start with exactly four. Fantastic.
The Sunni provinces under our control are not much better, but at least two of them are our culture. They produce wool, slaves, and salt. You will come to appreciate salt, for the very simple reason that it isn't grain.
The saving grace of this disaster is pagan Kefa, which happens to contain a very profitable gold mine and decent taxes. It's also insular, which is good news, because not a single one of our provinces is fortified!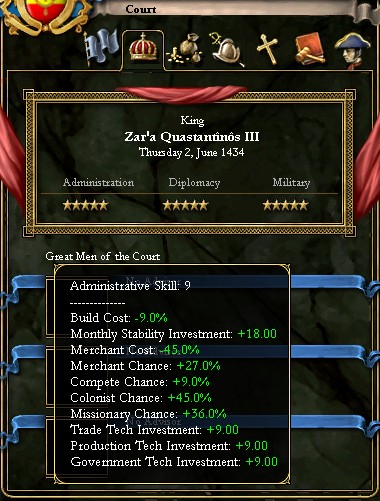 Zar'a Quastantinos III reigns at present. He is a giant of a man, 9/8/8 by simulator terms. A formidable man easily a match for any ruler short of Burgundy's superhuman king, we want him alive for as long as is possible, because we're probably not going to see anybody like him again soon.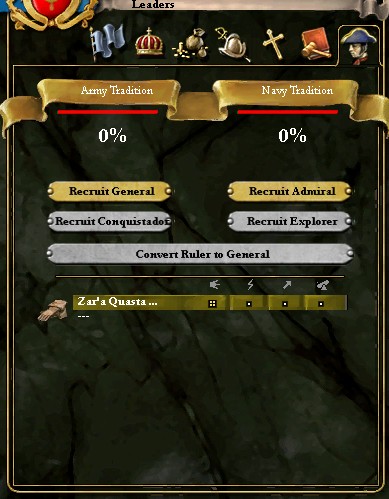 Regrettably, Mr. Quastantinos is so far ahead of his time that he is an unparalleled expert in massed firearm volley combat, which would be very helpful if we had guns instead of spears or indeed if guns existed at all. His good Siege score would at least be helpful if any fortresses existed anywhere in Africa. But he's free.
Anyway, a man of his caliber is sure to attract a court of canny advisors.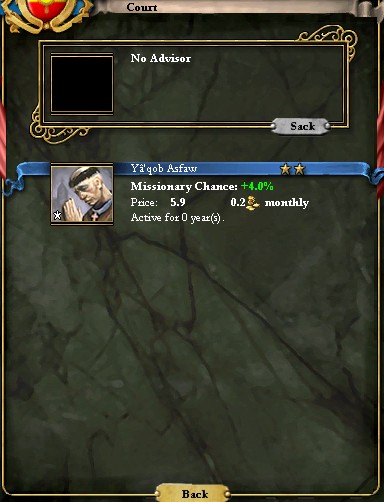 Fantastic.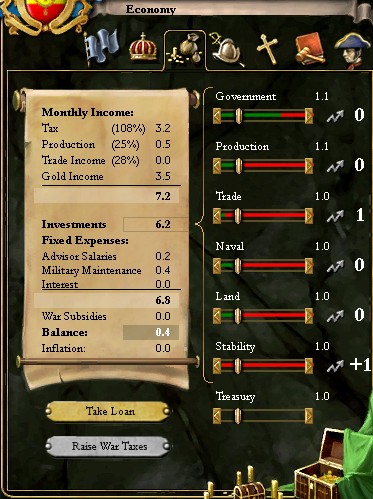 On the upside, we are most of the way to Government Tech 1, which will provide us with our first National Idea.
Your first assignment is to correctly identify the NI which will best benefit Ethiopia at this time
. After this we will probably want some Production (for workshops) and Land (to avoid being run over).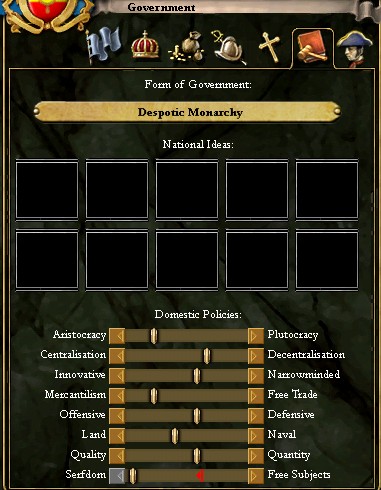 You may notice the simulator deviates slightly from the established parameters. Ethiopia is by default a Tribal Despotism in the African tech group. I've made them a Despotic Monarchy in the Muslim tech group, because I consider it sporting. Your professors do not share my leniency. Keep that in mind. In all fairness, however, it's rather trivial to do New World/African westernization with a little sketchy gameplay, namely selling a pagan grain province to Tuscany and waiting. In a way, being stuck almost perpetually in Muslim will be harder, and certainly more interesting.
Anyway, illustrious Ethiopia is somewhat Aristocratic (which is good), highly Decentralized (which has ups and downs), somewhat Narrowminded (quite important), highly Mercantile (which is probably bad, but we can work with it), somewhat Defensive (which is not terribly exciting, but it could be worse), slightly Land-based (which is fine), Quantity-focused (not a bad thing right now), and rather starkly Serfdom-biased. An enlightened nation-state we are not, but if your professors have taught you anything, serfs make exceptional cannon fodder.
Our current slider settings give us about +1 colonist a year, and a sliver of a missionary and spy. We'll be fine on diplomats, but we're going to need a lot more of the other three.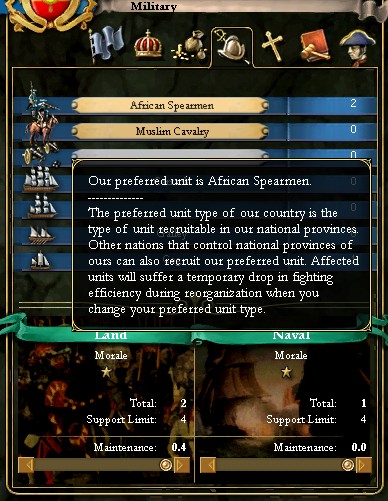 We have a grand total of two African Spearmen, which we will promptly switch over to their Muslim infantry equivalent. This isn't going to help us much, but it's a whole lot better than spearmen. We also have a boat. Enjoy it.
Now, the dutiful student in you would suggest an immediate war, but we should bear in mind that we are a smallish, unfortified, militarily pathetic nation in direct proximity to the Mamluks, who no doubt will be declaring war on us sooner or later. Hopefully later. So your second assignment is to
recommend a course of action
. Don't be shy about your warmongering aims, but remember that a realistic foothold is a great deal more beneficial than a potentially unsustainable rush. Also remember that Adal has access via the Strait of Hormuz to the Middle East, so we are not quite as protected by the Red Sea as we might like to think.
Thoughts, comments, or questions? I can't reassign you, you know, just make... suggestions. Speak up!