REGNUM IUDAEORUM
The Lost Ten Tribes of Israel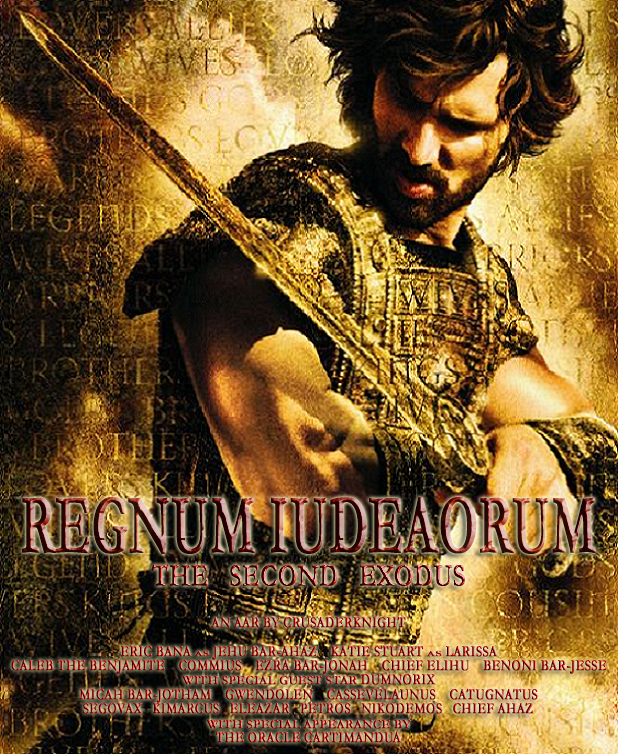 AwAARDs:
2x WritAAR of the Week - 20/07/08 and 19/07/09
Best Character Writer of the Week - November 16th, 2008. For the character of Jehu Bar-Ahaz
Winner of the Q4 2008 AARland Choice AwAARds for Favourite Rome Narrative
tied with For Rome's Honour by comagoosie
Winner of Round 2 of the 2009 AARland Choice AwAARds for Favourite Rome Narrative
Winner of Round 3 of the 2009 AARland Choice AwAARds for Favourite Rome Narrative
Winner of Round 1 of the 2010 AARland Choice AwAARds for Favourite Rome AAR
​
Hello everyone and welcome to my third AAR! In keeping with the tradition I started with my first AAR, I simply had to write an AAR about a modification I made to a paradox game. My first AAR, "The Morea, A Palaeologid AAR", is about the Kingdom of the Morea, which I modded into Crusader Kings. My second AAR, "The Heirs of King Arthur - A History Of Wales", isn't really much of a mod, simply some added/corrected Welsh names, and correcting the flags of Wales and Gwynedd. Now, my third AAR, "Regnum Iudaeorum - The Lost Ten Tribes Of Israel", is about my mod for Europa Universalis: Rome, "Regnum Iudaeorum". You can find the link to my mod in my sig.
Now, since my mod is not yet in its completed stage, the story of this AAR (which shall be told in a narrative format) is currently just a prequel to the actual AAR. Once version 1.0 of my mod is released, then the actual AAR can begin.
The AAR will be divided into books. I will post links to each book and its chapters here on this first page. I don't know just how many books this AAR will have yet. But obviously the first book will be the prequel.
Last edited: