Disciple of Peperna
85 Badges
CHAPTER XXV: NETHERLANDS
Part 1: Humping the Empire
(1800-1805)​
The Last Introduction
Welcome to the Netherlands! Res Publica in particular changed them up a bit, so let's take a look.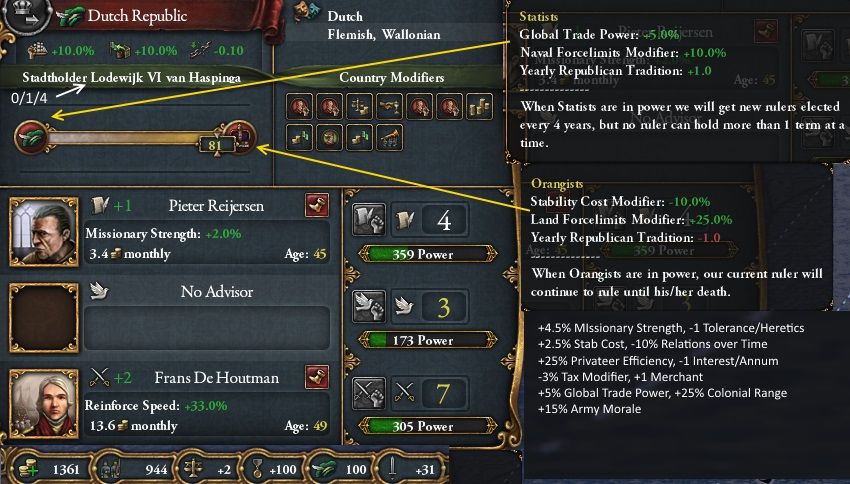 Our Stadtholder...sucks. (0/1/4) Fortunately, the AI's already gone ahead and made Lodewijk VI a general, so maybe he won't be around too long. We won't be able to count on republican elections to help as the Orangists are firmly in power. There are two 'parties' (Orangists and Statists), and there are events and elections that help you shape which party is in charge. Despite the Republican malus from being an Orangist, our Tradition is at 100%.
A few minor surprises diplomatically - Morocco, Ayutthaya and Japan rivaling us for example. We have an impressive ally in Russia, and having Thuringia and Inca along doesn't hurt. Actually Inca's all but worthless, as we'll see before this post is over, but so be it. We've also vassalized and RMed Switzerland, which really is worthless as it puts us at our limit for diplomatic ties. We can't diploannex Switzerland as they're too far away. (We couldn't theoretically core their territory.)
In 'Art of War' prices of trade goods are now controlled by events, and the fact we've banned slavery immediately drives down their value.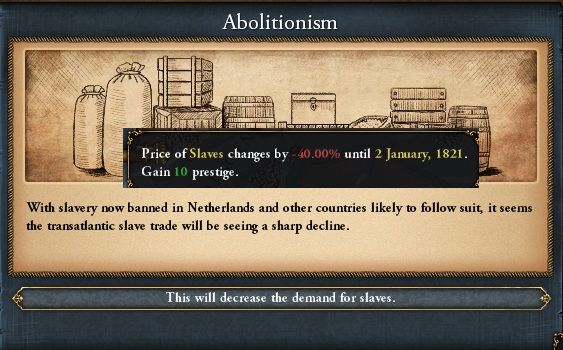 We are building two colonies, one in Hawaii and the other Maynas (in South America). Almost immediately 5,000 very aggressive natives annihilate our foothold in Hawaii. We will be back, but not before I can sail an army to the other side of the world to sit there.
Our army consists of 89,000 men in two armies, and 126 ships. The latter consists mostly of light ships protecting trade scattered across the planet. First thing's first. Let's....
Stomping Mitrehead
Right!
In February 1800 we move some merchants around, mainly because all trade notes reset with the new patch and I needed the monthly update to see what was really happening. We also move some of our fleets around to make our trade protection a bit more efficient.
We have a warning that, since we're embargoing nations we aren't rivaled with, we're suffering a trade malus. I switch rivals from Savoy to Spain, since we'll be dealing with them at some point, and revoke the embargo on Savoy. This only leaves an embargo on Portugal causing trouble. We try to ally with Savoy, but they seem to think we might be getting ready to cause trouble. They're right. We ally with Denmark instead.
In late February we decide to have a talk with Mitrehead.
Discussions are frank.
Damn those soldier models are ugly up close. I imagine it's to encourage people to buy those little unit packs. I hope we get a way to turn those off. Ick.
Where was I? Oh yeah.
The Papacy did have one ally: Lorraine. Russia, Thuringia and Inca would have declined to join for various reasons. Denmark was willing to come in, but we really don't need their help. We leave a siege force in Nassau, then crush the Lorraine army in Rethel. 74K versus 14K equals no more enemies. By mid-March all of Lorraine is covered as well. Given the new war rules, I will need to subdue Lorraine to make Mitrehead submit unless I want to wait five years, and I don't.
In April we enter a RM with Denmark. Then I settle in to wait, but Russia asks me if I'd like have some more fun.
Sure. Why not. It's on the other end of the planet. What are they going to do? Have fun, buddy.
This leads to insinuations that maybe my stadtholder is a warmongering jerk. (Reputation tarnished) We silence our critics permanently for -1 Stab.
Then Thuringia comes by and asks if we'd like to help them stomp on Mainz and Liege. You know what: Mitrehead and Lorraine can't do anything, I still have plenty of men after sieging their provinces, the Russian war isn't going to affect me, Liege and Mainz are ALSO fighting Wurzburg, Palatinate, Bavaria, Hesse, Anhalt and Brunswick ... why not. It's August 1800 and we're now in three wars. By the end of the month Liege is occupied, and my armies are spreading through Mainz when...
Wait a minute!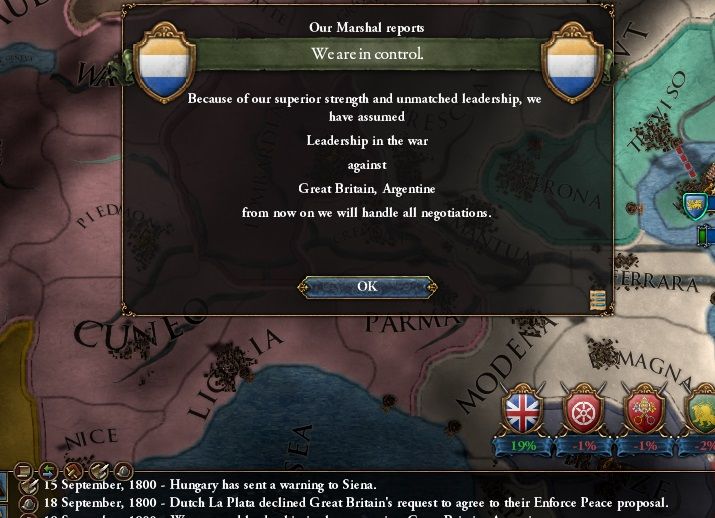 When Dutch LaPlata, having staved off an Argentine invasion and launched a massive counterattack, ignored Great Britain's warning to back off!
Crapcrapcrap! Pause. Think. Most of Britain's army is on their island. Their fleet is weak: 4 heavy ships, 17 light. Most of my fleet is scattered, but we do have two very large formations: 40 warships (heavy and transport) at home, and another 40 light ships protecting our North Sea trade route. We leave the latter alone. The former spreads out, blockading the British southern coast as well as Wales (a British ally.)
Through October naval battles erupt world wide.
At Lands End, our forty light ships meet thirteen of theirs and annihilates them. In December our Pacific fleet, rounding Magellans Strait, catches their last four light ships and destroys them. No more fleet.
Nassau falls in November, but it will take more time to finish off Mitrehead. Overall this is a surprisingly quiet period: My armies are busy sieging and my only enemy with troops has no navy.
This doesn't stop the Aztecs from declaring us a rival in May 1801. Keep it up buddy. You might be next.
By October 1801 Lorraine's done. I could ask for one or more of their provinces (for a large diplomatic power cost), or just take what I came for with my nationalism CB.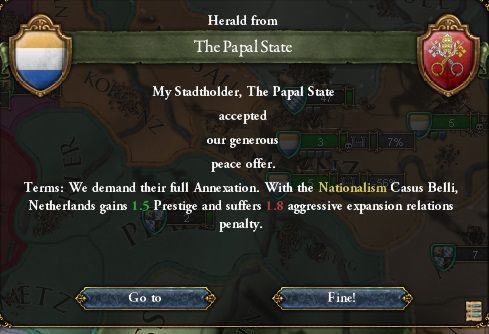 Excellent...
The British Connection
Now, what to do about Britain. The colonial war has stalemated and may even be turning slightly against me, as Argentine has put 20K men together. Invading England itself is possible .. but difficult. They have 50K men in London led by King George himself. I have the numbers (or I will once Mainz gives up), but transporting enough men across
before
George attacked and wrecked my foothold would be an issue.
Fortunately, my allies are willing to help. Denmark, Russia and Inca all accept my calls to arms. Inca has 20K men of their own, but a massive tech disadvantage (Military-13). We'll....see what happens.
My own men benefit from Relentless Drill (+15 land morale) and Liege falls that November. Mainz falls in April 1802 and it's time for Thuringia to impose terms.
Wait...what?
Thanks guys! Anyone else you want me to kill? No? Okay, let me know!
If I seem a little wired up after that gift, you can blame the coffee.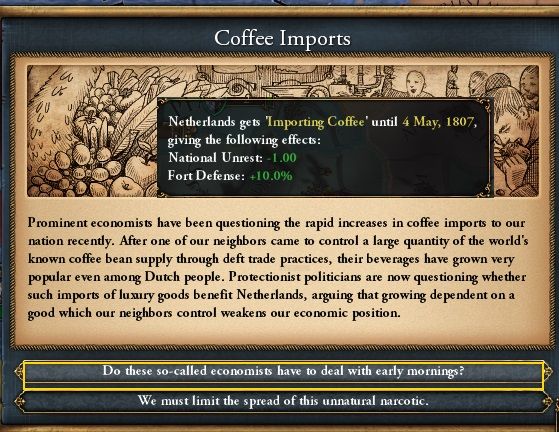 A little later we get a similar event concerning Tea. Coffee, Tea, whatever helps you get up in the morning. And brings down my revolt risk, as the people in Nassau and Liege are getting a little saucy. Fortunately it's not bad enough for me to have to give up any (more) autonomy and both will core next turn.
Honestly perhaps it is too much coffee, as I spent much of 1802 proving my ineffectiveness at politics. I picked up MA with Savoy to maybe 'delenda France', but France is allied with Austria and I'm not sure I want to go there yet. Then I MA Spain and Orleans to stick it to Burgundy. Then I notice one of Burgundy's allies is Bavaria, and between Bavaria and their flunky Hesse they have a 62K stack still at war with Mainz. Ugh. Who's left?
Of course by now I'm earning no diplomatic points due to being so far over my relations limit and having a moron for a Stadtholder. I end up cancelling all those accesses, then release Switzerland for good measure as a worthless waste of a slot. With my newer ally Denmark I'm still at relations limit, but now I have some room to maneuver.
War # 5
By September 1802 we have two active wars: Britain, which is turning into a bloody stalemate in South America and a sitzkrieg in Europe; and Russia's war with the Mughals, which seems to be going well on paper but nowhere near resolution. Ayutthaya takes the time to insist on just that when they catch and sink one of my trading fleets in the Sunda Strait.
Our war exhaustion is non-existent, and I think we can take on one more adventure. If not France and Burgundy, then perhaps Aachen. Aachen's allies include Denmark (who will dishonor), Lorraine (we just trashed them), Orleans (yawn) and France (ditto). Yeah, we should be okay.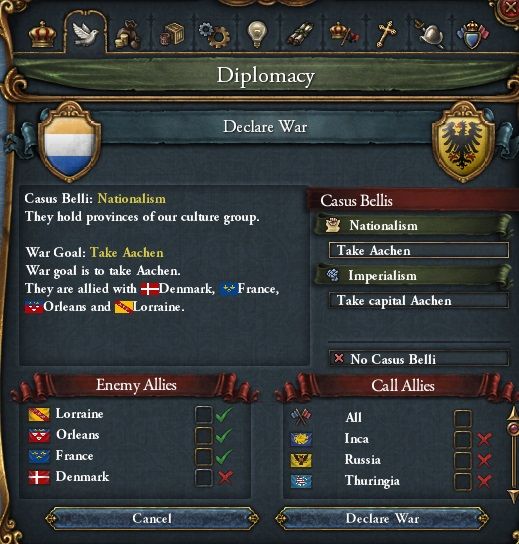 In September we destroy Aachen's army. In October Orleans' 14K army dies, and in November Lorraine's 14K follows. We cover everyone, including the northern French territory (they have three, none of them connecting). France launched a brief counterattack.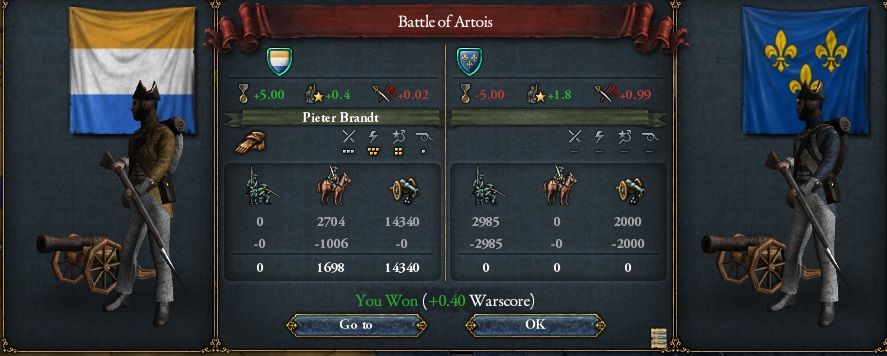 Emphasis on brief.
The Tide Turns
Still, there's a bit of a flaw in our wind and I'm beginning to feel it. Netherlands' manpower has been poor since we took over, and now all the attrition and battles are starting to catch up with us. France drives that point home when they successfully shove us out of Orleans with a fresh army killing 4K in the process. We beat them back, reestablished MA through Savoy and sat on if not sieged all their land by May... but the tide's starting to turn. We need to start disengaging.
First England. We could take two or three provinces, but at 50 diplomatic points each that's too rich for our blood. No...no, we're going to let them go for now. I don't need the money, but at least it says 'I won.'
The Mughals don't really care if we want to keep fighting or not, and agree to a White Peace. Russia can finish them off alone.
Then Thuringia twists the knife.
You...bastards!
Dutch West Indies piles on. I receive a warning that they've reached 50% liberty desire, then I get this beauty.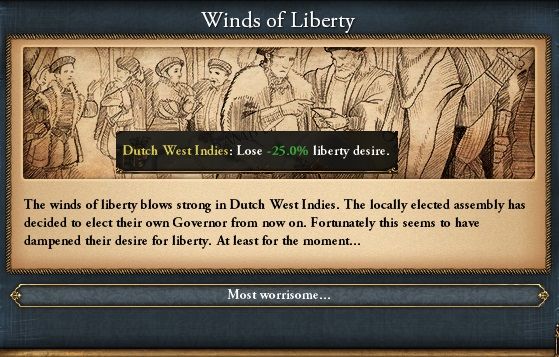 Fine. Just go away. Daddy's busy.
In June 1803, Denmark joins the Aachen war. Apparently the only thing holding them back was our being co-belligerents versus Britain. They have a single fleet of 85 ships which chews on two of my trading fleets. I order everyone to port to wait out the war and hire 12K mercenaries to help speed the sieges along.
Through 1804 four provinces fall, but with the new war mechanics and Denmark's entry I'm not sure when or if I'm going to get Aachen. I'm terrified of an amphibious assault as I don't have the army to repel a major assault anymore, but none comes. It's all too much for our poor Stadtholder.
Which is just as well. We'd earlier picked up an event which let us increase our Orangist leanings to 100%, so even this won't drive them from power. This means we should have a decent Stadtholder for a long time.
Next turn we'll take what we can, recover, and think about taking on Spain. Spain still has a somewhat decent army (79K) but ZERO navy, and Savoy's currently kicking them to the curb. We can at least 'thank' them for all the times they helped us in our previous wars.