Disciple of Peperna
85 Badges
CHAPTER X: RUSSIA
Part 3: Giant in the Playground
(1600-1605)​
First Things First
It is 1600, and we have an overextension of 86%. A significant number of our provinces are wrong culture, and we can't do anything about that yet because those same provinces are Sunni....
Hm. That sounds familiar. Let's try that again.
Picking on the New Kid
While everything I just said is still true, everything will be cored by May 1601, so we can look at expanding again. Our colonists continue pushing east, our cultural experts keep teaching people the wonders of Russian etiquette, and our missionaries are still in the missionary position. A quick look reveals that of our 71 provinces, 20 are non-Russian. 11 of those are Tartar however, which we accept, so only 9 need to be flipped. There are also 13 Sunni provinces, which prevents us from dealing with the cultural problema little faster.
So, who should be our next target. The game's nudging us in Lithuania's direction: They have two Orthodox provinces on my border. They also have an alliance with Austria, Poland, Spain and Sweden. Sweden's a non-entity and Spain might have trouble pathfinding to the Baltic or White Sea coast, but Austria is the HRE. Something to keep in mind.
We could go after the Livonians and reinforce our access to the Baltic. The LO is an ally, and those are getting a little hard to find since much of the world fears us. They're in turn allied with Hansa (another non-entity), and Norway, another of our allies. Easier to win, but perhaps more damaging from a geopolitical standpoint.
Or we could stomp on Finland! 3 ships, 8 regiment army, no allies. Sold!
The game agrees with our assessment, as we immediately get a boundary dispute over Savolax province...not that we need it. We already have a perfect good 'Cleansing of Heresy' CB which is actually a little better. We move our southern 'battle' fleet (2 carracks and a cog) to the Finnish coast, reroute half of our northern fleet (another 2 carracks) to join the blockade, position one of our 20K stacks on the Finnish border under General Rumyantsev, and pull the trigger.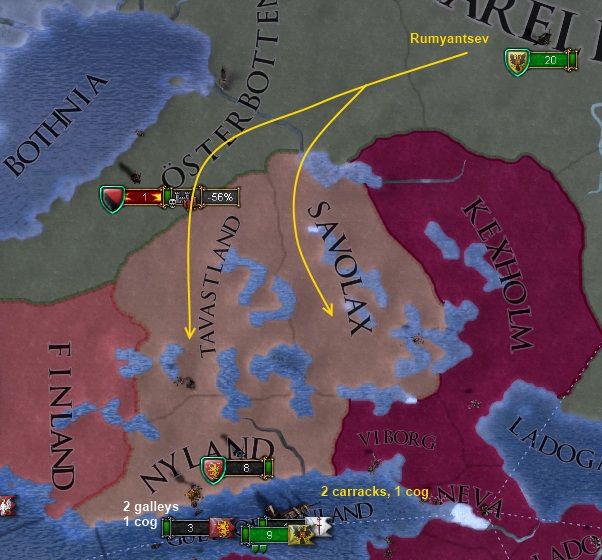 5K each moved into the border provinces, while 10K held back to serve as our hunter-killer stack once the Finnish army committed. This took awhile as we played cat and mouse: They head for one province, we send the army to that province, they change their mind and go for the other province, we move our army there, they change their mind...etc.
Because of this, and similar to the Japanese/Korean wars, the first battles take place on the open sea.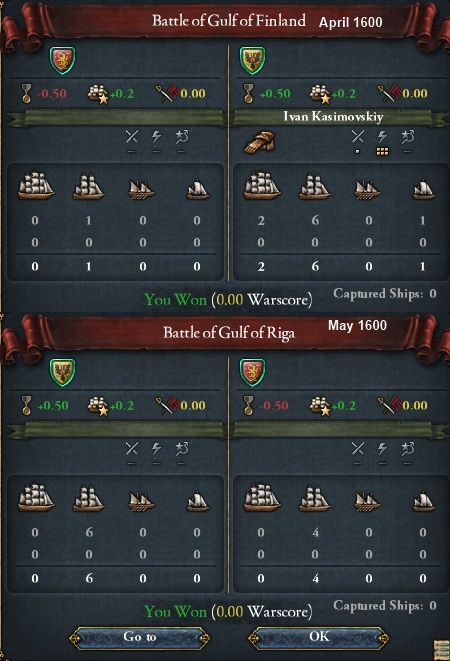 Little result, but it chases their navy to port.
Over the next few months the only news comes from home: The nobility continue to be concerned that we're promoting people on the grounds of merit rather than birthright. I promise to look into it. (-5 Prestige) Twice we're encouraged to reinforce fortification efforts in provinces I never heard of, so twice I decline. (-2 Prestige total: Accepting would have given local defensiveness +10%, -50 gold) On the other hand, while subjugating Finland we do find some excellent naval supplies (-5% heavy/light ship cost.)
In July we finally take Religious Idea-4 (+3% Missionary Chance). This automatically triggers Russia Idea-6 (Table of Ranks: Army Tradition +0.5). The Table of Ranks does actually confirm the nobles' fear that we're turning the army into a meritocracy. I guess Czarina Elizaveta is a liberal!
Such thoughts die away when we're asked to start redistributing land from the Church so it can be taxed.
Granted, the tax malus is a bit annoying, but then again so are all these wrong religion provinces. Once we're better unified perhaps.
Speaking of which, in December the Finnish army catches one of our sieging forces and comes close to wrecking it before reinforcements arrive. Close only counts when refereeing championships however, so we destroy them instead.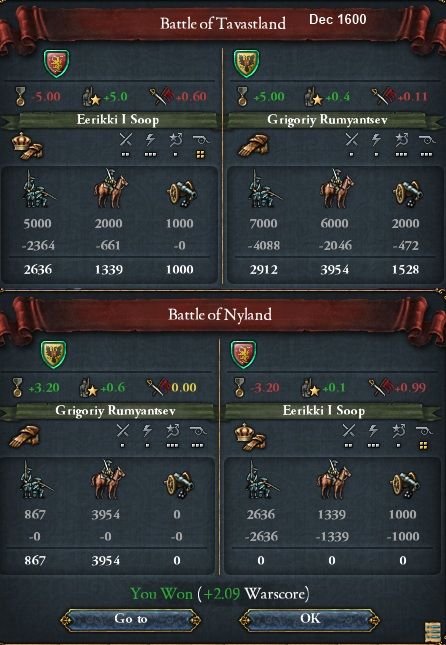 It takes another six months for Finland to realize they have no army left. Their navy makes one last stand whereupon we acquire a free transport for Mother Russia, but the end is inevitable.
Interbellum
We begin coring Finland of course. As we do so the Mughals and Ottomans decide they don't like us anymore, and embargo us. The Ottos don't hurt as much as you might think, but the Mughals cut our Samarkand trade in half. Even this we could easily withstand, but it's now more profitable to move our merchant to Kazan and collect there.
Speaking of Kazan, we are eligible to begin annexing them in 1604. It'll actually be a little while longer since we need to get to +190 relations and, as you'll see, we get distracted.
We soon learn that Surgut is 'suffering' from benign neglect. Since I have no idea where Surgut is, that's pretty accurate. (+10% local trade power)
While letting our armies build up, I once again examine Lithuania and the Livonians. Break up with one of my few allies, or get into a prolonged melee. Through 1602 a 24K Sunni Zealot stack devastated one of their provinces, but immediately split up and were taken apart by 32K Lithuanians. Hmm...same tech level. Eastern units no doubt. Would my allies join in? No, of course they wouldn't. Hm...hm...
Then, in January 1603, I look in on the Golden Horde. There I learn that a) they're an Ottoman vassal, and apparently have been for some time, and b) they'll be annexed in 1605.
Well, that does take care of the question of antagonizing the Ottos through border tension, doesn't it?
Very well. Let's at least get Nogai out of the picture.
You Call That a Coalition?
We declare war on Kazakh - not Nogai, because Nogai has a separate alliance with the Mughals. There is absolutely nothing we want from the Kazakh short of vassalizing them, but we'll need to beat them down as coalition leader so they give up Nogai. A few new leaders, especially since General Rumyantsev has died, a brief detour to take care of a Sibir uprising, and...
No glory in it. The southern army kicked Nogai out of the war almost instantly, while after a bit more cat and mouse the middle and southern armies destroyed the Kazakh. Start to finish the war took six months.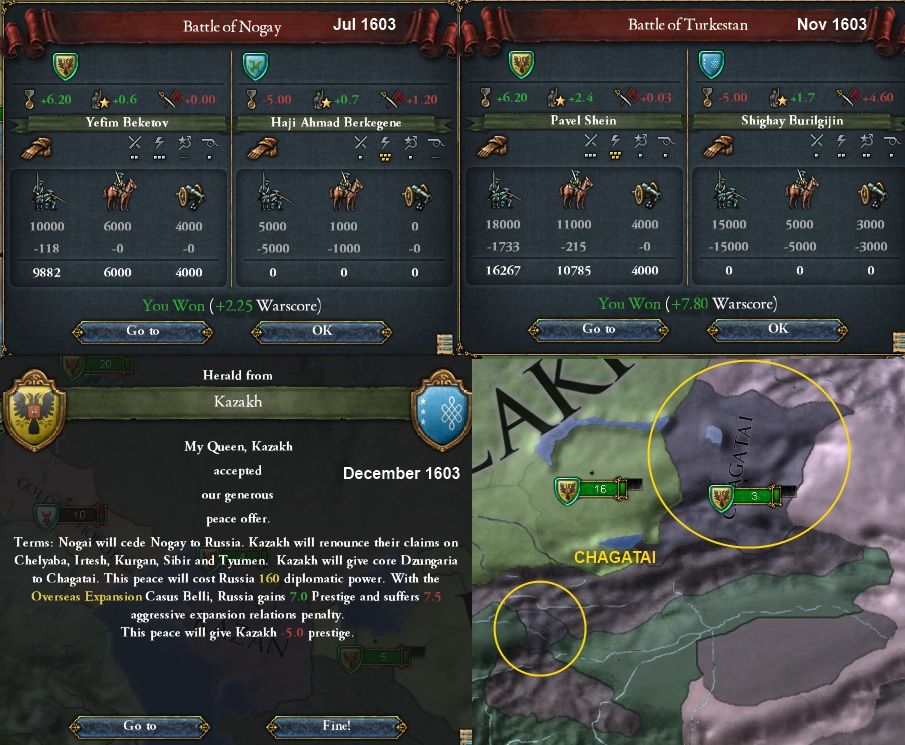 You may be wondering why I gave that province to Chagatai: Other than weakening Kazakh that much more, the Chagatai's OPM presence in the heart of Mughal territory is a bit of a thorn. Now that the Chagatai have two provinces, the other needing MA for the Mughals to get to, the Chagatai should be a thorn in their side for awhile yet.
I spend 1604 doing an amazingly bad job of evacuating Kazakh territory. I completely forgot about it and didn't even start moving them out for 2 months. When I did, I shuffled stacks ineffectually about trying to get their numbers to more or less match up. It was so embarassing the peasants couldn't take it anymore.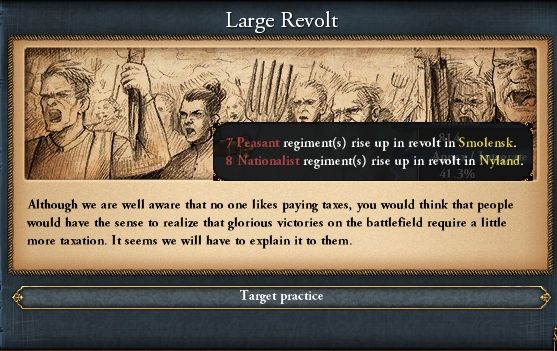 By January 1605 I had our stacks more or less straightened out. This led our advisors to declare this an excellent year (+5,705 manpower), which I barely tapped into when smashing the revolt.
It is now 1605. We have four provinces coring, our colonists are still pushing east (one province finished this turn), our missionaries are still in the missionary position (four provinces converted), and our cultural experts are standing by.
I think I'd like to take on Lithuania, Johan. They've been a pain in the butt through four versions of my Teutonic Knights, and I'd at least like to give them a bloody nose. I'd prefer if the other countries stayed out of it (OR if my allies jumped in), but I think if I make them bleed, especially on Russian soil, it's very doable.
Johan's Dice
Reign: 15 years
Roll Needed: 4+
Roll: 4
Continue: Yes
Alright then.