Introduction:
Hello there! Spurred by a discussion in
@Fluffy_Fishy
's
thread about Italy
, I have decided to create this thread about what is currently perhaps the most under-represented Merchant Republic in the game: Ragusa. Though small in size, the history of this Adriatic city-state remains incredibly fascinating, as well as highly influential with regard to trade and diplomacy respectively. Therefore, in this thread I will be covering the different flavour aspects I feel would make for a far more accurate portrayal of both the Republic itself and the Venetian-controlled region of Dalmatia. This will further be broken down into the following topics:
Ragusa/Dubrovnik
Venetian Dalmatia
Dalmatian Culture
Events
Missions and NIs
Miscellaneous
As always, all sources used in the researching of this thread will be listed at the end. I've also provided some music by Ivan Mane Jarnović, a Baroque composer of Ragusan origin, to make things less stale as this thread is quite long. Enjoy!
1. Ragusa/Dubrovnik:
c. 18th Century Map of the Republic of Ragusa
For starters, let's take a look at the primary namesake of this thread: the Republic of Ragusa. Currently, this city-state is rather under-represented in EUIV, which although regrettable, it is somewhat understandable given the presence of far larger powers in the region such as Venice, Hungary, the Ottomans, etc. Therefore, having done quite a bit of research into the city's history over the past couple months, I would like to provide some historical evidence as to why it is worthy of attention.
An overview of the history of Dubrovnik illustrates that for the majority of EUIV's time period (up until the 18th Century), the city was in its prime culturally, economically, and technologically. During this time, the city-state acted as one of the prime mediators between East and West, as it was the only Christian state in Europe which allowed its merchants to conduct business with the Muslim Ottomans after the fall of Constantinople. This decision allowed for the Republic to grow immensely wealthy as they held a virtual monopoly on goods being brought from Turkish-held lands (i.e silver ore) into Italy and Western Europe. This also resulted in close relations with Italy, though many other realms such as Spain, Hungary, and the Ottomans also fostered similarly strong diplomatic ties with Ragusa. At several points throughout history, the city even became a rival to Venice as they attempted to exert their control over Adriatic and Balkan trade.

Through this wealth, Dubrovnik was able to develop itself into an incredibly prosperous metropolis; a far cry from being a backwater Balkan state. The city was heavily involved in the Italian Renaissance, with both Croatian- and Latin-language literature blossoming during the period. Technologically, it was incredibly advanced by Eastern and Western European standards respectively, having built the first ever modern sewage system, a pharmacy, a hospital, and some of the first dye and glass workshops in Europe. Dubrovnik also contributed several noteworthy inventors and polymaths to the scientific community, the most famous of whom being Ruggiero Giuseppe Boscovich (Croatian: Ruđer Josip Bošković), who made great advancements in the fields of optics and telescopy, and was appointed as the French Navy's Director of Optics by King Louis XV. The city would become such an influential centre of Renaissance thought and ideas that it gained the nickname of "The South Slavic Athens". Dubrovnik also had a relatively sizable Jewish population, having accepted many Sephardic refugees fleeing persecution in Spain.

Politically speaking, the Republic was also incredibly stable and exhibited a strong republican tradition. Slavery had been abolished as early as 1416 and democracy was well and alive within the city. The Rector (a title roughly analogous to the Venetian Doge) was elected on a monthly basis by the Upper and Lower chambers of the Senate, and served a mainly honorary role as a majority of powers were devolved to the legislature. Corruption was remarkably rare, with those discovered to have partaken in it being expediently convicted, sanctioned, and sacked. Many trading posts and colonies were established by merchants in major Balkan cities such as Belgrade, Bucharest, Sofia, Sarajevo, and Constantinople, where the Ragusans were given Ottoman protection and were allowed to trade freely. This was because in order to maintain their independence, the Republic was required to pay an annual tribute of 12,500 Ducats to the Ottoman Sultan, which had previously been a sum of 500 Ducats to the Hungarian King. To ensure their tribute was collected, the Ottomans would bring Ragusan nobles to live in Constantinople as "guests" which, though they were effectively hostages, were treated with incredible respect by the Turks.

Militarily, the Republic was incredibly defensive rather than expansionist in its mindset. The Ragusans constructed a vast system of fortifications second in size only to the Great Wall of China, which remain some of the strongest and best-preserved in all of Europe. These included 10 round and 31 square fortresses as well as formidable walls surrounding the city of Dubrovnik itself as well as other towns like Ston (which from 1611 to 1637 produced over 6000t of salt per year, a commodity which made up ~33% of the city-state's GDP). The Republic also boasted a strong navy, with 18th Century records claiming that over 250 ship captains were in its service. Ships from the famous port of Gruž (Italian: Grauosa), such as the famous Karaka with its 140-man crew, became common sights in trading ports across the Mediterranean and even as far as London and Southampton, where Ragusan merchants traded Greek wine for English wool.

All great civilizations however must come to an end. The Republic first began to enter a stage of decline after a severe earthquake in 1667 killed 5,000 and destroyed much of the city, including many cathedrals and palaces. Economically, Dubrovnik never recovered and would continue to decline until being annexed to Italy by Napoleon in 1808. After Bonaparte's defeat, the Republic's territory was incorporated into the Habsburg Kingdom of Dalmatia and would remain a part of that domain until its dissolution in WWI.
Now, assuming you're still awake after reading that overview, I would like to propose the following changes to Ragusa in 1444. To clarify, from this point forward I will be using "Ragusa" when referring to the tag and "Dubrovnik" when referring to the province.
1: Western Tech Ragusa
To begin with, I believe that the best way to represent how advanced the city-state was historically would be to place Ragusa in the western tech group. While this would indeed give them quite the edge over their Slavic neghbours, I do not believe that such an advantage would be significant enough to make them OP. Furthermore, there is plenty of historical justification for it, including:
The Republic had many close cultural, political, and economic ties with Italy
Dubrovnik was a major hub of Renaissance thought and innovation
The city's infrastructure was among the most advanced in all of Europe
Ragusa experienced a golden age during much of the time frame of EUIV
As such, I believe giving Ragusa Western Tech would be a justified addition to be incorporated into the game.
2: A Fort in Dubrovnik
Would this be OP for an OPM? Perhaps slightly. Context is important however, as when one considers that Ragusa quickly becomes neighbours with great powers such as Venice, the Ottomans, Austria, and Hungary, it becomes clear that the Republic (should it still exist) would still be outmatched regardless. Also, when starting off as Ragusa, income is not that high, making a fort very expensive to maintain in the early game, which would offset some of the defensive benefit of having one. Further historical justification would be as follows:
The Ragusan fortification system was the second-largest in the world after the Great Wall of China
Dubrovnik held a well-known reputation as one of the most well-defended ports in Europe
The fortifications in Dubrovnik and satellite towns such as Ston remain some of the most well-preserved medieval defensive structures in all of Europe
Therefore, a fort in Dubrovnik would indeed be reasonable considering such a reputation historically.
3: New Trade Good(s) and Higher Development
Currently, Dubrovnik has a development of 5/6/3 in-game. This I believe should be increased to 8/5/3 (thanks to
@otaats
, who made the original suggestion for that number in
his thread on Serbia
) mainly for historical reasons, though again balance is a factor considering Ragusa's powerful neighbours which I think justifies the increase. Historical justifications would be as follows:
Again, Dubrovnik's infrastructure was among the most advanced in Europe
The city was colloquially referred to as "The South Slavic Athens" and "The Pearl of the Adriatic"
Alongside the city of Dubrovnik, satellite towns such as Ston and Gruž were also quite developed economically
The province also produces Naval Supplies as its trade good which, while understandable given Ragusa's Naval prowess, is not the best representation of the local economy. Better trade goods in my opinion would be either Salt, Dyes, or Glass. The historical reasons for this would be as follows:
Salt production contributed approximately 1/3 of Ragusa's GDP
The Ston salt works produced 6000t of Salt from 1611-1637 (they are also the oldest salt works to still be operating anywhere in the world)
Dubrovnik had some of the first Glass and Dye manufactories in Europe
Said changes to development and trade goods should work well to represent Dubrovnik in a more historical way than it is currently.
4: Ragusa as a Tributary State
This would be where I expect the most controversy to arise.
As the game currently stands, Tributaries in EUIV are only available to Steppe Hordes and East Asians. With
Dharma
coming out sometime in the near future, this allows for many new opportunities through Government Reforms; in this case with regard to Hungary and the Ottomans.
In its current iteration, Ragusa starts off as being guaranteed by the Ottomans, though perhaps Tributaries could be made available to them and Hungary through Government Reforms, and Ragusa could be a Hungarian Tributary at 1444. This would have other applications for the Ottomans (Algiers and Wallachia come to mind), so it would not be implemented purely for the sake of one OPM. Furthermore, historical reasons behind this would be as follows:
As stated in the EUIV Wiki, Ragusa was nominally a vassal of Hungary in 1444 (though the Hungarian King had no real power in the Republic)
Each year, Ragusa was made to pay 500 Ducats in annual tribute to the Hungarian Crown
Once the Ottomans had eclipsed Hungary in the 16th Century, Ragusa began paying 12,500 Ducats in annual tribute to the Ottoman Sultan
In exchange, Ragusan sovereignty was guaranteed by the Ottomans and Ragusan merchants received Ottoman protection
Ragusa would therefore start off as a Hungarian Tributary, though eventually an event would fire allowing them to either choose to remain under the Hungarians or to become an Ottoman Tributary instead.
5: Ragusa with Dalmatian Culture
This will be further elaborated upon in the later section on Dalmatian Culture, but I believe that while the province of Dubrovnik should remain of Croatian culture to represent the Slavic commoners, and the Primary Culture of the Ragusa tag should be a new Dalmatian culture in the Latin group to represent the Latin ruling class. Historical reasons would be as follows:
The upper classes of Ragusan society were Latins descended from the ancient Romans of Dalmatia
The Dalmatian Language was the sole language aside from Latin that was permitted for use in government documents and legislation
Slavs, while still a majority in terms of population, were not commonly members of the ruling elites and aristocracy
Ragusa was culturally close to the Italian mainland and took part in the Italian Renaissance
Again, Dalmatian culture is a topic I will be diving into later on in this post, though it did play an influential role in the Republic's history.
These are my five suggestions for how to better represent the city of Dubrovnik and the Republic of Ragusa in 1444: prosperous state which was in many ways ahead of its time, and in the midst of its golden age in EUIV.
2. Venetian Dalmatia:
Venetian-Built "Gate of Zara" in Zadar
Moving on to the second region I wish to focus on in this thread, Dalmatia in 1444 was under the firm control of the Venetian Republic. However, its current representation in-game could use a bit of tweaking, and after researching the area, I would like to give an overview of its history and why it should receive attention.
Since the medieval era, the coastal territories of Dalmatia had formed the nucleus of the Croatian state, with cities in the region such as Knin serving as some of the first Croatian capitals. Sitting at a strategic junction for trade between Italy and Byzantium, the two main cities of Zadar (Italian: Zara) and Split (Italian: Spalato) naturally developed into thriving trade centres which initially rivaled Ragusa in terms of their influence over Adriatic trade. The cities also became a frequent stop for crusaders on their way to Palestine from Western and Central Europe, and also during the disastrous Crusade of Varna. Like the Crusaders passing through, Dalmatia was itself incredibly devout, with Dominican and Franciscan monasteries being very common throughout the countryside and the two religious orders holding tremendous influence over the population.

To Venice however, the Dalmatian cities posed a challenge to their goal of hegemony over Adriatic trade. During the Hungarian succession crisis, one of the Angevin claimants to the throne of Hungary (and thereby Croatia) sold off the Dalmatian lands to the Venetian Republic in 1420, under whose control the territory would remain until it fell in 1797 to the Habsburgs. With these valuable coastal cities now under their control, the Venetians deliberately subjected the once-prosperous cities to centuries of neglect out of a desire to ensure that they would not rival Venice itself or pose any threat to its regional dominance. Though Zadar and Split were given special status as autonomous communes with their own local laws and separate legislation, the area nonetheless entered a state of decline as economic growth was stifled.

Despite this era of economic decline, the area continued to prosper in terms of cultural and social development. Feudalism did not exist under Venice, with local Burghers being on very much an equal footing with the nobility, and like in Dubrovnik the Italian Renaissance was incredibly influential. Renaissance literature in the Croatian language flourished, and inventors such as Faust Vrančić (Italian: Fausto Veranzio), who created the first ever designs for a parachute (the "Homo Volans") among others, also originated from Dalmatia during this period. However, despite such cultural advancement, various inequalities continued to exist, as Jews were forbidden to purchase land and settle in Dalmatia in a 16th Century decree by the Venetian Doge.

Militarily, the region formed a frontier with the Ottomans for much of its history under Venice. Zadar at the time was the most heavily-fortified city on the Adriatic, a consequence of its close proximity to the turbulent regions of Bosnia and Croatia Proper, where Ottoman attacks were frequent.

As a result of said turbulence, many Herzegovinian refugees fleeing Ottoman expansion settled in the Venetian-held lands, increasing the region's diversity as Orthodox and Greek Catholics mixed with the local Roman Catholic population. Many of these new settlers however, were met with few opportunities, and thus resorted to piracy; attacking both Venetian and Ottoman ships. These pirates (known as Uskoks) received financial support from Austria and were given the right to base themselves in the Habsburg-controlled port of Senj, eventually capturing the pride of the Venetian fleet, the Nova Contarina, using only five small boats in 1573. This incident, alongside other incidents of harassment of the Venetian navy, culminated in the Uskok War of 1615-1618. The war ended in a stalemate, however Austria agreed to resettle the remaining Uskoks deep in the Croatian interior and burned each of the pirates' ships. The Austrian and Venetian possessions in Istria were also devastated during the war, resulting in its re-population an demographic shifts in the 17th Century.

The territory would be integrated into the Habsburg domain in 1797, during which the newly-created Kingdom of Dalmatia, with its capital in Zadar, would come to incorporate Dubrovnik and Kotor as well as formerly-Venetian Dalmatia. There would be many attempts to unite this territory with Croatia-Slavonia under the Habsburgs, though these never came to fruition, and the two would remain separate territories until the Austro-Hungarian Empire's collapse in 1918.
With another lengthy overview out of the way, let's move on to what I believe should be changed about Dalmatia in 1444.
1: Split Dalmatia into Two Provinces
Firstly, I believe that the current province of Dalmatia should be split as follows:
1: Zadar
Capital: Zadar
Culture: Croatian
Religion: Catholic
Development: 5/3/2
Trade Good: Naval Supplies
Area: Dalmatia
Modifiers: Trade Post
2: Split
Capital: Split
Culture: Croatian
Religion: Catholic
Development: 4/2/3
Trade Good: Wine
Area: Dalmatia
Modifiers: N/A
The purpose of splitting Dalmatia into Zadar and Split would serve to give Venice some more development in order to counter powers such as Hungary and the Ottomans, who both have seen more provinces added to them recently. Furthermore, the historical justification would be as follows:
Dalmatian cities were ruled as separate communes with their own unique laws and legislation
Shortly before 1444, the cities were both large centres of trans-Dinaric trade
The area had historically been the "nucleus of the Croatian state" and thus was densely populated
Additionally, the area was very closely connected to the Italian mainland in a cultural sense, and in-game Italy has generally smaller provinces than the Balkans so I find it reasonable that Dalmatia should reflect this in their provinces.
2: Change "East Adriatic" to "Dalmatia"
Currently in the game, the East Adriatic state covers the provinces of Lika, Dalmatia, and Dubrovnik. My proposal would be to move Lika to the Croatia state (with Donji Kraji being moved to the Bosnia state) and rename the East Adriatic state to Dalmatia. This state should then include the provinces of Zadar, Split, and Dubrovnik. The historical justification would be as follows:
The area of these three provinces formed the Habsburg Kingdom of Dalmatia
Lika was always under separate administration from Dalmatia during the time period of EUIV
As such, some minor changes to states in the region would certainly be justifiable.
3: Formable Dalmatia Tag
I will discuss this a bit more in the next section, but there is reasonable justification for the inclusion of a Dalmatia tag which can be formed by countries with Dalmatian as their primary culture. Even though Dalmatia was never a sovereign state, there is some historical precedent for its inclusion. That precedent would largely take into account the following:
The title "King of Dalmatia" formerly existed under the Angevin kings of Hungary-Croatia before the land was sold to Venice
Under the Habsburgs, the Kingdom of Dalmatia was established as an Austrian crownland
Many independent Dalmatian principalities existed before the arrival of Croats in the region
For centuries Dalmatia was ruled separately from the rest of Croatia, and unlike the interior it had closer ties to Italy than it did to Central Europe
With this in mind, a formable Dalmatia tag would be a reasonable addition, especially if Dalmatian culture is to be added (which I will be covering next).
4. Releasable Pirate Republic of Poljica
This may prove to be a controversial decision, but I believe that a great way to introduce a totally new aspect to playing in the Adriatic would be to provide for the player the option of releasing and playing as the Republic of Poljica, which would be represented in-game as so:
Tag: PLJ
Capital: Split
Core(s): Split
Culture: Croatian
Government: Pirate Republic
Overlord: Venice
Now, the player would be able to release Poljica through an event that will fire in 1444 for Venice (which I will describe in further detail in the "Events" section of this post). Only the player would be able to choose the option to release and play as Poljica: the AI should never choose that option, allowing those who aren't interested in seeing a Pirate Republic appear in Split the ability to not be forced into having it happen, while also allowing those who may want to play as such a tag the ability to do so if they please.
My reasoning for this addition would be as follows:
Historically speaking, Poljica was a vassal of Venice and was not fully integrated into the Venetian hierarchy
The Adriatic was a hotbed of piracy historically, and it would be nice to see this represented somehow in-game
Though it was ruled by Croatian nobility, the Republic often functioned as little more than a haven for the infamous Omiš Pirates
Adding another Pirate Republic could make for an interesting shakeup of the local dynamic in the Adriatic
The real-life Republic of Poljica was too small to be represented accurately in 1444 as a Vassal of Venice
Only the player would be able to release Poljica and play as them, leaving it something completely optional for those who would rather not play with Pirate Republics
In light of these reasons, I see the addition of Poljica as a releasable Pirate Republic tag as not only justifiable, but also a good opportunity to expand on what many consider to be an enjoyable mechanic in the game.
Should these four additions be implemented, Dalmatia in 1444 would be represented more accurately than it currently is: an area simultaneously experiencing economic decline, but cultural prosperity nonetheless.
3. Dalmatian Culture:
Spoken sample of the Dalmatian language
This topic has been thoroughly discussed in
this thread
by
@Solfi
, so to avoid redundancy I will briefly recap the suggestions discussed here. I strongly suggest reading his original thread for a more detailed explanation.
Throughout its history, the Eastern Adriatic has been a crossroads between Latin and Slavic cultures. As such, the two groups have lived and developed alongside each other for centuries, and there remained a large population of Romance-speakers in the region as a result. Their descendants continue to reside in regions such as Istria and parts of Dalmatia, though in modern times their influence has been greatly diminished compared to what it historically was (which was extensive as is evidenced by its official usage in Ragusa).
Therefore, in order to represent this Romance-speaking population of the Eastern Adriatic, I believe that a separate Dalmatian culture should be created. This would encompass speakers of the now-extinct Dalmatian Romance language, as well as Istriots, Friulians, and Venetian settlers in Istria. Therefore, this new Dalmatian culture would be present in the provinces of Friuli, Istria (only if the interior is split off as a new Austrian province with Croatian culture), and Trieste (should such a province be created). It would also become the primary culture of Ragusa and a formable Dalmatia tag as was mentioned earlier.
Finally, the following names could be used for leaders and advisors for countries with Dalmatian as their primary culture. These are the names of several important patrician families in Ragusa and other important individuals in the area (first names would be the same as for other Italians), and you will find that they are, much like the Republic itself, a curious mix of both Croatian and Italian influences.
Bassegli
Benessa
Binciola
Bobali
Bona
Bonda
Bosdari
Boskovich
Bosnić
Bucchia
Buzignola
Caboga
Cerva
Croce
Dudlović
Ghetaldi
Giorgi
Gondola
Gozze
Gradi
Luccari
Martinusio
Menze
Natali
Palmota
Parmekanović
Pozza
Proculi
Prodanelli
Ragnina
Resti
Sagrilović
Saraca
Sojmirović
Sorgo
Tudisi
Veranzio
Zamagna
Žarkojević
Zlatarić
Zvijezdić
4. Events:
Stitch depicting Uskoks hunting down an enemy ship
Alongside the aforementioned changes, a number of events could be implemented which would add some much-needed regional flavour. These would be as follows:
Since purchasing Dalmatia from the Hungarian Crown, the region has proven to be an ample source of natural resources. The Adriatic islands in particular are abundant in forestry products such as timber. With such a resource free for the taking, we could have ample construction materials at our disposal for growing the capital city.
We must take advantage of this! Venice gains Construction Cost -5%, Development Cost -5%. Zadar and Split each gain Devastation +50, Production -1
Better to leave it be. No Effect
MTTH: Any time during the Age of Exploration
The people of the Dalmatian region of Poljica have been Venetian subjects for many years. Founded by descendants of the former King Miroslav of Croatia, the area has maintained distinct legal and administrative institutions, and therefore has also retained a high degree of autonomy despite acknowledging the sovereignty of the Serenissima. With the passage of the eponymous
Poljica Statute
in 1440, and the elevation of the local leader to the title of Grand Prince in 1444, as well as the Republic's continued alliance with the Omiš Pirates indicates that this trend of autonomy is set to continue.
We must act to curtail the locals! Split gains Local Unrest +8%
We must honour our commitment to their defense! Gain Land Force Limit Modifier +2, Split gains Minimum Local Autonomy +35%
Sounds like a golden opportunity...for me! Poljica gains core on Split, release Poljica as a Vassal of Venice, continue to play as Poljica
MTTH: 1444
Rumored to be receiving Austrian support, Slavic pirates have taken control of yet another one of our ships in the Adriatic. Their actions pose a serious threat to our trade presence in the region.
They will pay for this! Gain Trade Dispute CB against Austria, -50 Ducats, -200 Sailors, Trade Power in Ragusa -10
MTTH: Any time during the Age of Absolutism
A terrible earthquake has struck the city of Dubrovnik. Killing 5000 and destroying vast amounts of infrastructure, the disaster is one from which the city will never be truly capable of completely recovering. We must do what we can to help rebuild our city and attempt to restore it to what it once was.
It will take time to recoup these losses. Gain Stability -1, -2000 Manpower, -500 Sailors, -200 Ducats, Development -3
MTTH: 1667
For nearly 100 years Ragusa has had a close relationship with the Kingdom of Hungary. Nominally one of their vassals, we pay them an annual tribute in exchange for military protection. In recent years however, the Ottoman Turks have risen to prominence in the the Balkans, causing many within our administration to believe that in order to secure our future we instead should be paying tribute to the Sultan in Constantinople.
Accept the Turkish Offer. Ragusa becomes a Tributary of Ottomans, Hungarian Opinion of Ragusa -50, Ottoman Opinion of Ragusa +50, Ottomans gains one year's worth of Ragusan Income
We must remain loyal to Hungary! Gain Hungarian Opinion of Ragusa +50, Ottoman Opinion of Ragusa -50
MTTH: Only fires after Ottomans conquer Constantinople
After the end of Muslim rule in Iberia, the Catholic Monarchs of Spain expelled all non-Christians from the peninsula following the Reconquista. This has caused many Jewish refugees to flee to other European lands in search of asylum. They bring with them a wealth of cultural and scientific knowledge, as well as monetary wealth which could bring great benefit to our state.
By all means, let them come! Gain National Tax Modifier +10%, Idea Cost -5%, Tolerance of Heathens +1, -50 Diplo Power, -30 Admin Power
Send the infidels away! Gain Tolerance of Heathens -1
MTTH: Only fires after Spain enacts the Alhambra Decree
Since the year 972, the feast day of Saint Blaise, patron saint of Dubrovnik, has been celebrated in Ragusa on February 3rd. One of the Fourteen Holy Helpers, praying to the Saint is said to bring great fortune to those who do so, and some of his relics are said to be housed within the city walls. As such, the Ragusan people have become incredibly devoted to their Patron, whose worship is starting to resemble that of a cult in many ways.
Perhaps the Holy Helper will bless us! Gain Stability +1, Catholicism gains +1 Reform Desire
Heresy! Stop this practice at once! Gain Papal Opinion +50
MTTH: 1444
The spiritual works of poetry and theatre created by Ivan Gundulić are proving emblematic of the times; more and more the artist is making a name for himself as one of the great authors in the Croatian language. His condemnation of the growing heresy which spreads throughout the continent has led to him taking up the mantle as part of a growing artistic movement of Counter Reformation literature throughout the Catholic world. Perhaps his writing may provide a useful service to the state's struggle against the growing threat of Protestantism...
Hire him at ounce! Gain Level 3 Artist "Ivan Gundulić" with -50% maintenance cost
We shall be the greatest patrons of his work! Gain +15% Resistance to Reformation in Dalmatia area until the Age of Reformation ends, +5 Republican Tradition
MTTH: 1589-1638, Only fires if Ragusa is Catholic
Born to a mixed Latin-Slavic family in Ragusa, Ruđer Josip Bošković was initially appointed as a professor of mathematics at the Collegium Romanum, and would eventually go on to teach at other prestigious institutions throughout Italy. Word of this man's incredible progress in the fields of optics and geodesy have spread to our halls as well, and many within our state believe his talents invaluable to our efforts in a broad range of fields.
He shall make a fine addition to the court! Gain Level 3 Natural Scientist "Ruđer Josip Bošković" with -50% maintenance cost, -250 ducats
The Navy has use for skills like his. Gain -10% Naval Attrition for 25 years, -250 ducats
We have no need for him at this moment. Gain +15 French/Ragusan Opinion
MTTH: 1740-1787, Only fires for one country if the other rejects Bošković's service first
I will continue to add more events moving forward, though these are the ones I have been able to come up with so far.
5. Mission Trees and NIs:
Painting of Ragusan scientist Ruđer Josip Bošković (Ruggiero Giuseppe Boscovich)
What would a thread about regional flavour be without a revised set of National Ideas? Assuming you've made it this far, I would like to present my revised Ragusan NIs, made with help from
@otaats
whom I would like to thank once again. I have already posted these in
@Grand Historian
's
NI Revision Compilation Thread
, where I elaborated a bit more on the specifics of each idea, though since this thread is already quite exhaustive as it is, I would just suggest you go there for the specific justifications. Here I will just be listing the ideas themselves, which are as follows:

Traditions:
+10%
Trade Efficiency
+10%
Global Trade Power

Walls of Ston:
+10%
Fort Defense

The South Slavic Athens:
-5%
Idea Cost
-10%
Institution Embracement Cost

Patronage:
+1
Diplomatic Reputation

Ragusan Arsenal:
+20%
Naval Force Limit

Port Gruž:
-5%
Shipbuilding Time
-5%
Ship Costs

Ragusan Manufactories:
+10%
Production Efficiency
Palace of the Rector:
+1
Yearly Prestige

Ambition:
+10%
Morale of Navies
I have not yet created any NIs for Dalmatia, so in the meantime they will simply use Ragusa's.
As for missions, Ragusa starts off lacking any unique flavour missions in the game, so I have created the following tree for Ragusa/Dalmatia:
(Thanks to
@Paland0
for the inspiration for this format of representing mission trees)
*the reward for
Convenient Partnerships
would be +10% Trade Power in the Constantinople Trade Node for 50 years
*the reward for
Adriatic Trade
would be +10% Ship Trade Power Propagation for 25 years
*the reward for
Unite Dalmatia
would be -25% Culture Conversion Cost for 25 years
*the reward for
Ragusan Gandaulim
would be +10% Global Trade Power for 25 years
Furthermore, based on the city-state's long history of strong republican institutions, I have created the following decision for Ragusa. The reason I chose a decision rather than a government reform would simply be because the default Merchant Republic government form is sufficient in representing the Ragusan state. However, I believe that since the Republic was renowned for its remarkably low rate of corruption and strong democracy, this should still be reflected in some way. Therefore, since courthouses are unlocked at admin tech 8, I feel it would be fitting to make that the tech level at which a decision should be unlocked. The decision itself would be as follows (thanks to
@Van Kasten
for helping with more balancing modifiers):
Requirements:
Administrative Tech 8
100 Administrative Power
250 Ducats
Effects:
Yearly Corruption -0.025
Yearly Republican Tradition +0.10
Stability Cost Modifier -5%
Maximum Absolutism -10
6. Miscellaneous:
Depiction of the City of Dubrovnik in 1667
Finally, the rest of my suggestions for this area are a few minor things which I didn't know where to put, therefore I decided to make a Miscellaneous section.
1. Dynamic Province Names
First off, I would like to suggest some dynamic province names for the area. So far, I only have the Croatian, Italian, and German names, so if anybody knows their names in other languages (Hungarian and Turkish especially) feel free to mention them.
Croatian: Dubrovnik
Italian: Ragusa
German: Ragusa
Hungarian: Raguza
Czech: Dubrovník
Croatian: Zadar
Italian: Zara
German: Zadar
Hungarian: Zára
Czech: Zadar
Croatian: Split
Italian: Spalato
German: Spalato
Hungarian: Spalató
Czech: Split
2. Unique Country Modifiers
Additionally, Ragusa should have a modifier representing the fact that slavery had been abolished in the Republic since 1416. Therefore, Ragusa would start off with a variation of the modifiers associated with the decision
"The Abolition of Slavery Act"
, meaning that any province owned by Ragusa producing slaves would change to a random trade good. However, the modifier would have to be changed so that it does not set off all the global events related to abolitionism (i.e global decrease in price of slaves, etc.). Since this would be a country modifier and not a decision, I decided to include it here with miscellaneous.
3. Unit Models
Finally, after searching around the internet, I have managed to find some suitable examples of unique unit models for Ragusa/Dalmatia. So far I still haven't been able to find a good basis for Tier 4 units, but the first three tiers would be as follows: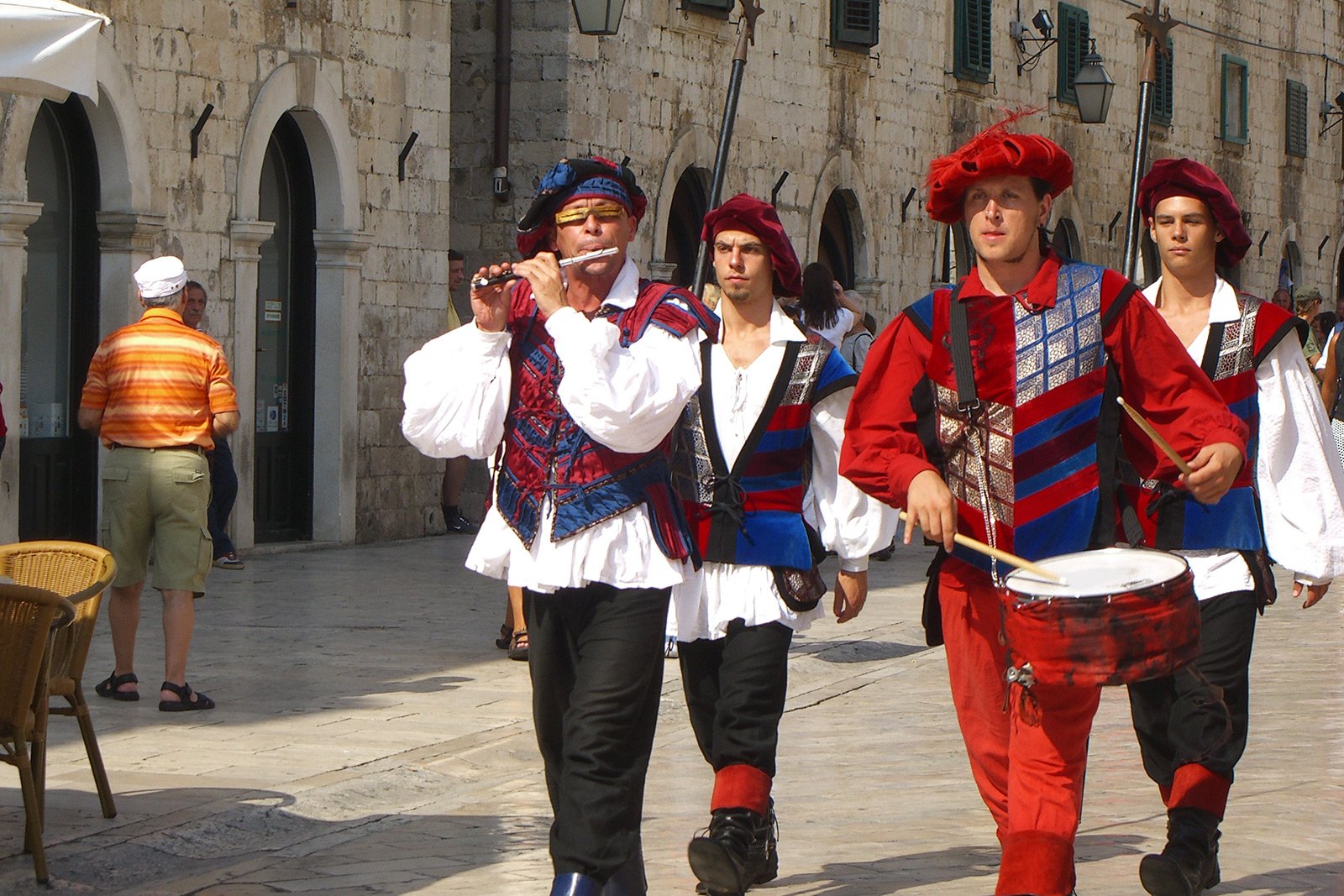 *Because you can't be a 15th-Century guard without some killer shades
4. Croats and Dalmatians in the Age of Exploration
Unbeknownst to many (and justifiably so), many Croats from Dalmatia and Ragusa took part in the European colonial expeditions. Among the first to arrive in the New World were those who served aboard the ships of explorers such as Jacques Cartier, Giovanni Verrazano, and Samuel de Champlain. Several ships of the famed Spanish Armada and later the British Royal Navy were also supplied from Venetian Dalmatia and were largely crewed by Croats.
Further contributions include the naming of
New Dalmatia
- named in honour of the Croats serving under Verrazano - which roughly corresponds to the modern coast of New England. Some historians also refer to a "Lost Colony" of Croats in the modern-day Carolinas chartered from the King of France, but being quickly abandoned by its settlers. However, these would not be Croats' and Dalmatians' only associations with America, as the Republic of Ragusa would become the first state to recognise the independence of the United States from Britain, while many Venetian ships from Dalmatia would serve with the Royal Navy during the American Revolution.
Therefore, to represent this, I believe the following could be included as nods to this colonial history:
Ragusa and the United States should be Historical Friends
In the extremely rare chance that either Croatia, Ragusa, or Dalmatia forms a Colonial Nation in the Eastern America region, it should be called "New Dalmatia"
5. Croatian Dynamic Ruler Titles
Though in modern times the Croatian term for a republican head of state is "predsjednik", historically this was not the case. In both the republics of Poljica and Ragusa, the Slavic citizens referred to their leaders as "Knez" (derived from the word "knjaz" meaning "prince"). Currently as of 1.29, South Slavic states use the dynamic title of "Kralj" for kings, though dynamic titles for rulers of republics are not present. Therefore, I would like to suggest that "Knez" become the dynamic title for rulers of republics with Bosnian, Croatian, and Serbian cultures. It's a small addition, but for the purposes of flavour I believe it's one worth adding.
Conclusion and Sources:
And with that we have reached the end of the first post of this thread. Was it too in-depth for just three provinces? Perhaps. But nonetheless, I hope the ideas and information presented here were helpful, and if anyone has anything to add I invite you to do so. I will also invite any criticism too: positive or negative as long as things stay civil.
Apart from a Balkan patch, I believe these changes could also work as part of an Immersion Pack focused on Italy, as (like I have frequently stated) this area was very much entwined with the Italian mainland - whether it be culturally, politically, or economically.
Thank you for reading my little treatise on Ragusa and Venetian Dalmatia! I hope you've enjoyed it and potentially taken something useful away from it
Special thanks also to the following forumites who submitted their own suggestions in this thread:
Last edited:
2
Reactions: