May 16, 2002
14.654
2.799
EPISODE I
​
Spotlights caress the stage as flashing lights let the audience know that the show is about to begin. Large "APPLAUD" lights blink on and off encouraging the audience to get involved. A lone bright light crosses the stage and lands dead center as an announcer begins to speak...
Announcer: Ladies and gentleman...back by popular demand...the show you love and we have the tweets to prove it...Quest!
Wild applause become deafening as the announcer continues...
Announcer: Please welcome...your host...Jackie Powers!!!
The audience goes wild again as the thin Englishman crosses to center stage, his gate somewhat stiffer but his excitement no less for it. Jackie Powers waits for the applause to start to die down and then bows a time or two to keep it going just a bit more...holding up his hands finally, he calms the audience enough to speak...
Jackie Powers: Hello and welcome once again to the most exciting show on the internet! We are back once again...yes, ladies and gentleman...Quest is back!
More applause gathers over the arena but Jackie Powers quickly silences them,
JP: We have a lot to get to tonight and only a limited time so let's get right to it, shall we?
He quickly moves upstage to a judges panel, the seats empty for now.
JP: And no Quest episode would happen without our great judges. So let's welcome them tonight...first up, King Midas!!!
Tepid applause break out as a regal figure takes his time to walk to his lectern. He waves his arm slightly and holds his head high as he finds his place and nods his head a time or two, lightly placing his hands to either side of the slight desk in front of him.
King Midas: Thank you, Bob. It's wonderful to be back.

JP: It's...oh, never mind...now let's welcome a man who knows a thing or two about our quest...all the way from the City of Angels...Anton Jackson!!!
A wino stumbles out barely able to keep from tangling himself up with the stage curtain. He walks with a slow but deliberate gate and finally finds his lectern, holding on to it to gain balance.
Anton: Ha...ha...How's everybody doin' tonight?
Clearly drunk, he places a jar of indiscriminate liquid on the lectern and a gasp is made by the audience as everyone notices the pickle floating in the jar. King Midas stands back and holds a handkerchief to his nose.
JP: You might want to put that away, Mr. Jackson...
Anton: But what if I have to go to the bathroom?
(He snickers towards the audience but only a few laugh in return)
JP: And finally, all the way from his golf vacation...our very own...Goldfinger!!!
The audience breaks into a deafening applause mixed with heavy boos as Auric Goldfinger slowly crosses the stage to his place. He glares first at the audience and then at the wino beside him. Finally, he sniffs towards Midas as he folds his arms across chest.
Goldfinger: I have no idea what I am doing here, Bond, so you had better make this good. And what the hell is Midas doing here? I thought I made it plain in my contract...I don't wish to work with the man!

JP: Easy Goldfinger...we've placed another judge between you. Let's all try to get along here. And you are judge yet again because you are an audience favorite.

Goldfinger: Yeah? So what's his excuse?
(he points towards King Midas)
JP: The right man for the job, trust me. We tried to get Francis Ford Coppola but he was working on another movie. It'll be two or three years before he's available. But King Midas works on short notice.

Jackie Powers smiles but Goldfinger makes a point to turn away from King Midas.

Goldfinger: I'll bet.

JP: And now that we've introduced the judges, let's get to our brave contestant...
He walks center stage again where a stage hand has rolled out a cart with a glass bowl on top. Jackie Powers rolls his hand around inside before picking out a slip of paper. As he reads it, he quickly smiles to the audience.
JP: Your contestant is...Filippo Maria Visconti of Milan!
A rather portly man shuffles to a seat of couches opposite the judges panel and Jackie Powers meets him there to shake his hand. The man wipes his hand after shaking and plops down on the couch with a heavy sigh.
JP: Wonderful to have you, sir!

Filippo Maria: Thank you, Alex. I was surprised when I got word I'd be on the show...can't say I'm confident in the quest, to be honest.

JP: Now, now...let's not get too far ahead. First let's look at your starting position...
(he turns to look at the big board)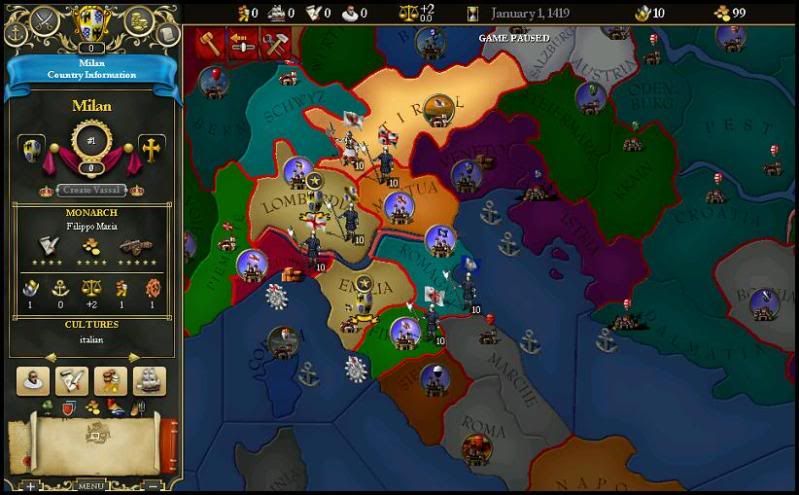 Filippo Maria: Crowded neighborhood, that. And you haven't even mentioned the quest yet.

JP: Patience sir...let's also applaud the great military man at your side...
Filippo Maria: We'll need him.

JP: Well, let's go ahead and tell the audience the quest, eh? Yes, ladies and gentlemen, the goal of our friend and his heirs is to control all the wine producing provinces in the world. Can little tiny Milan do it?

Filippo Maria: I doubt it.

From across the stage a voice is heard calling out...

Goldfinger: Wuss!
JP: (Ignoring Goldfinger's taunt) Don't get too down on yourself, sir. You've got quite a lot to do.
Filippo Maria: Indeed...may I get to it, at least?
JP: Be my guest...
(the host is slightly taken aback but allows Filippo Maria to exit the stage)
...and he is, right folks?
(He smiles wide)
The audience breaks into applause once again as Jackie Powers crosses over to the judges.
JP: So gentlemen, what say you about the goal? Let's look at some sliders as things begin
(he points to the board)
JP: What do you think, Goldfinger?

Goldfinger: He was smart to jump on centralization already. He needs to keep it up.

JP: And you, Anton?

Anton: Wait...what's his job again?

JP: To get all the wine...

Anton: That's what I thought you said. How 'bout you let me do that job. I got experience at that.
Laughter fills the audience as Jackie Powers turns to Midas,
JP: What about you, Midas...think he can do it?

King Midas: He seemed like an agreeable sort. And you haven't even mentioned the early good news, Bob.

JP: It's Jackie...and let's go ahead and tell them...in 1421, Genoa submits to Milan and becomes their vassal...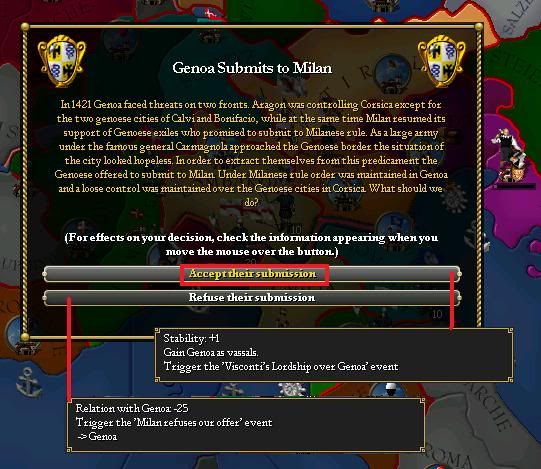 Goldfinger: The man works fast. You have to admire that.

King Midas: No idea how he did that, really?

Goldfinger: Are you saying...

JP: (cutting Goldfinger off) Please gentlemen...it is a great moment for Milan and excellent news follows...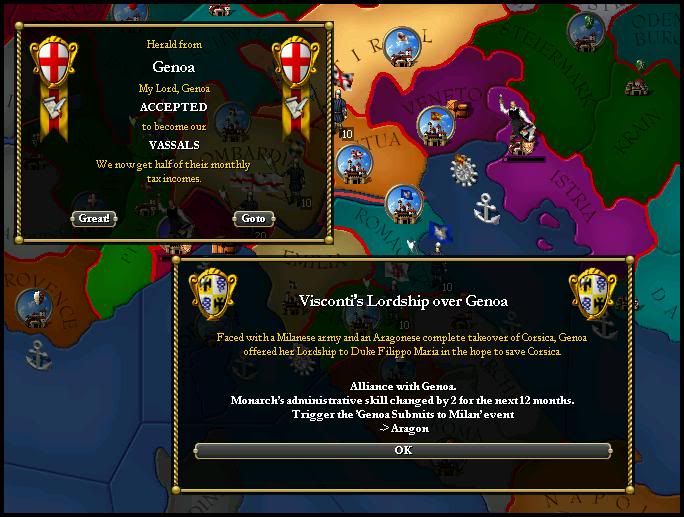 Anton: Does that mean more wine for us?

Goldfinger: It could, puny man. Take a shower.
(He turns back to Jackie Powers)
That's not a bad alliance but he's got quite the challenge in that part of town. The Pope is allied with Siena and Naples among others...and Venice...don't even get me started on Venice.

JP: You make a good point, Goldfinger. Our man has an alliance with Mantua, Modena and now Genoa. The Pope is allied with Siena and Naples, as you said, but also Provence and the Swiss. And Tuscany just to the south is allied with Savoy and your favorite Venetians.
King Midas: I stayed in Venice once...it was quite nice, actually...lovely villas...

Goldfinger: Shut yer pie hole, Midas. Men are at work here.

King Midas: Well, I never...

Goldfinger: Highly doubt that, fella. Back to business...please explain to me why he goes and offers a royal marriage with Venice...it makes no damn sense!

Anton: Somebody says cents? That's all I need, man...whatever you got...

Goldfinger: Get off me, you disgusting creature!
Anton tries to get close to Goldfinger but is harshly rebuffed and slapped to the ground.
JP: Goldfinger...please!

Goldfinger: If I have to be here, at least you could get me some decent co-judges. This is a disgrace, Bond. It will be a great day when you die!

JP: Um...thank you? Well...(turning back to the audience)...let's take one more look at the big board before we go...and it's a special shot because it shows you a bit of what we are after here...take a look...
JP: Looks like a tall order so stay tuned and make sure to join us on the next episode of...Quest!