May 16, 2002
14.836
3.218
Quest: The Spanish Search For Gold
​

Jackie Powers: (running onstage) Hello, hello. Welcome one and all to tonight's show. And we have a great one for you. (smiles at the crowd and waves at a few people) ESPN 5150 is proud to present another episode of…"Quest!" The world's favorite historical reality show! And I'll be your host, Jackie Powers!
Audience cheers and claps
JP: Thank you, thank you. Now let's get right to it, shall we? The envelope please.
Stage hand hands him an envelope.
JP: Thank you. (he starts to open it but stops) I have to tell you, I'm getting a little excited myself. What could it be?
He tears open the top and pulls out a slip of paper. Smiling, he holds it up to the audience and then reads it.
JP: The quest is…"own all of the gold in the world."
More cheers and claps from the audience.

JP: A mighty tall order. Now let's see our contestant. (looking back down at the slip of paper) Juan II of Castile…come on down!!!
The audience bursts into applause as a King gets up from the fourth row and makes his way to the stage, smiling and shaking a few hands on the way. Jackie Powers gestures for Juan to follow him over to a set of couches.

JP: Please, your grace. Have a seat.

Juan II: Well thank you, Wink. This really is a surprise.

JP: It's Jackie and I should think so. But are you up to the challenge?

Juan II: (smiling largely) Oh yes. Yes, of course we are. There's not a better kingdom for it. Besides, we already own a considerable sum of gold as it is. (confident) Shouldn't be too hard to find the rest.

JP: Well, you understand that there is quite a bit of undiscovered world, don't you?

Juan II: Of course we do. But we shall not fail. We shall have 100 peasants flogged.

JP: Um…OK then.

Juan II: Brings good luck, you know.

JP: No, I didn't know that. And in fact, I wished I didn't. But that's neither here nor there. Especially because it's time to reveal the panel of judges for the quest.

Juan II: Oh goody. We always love this part.

JP: First up, all the way from Phrygia…iiiiittttt's King Midas!
The audience cheers as King Midas comes out from behind stage. He blows some kisses and sits in the first seat of the judge's box.

King Midas: (nodding at the crowd and smiling) Thank you, Jimmy. This should be fun.

JP: It's Jackie and yes it will. And for our second judge, I give you…Auric Goldfinger!
Boos drown out the cheers as Goldfinger makes his way to chair number two in the judge's box.
Goldfinger: (nodding to each with a curt smile) Mr. Bond. King Juan.

JP: That's Jackie and it seems you have a few fans, Mr. Goldfinger. (smiling) And some not so fans too.

Goldfinger: (not smiling and looking out over the unfriendly audience) They will be dealt with.

JP: Um…OK then. (back to the audience) And finally, direct from Ireland…Tim the Leprechaun! (to himself) Tim?

Tim the Leprechaun: (recognizing and smiling to the cheering audience) Yes, Alex…leprechaun's aren't too imaginative with names. 'Tis easy to remember though.

JP: Jackie, please. And that's true. Well, let's get started. Juan, you have 400 years to find and own all the gold in the world. Are you ready?

Juan II: We doubt we'll live for 400 years.

JP: That's OK. There's always the heir.
Juan II starts to feel his hair and smiles to Jackie.
JP: Your offspring?

Juan II: (thinking to himself) Now there's a troubling thought.

JP: Are you ready?

Juan II: Now is as good a time as any.

JP: Excellent. Let's see the big board.
More audience cheering as Juan II follows a stage hand backstage and Jackie walks over to the judges box.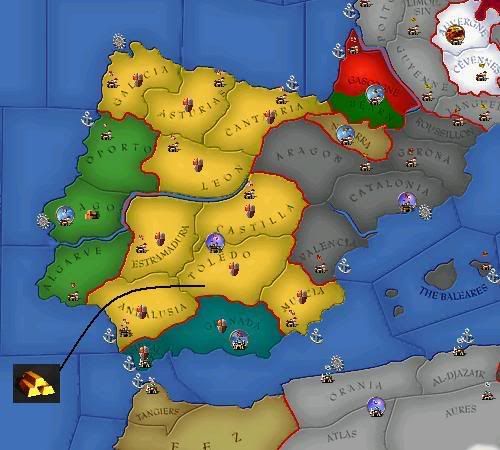 ​
JP: Now then. Let's start with you, King Midas. What does Juan have to do here?

King Midas: Well Jim, he's sitting pretty good already. As you can see, Toledo already has a goodly amount of gold. And it's well known that Castile is never lacking in that department. So he's got a fairly decent lead to begin with.

JP: I see. But there are a few far off places that might be difficult to get to, yes?

King Midas: Oh, of course. I understand there to be quite a bit of riches to the east of the Golden Horde. Juan might find himself short if he has to take too much time finding that.

JP: A challenge then.

King Midas: Quite.

JP: And how about you, Mr. Goldfinger? What do you expect of our contestant?

Goldfinger: I expect him to die, Mr. Bond.

JP: (shakes his head) Well that's one judge's opinion. Moving on, how about you…um…Tim?

Tim the Leprechaun: Alex, I expect the quest to be long and arduous…but he'll come out good in the end. He had better…because I wants me gold!

JP: Well, it's not your gold, T…

Tim: It is, I tells ya. And it belongs in me pot.

JP: At the end of a rainbow, right? (laughing)

Tim: Yes…how'd ya know?

JP: Lucky guess. (quickly back to the audience) And there it is, folks. Three opinions on one quest. And one man to carry it out. Will he succeed or fail? Keep us tuned in to find out right here on ESPN 5150…
Last edited: