Once upon a time the young king of Prussia found himself in a war-torn Europe where Britain and France were the dominant players. He would not take that however. "Prussia", he stated. "Will become the most dominant nation of Europe, under my rule." And so he set off to accomplish his goal.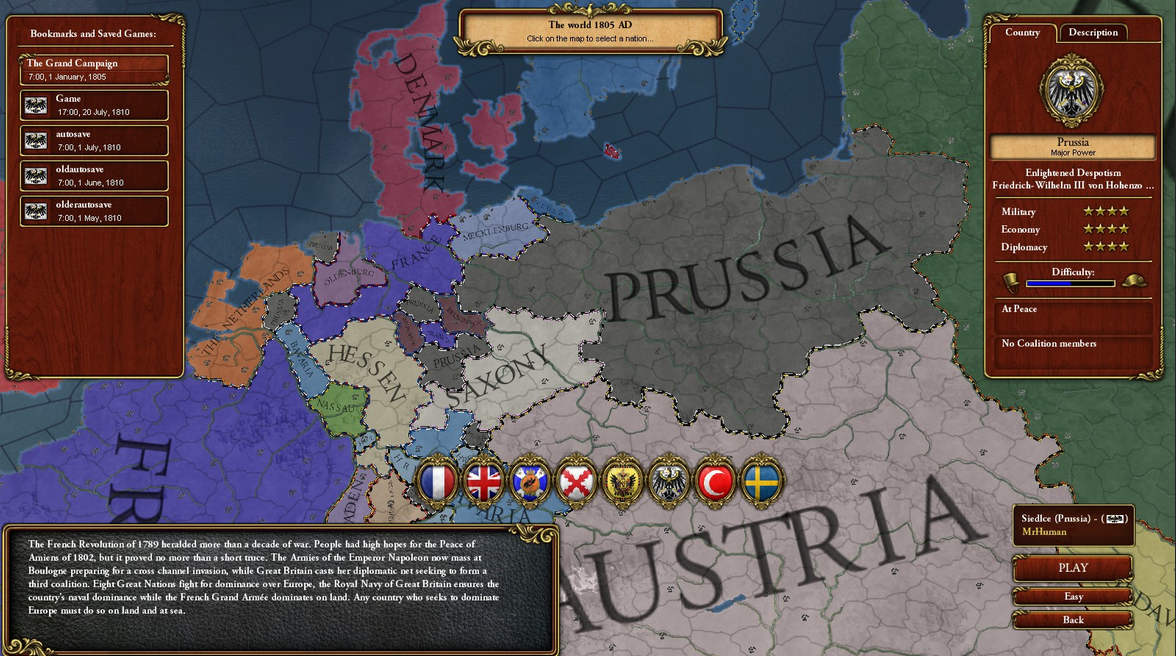 The young king had his eyes on Mecklenburg, a tasty treat for any Prussian king looking to expand his naval influence. However Mecklenburg was guaranteed their independence by several large nations. One being the northern giant of Sweeden. And so the king declared, "We shall defeat their backers!" and he set his eyes on Sweeden. He declared war and a lengthy three and a half year war began.
The fighting was tough but Prussia reigned victoriously. However to the king's demise Mecklenburg had many more powerful backers behind them and so he cast his eyes to the east. Russia was a giant with no friends, AND currently distracted in their own personal invasion of Sweeden (Which was rightly easy for them seeing as how Prussia previously cleared Sweeden's armies). The king decided to catch Russia in their distracted state and for over a year, charged in strong to the defenseless Russian mainland.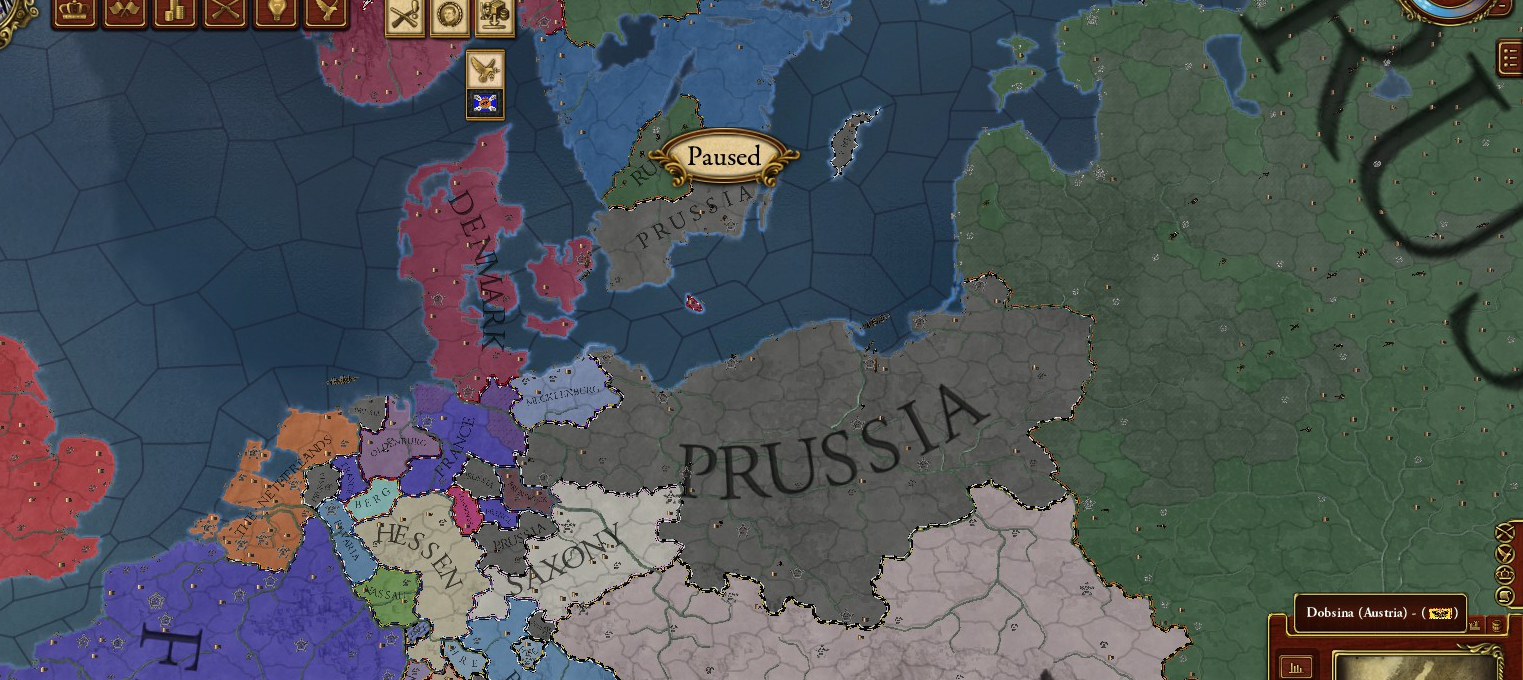 The fighting had been rough and tough in the snowy weather, and worse once the main Russian army returned from their conquest of Sweeden, but Prussia won their war with due haste and took a large buffer zone which for now was the first step on the path to taking all locations of importance to Prussia in Russia- 1 namely being Riga.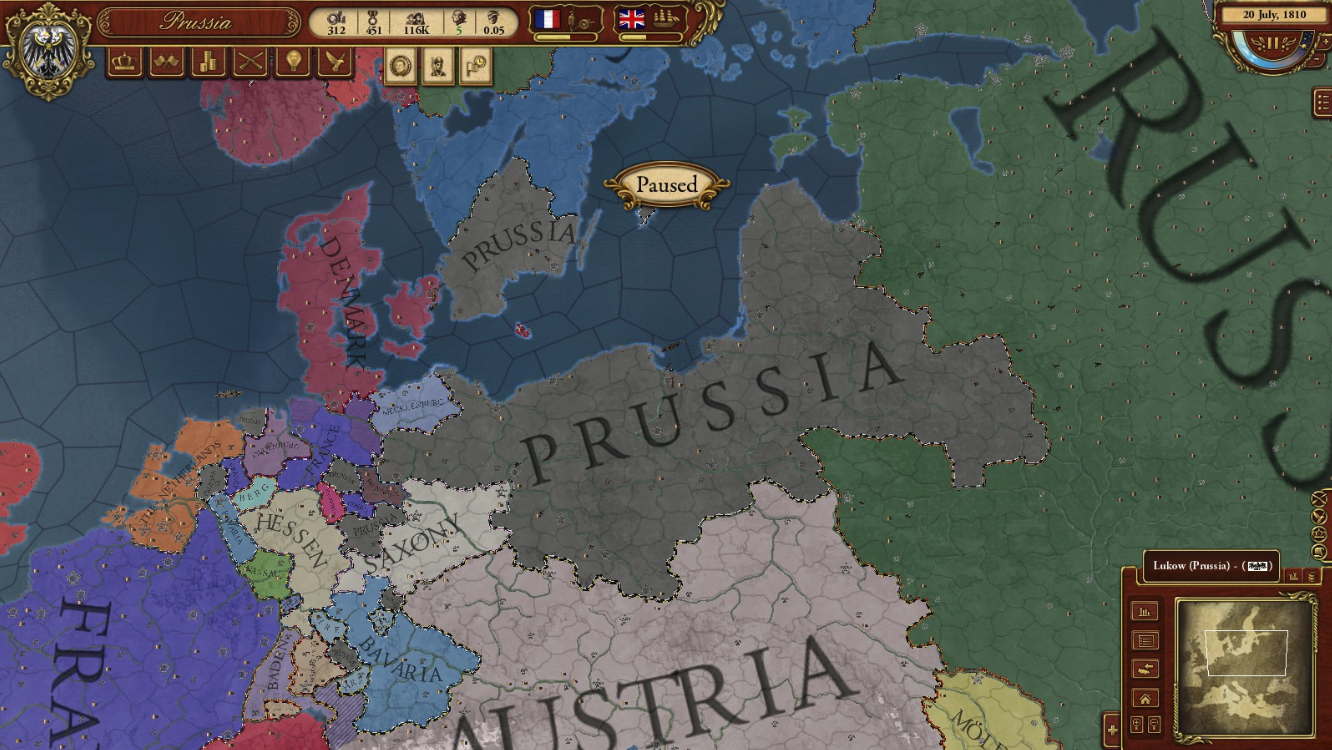 And now the ambitious Prussian king builds and recovers in patience. Soon the Prussian armies will dominate the Russian landscape once more...and with Russia currently distracted by a war with the Ottomans, they will never see it coming.
Russia will fall. Prussia will rise!