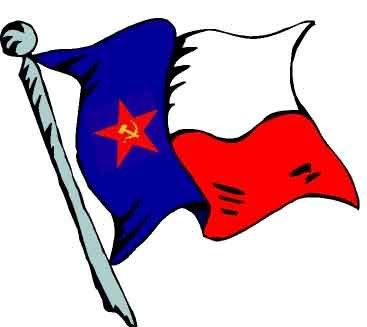 Dear Comrades, it was with a heavy heart that I found myself unable to continue the golrious tale of the great Texan Revolution a couple months ago. But now, with my tenure in my job ending, and a couple months of free time before returning to school, I have decided to resume this AAR. Unfortunately, I couldn't find the original thread, so I'm starting a new one.
Officially, the Texan Revolution has resumed! The tale of the glorious struggle of the Texan Proletariat and their American bretheren continues! I've just got to get my screen shots in order, and the Revolution will see new life!
The first new update (
Communism! Castro! Cuba!
) will be forthcoming on Wednesday, October 24, 2007 in the afternoon or evening, US Pacific Standard Time. Since it's been a while, let's recap the action thus far:
-A Revolution of Workers and Laborers overthrew the corrupt, capitalist regime of the 'elected' governer of Texas and his legislature. The Revolution is led by Vincent I. Lennon, AKA Vladimir I. Lenin, who got lost while on extended vacation. He's assisted by a group of misfits who become his cabinet and/or field commanders.
-Though his mind and resolve were strong, Lennon's body was weak, and so his brain had to be transplanted into a new body. The surgery, performed by Dr. Victor Frankenstein IV - a Swiss dentist - was a success. However, Lennon's new body was that of a young woman in a Japanese schoolgirl's uniform. Henceforth, the great leader of the Proletariat was known as Vicky I. Lennon.
-With supplies and arms from the Soviet Union, among other sources, the People's Republic of Texas set out to make itself a regional power for the benefit of the working class of the Americas. First came
Operation: Whip Mexico
, in which Texas finally exacted revenge for the Alamo and annexed Tacoland into the People's Republic. Then, the PRT brought down the kleptocratic regimes of El Salvador, Honduras, Guatemala, Nicaragua, Costa Rica, and Panama, annexing every one of the 'independent' states into the People's Republic as well.
-When last we left the PRT, Texan eyes were on two things: the newly formed Proletarian Baseball League, formed as a deterrent to poor players from the Americas being lured to play in the United States of Oppression's Major League Baseball, and to the land just east of the growing People's Republic: Cuba.
The most recent map of the glorious People's Republic of Texas.
And so, let this cheesy graphic/teaser proclaim the resurrection of the People's Republic of Texas....