My OPM game. Thought I want to try a game as a Free City and stay with it the whole game growing only with vassals.
Got France as an ally very early on but they're there mainly as a defensive ally, my most valuable allies were the smaller/mid sized HRE nations that I can get favor points a lot faster from.
The game was a mix between fun early on, to oh so boring once I need to do constant wars to get prestige so I can keep my vassals in line.
My first vassal was East Frisia, their NI is icky, but also the easiest to get as vassal lol. Only had them for a long time until I got lucky when Brandenburg went under and I released them from a core. Released Prussia shortly after religious war (they were a beast even in vassal form!). Released Galicia for better navy and baby Ashanti which I had barely anytime to do anything with lol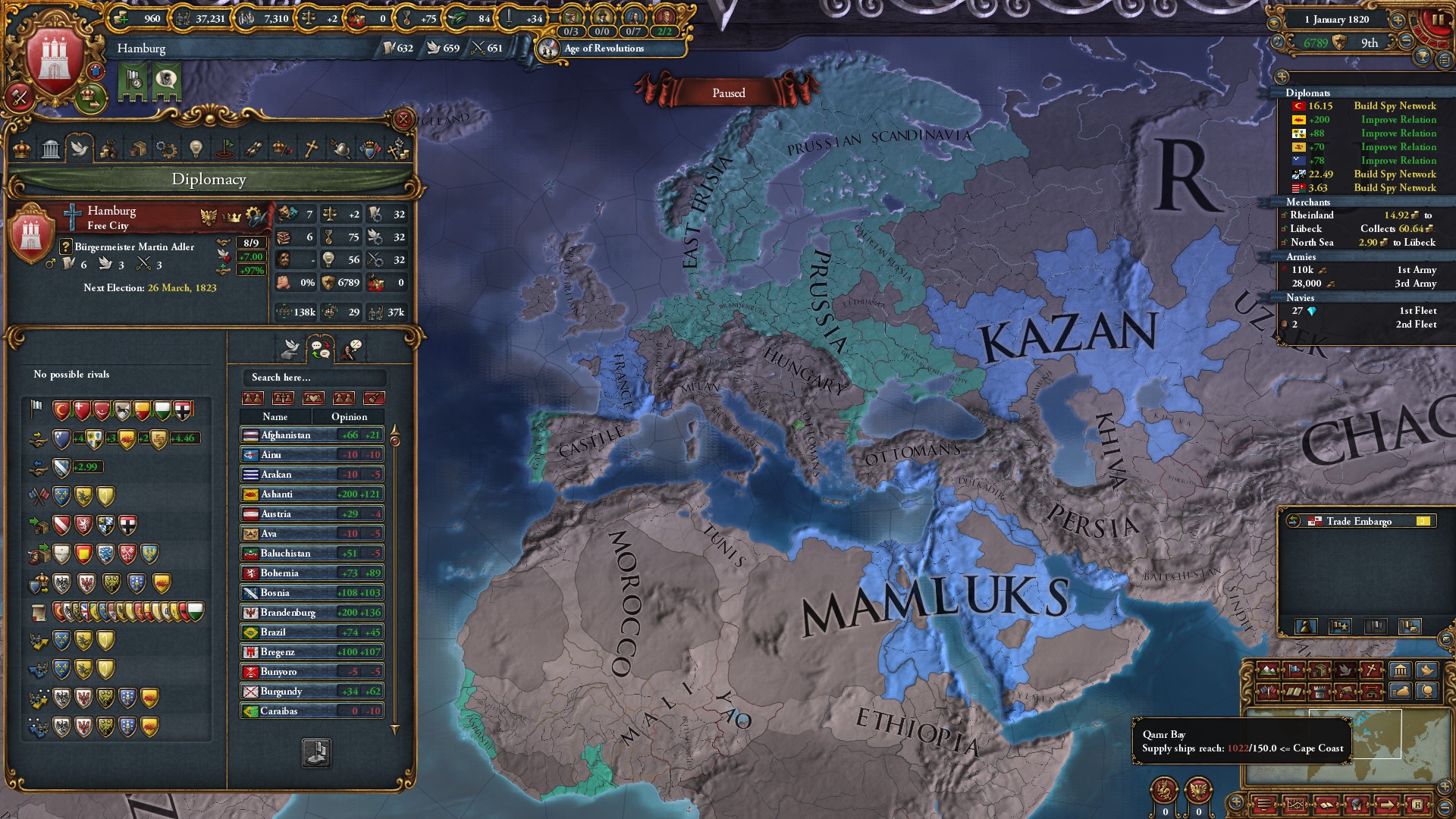 Money comes mainly from trade node early on. Renting army out while waiting AE down was also very profitable. Once I got my vassals big enough and the policies for vassals payment, those become my main income. The only time I've ever relied on vassal money for my income lol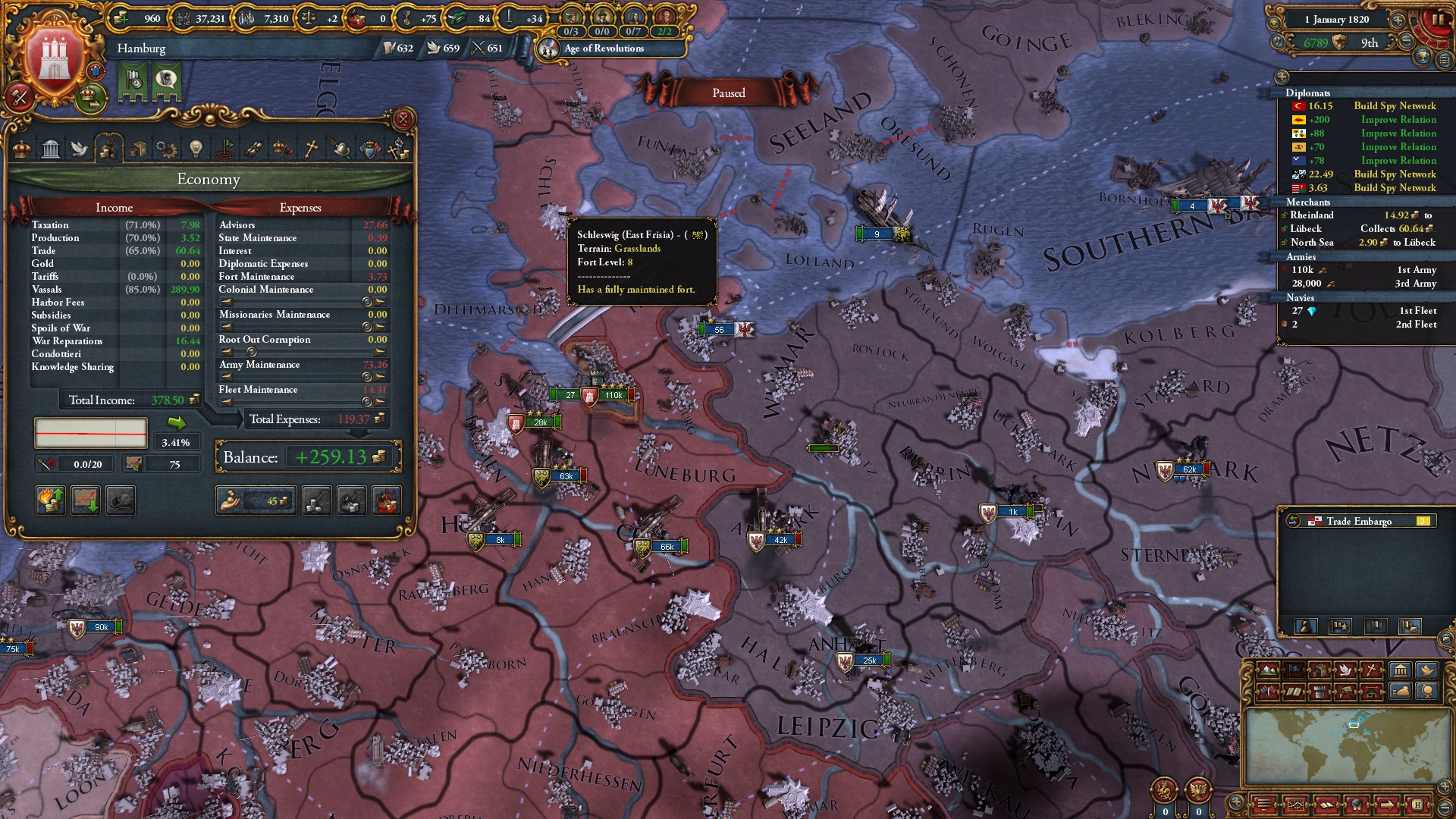 Keeping the vassals in check is pretty much the name of the game until Age of Revolutions. "Anti-revolutionary Zeal" and "Loyal Subjects" make things so much easier. Look at those sweet, sweet vassal payment! lol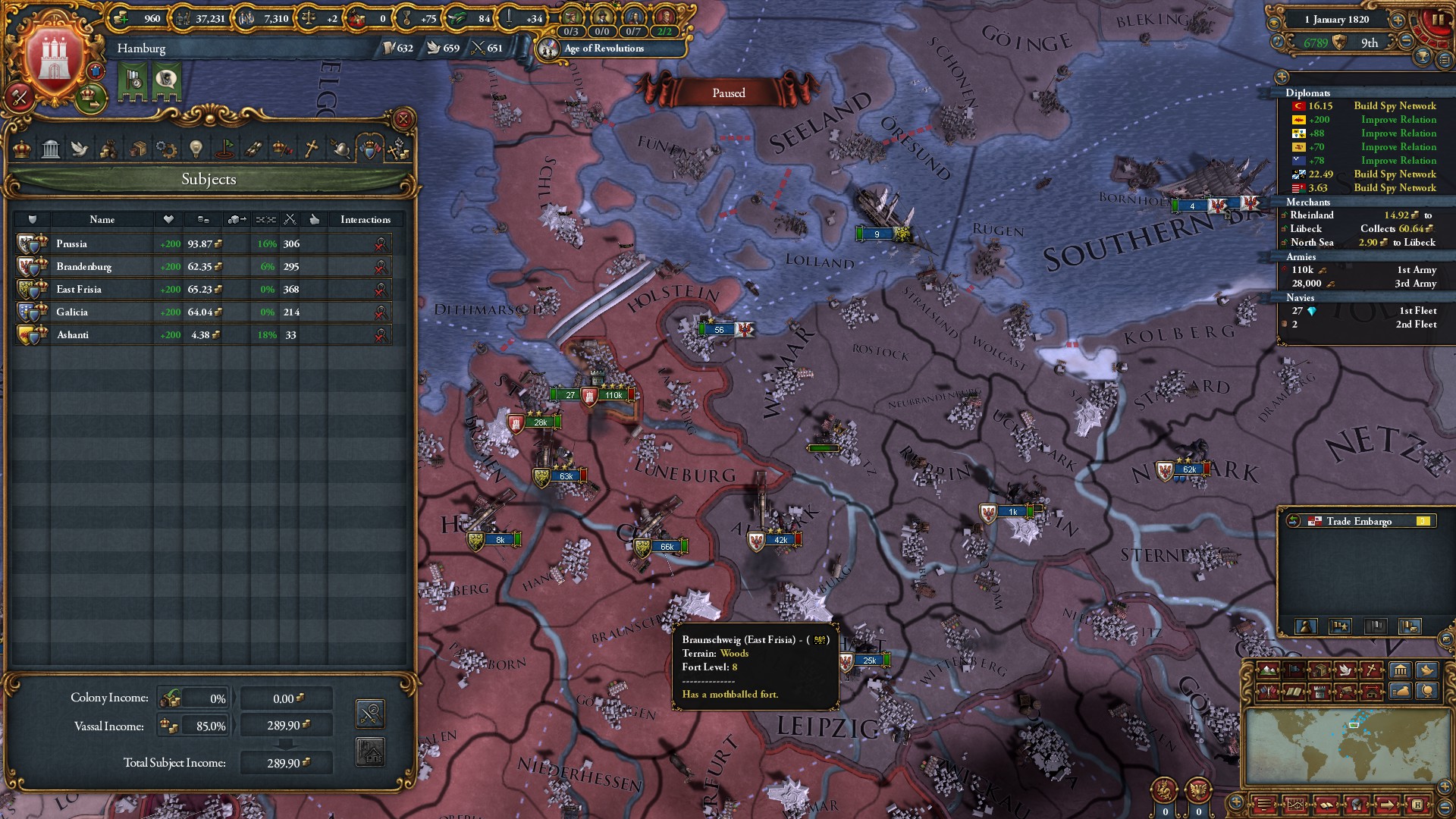 Worst thing about being OPM is the low manpower. I usually can only be a besieger, or play support to my vassals. Engage battles only on those that I know I can stackwipe. Any prolonged battles will destroy my manpower very quickly. While mercs are an option, their small size means they're also there for support or to get their generals (mostly siege generals). With only 29 naval limit, any war outside europe is a pain too.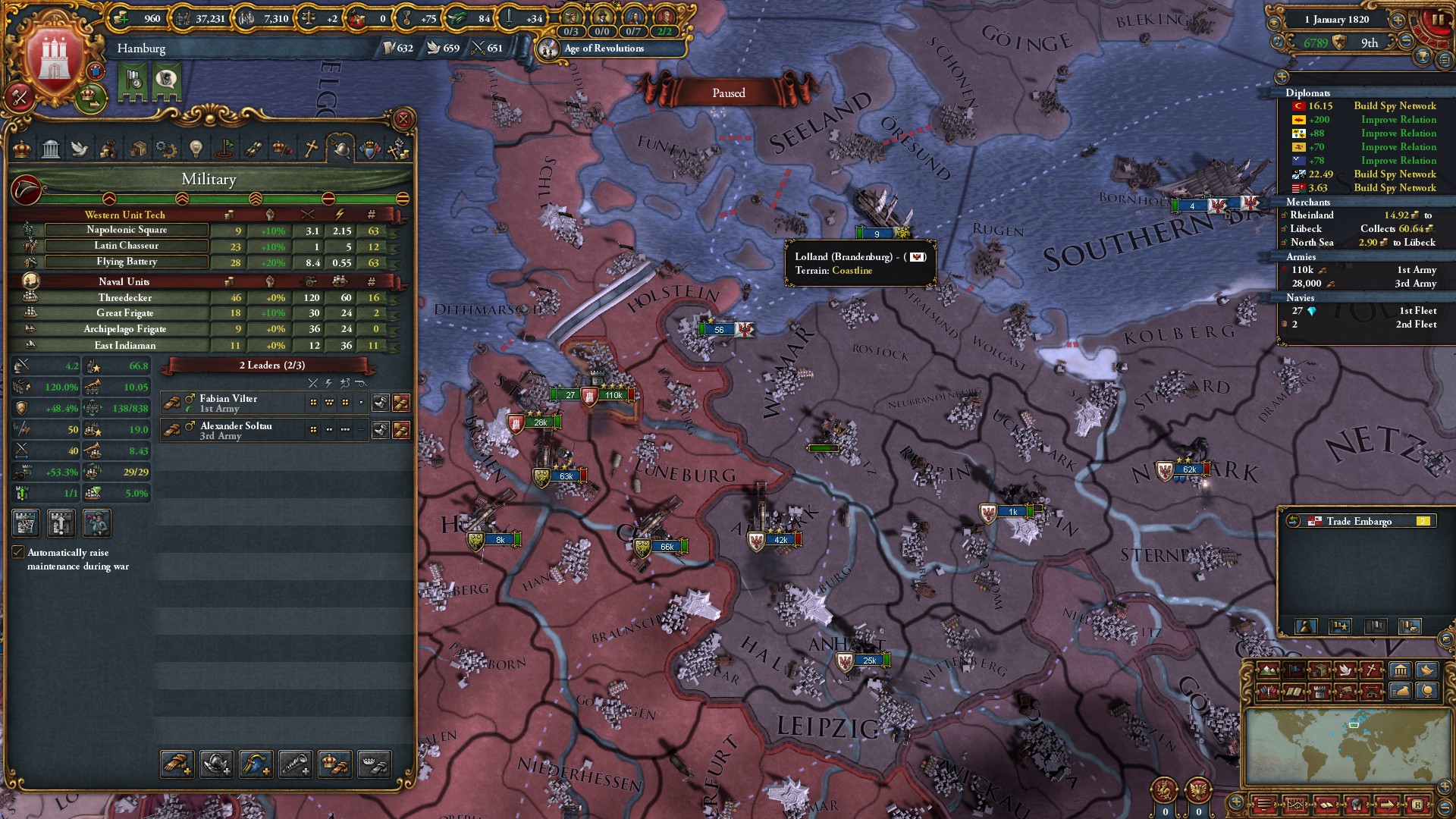 And lastly, the province behind it all, hiding behind my vassals, the glorious(ish) province of Hamburg, home of the best hamburgers in the world! (The province developments is like that since I put points only when I have excess, and since mil points was a struggle for me at the early going, ADM is what get poured on it mostly).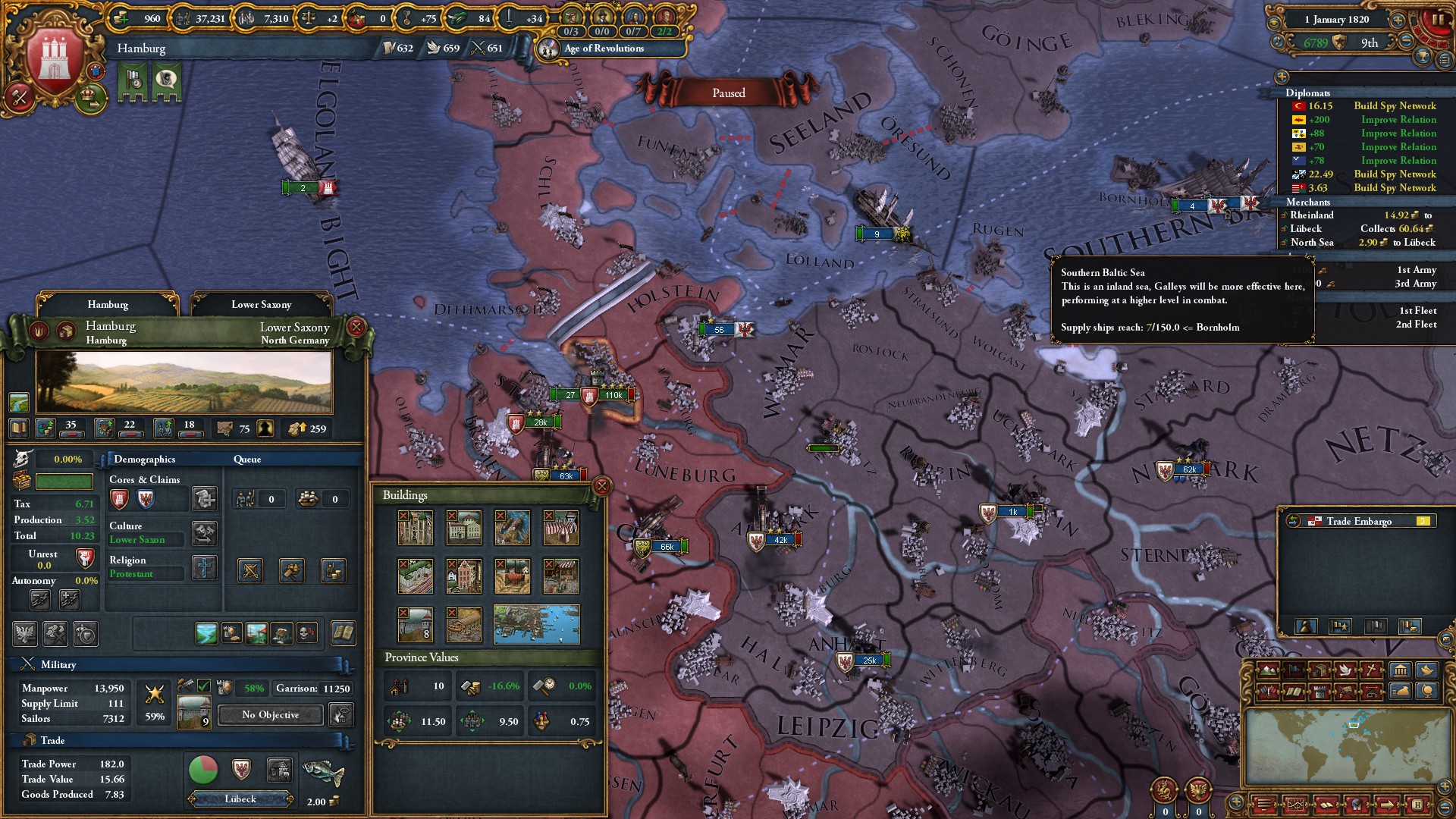 Bonus screenshots: One of the few times you'll see A.I. Brazil as #1 Great Power in the game, by quite a bit too. (After Portugal lost all of their european provinces, they moved their capital to Morocco and some events that I'm not familiar with, released Brazil, put Portugal under their PU and now Brazil stronk or something like that)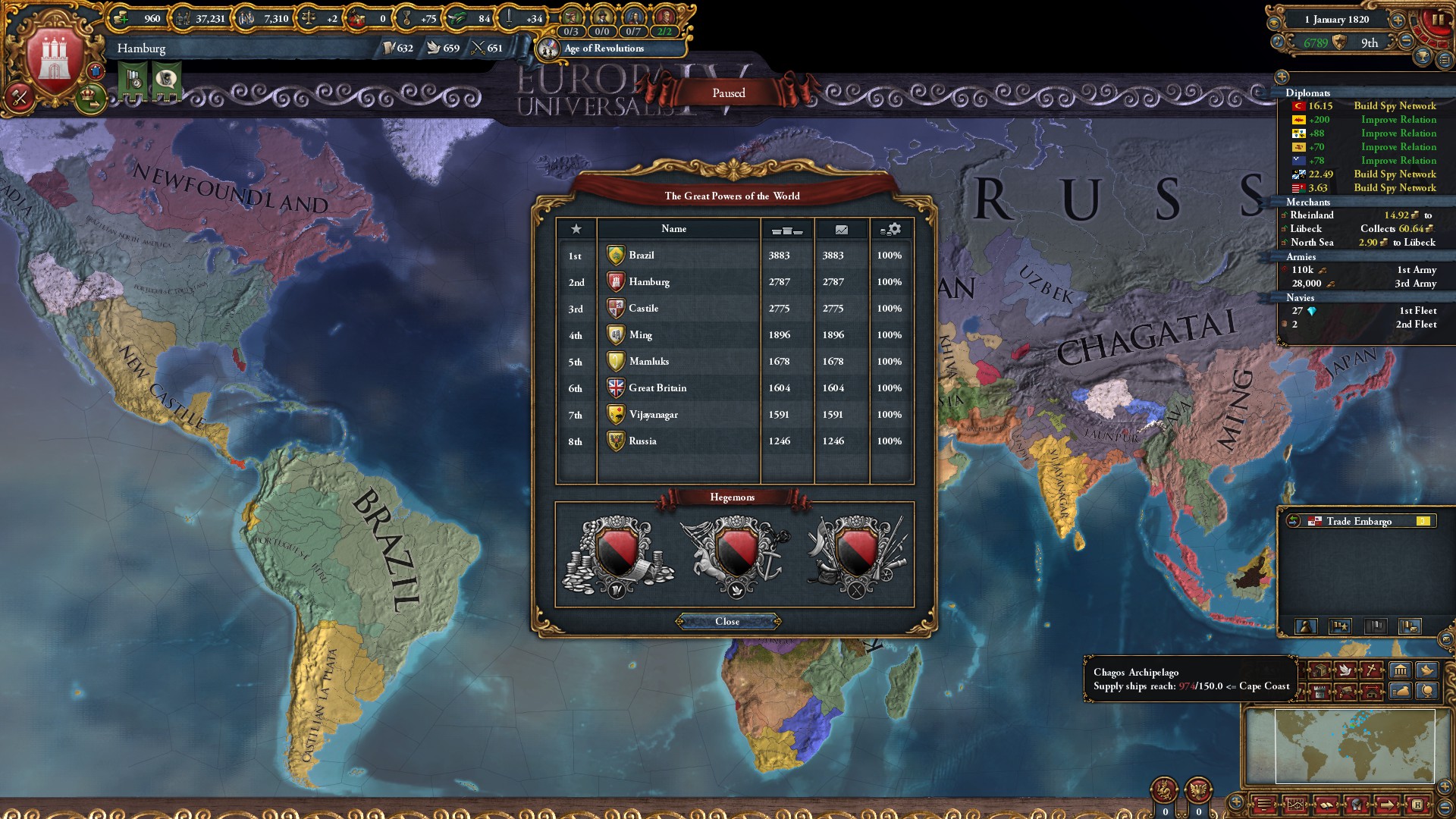 5

3
Reactions: