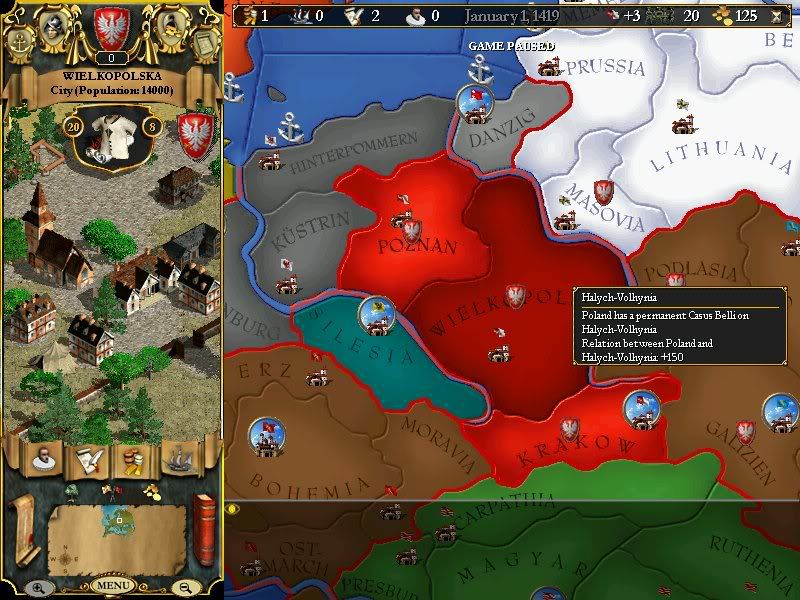 Current History:Poland began to form into a recognizable unitary and territorial entity around the middle of the tenth century under the Piast dynasty. Poland's first historically documented ruler, Mieszko I, was baptized in 966, adopting Catholic Christianity as the nation's new official religion, to which the bulk of the population converted in the course of the next centuries. In the twelfth century, Poland fragmented into several smaller states, which were later ravaged by the Mongol armies of the Golden Horde in 1241, 1259 and 1287. In 1320, Wladyslaw I became the King of a reunified Poland, but the independence was to be short-lived. The sudden rise of Lithuania under Jurgis saw Poland conquered once more by armies coming out of the east. The Lithuanian Crusades of the 1370s and the subsequent Treaty of Lazdijai saw Poland liberated at the insistence of the Emperor, but with territorial concessions to Halych-Volhynia and under the vassalage of Hungary.
Now, there's several problems with this really. Mainly, it makes no mention of what happened to Silesia/Kustrin/Hinterpommern.
Danzig is actually mentioned under Danzig, but the only mention it makes is that it was created as an Imperially protected state, because of it's value, and the Emperors wish to not have it incorporated into the Teutonic Order, or Poland. This is fine, and realistically plausible.
Initial Cores for Poland: All of current, + Danzig
Now, there are actually several routes that Poland could follow here, as it's literally a blank slate with no events.
Reclamation Poland:
This will likely bring Poland into conflict with the Emperor, but going this route means that Poland would seek to re-subjugate it's lost territories that are under German or independent control.
The obvious provinces that are in this vein of interests are:Galizien, Podlasia, Mazovia, Danzig, Kustrin, Hinterpommern, Silesia.
Taking over these territories would result in their conversion to Polish Culture, and obviously a core gained. The only province that should be exempt from not starting with a core here is: Danzig. Mainly, Poland would be dead-set on getting this one back, and this should be the core given to start this 'route' for Poland.
Polish conquests in the Teutonic Order:
Now this focuses on retaking territories that not only belonged to Poland, but also to Lithuania. This mainly seeks to subjugate the 'Lithuanians' *Revenge*, and take back Mazovia/Galizien/Podlasia. This route does not bring you into conflict with the Emperor, or any German states, but it does bring you into conflict with the Teutonic Order, and Halch *obviously*
So these, are the two routes, that I think could be possible conquest wise, that are plausible at start.
Starting Story Message: Wladyslaw II the great grandson of Wladyslaw the I has taken control of a weak Poland, with losses to Halch-Volynia, and the loss of territory from the Lithuanians in recent years, his country is weak. Poland was once a strong glorious nation, and it looked as if it was going to have a bright future, but recent events seemed to have all, but snuffed out this future. The Polish people are under many rules, and the injustices done to them under the rule of others has been most harsh, they cry for freedom, will this call go unanswered?
Event Route Choice: Although, Poland may be in a weak state, it was at a cross-roads, would it defy the German states, and seek to regain it's lost territory that lies in german hands? Or would it go against the Teutonic Order, take the lands of Lithuanians, and free the poles of Mazovia? For the young King Wladyslaw there is a choice to be made.
Option A:Let us take back our lands from the Germans!
Option B: Let us take back our lands from the Teutonic Order!
Option C: Poland must not come into conflict with the other kingdoms!
The only option, I haven't mentioned what the obvious course of events would be is the event chain for Option C. *Which should be the most likely for an AI poland, so I guess it'd be option A* Which just raises your relations with the German states, Bavaria, and Hungary.
Last edited: