Crusader Kings v1.05
Hastings (1066), normal/normal
This is my attempt of playing Poland through CK, EU II and Vicky, HoI II maybe if I will find proper save converter.
Sorry for the poor quality of pictures, hosting site doesn't allow linking full sized screenshots so if you know good and free hosting site, let me know.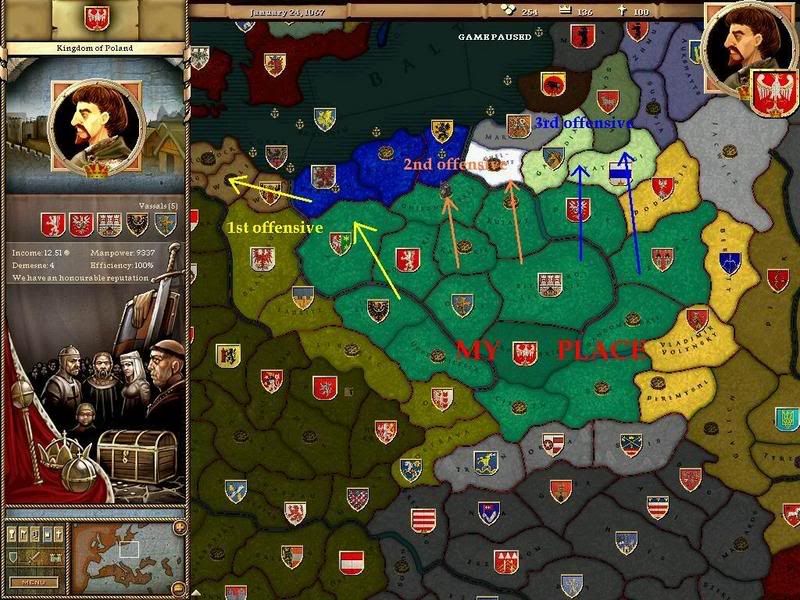 This is Poland in 1066. Quite promising place to start. We've got loads of heathens to the north, north east and north west.
Well, the first thing to do was to set sliders to gain maximum loyality from our vassals. Pretty crucial thing. This means less gold for our treasury, but this is not an issue, since pretty soon we hope to gain a lot of land that will generate enough for the survival.
I found a spouse for a King and could go on a crusade against Prussian pagans.
First goal was to conquer northern parts of Germany. Those were easy catch for the German king so I had to be quick. 3000 men army or so rose quickly and pagans gave up almost without a fight.
With son on his way and my treasury with the amount of circa 150 gold pieces I was on my way to northern parts of my kingdom to deal with Prussians.
I gave away all lands in the Germany to Polish courtiers. One interesting thing though. From the history at the academy they thought me that if I recall correctly in England they had a system of granting lands far from each other, so a prince would have two provinces on opposite sides of kingdom to prevent partitioning and kept king's strength. The same system I enforced in my kingdom. (Not 100 percent sure on that though since history was my major in high school and it was ages ago).
Everything was more than OK for me. I settled for few years to build some roads and buildings in my provinces, gather some money and attack north-eastern pagans that had pretty big coutries there. Manpower wasn't na issue for me, but maintainig big army takes funds and I was forced already to call estates general two times.
The peace couldn't last for ever, pope called to arms to fight heathens in the holy land, but I was pretty much tied in conflict against Lithuanians. Some dork attacked them with forces few times weaker, so it was on!
My army crushed all opposition and my treasury. I gave into demands of nobles to change the law.
In 1080 King Boleslaw Piast died and his son took over.

After five years Ziemowit got stressed and killed himself. Sunrise - sunset.
His brother took over and finished the job with Lithuanians.
Brother - Jakub Piast
The job - Lithuania
Well, I am not a brilliant family planner (I just plainly don't plan one) so my actions were limited to finding nice looking, good traited and skilled spouse, and young too. Well first wife of Jakub died in labor with second child. So we found replacement, but not fertile enough it seems. Thankfully there is a hier to the crown from first marriage.
Germany, Hungary and Sweden were posing serious threat and in case of conflict with them I might have had troubles. My ally, Denmark wasn't a big consolation. They even dragged me in war against Norway and Sweden.
Thankfully the Pope ordered a peace in case of Norway and Sweden gave up after taking control of their two provinces.
During the expansion on Kurland something funny happened. Bohemians broke loose from Germany's leash and Hungary fell apart.
I didn't think long and vassalized few provinces
Now its 1104, Jakub is at power, his son Jakub is adult and will soon gain some land and a bride.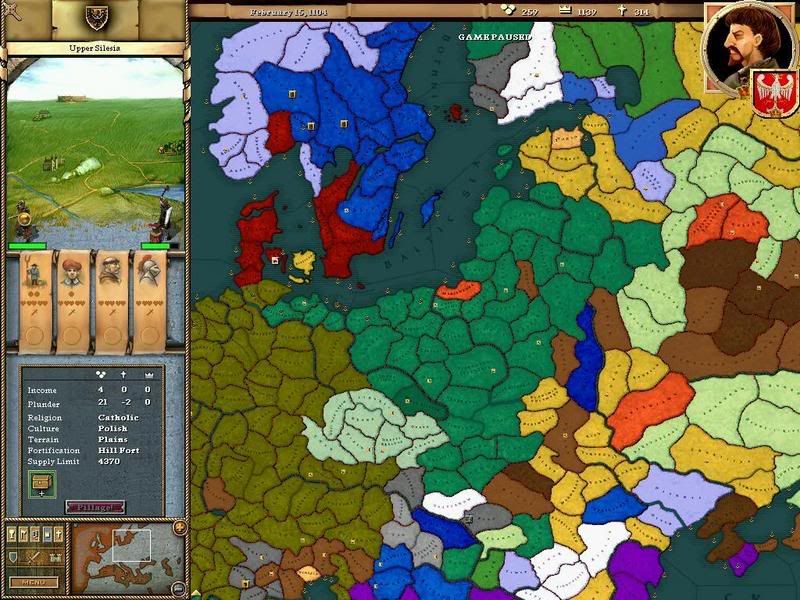 Stay tuned for more.
Last edited: