Grand Lakan of Luçonia
18 Badges
As Paradox has put in some new pre-hispanic philippine states, I figured if ever in the future that paradox decides to make a new unit pack or an entire new dlc focusing on southeast asia like those in both mainland and maritime southeast asia as I know paradox has made already some units in mainland southeast asia in the Buddhist unit pack and some players are suggesting additions and improvements to indonesia and thai areas, I think I can provide some cool picture references for the designers to see for what the units and art in the philippines could look like as I'm a filipino with some interest in history. I'm not a historian though so if any other filipino out there or historical enthusiast on the topic can correct or add their own ideas with the pictures.
For Tier 1,
I think the oldest picture references of the time period that I know of could be based off of illustrations from the
Boxer Codex
which was a manuscript written and illustrated by an unnamed spanish author and possibly a chinese illustrator completed around 1590 under orders of the then spanish colonial governor-general Gómez Pérez Dasmariñas to report back to spain about their territories. The governor-general himself was killed 3 years later by his sangley(chinese) rowers on his galley ship on his way to invade ternate in the moluccas. His son, Luis, succeeded him and kept this manuscript. The illustrations are just like those found in the portuguese-made
Códice Casanatense
. It has illustrations not just of pre-hispanic filipinos of the time but also peoples of east asia and southeast asia seen residing in manila at that time such as chinese generals and couples from the ming empire, japanese of the samurai caste, warriors from moluccas, siamese warriors from siam, warriors from borneo, tartar warriors from mongolia, and north vietnamese warriors and couple.
Tagalog = The people of the Grand Barangays of Tondo and Maynila in the game
Visayan = The people of the Grand Barangays of Madyas and Cebu in the game
Ilocano = The people living in the provinces of Ilocos and Cagayan in the game
Pangasinense = The people of the Grand Barangay of Pangasinan in the game
Kapampangan = The people of Pampanga living in where the province of Tondo is in the game
Bohol = The circular island as opposed to the elongated island (Cebu) where the game deems the province and Grand Barangay of Cebu is at
Moro = The muslim people (deemed as moors by spaniards) living in the provinces of Lanao, Maguindanao, Sulu in the game
Note: The martial arts used in the period commonly relied on by the peasant or commoner class, as opposed to the nobility or warrior class, was
Kali
or also known these days as
Arnis
or
Eskrima
which are derived from old spanish words of
arnés
(armor) and
esgrima
(fencing) as observed by the spaniards at the time. This was a martial arts that used dual blades from two hands. These days people perform the martial arts with wooden sticks or knives in both hands for training and safety reasons. The shift in using wooden rattan sticks and small knives instead of actual swords these days was also seen in spanish colonial times since the spaniards decreed the prohibition of civilians to carry full-sized swords (like the
Kalis
/
Kris
, and the
Kampilan
) and disallowed the propagation of this martial art, fearing that it could be used to train natives to effectively start armed uprisings. The modern martial art now also takes some influence from 15th century spanish fighting styles like old fencing and chinese, arabian, and indian martial arts. Today, practitioners of the art are called "arnisador(male) / arnisadora(feminine) for those who call it arnis, eskrimador(male) / eskrimadora(feminine) for those who call it eskrima, and kalista(neutral) or mangangali(neutral) for those who call it kali. Some of the population in the period also practiced a localized Chinese fighting style known as
kuntaw
.
From the
Boxer Codex (1590)
Warriors of the time:
Warrior holding Sibat (Spear)
Native warrior using Japanese weapons and armor
Warrior from Borneo
Warrior from Moluccas
Some pictures too of Philippine Lords, Nobles, Commoners, and Native Warriors
Philippine Lords and Nobles:
Tagalog Datus(Lord) and Maginoo(Nobles) with Wife
Binukot(Princess) from Cagayan
Visayan Datus(Lords) with Wife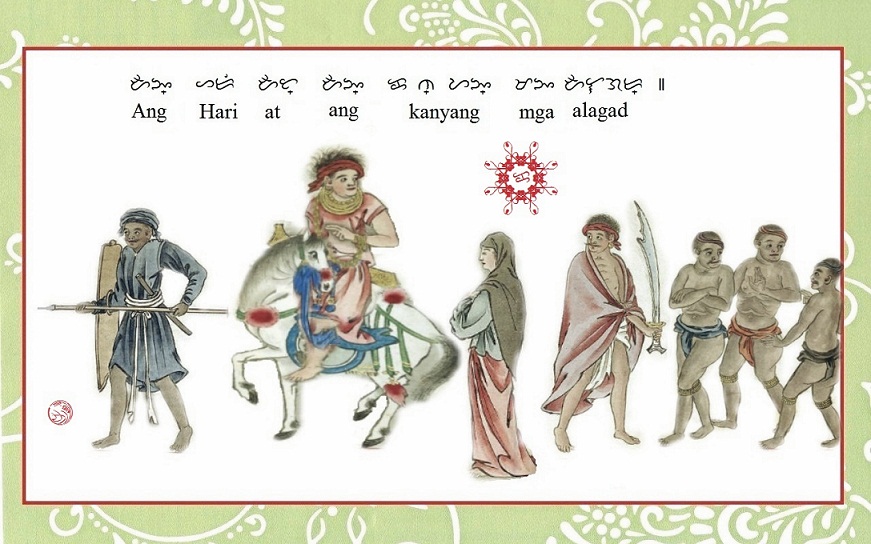 The sentence reads "The King and his followers"
The above image is most likely edited but added with baybayin and tagalog sentence and illustrations from the Boxer Codex just like images prior.
Philippine Commoners
Visayan Timawa(Feudal Warrior Class Commoner)
Visayan Pintados(Tattooed warrior class)
Alipin/Uripon(slaves)
Native Commoners (probably muslims in the muslim rajahnate of maynila at the time)
Native Tribesmen Warriors or Nomadic Hunters around the country
Noble Warrior from Cagayan
Negrito Nomadic Hunters
Nomadic Hunters from Zambales
There are more pictures of other people found in southeast asia at the time from the Boxer Codex to be found in wikipedia
here
although there are some not found online and are still within the book itself which can be browsed
here
.
Here are some pictures too of Visayans from Fr. Alcina's
Historia de Las Islas e Indios Visayas (1668)
Visayan Datu(Lord) with Binukot(Princess/Lady)
An enslaved visayan pintado(tattooed feudal warrior class)
Visayan Warriors fighting
Pictures of the Kalis / Kris and the Kampilan. Famous swords of the period that are still collected or used by muslim Moros in Mindanao.
The Kalis / Kris is known to have been used in service to Tondo, Rajahnate of Cebu, Butuan, Rajahnate of Maynila, Sultanate of Maguindanao, Sultanate of Sulu, Bruneian Empire. Today, it is known to be used still by Moro people (Maguindanao people, Maranao people(Lanao), Tausūg people(Sulu)), Bugis people(from Sulawesi), and Visayans(Visayas).
The Kampilan is known to have been used in service to Ancient barangays around the country, Rajahnate of Cebu, Madja-as, Tondo, Namayan, Maynila, Rajahnate of Butuan, Sultanate of Maguindanao, Sultanate of Sulu. Today, it is known to be used still by Kapampangans(Pampanga), Ilocanos(Ilocos), Tagalogs, Visayans, Moros (Illanun(from Lanao/Sabah), Maguindanao, Maranao(from Lanao), Tausug(from Sulu)), Bajau(from Sulu/ Maguindanao/Sabah). The weapon has been known to have been used in the historic wars of Majapahit-Luzon wars, Bruneian Invasion of Tondo, Battle of Mactan, and the Moro wars.
Note: The Kalis / Kris is more popularly known to Indonesians and Malaysians as "Keris."
Kalis / Kris with other local names of its parts
The Kampilan with other local names of its parts
In the Spanish Colonial Period, these would be the knives used instead after spanish decree prohibited swords like the former.
Philippine Weapons of Offense and Defense in Precolonial Times
Precolonial Filipinos made excellent armor for use on the battlefield, and swords were an important part of native weaponry. In some parts of the Philippines, armor was made from diverse materials such as cordage, bamboo, bark, sharkskin, and water buffalo hide to deflect piercing blows by cutlasses or spear points. Visayan chainmail and cuirasses were called barote: quilted or corded body armor. Spaniards called these "escaupiles", after the cotton-padded exemplars they found in the New World. The barote was woven of thick braided abaca or bark cords, tight enough to be waterproof and knotted intricately so that cuts did not spread. Burlap was worn against the body under the barote; the body armor itself extended to the elbow and knee with an ankle-length variety with sleeves for manning defenses, although for greater agility confident warriors preferred to go without them. "Pakil" and "batung-batung" were breastplates and back plates made of bamboo bark, hardwood like ebony or in Mindanao, and caraboa horn or elephant hide from Jolo. Sharkskin was used effectively for helmets or "moriones". Shields were important defensive weapons in all lowland societies of the Philippines. Visayan shields, kalasag, were made of light, fibrous wood designed to enmesh any spear or dagger that penetrated its surface and to prevent their retrieval by the enemy. Shields were strengthened and decorated with an elaborate rattan binding on the front, which was also coated with a resin that turned rock-hard upon drying. These shields were generally 0.5 meters by 1.5 meters in size and, along with missile deflecting helmets, provided full body protection that was difficult to penetrate. Thus, it is not surprising that most of the raids that were successful in terms of taking captives and heads, were surprise ambushes that literally caught the enemy with his shields down.
Last edited: