Katalaanse Burger en Terroriste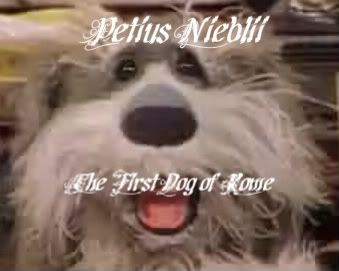 Dear Paradoxian mates and, nothwistanding, dear friends all,
This AAR is not my fault, as the idea was giving to me by the infamous Canonized, my dear Anglosaxon brether. It all began with a joke about my
Ad Urbite Condita (lingua britannica)
http://www.europa-universalis.com/forum/showthread.php?t=387869
. After one second pause for thought and bearing in mind that Something Happened on the Way to the (Paradox) Forum, I decided to make the silliest Rome AAR possible, with plenty of jokes -you only need to take a look on the title, it speaks by itself.
So, let me tell you this right now: It is quite possible that this AAR may end being quite silly. Well, it's not possible, it's going to be nuts. You have a dog fated to rule Rome. The PoD says it all, methinks.
To avoid suffering too much, and bearing in mind the ability to make unending AARs, I'm determined to make this AAR short and to end it (even if the savegame commits suicide, as it is tradition in my AARs). It is not going to last, and it is going to have some kind of sense. Mad, but sense.
I'm going to make a fool of myself and of the Nieblii, which, if Ivpiter agrees with me (if not, get lost, you sob), I'm going to make the most well-known family of Rome (for good and worse). I'm not going to get lost in questioning was is right and what is wrong to make Peti the absolute ruler of Rome. What Petius Niebli makes is good and what Petius Niebli does not make is because he has not thought about it yet. There is no evil, just a lot of misspelling, right? I repeat misspelling, not Tori Spelling. That IS real evil, indeed.
Before I forget: I'm not going to say the old "Carthago delenda est". No. What I'm going to do will leave what remains of Carthago as if some crazy bloke had nuke it. No more, no less.
All in all:
Wofff, Caesar, those who are going be nuts salute You!​