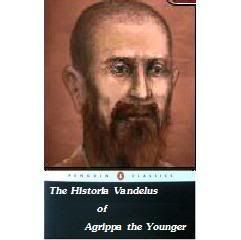 ----------
Historia Vandelus
A History of the Vandals
by Agrippa the Younger
This edition (c) 1974, Penguin Classics, Inc.
Translation and Introduction (c) 1933 by Archibald von Crovan
and published by Viken Press, Norway.
All Rights Reserved
PENGUIN BOOKS
Published by the Penguin Group
Penguin Books Ltd, 80 Strand London WC2R 0RL England
Penguin Putnam Inc, 375 Hudson Street, New York, New York 10014, USA
Penguin Books Australia Ltd, 250 Camberwell Road, Camberwell, Victoria 3124 Australia

www,penguin,com

This translation first published in 1933

Except in the United States of America, this AAR is sold under the condition that it not be lent, re-sold, used to plug drafty windows, to reshoe horses or in any other manner inconsistant with the proper use of a book (I am looking at you, owner of an outhouse) without the express written permission (which also may not be used in place of toilet tissue) of the publisher, the estate of the translator, and the express written permission of either 1- the Mayor of Syracuse, Sicily or 2- the President of Greece. This AAR was produced using Europa Universalis: Rome with Vae Victus and with the Epigoni Mod. The tribe of the Vandals was then modded in using the Chatti as a model. They were given the province of Vandalia because that seemed pretty obvious.
​
----------
Table of Contents:
Introduction by the Translator
The Apologia of Agrippa the Younger
Part I: On the Vandals
On Their Religion
On the Seven "Great" Clans
On The High-Chiefs
On The Officials Who Lord it Over the Others and On The Horde
On The Laws and the Lawspeakers
Part II: On the Misdeeds of Their Chiefs
Glossy Insert Page 1
Ageric Andicid
Teutobod Dagaricid
Gunthamund Marbodid
Teutobod Andicid
Nithard the Mad Marbodid
Catualda Dagaricid
Magneric Marbodid
Tassilo Dagaricid
Lucterius the Druid
Godomar Gelimerid
Amalaric Andicid
Glossy Insert Page 2
Part III: My Life With The Vandals
The First Years After My Capture
Tassilo Dagaricid Thinks He Is My Friend
First Chance To Escape
During The Roman War
??
??
How I Put A Madman On the Throne
During the Rebellion
Escape
Last edited: