As last year on PDXcon 2019 there was also a HoI IV Challenge to do.
Last year it was: In 30min play Poland in 1939 bookmark, and inflict as much casualties as possible. This was done with 1 800 000 German casualties on the convention, and so this became the achivement 30 Minutes of Hel:
This year the challenge was Don't Die For Your Country: Start as Germany in 1939 bookmark, and with as little casualties as possible take and completely control Poland and Mainland France. Also with a time limit of 30 mins, but which wasn't enforced as much, since this limit was more that you don't hog the computer forever, so other people can play aswell.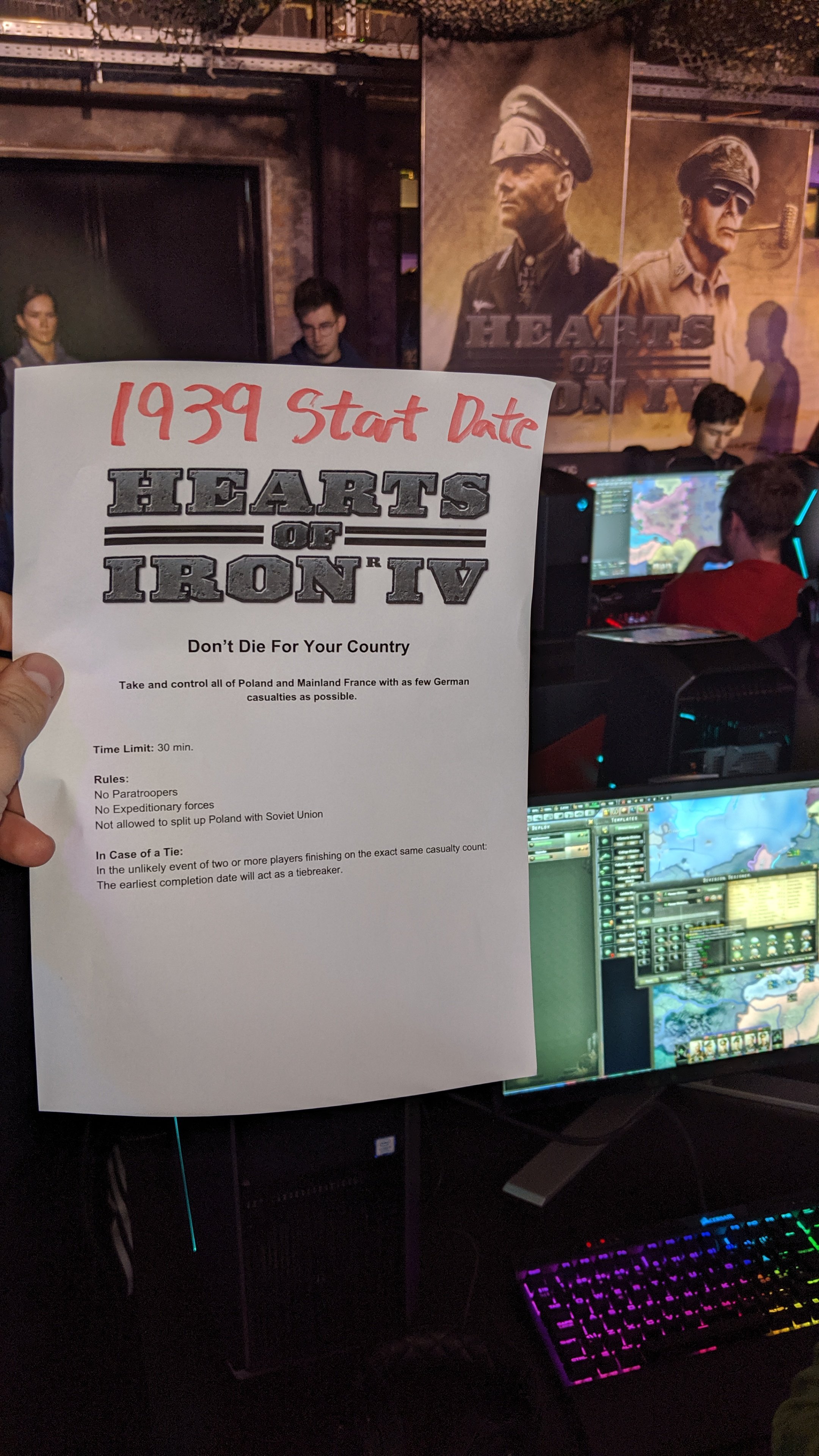 (Picture from Feedbackgaming in Twitter)
The challenge was completed with a 475 casualties on the German side, so this will probably become the new achievement number. On the convention itself I thought about a new tactic to lower this count even further.
and yeah this is quite possible.
With a bit of air micro you can probably get under 100 casualties. This took 3 tries on my home pc in ironman mode and under 10min per run.
The trick is:
Put 48 Infantry divisions on the western polish border, 24 to East Prussia, 24 against France. These divisions are only there, that you won't get attacked.
Have your one Tank in East Prussia drive against Danzig.
With the rest of your 6 strong tank divisions and 4 weak ones form an army of 10, and drive them to Wilhelmshaven.
The Rest of your divisions you can disband.
Put 25 factories on light tank II production, or more doesn't really matter. You don't need to pick a focus, construct anything with your civ, or research anything.
Spend you PP for Infantry and tank expert, you can also take the ground support staff and military theorist.
Move all your Airforce the Rhineland, and put your whole fleet together in the Baltic.
Let some time pass, only a few hours, Poland should leave the Danzig province. Directly declare war (you have wargoal, no need for Danzig or War Focus), without calling in Italy or Slovakia and drive with your tank into Danzig.
There should still be 12 Divisions under way to East Prussia, so put your fleet on convoy escort.
Meanwhile with your tanks, plan 10 naval invasions. 6 from Dunkerque to Le Havre, and 4 from east of Brest to Cherbourg.
When you divisions savely arrived in East Prussia, put your fleet on invasion support in North Sea+Channel and put them in Weser-Ems Naval-Base.
Put your Naval Bombers and Tactical Bombers on Marine Strike in the Channel, have your Heavy Fighter escort them. With your normal Fighter and CAS get Air Suppiroty and CAS Mission over France. Spread them out a bit on the French Border, so you don't overcrowd your airports.
After 7 days start the Naval Invasion, and land with your tanks. Atleast one harbor should be undefended, so you get supply in Normandy/Picardi. Dircetly drive with your Tanks to Paris. Now this decides if this run works or not. If only a single division happens to be in Paris, this is over, you won't get it fast enough. If there is none, which happens quite often, just drive into it. With Paris, Calais, Amiens, Rouen, Lorient and Brest (western invasions) you have enough VP to capitulate France.
Either clean up the pockets of British divisions in France, or ignore them, up to you.
Plan 10 new naval invasions from Northen France. From Plymouth to Norwich. Put all your airplanes into the Channel, put your CAS on Naval Strike Mission aswell. Put your fleet an Invasion Support again this time only the English Channel. If it repairs, abort it. Wait 7 days, naval invade Britain, switch Invasion support to convoy escort, put your fighters into the english airports and english airzones, drive trough England where only 4 divisions or so should be, capitualte them, and then just peacedeal the Allies, including Poland.
Since you never fought with your Infantry you never got much casualties. When your Tanks fight your only get single digit casualties while fighting, because the AI can't pierce you. Only enemy airplanes hurt you, as seen in the screenshot, so always be on the lookout.
If you are extremly lucky, you could probably do a 0 casualties run.
On PDXcon
I just naval invaded France and after that went for Poland, pushing with my10 Light Tank Divisions, which now can use all the FCM Tanks from France aswell. I pushed from the West, captured all the Victory Points. But watch out, to
don't
create pockets. If everything is connected, the Poles will just stand still and do nothing, like you want to. But if you pocket some, they panically try to break out and fight against your Infantry, which you don't want. Especially be on the lookout if you push for Warszawa, that you don't connect with East Prussia. Takes a bit more casualties, but hey it is also a bit more fun.
Also an explanation for
@Da9L
, because he was curious how it can be done with such low numbers.
Edit: Recorded an attempt with only 14 casualties:
Last edited: