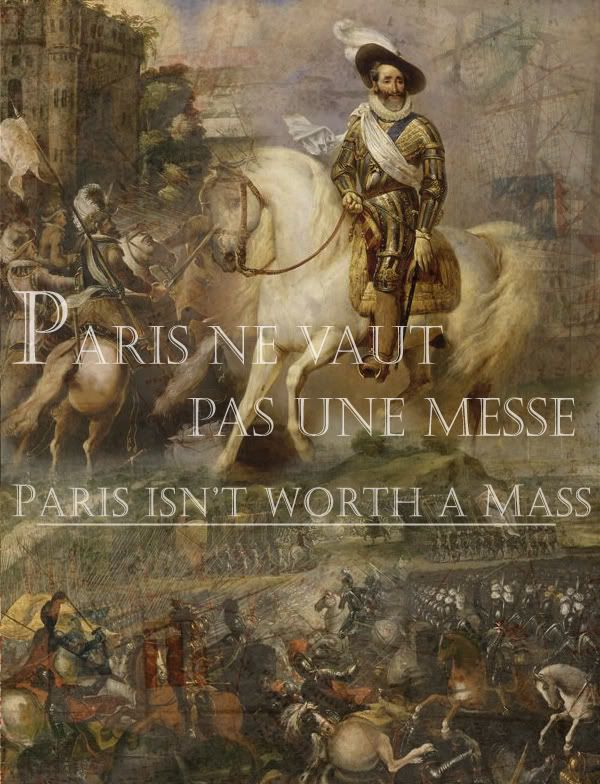 The reformation and resurrection of France, an alternate life of Henri IV.[/COLOR]
***
___________________
***

Voted Best EUIII History Book AAR - Q3, Q4 2008 and Q1, Q2 2009
Glorified, as patron of Huguenots and the Gallic Church - October 2008 Many thanks to asd!
Writer of the Week 6/11 2008 - Thank you CatKnight!
Weekly AAR Showcase 4/3 2009 - Thanks to great comrade tehfreakie!
- Best Character Writer of the Week 24/4 2009 - - Merci to volksmarschall!
AARwarded a Lord Strange Cookie of British Awesomeness ●

Select comments on the AAR
mandead said:

On the contrary, Milties, I think this is a bloody atrocious attempt at an AAR, but I've read this far so I thought I might as well stick it out.

To be frank, I've read more entertaining things on the back of beer mats.
​
​
Hi there and welcome to my second AAR!
This will be my attempt at actually finishing a story here. To make it easier and thus more enjoyable I've changed my style a bit. This piece will be written in a (kind of) history book style and the updates will be smaller than they used to be. Hopefully this will prevent the worst cases of Writer's Block.
In OT Henri IV, supposedly, uttered the words:
Paris vaut bien une messe!
[Paris is worth a mass] when he stood outside Paris unable to enter as a Protestant king. He was then forced to abjure his Protestant faith for the second time to become the king of France. France had by then been ravaged by no less than
eight
wars of religion. Things change though in this timeline, on the 2nd of August 1589, Henri technically ascends the French throne as the head of the Gallic Church and France. Around him (me) the Spanish ready themselves and their proxy fighters, the Catholic League, for a fight about the very identity of France.
I will be using various graphical mods and some personal modding to actually implement the possibility to start in 1589 as Reformed (referred to as Protestant) France. I've also beefed the stats of the General Henri IV.
Table of contents said:
Last edited: