Influencer Manager
36 Badges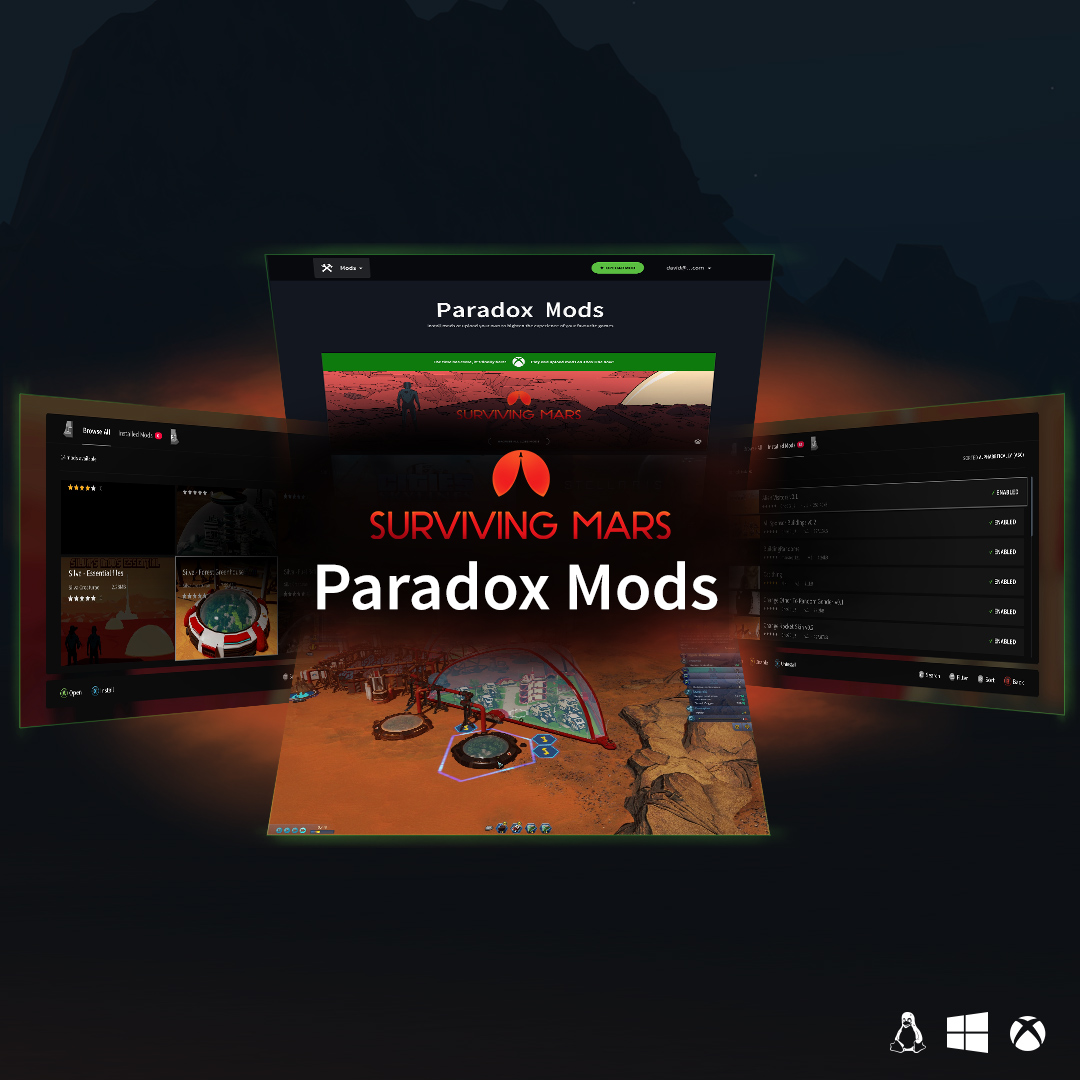 Endless | Possibilities
Beyond | Tereshkhova
update brings Paradox Mods live, which is an open modding platform for you to upload, download, and manage your mods for Surviving Mars. Paradox Mods is available to
Xbox One
players, in addition to GOG and Paradox Launcher users.
Paradox Mods
includes projects from recognized creators within the modding community such as Silva and ChoGGi, along with new creations from modders known in other Paradox game communities. Players now have even more ways to enjoy the survival strategy sim whether it's adding a self-sufficient Forest Greenhouse or building a Martian Car Wash. Simply log into your Paradox Account from the Surviving Mars title screen, open the "Mod Manager" at the bottom of the screen to browse the mods catalogue, then select mods that you want to play and the game will automatically download and add them to your playing experience.
In addition to Paradox Mods, this update adds
mouse and keyboard
support for Surviving Mars on Xbox One. This means console players can point and click their way across the red planet and establish their very own dome-based society with any controls they prefer.
Beyond | Tereshkhova Patch Notes:
[XBOX]
New Features:
- New Mod Manager UI, enabling mods to be accessible on Xbox One
- New Hybrid Control Scheme Option to enable Keyboard and Mouse support for Xbox One
General Fixes:
- Fix for Project Phoenix to not copy specialization traits
- Fix for endless Dust Storm effect on buildings related to the Long Winter event
- Fix for stuck maintenance requests for buildings
- Fix for missing Dome range for outside workplaces
*Note for Xbox mods: No external URL's are allowed at this time
[PS4]
New Features:
- New Hybrid Control Scheme Option to enable Keyboard and Mouse support for PS4
General Fixes:
- Fix for Project Phoenix to not copy specialization traits
- Fix for endless Dust Storm effect on buildings related to the Long Winter event
- Fix for stuck maintenance requests for buildings
- Fix for missing Dome range for outside workplaces
[STEAM]
General Fixes:
- Fix for Project Phoenix to not copy specialization traits
- Fix for endless Dust Storm effect on buildings related to the Long Winter event
- Fix for stuck maintenance requests for buildings
- Fix for missing Dome range for outside workplaces
Mods:
- Updated documentation
- Added Sample Story Bit
- Fix for custom pinned icons to be properly displayed
[PLAZA/GOG]
New Features:
- New Mod Manager UI, enabling mods to be accessible on Xbox One and GOG/PDX PC versions
General Fixes:
- Fix for Project Phoenix to not copy specialization traits
- Fix for endless Dust Storm effect on buildings related to the Long Winter event
- Fix for stuck maintenance requests for buildings
- Fix for missing Dome range for outside workplaces
Mods:
- Updated documentation
- Added Sample Story Bit
- Fix for custom pinned icons to be properly displayed
Last edited: