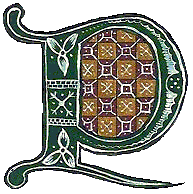 is for Passau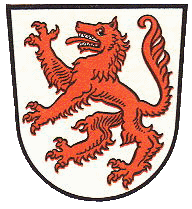 Chapter 1 (1066-70)
Real Popes do it Alphabetically
​
Our story begins late in the year 1066 in Rome, where Pope Alexander II was discussing with his Archdeacon Hildebrand a new and innovative scheme for a more orderly and logical arrangement of the Dioceses of the Church.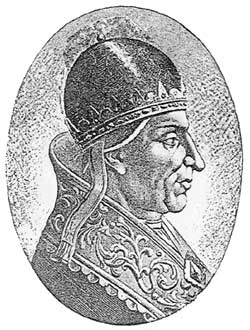 Pope Alexander II​
Hildebrand:
It's preposterous, Your Holiness, utterly preposterous!
Pope Alexander II:
Not at all, Hildebrand. On the contrary, it solves all our problems in one fell swoop. It will promote Christian brotherhood throughout the world the like of which has never been seen before.
Hildebrand:
But who on earth will ever agree to a system of alphabetical Dioceses? Do you really think the faithful in, I don't know, Aargau for example, will be happy to be in the same realm as, oh, the good citizens of Abauj, say? Or those in Buchan with those in Bologna, simply because their provinces begin with the same letter of the alphabet?
Pope Alexander II:
I don't see why not? They're all Christians aren't they?
Hildebrand:
Not according to your proposal - you're suggesting that even non-Christians provinces be included in the plan!
Pope Alexander II:
Yes, well that brings us to the evangelistic aspect of the system. Each diocese will be responsible for converting a specific group of provinces to the True Faith. No more of these vague all-encompassing "Crusades" which no-one really believes in anyway.
Hildebrand:
Well, I don't believe it will work at all. I don't think you'll ever persuade anyone to participate.
Pope Alexander II:
Oh dear. Well what about a pilot project? We could try it out with just one Diocese and see how it goes?
Hildebrand:
Just one Diocese? Do you happen to know of any ruler who would be stup- I mean, open-minded enough to participate in such a plan?
Pope Alexander II:
As a matter of fact, I can think of someone right away. And as it happens his province is just the place to propose a pilot project.
Hildebrand:
Who is that, Your Holiness?
Pope Alexander II:
Count Ulric of Passau. A profoundly pious man who'll soon be persuaded to put his all into the plan.
Hildebrand:
Well, perhaps we can have a go, but if it all goes to pot don't say I didn't warn you…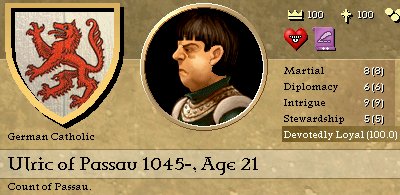 Count Ulric of Passau was not in fact particularly pious, but he could fairly be described as "as pious as the next man" on Christmas Day 1066 when the Papal Legate arrived in the town of Passau on the River Danube and presented him with the Pope's request. Count Ulric listened carefully to Pope Alexander's proposal then sat in silent contemplation for some time. Finally he spoke.
Count Ulric:
A pilot pwoject, you say? No-one else is being appwoached at pwesent?
Papal Legate:
No sire, you have the privilege of being the first person to participate!
Count Ulric:
Hmmph. And tell me, exactly how many pwovinces will be part of this new "Diocese of Passau", then?
Papal Legate:
Thirty-nine, sire. I have the list right here.
Count Ulric:
Well, let's have a look at it then. Best to know what sort of pwoblems might cwop up on the way before we plunge into the pwoject, eh?
The Legate handed over a neatly written parchment with a list of thirty-nine provinces on it. The Count studied it carefully. It had been prepared by an anonymous scribe from the province of Aargau.



Code:
	Padova
	Palermo
	Palmyra
	Paphlagonia
	Parma
	Passau
	Pavia
	Pecs
	Pelusia
	Penthievre
	Peremyshl
	Peresechen
	Pereyaslavl
	Pereyaslavl Zalessky
	Perfeddwlad
	Perigord
	Pest
	Petra
	Pfalz
	Philippopolis
	Piemonte
	Pinsk
	Piombino
	Pksov
	Plasencia
	Plauen
	Plock
	Plzen
	Podlasie
	Poitiers
	Polotsk
	Porto
	Powys
	Poznanskie
	Praha
	Pressburg
	Pronsk
	Provence
	Prusa
After some minutes the Count looked up.
Count Ulric:
Good gwief, man, I don't even know where some of these pwovinces are! I mean, where the dickens is Perfeddwladd for cwying out loud?
Papal Legate:
Part of the Duchy of Gwynedd, in Wales sire. It's people are Christians, of course.
Count Ulric:
Yes, well that was my next question. Just how many of these pwovinces are actually Chwistian and how many do I need to convert?
Papal Legate:
Well, His Holiness thought that for the Pilot Project we shouldn't make it too difficult, so you'll find that most of your Diocese is already converted. However, five provinces are Muslim and two are Pagan, and I'm afraid there are ten who currently follow the Orthodox faith. The rest are all populated with good Catholics.
Count Ulric:
Yes, well at least that doesn't seem to be too pwoblematic. Is there some time sort of time schedule that I'll be expected to work to?
Papal Legate:
His Holiness merely requests that the task be accomplished as quickly as possible. He has set the year 1453 as an absolute last deadline for the pilot project to be completed.
Count Ulric:
Gwacious, that sounds like a long time. Well, I think the von Passau dynasty is certainly up to it. Kindly inform His Holiness that Ulwic Count of Passau accepts the challenge!
And so began the great quest for the formation of the Diocese of Passau, to comprise every province in the known world which began with the letter P. Count Ulric von Passau may have been confident that his dynasty was up to the task, but the truth was that in 1066 his dynasty was actually a little thin on the ground. He had a wife, Adelaide von Schweinfurt, and a baby daughter Uta, but that was about it. What he was distinctly lacking in was successors.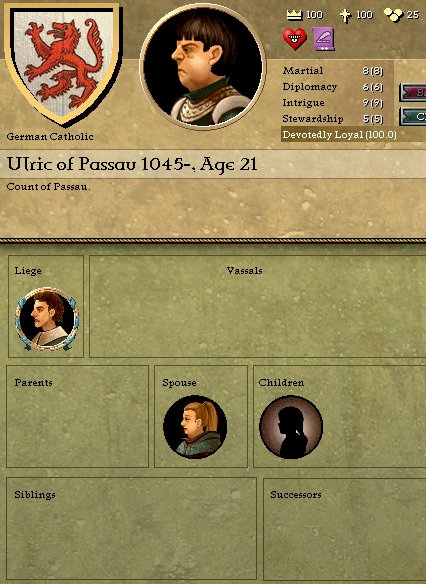 This looked like being soon rectified, however, when Adelaide was found to be pregnant in June of 1067. The Count was over the moon - surely this was the son that he needed to ensure the future of the von Passau dynasty. But alas, the happy tale ended in tragedy nine months later when Adelaide died in labour and the child was also lost.

Not as tragic as all that, however. For it so happened that just about that very time, Agnes d'Aquitaine, only daughter of the Duke of Poitou, came of age and started looking for a husband. Count Ulric quickly put himself forward as a candidate, and was accepted right away. This was a very promising start to the pilot project, for not only did the Duchy of Poitou contain the province of Poitou, but also the County of Perigord. All that Count Ulric needed was to get a son by Agnes, who would one day inherit this prestigious patrimony. It took a little while for the Countess to get going, but in April 1070 a portentous pregnancy was made public.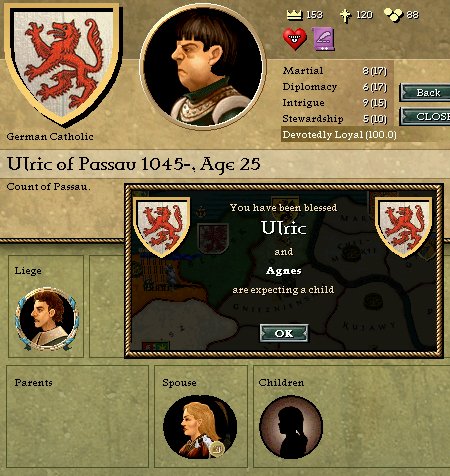 Will Agnes give birth to a future Duke of Poitou or will she succumb to the same fate as Adelaide? Can Ulric and his descendants really unite the proposed Diocese of Passau? Is Pope Alexander off his rocker to even suggest it? Does this AAR count as plagiarism or not? Find out in the next preposterous episode of "P is for Passau".
Last edited: