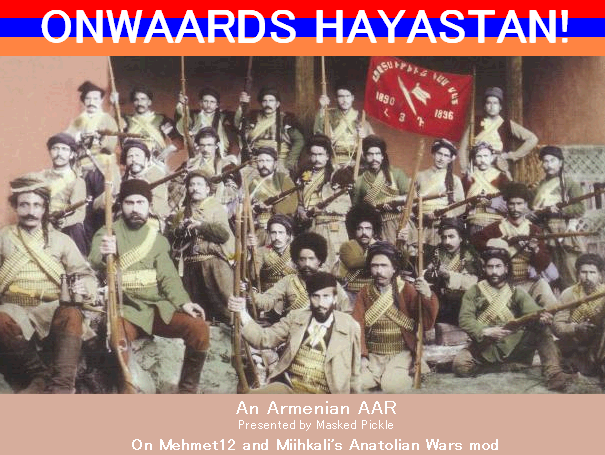 As you can see in this LibrAARy, the poor nation of Armenia, not available in the vanilla game but as a releasable nation, didn't had many AARs. If we search a HoI2 mod where Armenia is available, there is only All the Russias and his successor Kaiserreich, which give us the perspective of a weak fascist Armenia, under control of either Italians or Ottomans. The new Anatolian Wars mod, developed by Mehmet12 and Miihkali, soon in its 1.03 version, proposes a totally different setup for Anatolia, in an alternate history where Greece won the Turkish War of Independance. And one of the concerned nations is Armenia. This AAR will turn around the nation of Armenia according to
Anatolian Wars mod
, struggling to survive and claiming a place in the terrible world.
In order to respect both Paradox Forums rules and the French law about the denial of the Armenian Genocide, there will be absolutely no references made to the Armenian Genocide in this After Action Report. Therefore, I forbid any debate or message about this one within the posts of this AAR; if this declaration offends somebody or is in violation of the rules, please PM me.
This AAR is dedicated to my friend Gabriel, of Armenian origin, who helped me to find some documentation for this AAR.
And also to my best friend, Odile, of Iranian Armenian origin.
Settings:
Hearts of Iron II - Armageddon; with Anatolian Wars mod 1.03
Difficulty: Normal
IA: Normal
Timeframe: 1936-1956
Table of contents:​
Last edited: