Index:
Introductory remarks:
The Russian Revolution is a story full of despicable men but it is also the tragic tale of many an idealist. Unfortunately, the idealists ended up dead while the most ruthles men killed their way to power. Rarely in history has a people's desire for a better world brought it so much suffering.
For a game RUS manages to depict a lot of that darkness. Some of the options this game grants the player (most importantly the option to use cheka opression, in other words Red terror) make one feel distinctively uncomfortable (and that's putting it very euphemistically). Hence this AAR won't glorify war, neither. But I will try to lighten the darkness with some cheap shots at the absurdities Soviet Russia provided so plentiful.
To this end, state controlled newspapers as well as Lenin will have a prominent place in this AAR. Of all the ruthless people that shaped the Russian Revolution Lenin is one of the most fascinating. Peter Kropotkin famously remarked: "Lenin is not comparable to any revolutionary figure in history. Revolutionaries have had ideals. Lenin has none. He is a madman, an immolator, wishful of burning, and slaughter, and sacrificing." I disagree with this characterization: Lenin's ideal and desire was power. He wasn't mad just utterly ruthless, cynic, distrustful and heartless.
As in my previous AAR, The swans head north, I will focus on the story rather than giving a turn by turn account. This has proven to be a handy tool allowing me to avoid repetition and present a more focussed tale.
My opponents are the same as in Who put the stranded admiral in charge? Ian is in control of the Southern White while Durk has taken command of the Siberians; once again Durk is graciously hosting.
Unlike my previous AARs, this is a Grand Campaign game. The earlier start also means a lot smaller armies and fewer fronts (at least initially). However new fronts will open up as the game progresses. Likewise, the amount of troops will increase significantly through recruitment and reinforcements arriving by event but it will most likely never reach the level available in a Short Campaign game.
Finally, I would ask you to kindly forgive the mistakes I am bound to make in a language that isn't my native one.
Strategic situation:
In June 1918, the Revolution was in a difficult position: surrounded by powerful internal and foreign enemies, it had to rely on a nascent Red Army to defend itself. Unfortunately, the Communist soldiers were ill-equipped and lack training. As a consequence, desertion was epidemic and the conscripts were more likely to run than fight. The Red generals were even worse than their men. Most of them were utterly incompetent,* nevertheless not a single one could be spared since the Red Army was desperately short of experienced commanders.
This woefully inadequate army would have to fight on half a dozen fronts if the revolution was to be saved:
In the
Kuban
the 55.000 soldiers of the Army of the North Caucasus under Sorokin were faced with an equal number of White foes: The Volunteer Army was a small but elite force with excellent equipment and officers. It was supported by a host of fierce Don Cossacks.
The
front against the Siberians
lay wide open. Berzin's 3rd Red Army, 14.000 men strong, was still east of the Ural protecting the city of Ekaterinburg where the imperial family was imprisoned. The 10.000 men of the 1st Red Army were defending Simbirsk along the Volga and Makhnin's 2nd Red Army was guarding Tambov with 9.000 men. Somehow these small forces would have to fend of a flood of Siberians and Czechs. 35.500 of whom had already crossed the Ural, another 57.000 were positioned between Tomsk and Chelyabinsk and would strike within the next few weeks.
Central Asia
was most likely lost: the Emir of Bukhara and the Khan of Khiva had risen against Bolshevik rule. All that was opposing them were 3.000 Red Guards garrisoning Samarkand and Tashkent. Still there was a small hope; Zinoviev had been ordered to assemble a Red force at Aralsk but as of yet it only existed on paper.
Other regions had already been written off:
Red Guards still defended a number of cities in
Central Siberia
and the Far East, most importantly Irkutsk and Chita. But there was no hope that these small, untrained forces could fend of 24.000 Siberians and Czechs.
In the
North
, Murmansk had been lost to an Anglo-French intervention force. Under its protection Miller's counter-revolutionaries were forming an army. Moreover there were rumours of a coup in Arkhangelsk. Soon White force would march south towards Petrograd and Vologda. With no Red field army in the North, they would likely meet little resistance.
For the moment at least the
West
was peaceful. The humiliating Treaty of Brest-Litovsk with the German imperialists had bought Communism precious relief - albeit at a high cost since the Ukraine, Belorussia and the Baltic lands had fallen under German rule. But Germany was crumbling itself. Its desperate spring offensive on the Western front had failed. Backed by American reinforcements, the allied powers were now pushing back. If Germany should fall, nationalist movements in Poland, the Ukraine and the Baltic states would rise to threaten the revolution from the West. Finland and the nations of the Caucasus had already established independance. It was feared that they might interfere in the civil war as well. The nefarious capitalist nations of the West would no doubt assist these bourgeois regimes. Even worse, the Western imperialists might decide to send major forces to secure spheres of interest in Russia.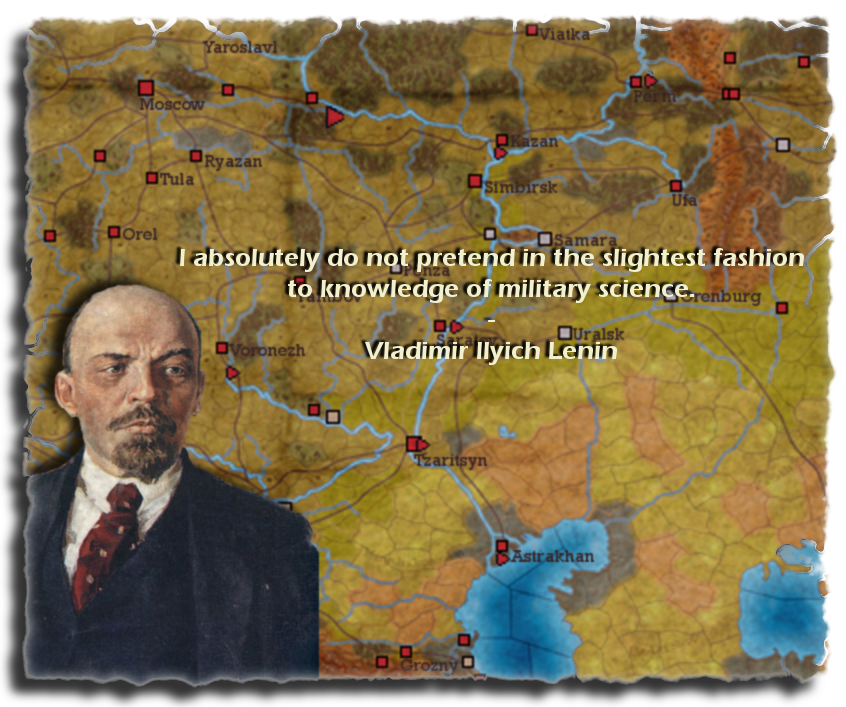 Warplans:
The Council of People's Commissars (Sovnarkom) was filled with professional revolutionaries,** yet these men utterly lacked military experience.*** Now they had to device a strategy to win the civil war. A number of crucial decisions were made - albeit against heavy internal opposition: the Revolutionary Military Council of the Republic (RVSR) under Trotzky became the central command organ. The Soviet Republic was declared a "single military camp" and martial law was imposed throughout the country. Former tzarist officers were recruited en masse - one could always get rid of them later. Most importantly, mass conscription was instigated: The volunteers of the Red Guards had proven too few in numbers. But more importantly their lack of discipline, heavy drinking and lackluster conduct of operations had resulted in a series of defeats.
Other decisions still had to be made:
1. Should army recuitment focus on quality or rather quantity?
2. Could the Red Army dare to go on the offensive or should it wage a defensive war?
3. Should defense be flexible (trade space for time) or static (no retreats, each city would be defended to the last man)?
-------------------------------------------------------
* The standard Red general in RUS has the following stats: 2 strategic rating (which means they are inactive most of the time), 0 offensive and 0 defensive rating. Thus they won't increase the combat power of their troops like White generals do. But at least they help avoid command penalties.
** Sidenote: of the original 17 members only two lived past 1940: Alexandra Kollontai and Joseph Stalin. Four had died of natural causes in the 1920ies and early 1930ies - most importantly Lenin. Trotzky was assassinated in 1940. The rest succumbed to Stalin's purges between 1937 and 1939. The Russian revolution ate its children; and it was Stalin who cooked this horrific meal.
*** Lenin's ignorance of military matters was thus typical for the Soviet leadership. He did know how to motivate, though: When Colonel Vatsetis retook Kazan in Spetember 1918 he was promoted to commander-in-chief of the Red Army. Had he failed, he would have been shot on Lenin's orders.
Last edited: