First Lieutenant
2 Badges
1. Bad Hessen 1st Jan to 7th Aug 1805
Once upon a time there lived a little king in a little kingdom. Lets call this little kingdom Bavaria and the little king Maximilian the Fourth. The little king wanted the world to be a more Bavarian place for people to grow up happy and strong and pay taxes. To wear lederhosen and dirndls, host massive drinking festivals and pay taxes. To devote life to culture and the arts and pay taxes. But mostly to pay taxes, for without taxes how could the little king's family hope to build fabulous fairytale castles?
To help him on his quest the little king had 11 mighty heroes who would lead his 19000 soldiers in their fancy uniforms to make the world more Bavarian for everyone.
The little king looked into his treasure chest and found he had 61 bright shiny gold coins which he could use to buy new fancy uniforms for those men who were bored with lederhosen.
When the men came to the little king he would ask "And what fancy uniform would you like young man?". And they would reply "an infantry mans" or "a jaegers" or "a horse artillerymans" or "an artillerymans" or maybe even "a chevau legers". The little king would reach into his treasure box and give shiny coins to the nice military tailor who would give them the right fancy uniform. And when the little king had no more shiny coins and there were still men left he told them "Don't be sad, you can have the fancy uniforms of the men who stop being soldiers". And they all went away happy to wait for the letter telling them they could come and get their own fancy uniform if only they could wash out the blood.
The little king looked east and west, north and south and everywhere he looked there was not Bavaria! Far, far away in the west there was more Bavaria but there was not Bavaria in between.
The little king went to the land in between and said "you are not Bavaria, that is not right".
While 4 of the mighty heroes were leading all of the little king's men westward to the not Bavaria between Bavaria, that we shall call Hessen, a big ugly man in a blue uniform appeared. "I am Prussian and not Bavarian" he said "and I would like to move my soldiers in their very boring and not fancy at all uniforms through Bavaria". The little king looked at all the not fancy uniforms and said "why of course Prussian, although you are not Bavarian you can move your soldiers through Bavaria, please try not and break anything though". And the Prussian man smiled and went on his way.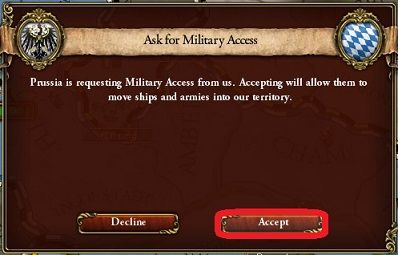 No sooner had he left the castle than another ugly man arrived in a white uniform, "I am Austrian and not Bavarian" he said "but I like Bavaria and I would like you to feel safe, if you meet any bullies I might come and help you" . "Thank you" said the little king and the Austrian left the castle.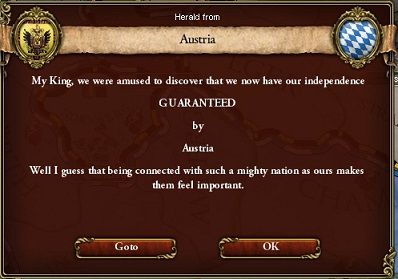 While all this was happening the mighty hero Bernhard von Deroy led all the little king's fancy uniformed soldiers far into Hessen to a place called Dortmund. At the gates of the city he said "you are not Bavarian and I will stay here until you are!". While he sat outside and waited the nasty Hessen men who had moved into Far Away Bavaria and sat outside a mighty Bavarian fortress called Wesel, moved back to Dortmund.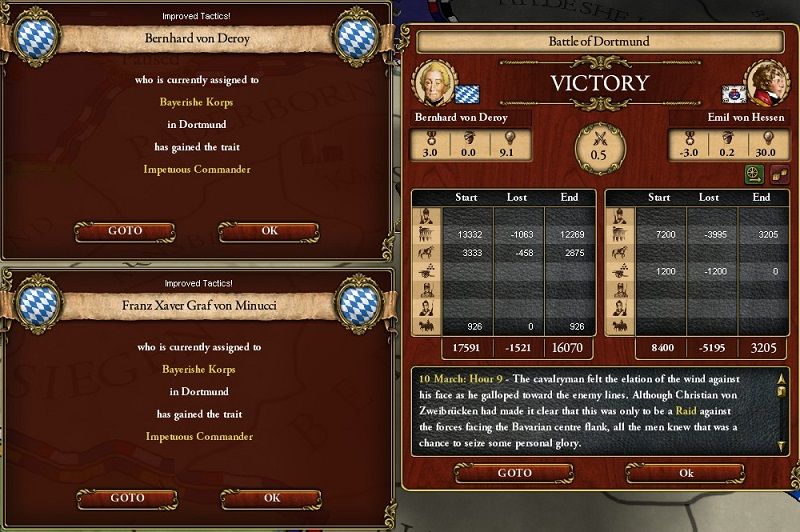 And the little king sent letters to men "dear sir, your fancy uniform is now ready please bring soap and a stain remover of your choice".
Around this time all the men who had been given fancy uniforms earlier in the year formed up into a big army of 10000 men and said to the king "we have fancy uniforms but we have no might heroes to lead us". And the king was happy and gave them 4 mighty heroes to lead them and sent them west to not Bavarian Hessen to make the town of Kassel Bavarian too.
At Dortmund the people were still not Bavarian and more bad Hessen men had arrived.
In his castle the little king saw the ugly Prussian coming to see him. "I have made Brunswick Prussia" he said and "soon I will make Sweden Prussia, but I like you little king and if any bullies come and see you I may come and help you". "Thank you" said the little king, as manners cost nothing when you are outnumbered 8 to 1.
In the west the mighty hero Karl-Philipp von Wrede was greeted by people from Kassel rushing out of the gates of the town. "You were right, we want to be Bavarian" they all cried happily.
Von Wrede was so happy he marched south to tell his friend Bernhard the good news, but just as he arrived the gate of the town opened. "We want to be Bavarian, we were so wrong in being not Bavarian" all the people shouted as they rushed to put on lederhosen and dirndls.
At this the evil king of Hessen said to the little king "Ok, lets call this a draw". As they were talking a man in a blue uniform and wearing his hat wrong on his head arrived in the castle. "I am French and I am here to tell you that I will stop any bullies that try to annoy my friend Hessen" he said in his silly accent. The little king looked at him in horror "you must be mistaken Mr French man, there is no Hessen there is only Bavaria".
"Oh, jim excooz" he said in his funny accent and left looking embarrassed.
The little king smiled to himself and looked at his wonderful new map. "It looks like a butterfly, or maybe a bat, or it could be a bear kissing a kangaroo. But it is not," he thought to himself "it is Bavaria".