Chapter 1: Big Trouble in Big China
Alright, it's been about a month since I originally posted this thread, but now I can finally say this: WELCOME TO OIRAT'S GLOBAL CONVERSION BONANZA! I'm your host, Firezatswill, and I'll be taking you through a very casual Oirat campaign. How casual? Well, considering I forgot to swap the difficulty over from normal to V. Hard (new computer, new EU4 install, and I only remembered to change the idea group setting. Embarrassing mistake, but by the time I considered it I decided I couldn't be bothered to restart the campaign.)
It's been a good 4 years since I last played a horde (not including a Najd run that ended in a horde), but playing a horde is like riding a horse, you never forget! The only difference is that, this time, we're playing a baby mode big horde from the start, and not a 2pm, superior horde like Sarig Yogir or Kara Del. But I didn't want to retread old ground, and starting as one of the Russian steppe hordes was out of the question.
Anyways, this was always intended to be a relaxing game, so it's only natural that I forgot to take some early screenshots.
We DoW'd Ming damn near immediately after we got our army next to Beijing. We're shooting to pop the "Capture of the Ming Emperor" and "Capture of Beijing" triggers to instantly siege down northern China. And to do that, OIRAT needs to siege down Beijing. It can't be anyone else, not even Mongolia.
And while we're at war, we have a really impressive heir pop out. Stats like that are always something to smile about.
Here we go, we got Beijing. And at the onset of the war, we captured the emperor when we fought the Ming army stationed in Beijing. 2 years to trigger it, could have been faster if we got luckier with the siege ticks, but I'm not gonna complain about it.
1450, we peace out Ming for most of the north, including a lot of their forts. Unfortunately, since this is normal and not hard or V. Hard, rebels have popped en masse, and will inevitably cause a Mingsplosion. Which is NOT what I wanted, but I guess we'll have to adapt on the fly.
Now, to break out an old trick from our playbook...
DoWing Ming's tributaries call them into the war as well, allowing us to bypass the truce. In hindsight, I would have been better off trucebreaking them to death, but I tend to save the truce breaks for the endgame. There might have been another reason why I didn't break them repeatedly, but that was a month ago and I can't remember that far back, at least not smaller details like that!
Ming gets a smaller truce now. We'll take them on later.
...Or maybe not. That's a SOLID Mingsplosion. And it adds several decades to our conquest of China as a result. Damn me and my adherence to treaties!
Ah well, no use crying over it. May as well get to chunking away at these tags. Qi is first on the chopping block!
Kara Del is forcibly integrated. Their 30 ducats they gave us are NOT chump change, we're running a severe deficit right now. Unlike the Sarig Yogir run, we don't have immediate access to a goldmine that we could dev to heaven and back. It's possible we could, but I think there was either an annoying alliance chain with Chagatai, or I was trying to limit the AE I get to just confucians and buddhists. One of those two things.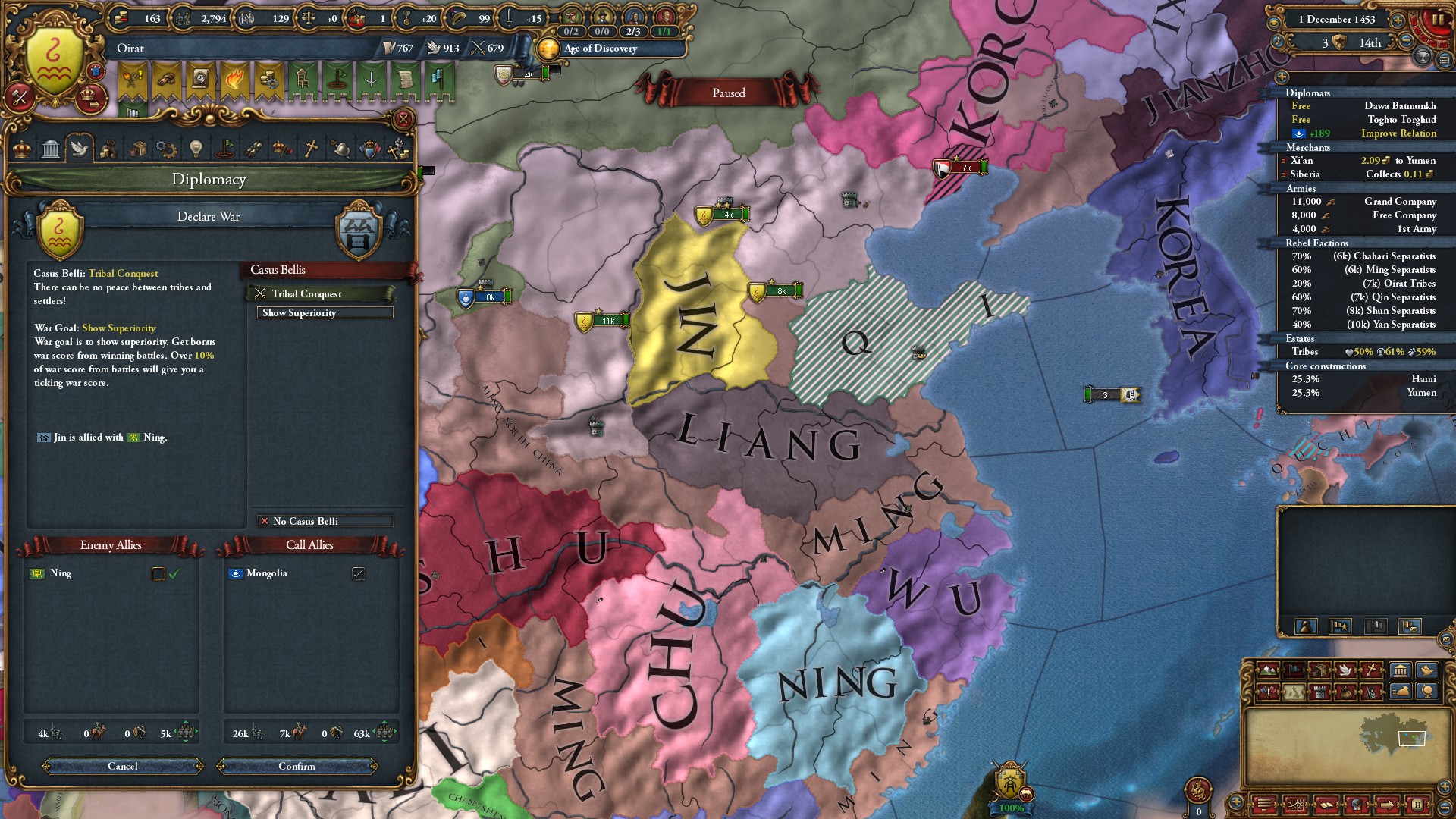 Next up, Jin and Ning! We're literally going to be daisy-chaining these wars. So in that regard, it MIGHT be speeding up our conquest. But I'm still positive that we'd get more, faster, via Ming and the "take Mandate" CB. Oh well, at least they all have separate coffers to plunder.
Y'know what, who cares. We can take all of you on, we're strong enough to take on all these tags at once!
Qi is eaten, and a coalition of confucians is able to form. Which is why we're making sure to DoW as many nations as we can before peacing out for full annexations.
Ning gets off with a warning, mostly because we need the cash. And we don't have any way to core their lands, not without eating a lot of other nations first.
Jin also gets eaten, and we finally get a peek at the coalition list. It's numerous enough that people would join, but not numerous enough to actually stop us. We're a horde, we're basically cheating already.
Liang, unfortunately, gets to live to see another day. Damn you and your province development!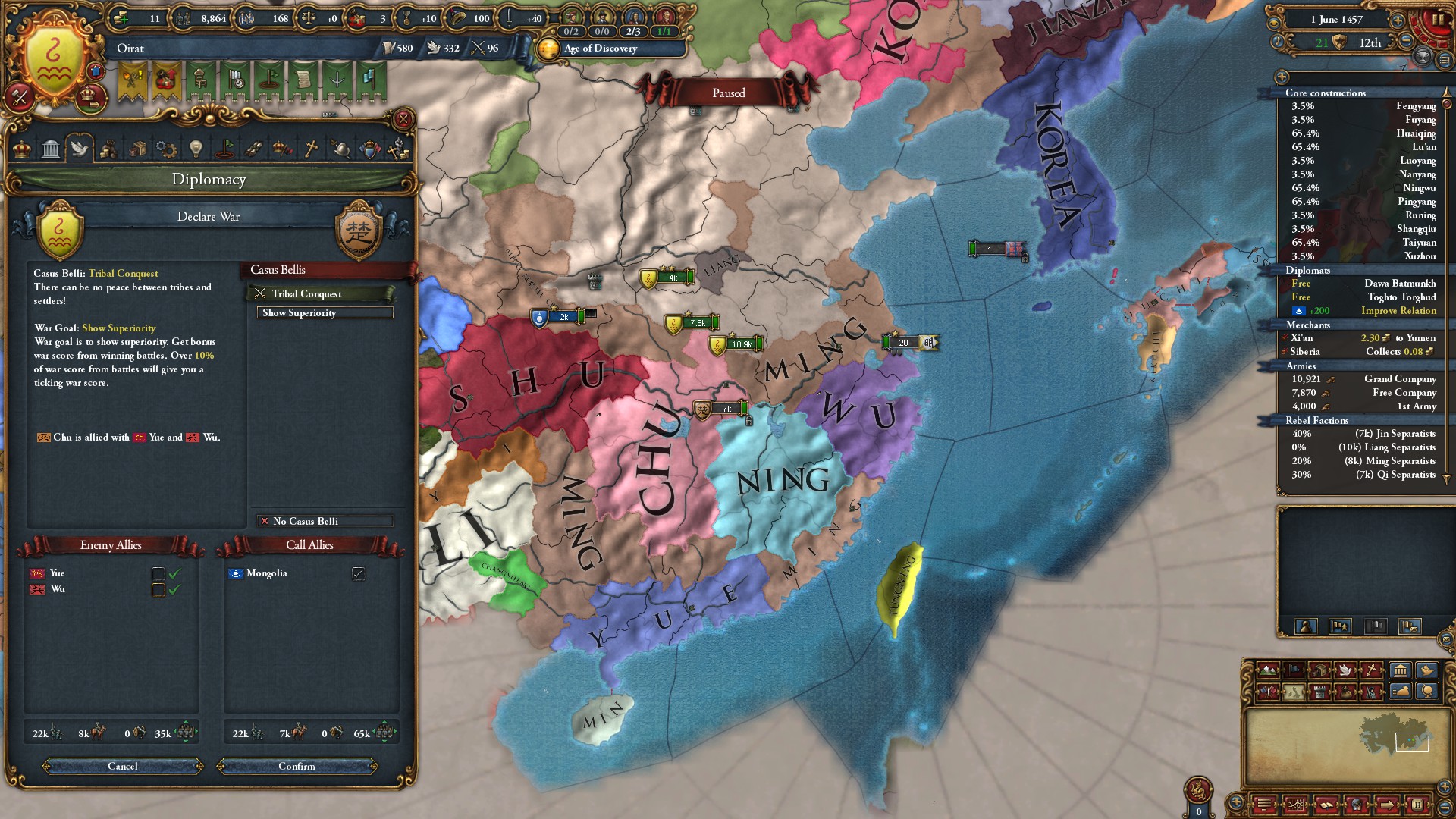 But, we now have a new neigh-bor to greet. So we immediately grab some cookies and ride on over to introduce ourselves.
Additionally, we unlock admin ideas. 25% ccr from the group, and the 20% from our NI's sync up so well, after all!
Wu is rich, and helps us pay off some loans. We'll eat them later.
Yue also helps pay off loans. It's no "Bank of Hansa", but it's better than nothing!
With this new peace deal, we officially have Buddhists joining the coalition list. Which is annoying, but what can you do. *shrug*
Tech cost reduction? I mean, of course! Thanks, Confucius!
I'm sure there was a reason why we DoW'd Korchin at this point, but I can't recall why. Mission, perhaps?
Horde mercs, very useful, albeit expensive.
OK, based off the peace deal, I THINK I was going for returning Mongolia's cores, and taking their Chinese acquisitions. The former because we're integrating them, the latter probably for a mission. I think. Eh, what am I even doing, this is MY AAR, so of COURSE that's what it was for! *nervous glances*
Now, we've been doing a lot of work. But our khan has also been putting in a lot of effort to get the government running smoother. And being a horde, we don't care what deity you worship. An eagle, a carpenter, an anthropomorphic horse, it's all good!
Now, I can already here some of you thinking "hey, how the hell do you have your THIRD reform filled out already, your autonomy must be SKY HIGH!"
And you're right. It IS high!
But, because this is 1.31.0 release build, literally everything is exploding and busted, so now we have a SIGNIFICANT GAIN of reform progress the higher our average autonomy is. Isn't 1.31.0 just a great thing?
Teching up a little early, before we start putting all our points into developing the renaissance. We mostly just wanted that nice innovativeness gain. 4 per tech taken before anyone else is a noteworthy buff, and makes innovativeness more than just a Euro-meme.
OK, Ning is up, and they're allied to Taiwan. We tried to build a small navy to invade them, but it's not enough at this point.
And now, we have our new khan in charge! Huzzah!
And now, we have 9 innovativeness. Amazing. It's only been 20 years.
Oh, right, that thing. I forgot about that disaster, we crushed Ming quicker than it could fire. Oh well, it'll help us a bit in the future. But it's not like we were concerned by the dead empire.
Ning got chomped.
OK, NOW it's time to eat Wu. Their allies are no concern to us!
White peace with Chu. For no reason iirc. I think I rectify that soon.
Wu is also big and chunky, so we can't eat them all in one go. But we CAN take a lot of their land and leave them vulnerable for the next war.
Next up is Yue!
Easy victory, no sweat.
Liang is finally off the map.
Yue, like so many others, is too big for one war. So we settle for their forts and good land.
Also we make sure we border Min, for a follow up war.
OK, we're tired of having slow sieges. So we bite the bullet and get some cannons at a high cost.
But on the plus side, our penultimate reform is taken. Grand total of 50% ccr now!
Innovativeness calls, we're waiting for rebels to pop before we continue our developing.
Changhsheng is vassalized, because we're sick of fighting them.
Yue is left as an OPM for... reasons, I'm sure.
And Min is annexed.
Next up, ANOTHER WAR against the minor Chinese nations.
Easy out, Yue.
Kicking ass and taking names!
Shu gets their big and annoying provinces eaten. And Chu gets annexed off screen.
Then we DoW Tsang, who's allied to Shu and Sarig Yogir.
Shu gets a simple, new treaty.
And Tsang and the yellow Uighurs join our lands.
New khan, who dis?
OK Wu, it's time for you to go down!
And ya know what, let's go and pick on Shu! We'll shoo Shu away!
Wait, Ming was our rival? How? Legitimately, how were we rivaled?
Ah, right, PDX logic.
And now, after a GRUELING 38 years, we've FINALLY reached the end of our government reforms. God, I never thought we'd reach the end.
Now we can put our points into more gov. capacity!
Well, looks like we annexed Mongolia, based off the new CBs we got.
Ah, so THAT'S why we DoW'd Korchin. This mission, right! Additional max cultures is always nice, especially for the later age objective.
China's almost monotone. Just a little more, huh Shun?
Release the doves, John Wu has left the building.
Huh, a lot of small nations are popping out still. Well, may as well eat them as they pop up.
Shun got shunned into joining us.
Xi got... I dunno, I can't think of a good joke involving Xi.
And now, we got our next idea group, the new Horde Government Idea group! It's basically humanist lite, with some slight mil buffs.
Looks like Ming's back on the menu, boys!
How could our reputation be tarnished? What are people doing, spreading rumors about our khan building churches and helping old ladies cross the street?!
Hey, more admin on our heir? Can't say no to that, assuming he lives!
Ming is almost dead. But almost dead isn't dead dead.
May as well get some tributaries going. May as well get some stuff coming in from them, to help patch us up.
Next up is opening our route to India!
It was uneventful. No pics needed.
Right, we also DoW'd Jianzhou. Because they were allied to a daimyo that broke free. So now we have our foothold in Japan. It's a special tool that will help us later.
We also eat a lot of Jianzhou. And apparently, Ming hates us for some reason. Can't fathom why.
OK, Korea, you're going to bring death upon your only ally by calling them in. This is all on YOU!
And now, after 56 years from the start of the game, Ming is dead! All that remains is Dali.
But that's for another day, as this is already insanely long as is. I wanted to put China all in one chapter, although it might have been better to break it up into two. But I didn't, and here we are.
Anyways, hope you enjoyed the start of this AAR, and we'll hopefully be having updates every other day or so!
1

1
Reactions: