Chapter 4: The Grand Sunni Coalition
Chapter 4: The Grand Sunni Coalition
Hello everyone, welcome back to Yuan! Last time, we had some war. And there was also some war. Oh, and who could forget about the war?
Oh, and there was a little bit of war here and there, too.
Alright, that should bring you up to speed, so let's get back at it!
First off, let's borrow money from the 1st Turkish Bank. Wait, borrow implies that we're going to be giving it back. Um, I guess we just wandered around the streets and found 1243 ducats just lying around. Oh well, finders keepers!
Next, we're aiming to "borrow"
some land from Ayutthaya and their allies.
And now that we have a lot more access all over the place, it's the PERFECT time to tackle Malacca! It's going to be a pain getting that island province, so hopefully we can sneak it in this war! Because navies are FOR CHUMPS! And we're not chumps!
Pegu gets punched into oblivion. We're aiming to lock down as much of the asian trade as possible, something I had somewhat neglected during my last AAR foray as a horde. Not entirely, but I DID leave the East Indies alone for longer than I should have.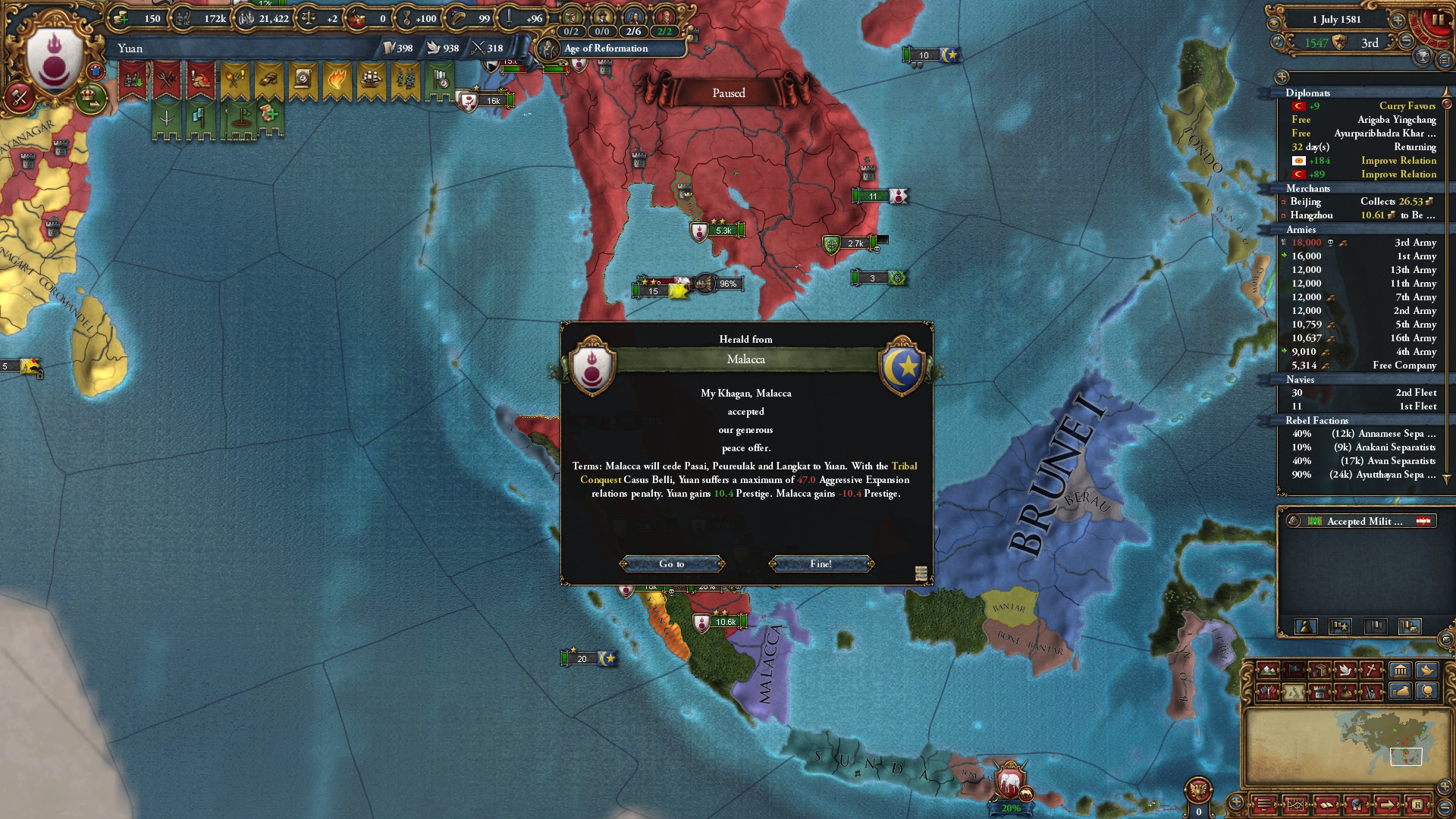 Yeah, I expected as much. The combined naval power of Malacca and Brunei was too much for me to fully occupy them. Oh well, at least we got something out of this!
Now, time to get things rolling. We have a lot of free diplo slots, so why not just vassalize Pagarfadsjklfjasdkhgfasjkghkajsd. Too many syllables, I'm not gonna even bother pretending like I can spell that name. Honestly, it's probably less offensive if I just give up instead of murdering it with an honest attempt.
And this is why we weren't fussed about not full annexing Malacca. We have another way in, and this time, there's no real naval power around to stop us!
GOT YOUR ISLAND, BITCH!!
And now, we own one of the 3 major islands. We'll get the rest soon enough. But we'll need more transports to do that. And maybe... ACTUAL SHIPS!
Ah, right, Europe got revealed. Nothing special, other than a pretty weak reformation. Granted, it popped in 1507, which is the closest I've ever seen it get to the historical date (barring player intervention, of course). But still, I'm used to seeing half of the HRE, and some parts of France and Italy, going blue by this point.
Next on our list for trade domination is Tirhut. We're mostly looking at their allies, and not Tirhut themselves. Plus, Jaunpur won't join, so now's the perfect time for a blitzkrieg!
2 months, and Vijay's truce got reset. Excellent.
OK, time to put the white elephant out of its misery. Got a small army ready to just roll them over and end it as quickly as possible.
But, while we finish consolidating Indochina, we finally start looking westwards. That's right, we're going to start chunking into the grand sunni coalition! HUZZAH!
Annexed and cores revoked. Glorious.
This is the peacedeal we take with Transoxiana. We're cautious about how much AE we take (granted, we're only 8 WS shy of 100% peacedealing them), because the amount of sunni nations is STAGGERING. Seriously, if we let it form, a grand sunni coalition would be almost like a Vietnam or Afghanistan for us. I say almost, because unlike the US or Soviets, we wouldn't give up and lose. It'd just really, REALLY slow us down.
Anyways, this is why we took such snake-y land in the peace deal. Samarkand has some GREAT wonders. Like this one here, which, at its max, gives
-15% WS cost vs other religions.
So yeah, that's basically a perma-version of the age of reformations bonus. Only stipulation is that Samarkand must remain Sunni (and I think either Altaic or Persian culture group. A lot of wonders have that as a secondary requirement, culture of some sort.)
Additionally, we managed to snag the Buddha Statues, which will give us an additional missionary, so long as we flip the province to Theravada.
Why Theravada and not any of the other branches of Buddhism? Well, that's because when coding the wonders, they specifically listed BUDDHISM as the requirement. And old guard players (like myself) will remember that, before being split in 3, Buddhism used to be a single, unified religion called "Buddhism" (shocker, I know. I would have thought they'd call it "Funny Big Eared Elephant That Can Fly," but apparently that's just "Dumbo."). And, when they made the switch, Theravada kept the code tag of "Buddhism."
So, basically, Theravada is the only real school of Buddhism in PDX's eyes.
Bengal now hates us. Good, we hate them and how they're squatting on our land!
Hi Vijay! Remember us? We're here to borrow a cup of sugar. By any means necessary.
Tirhut is gone, we don't need them around anymore.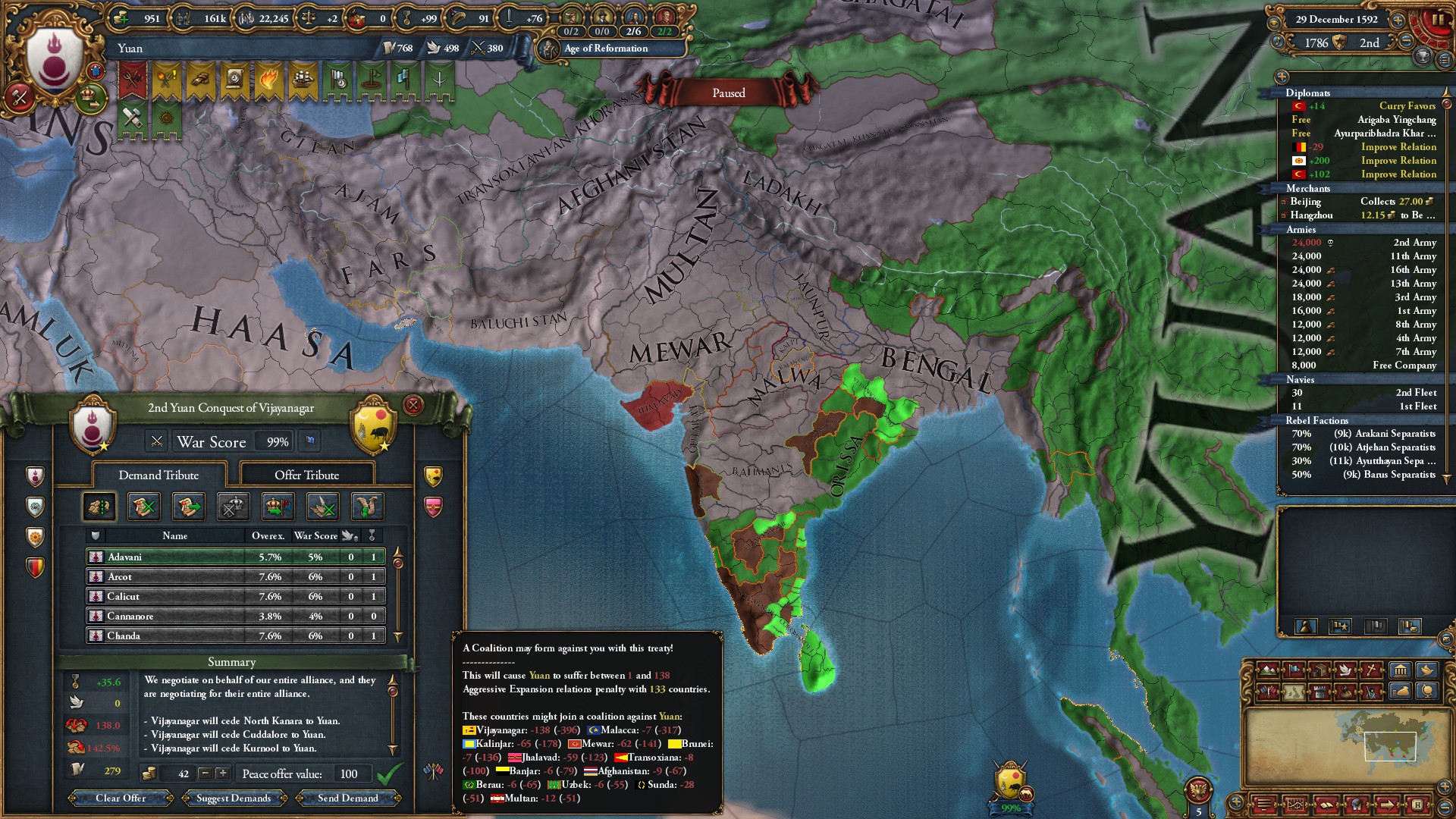 And we keep splitting Vijay into pieces.
Honestly, I'm surprised Bahmanis hasn't jumped on the smoldering corpse, considering they have neighboring, undefendable land they could get.
Alright, we're finally done with you, Malacca! Time to meet your maker!
Oh, and speaking of makers, the HRE is now FINALLY starting to debate whether or not they want to have the gold "t" with a little man on it, or the blue "t" without the little man on it, as their favorite flavor of "t". I, personally, prefer purple "t" with an additional line crossed through it.
Now, thanks to Malacca, we have a proper foothold in Borneo. Who needs a naval invasion when you have proper planning instead!
And Malacca finally gets into the backka my trackka, gets driven to an isolated field, and gets cappa'd.
TECH 17! TECH 17! ADMIN EFFICIENCY GET!
Ok, Gilligan, what are you doing here? Why aren't you on that island with the skipper and the professor?! What, you're not Gilligan, you're just Gilan? WHY I AUGHTA!!
Uzbek has no friends. So we decide to give them a warm embrace.
Justified wars? We needed justification? Whoops!
Uzbek got the biggest hug they've ever seen in their entire life, they never want to leave that embrace!
Ugh, trash heir, hope he dies, or we die before he hits 15 so we get a better one.
Now, we're finally getting some monuments going online. We payed the initial 1k to start upgrading, but for a mere 300, we can speed things up. If we wanted to, we could spend 2.5k ducats to upgrade it to the next level in ONE DAY!
But we won't go that far, not yet at least. Still working on getting manufactories up and running!
Gilligan now wishes he never got off that island. Not that it'd make him any safer, but he doesn't need to know that!
Now that we're at peace, we use this time to threaten land from Sunda. And it works! WHO NEEDS A BOAT, ANYWAYS?!
AND, Delhi becomes our vassal. They have a lot of cores we can snag for super cheap!
And that also includes via threatening war!
Now, after several, SEVERAL decades, we finally decide to swap our synthetic religion to sunni. It'll give us less AE when we take sunni land, since we're considered to be sunni ourselves. Probably should have done that earlier, but eh, not a big deal.
Plus, doing so means that we are no longer a heathen to sunni nations. And that means the Ottomans will have us as allies!
Easiest way to stop the sunni coalition from forming is to take away the Turks from them. Do that, and they'll almost never form one, especially at our size!
Chagatai, you're in a bit of an awkward spot. Mind handing over more land to us, so it's not as awkward? Thanks!
Oh, shoot, we didn't take any Chagatian land. Just Kazakh and Nogain land. Darn, I must have misread the peace papers.
Transoxiana, it's time for round two! I hope you're ready to rumble!
Sibir got peaced out, but honestly, that was because we didn't want to siege down all that massive land. We'll do that later.
Huh. We lost. I mean, we definitely need more cannons, but really? A loss? Oh well, we killed way more than we had die, so who cares. Manpower is just a number, at least for us!
And finally, we eat the northern half of Transoxiana! We've officially started our assault on the grand sunni coalition, and we'll be doing everything we can to keep it from forming and impeding our progress!
But that's all for now, I hope you enjoyed this part!
1
Reactions: