The 1st of August 1942, Helsingör, 13,9°C, 4 pm Moscow Time
'Tri' and myself decided to invite most of the Secret Committee on a business trip to the
Soviet Union
's new
Danish
territory, for more than just sightseeing. 'Piat', and 'Devyat' were already down there, but 'Tri', 'Chteyre', 'Sem', 'Vosem', and myself flew to
Copenhagen
overnight, along with people's Commissar of Armament
Boris L. Vannikov
. Of course, the Commissar's Li-2 was escorted by 4 La-7s providing some protection, as well as a second Li-2 to confuse potential attackers. The four of us had the decoy plane all to ourselves, with 'Chteyre' flying the aeroplane. On the way there, 'Tri' explained the purpose of the trip to the others. The US congress voted in favour of providing Lend-Lease aid to the Soviet Union on the 29th of July. A top secret meeting has been called in
Helsingör
, to the north of
Copenhagen
, to flesh out the details of the deal: How much aid can be expected? In what form the aid would the aid be most useful? How will this aid be shipped to the
Soviet Union
?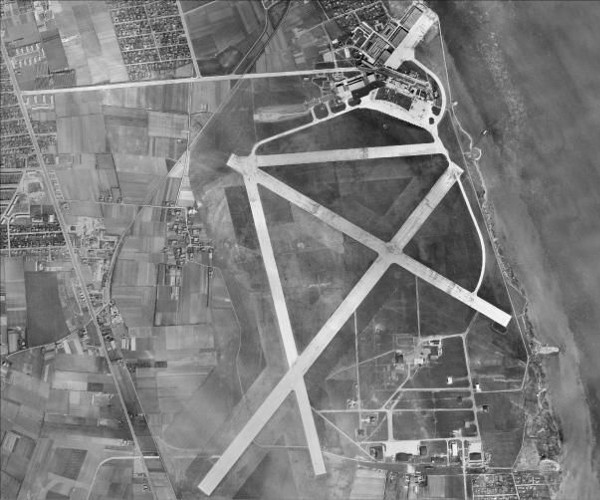 Copenhagen Airport, built in 1925, and one of the busiest Airports in Europe before the war, now a VVS Air Base with the occasional passenger flight, and the temporary base of two Soviet Paratrooper Divisions.
​
After landing at 6am, the decoy aeroplane went straight into a maintenance hangar, built just before the war to service KLM's DC-3's on the Amsterdam-Copenhagen route. We got out of the aeroplane, all of us dressed in our best mid-level apparatchik attire, except for 'Tri' who had donned his best high-level apparatchik attire. He fit in best as a top level diplomat, so this was his show, at least in appearance. Inside the hangar, 'Devyat' was waiting for me, he sat in a red and black BMW 326 Cabriolet, with the top down. The doors of the hangar were slightly ajar, we all walked to the gap to see what was going on in front of the main terminal. Three ZiS-101s were parked near the passenger terminal, flanked by 2 NKVD GAZ-M1s. Two of the ZiS-101s were black, official-looking and nondescript, the third one had clear Red Army markings and was a dark green colour. Looking around, 'Chteyre' remarked with glee that, except for the area between the apron and the terminal, most of the Air Base was cluttered with all sorts of VVS aeroplanes. Hundreds of Yak-7 and La-7 fighters, as well as over 100 Li-2 transports. The perimeter of the Airport and adjoined Air Base were strongly guarded by elite Soviet Paratroopers.
The People's Commissar of Armament had gotten out of his Lisunov shortly after it stopped right in front of the passenger terminal. He went to join the other officials present. I recognised Lt. General
Feudiuninski
, commander of XXXIII SK, now based out of
Copenhagen
.
Aksel Larsen
, leader of the now resurrected Danish Communist Party, and of the recently proclaimed
Denmark
SSR
of the Soviet Union
(for now). Maj. General
Briukov
of 2 VDD was there too, along with a small honour guard of VDV. They were all awaiting our guest.
Escorted by 4 Yak-7's, the Consolidated C-87 Liberator Express VIP transport, also known as "Guess Where II", flew in from the North before landing at 6:30 and parking right in front of the reception committee. The aeroplane had taken off from US-controlled
Reykjavik
, over occupied
Norway
, in the middle between
Trondheim
and
Bergen
, and turned due south once in
Swedish
Airspace. Only after the aeroplane left
Swedish
Airspace again, was it escorted by our Yak-7's. It seems the secret service was confident there were no
Luftwaffe
units ready to scramble to intercept in Southern
Norway
. Considering the recent intensification of
Luftwaffe
activity over the eastern front, and the continuation of the Aerial part of the Battle of Britain, it's not unthinkable that German fighters have been pulled away from places like
Norway
. Once the transport, derived from the B-24 strategic bomber, came to a halt squarely in front of the terminal, the US Secretary of the Treasury, Henry Morgenthau Jr., exited the aeroplane. The man shortly and energetically shook the hand of Commissar Vannikov. They both entered the same waiting ZiS-101, Morgenthau's staff got into the second one, and the vehicular convoy set itself in motion. Suddenly, a GAZ-M1 rounded the corner of the maintenance hangar, and stopped right in front of the door. 'Tri', 'Sem', and 'Chteyre' all quickly jumped into the back seat, with 'tri' simply stating:
"Be at Copenhagen Central Station at 9:45, my driver will pick you up."​

The Consolidated C-87 Liberator Express was the transport variant of the B-24 bomber. One C-87 was fitted out as a presidential aeroplane, under the call sign 'Guess Where II'. It was never used by Roosevelt. There was some fear the enemy, or a nervous neutral nation, might mistake it for a B-24, and shoot it down. The president used various DC-3s, until the DC-4 was produced, at which point one DC-4 was specially kitted out as the very first 'Air Force One'. 'Guess Where II' was used by several members of his cabinet, though. Considering the Lend-Lease deal is still hush-hush, and that the
British
weren't invited to this preliminary meeting (They're not giving us any aid, so why would they), it would make sense for the Treasury Secretary to sail to
Iceland
, and then to fly direct from there to
Copenhagen
, a C-87 can make that trip, a C-47 can't.
​
The GAZ-M1 sped off to join the convoy on it's way out of the air base. The remaining dignitaries, who had been part of the reception committee, but hadn't been invited to the meeting, dispersed, except for Maj. General
Briukov
of 2 VDD, who was intently looking over the American aeroplane, probably wondering whether he could fit more paratroopers into a C-87 than he could fit in an Li-2. Two rather stern-looking US Marines were guarding the door of the aeroplane, making it impossible to have a look inside, unless he wanted to start a major diplomatic incident. He eventually returned to his office inside the terminal.

The BMW 326 was put into production in 1936. It was powered by a BMW 2 litre overhead valve I6 engine putting out ca. 50hp, which was mated to a 4-speed manual gearbox. The common saloon version weighed in at 1.100 kg, the 2-door convertible being lighter still. The aerodynamic shape helped increase both fuel efficiency and top speed, which was a heady 115 km/h. Torsion bar rear suspension gave the car excellent handling characteristics for the time, and hydraulic brakes meant it stopped rather quickly (when compared to drum brakes). In short, it wasn't a very large car, at only 2,87m long, but it was a zippy one.
​
'Devyat' motioned to the BMW:
"Let's get going."​

Korsör in 1909, a nice little coastal town, just to the East of Slagelse (within the same province in game). Today (2020) the 18km long 'Great Belt Bridge' bridge and tunnel complex (Linking the islands of Zealand and Sprögo) dominates the view. This mastodont of a road and Rail bridge and tunnel complex took 10 years (1988-1998), and over 1,8 Billion in today's USD, to build. The longest bridge is almost 7km long. In any case, it is the obvious point to attack across the Great Belt Strait, and thus the obvious point to start building coastal fortifications to prevent such an attack.
​
'Devyat' took the scenic route, along the coast to
Köge
, before turning due west to
Slagelse
, and then on to
Korsör
. Along the way, we passed several SU-100 tank-destroyers, before arriving at 7:30am. We had breakfast in the village, and then went on a walk in the dunes, from where we could just barely see the coast near
Odense
on the horizon. There had been an attempt at crossing the strait by
Italian
around 6am, but the first few boats had been blown out of the water by our riflemen, and the rest had wisely returned to the island of
Sprögo
. Our thousands of riflemen were dug in in makeshift trenches facing the beach, but that was about to change. 'Devyat' showed me the blueprint for the construction of small coastal Machine-Gun bunkers, protecting our MG-squads from enemy land-based and naval artillery. He said that now that the construction in
Khabarovsk
was complete, resources were available for the project. And the work was starting today, as we could tell by the presence of workers and engineers going along the coast, methodically marking the footprint, of each of the bunkers that will be constructed, with string.

A plan of a typical small coastal bunker of the time. This is a German design, as I was unable to locate a Soviet one. The drawing is by Enrico Kanis.
​
I had seen and heard all I needed, and left 'Devyat' to continue to inspect the work and chat with the engineers. He dropped me at the
Slagelse
station at 9am, before returning to the construction site. I boarded a very modern, and very red, MS-AA-MS express diesel train. Before, the Soviet Union took over here, these units would go straight from
Copenhagen
to destinations in
Jutland
, being brought across the big belt strait on a ferry. Of course,the ferry route is closed, and thus the furthest this unit can go is
Copenhagen
-
Slagelse
, or alternatively,
Copenhagen-Nyköbing
. As I got off the train at
Copenhagen
Central Station at 9:45am, a pair of Danish policemen were stopped me. I quickly whipped out my cover's credentials, and they simply said:
"We know who you are sir, we are to escort you to your car."​

The main hall of Copenhagen Central Station. Designed by Architect Heinrich Wench, and built in 1911, the station counted 7 platforms and 13 tracks and a whole host of amenities and shops. The current (both in 1942, and in 2020) station was built to replace a previous building dating back to 1864 as part of an overhaul of the station approach, including the construction of a new tunnel.
Bottom right: The Litra MS aka MS-AA-MS was a three-car diesel-electric multiple unit. The middle car is not powered, the two other cars have 2 Frichs 6,2 litre engines each, all 4 of which deliver 250 hp at 500 rpm. The four electric traction engines are spread throughout the train's four bogies. (the middle car sharing bogies 2 and 3 with the other two cars.) In total the unit could transport 120 seated people (84 in 2nd class, 36 in first class) up to a top speed of 120 km/h. 5 units were built from 1935 onwards, but one burnt down in 1938, so in 1942, 4 units remain in service (at least one of them in Soviet-occupied Zealand.). Before the war, and to a lesser extent during it, they were used as express trains, linking Copenhagen to Aarhus. It is pictured here leaving Copenhagen Central Station.
​
This had to be 'Tri's doing. Just outside the station, the same GAZ-M1 that had spirited away 'Tri' was waiting for me. I thanked the policemen, an got in. The driver didn't say a word, he stepped on it as soon as I got in, and whisked me to
Helsingör
, more precisely to the Kronborg, the castle of the king of Denmark, Christian X.

Kronborg, the inspiration for Elsinore (the castle in Hamlet). The origins of the building can be traced back all the way to the 1420s, when a fortress was built by Danish kin Eric of Pommerania. Bastions were added on the corners, and subsequently reinforced in the latter half of the 16th century. The South wing also gained a floor during this period, and the roof was covered in copper sheeting. In 1629, the whole thing burned down, except for the chapel, and by 1939, the exterior had been rebuilt, without any major changes to it, though the interior was a little more modest than it had been before the fire. It is a UNESCO world heritage site. If I ever go to Zealand, I'll be sure to visit it, it looks great. The Soviet Flag was inserted by yours truly into an early 20th century photograph.
​
'Tri' was waiting for me in the courtyard, and I soon followed him inside. He had secured a rather lavish office for himself. I took a seat in one of a pair of comfortable armchairs, and 'Tri' started his exposé.
"Let's start with where we are. Look at this place. Yes, the meetings on American Lend-Lease for the Soviet Union are being held in the palace of the king of Denmark, who still lives there, in his royal apartment in the North wing. The king may become a problem in the future, but right now, with most of his country in
German
hands, and a very mild occupation regime on the Soviet side, his main goal is to get the
Germans
out. We have offered him a plane-ride to
Stockholm
or
London
, but he refuses to leave what he believes to be 'his' country. Unlike the
Norwegian
Royal family, which fled to
London
, he himself stayed in
Denmark
after the
German
invasion, and again, after our revolutionary liberation, this despite our well-known policies regarding aristocracy. Of course, while the war is ongoing, we need all the help we can get, and if the king can motivate the
Copenhagen
intelligentsia to help us fight the
Germans
, then we'll take it, and leave him in place as long as he's useful. He continues to ride his horse through
Copenhagen
every single day. In any case, he's not my problem any more, as he's no longer a foreign head of state.
To the matter at hand. The Americans are extending us a loan of 1 billion dollars, to be repaid after the war. That's the equivalent of 903 tonnes of gold at current exchange rates. It's almost impossible to calculate how much that is in roubles exactly, but it's a lot. In any case, we won't be seeing any of the money in cash, it's all about what we buy with it. A trade route is being set up as we speak, between
Boston
and
Leningrad
. All the freighters on the route will be manned by Soviet crews. For now, they will be pulled from our strategic freighter reserve in
Leningrad
. Both the
Americans
, and
Stalin
, have attached a number of conditions to the loan:
First. there's the convoy escort ships. When they found out we had no convoy escort ships to speak off, they explicitly put the purchase of 10 flotillas of US-built escort vessels in the terms of the loan. We're not getting out of that one, and we'll also have to crew those ships, and use them to protect the freighters on the
Boston-Leningrad
route.
Second. we can only use the money to buy stuff they're offering. If we want anything else they're producing we'll have to go through diplomatic channels and get approval from the US Congress, as well as pay a small fee. I know right, capitalists, even when they help you, they still find a way to make you pay for what you really want.
Third, and this one was
Stalin
's doing. At least half of the imports are to be consumables or purely logistical in nature. Things like rations, ammunition, medical supplies, lorries (outside of Mot units), railway carriages, locomotives, consumer goods etc. Considering how much we spend on those things, that's definitely doable, and imports of such a magnitude will free up some of our own production capacity for the production of more weapons.
Finally, there are stipulations for a certain number of US liaison officers and US Military attachés to come to the Soviet Union, and to be granted limited access to the front. The idea being that this will spark closer coordination between the US and the USSR in the fight against the Axis.
'Sem' here has calculated that the current arrangement pays for, and provides shipping for, the production of between 115 and 120 1936 Industrial Complex equivalents (117 IC) over the course of a year. That should give a good guideline to the Committee on what could be ordered, both from our own industry, and from the Americans. Of course, 60 IC will go into consumables and railway carriages and the like.
A catalogue of what is on offer right now. 'Dva' and 'Chteyre' have already gone through it and added some annotations. Anything marked 'Inferior' to something we are producing will not even be considered. It should also be noted that not all of these are the best the US can produce. This is what they're willing to part with at discount prices repayable after the war. If we want their best stuff instead, we'll have to get special permission through diplomatic channels, and if we do get that, we'll have to send them something of value in return, probably gold or rare minerals."
A visual summary of the catalogue's contents. Some notes have been added in red by 'Dva' and 'Chteyre'.

​
As everyone had already seen the catalogue, except for myself, I quickly thumbed through it before moving on.
"Gentlemen, your thoughts, what should we get, and what should we add to the queue?"​
'Dva' was the first to speak, explaining the Red Army's view on the matter.
"We have two big issues concerning the current situation:​
The first is the officer ratio. We're training 72 officers per day, and we're having trouble keeping up with losses in the field and the new units already in the pipeline. I'm sure 'Vosem' is more on top of this than I am, but we also don't have much scope to increase officer training, lest we fall behind in technology and doctrines.

The second is keeping existing units supplied, the infrastructure is limited, and despite significant improvements in recent years, we're struggling to keep up.

Our armoured forces have now reached the front, and they are having the desired effect. If we want to significantly increase pressure on the main front, we really have two options:

The first is to train a lot of new Rifle Divisions to strengthen our defences. That should allow our Tanks to move more freely, at least in theory. The main sticking point with this plan is the massive amount of officers we would need to run these Rifle Divisions. Supply would probably not be too adversely affected.

The second option is to train fewer, more powerful units. Tank Divisions, Armoured Cavalry, some Motorised Rifle Units. This would not increase the need for officers quite so dramatically, but it would increase the need for supplies, and especially fuel significantly. We're not about to buy inferior American tanks, even if we only have to pay for them after the war, not to mention the fact they don't even know how to build half-tracks.

Therefore, I would like to suggest we produce units for another, future, front. Preferably expensive and mobile units. Those Studebaker 6x6s look great, I would definitely not mind seeing a few Motorised Rifle Divisions equipped with those, as long as we don't deploy to many of them on the main front. The Balkans in particular, are ripe for a second front south of Romania. We're seeing more and more Bulgarian units on the main front, meaning that Bulgaria itself is only lightly guarded. For maximum effect there, we would need to rapidly deploy a bunch of motorised units, as soon as a bridgehead and a port of supply are secured. Adding in some mountaineers we can pull from the Turkish border, and a Rifle Corps we can pull from the reserves could make that a real thorn in the Axis Side. Of course, training some more Marines would also be helpful for the initial stages of such an operation.

Norway is also an option, but Mountaineers would probably be more useful there than Motorised units, and Mountaineers require a lot of officers.

As a footnote I should add that per the recent policy of replacing lost Rifle Divisions with an Opolcheniye unit (Gar) as quickly as possible, we should start training another Opolcheniye Division to replace 2 SD, possibly equipping them with Tommy guns and BARs. But that' only represents a small fraction of the allotted aid."​

Besides the vehicles and aeroplanes, Thompson M1928A1 sub-machine guns and BAR M1918A2 Automatic Rifles were also available for purchase. Not quite good enough for our regulars, but cheap enough for them to be used by Partisans, Opolcheniye, and Garrison troops.
​
As soon as 'Dva' was done talking, 'Shest' started talking:
"If I may, those tommy guns and BARs are really quite cheap, we could train some agents, and send them behind enemy lines to set up partisan cells. If we arm them with American weapons, the Germans may get confused as to why they're dealing with US-funded and -controlled partisans so far to the East, any additional confusion Partisans can cause is always welcome. Only a relatively small part of the ca. 55 IC in weapons would be required to start up Partisan training, I estimated about 8 IC in Thompsons and BARs should allow for us to train and supply two partisan cells at the same time. Ideally, I would really like to get 'Odinatsat' to lead this training, at least initially, as she has more experience and training in modern partisan operations than anyone in the GRU or Red Army. If that means we delay the programme a couple of months until we get her on board, so be it.

On that note, have any of you heard anything about 'Odinatsat'. I've temporarily lost contact with my operatives who were watching over her. I'm a bit worried."​
There was no answer forthcoming. Eventually 'Chteyre' decided to start talking about the Aeroplanes on offer:
"These aeroplanes are all about on par with our own offerings, despite the fact that my sources tell me they are using more advanced Aircraft in their own Air force, at least in some roles. I'd wager that's not a coincidence, and they are hesitant to give up their edge in certain areas. The latest version of the P-39 looks about on par with the Yak-7s, and with their own P-51s. We could order 124 of them to test them out in combat, but for now, we have enough Interceptors to deal with any Axis intrusions in our Airspace. The Tactical and Naval Bombers they're offering are no better than our Yak-4s, and they're getting old, so I wouldn't advocate ordering any of those. I would advocate for negotiating the purchase of some of their more advanced designs, even if we have to pay for them.

In short, to really help the VVS drop more bombs on the enemy, especially their tanks, we should order A-20s. They are more expensive than Il-10s, but we need fewer of them per Assault Aviation Division to drop the same amount of bombs, so it evens out. Additionally, we could order P-47s as escorts, they're about on par with our La-7s. The Luftwaffe is getting more active over the Eastern Front, and even if we always answer with swarms of Yak-7s and shoot a lot of them down, they can put a Bombardment Corps, or Assault Corps, out of action for a few days, especially if the Germans hit them whilst they are bombing a target. A few more reserve Assault Aviation Corps would allow us to maintain missions continuously, even if several ShAKs get intercepted over their targets, by simply rotating in fresh units.

An alternative, or an addition, to this strategy would be to order B-17s and set up a second Heavy Bomber Aviation Corps. That would allow us to intensify our Logistical Bombing campaign, do some runway cratering, or even do some Strategic Bombing over Germany. I would like to point out that the VVS has plenty of officers, and that adding aeroplanes won't affect the supply situation near the front as units can be relocated far to the rear when they are rotated out for repairs and reorganisation. The B-17s, with their long range, can be based far from the front, and will thus be easier to supply as well.

There is also a small final point, and that is that we could really use an additional Air Base somewhere in Western Ukraine, between Vynnitsya, Kyiv, and Lwow, as we cannot count on Stanislawow remaining in Soviet hands continuously."​
'Piat' looked conflicted:
"I'm a bit disappointed, they're not even offering any Destroyers. Corvettes for escort duty are nice, but some half-modern Destroyers would really flesh out the Red Navy. That said, the Navy could really use some more CAGs, and the trio of the Devastor, the Dauntless, and the Grumman, they are offering, is really on par with our own carrier-based aeroplanes. Whether we build more ourselves, or order them from the yanks, the Navy could reduce it's downtime and be more daring with it's aeroplanes if it had some more reserve CAGs. As for what they Navy could be doing for the war effort? We could really use some more Marines too, those would allow us to do some Island-hopping in the Eastern Med, or to more effectively start off seaborne invasions, be it in Norway, the Balkans, Denmark, or somewhere else. The two Brigades of Marines in training now won't even be sufficient for a modest island-hopping campaign. Two more Brigades would give us a nice square Division, or two binary Divisions, giving us some flexibility. Ideally, of course, we would like 4 square Divisions of Marines, one for each transport flotilla. Speaking of transports, even if they don't want to give us warships, or state of the art landing craft, maybe the Americans would be willing to give us some good old fashioned basic transport ships? My sources say they're pumping out freighters at a crazy rate over there, they're calling them 'Liberty Ships', just a fraction of their production could increase our sea-lift capacity significantly. "​
Now, 'Vosem', who had been listening quietly, stood to speak:
"All very interesting, this American gift opens up quite some potential to expand the scope of the war. That said, I would like to suggest something, maybe a bit out of left field, but which may be necessary to keep pace with our enemy over the coming years. I'm talking about building a Rocket Test Facility with less than half of the 60 IC we save thanks to US supplies etc. Our rocket scientists have hit a bit of a dead end in their research, and with such a facility, they would be able to further explore all sorts of exciting new possibilities. My sources within the academic community tell me that Germany has already built such a site, so the idea that they could come up with some revolutionary new weapons before us is not just speculation, it is a probability. As much as we need to keep fighting today's war, we also need to look ahead, and prepare to fight next year's war, and next decade's war too, be it this war or the next."​
This is when 'Devyat' arrived at the end, and was lead into the room, having not heard any of the other proposals, he was nevertheless willing to make his own suggestions:
"I realise this may not be the most exciting way to use our newfound production capacity, but I would like to suggest doubling, if not tripling, the Infrastructure budget, at least for now. We could improve the flow of supplies to and from the front significantly with additional investment, as well as expand existing projects towards possible future fronts. I'm talking about the railway along the Swedish border, which would be useful in case we start fighting in the Narvik Area without Swedish support. The Trans-siberian railway could also use a boost, allowing us to field more troops against the Japanese in case they attack, without having to rely on long and vulnerable seaborne supply at all. Additionally, we could also expand on fortification works. A few cities could use some extra fortification within the next half-year, especially on the main second line of defence. Tallin, Vitsyebsk, Kyiv, Odessa, Kryvyy Rih, Dnipopetrovsk all come to mind. Those locations as they currently have only the most basic Machine Gun bunkers in the way of fortifications. Unless you all believe the Germans will never reach it and are willing to bet the future of the Soviet Union on that belief, improving their defences should definitely be on the table."​
With everyone properly riled up and making plans, it comes to me, and comrade Stalin to balance all these various proposals and demans. A couple of questions come to mind:
To Rocket Test Site, or not to Rocket Test Site?
How much do we care about the officer ratio? Do we order only a few ground units, or do we simply assume it will work itself out?
Do we prepare for war in Norway, or war in the Balkans? (or Denmark)
Do we really need that many Marines? Is island hopping in the Med even worth it?
Should we focus further VVS investment on long range logistical bombing, or on close-range ground attacks, or should we bite the bullet, and build Tac?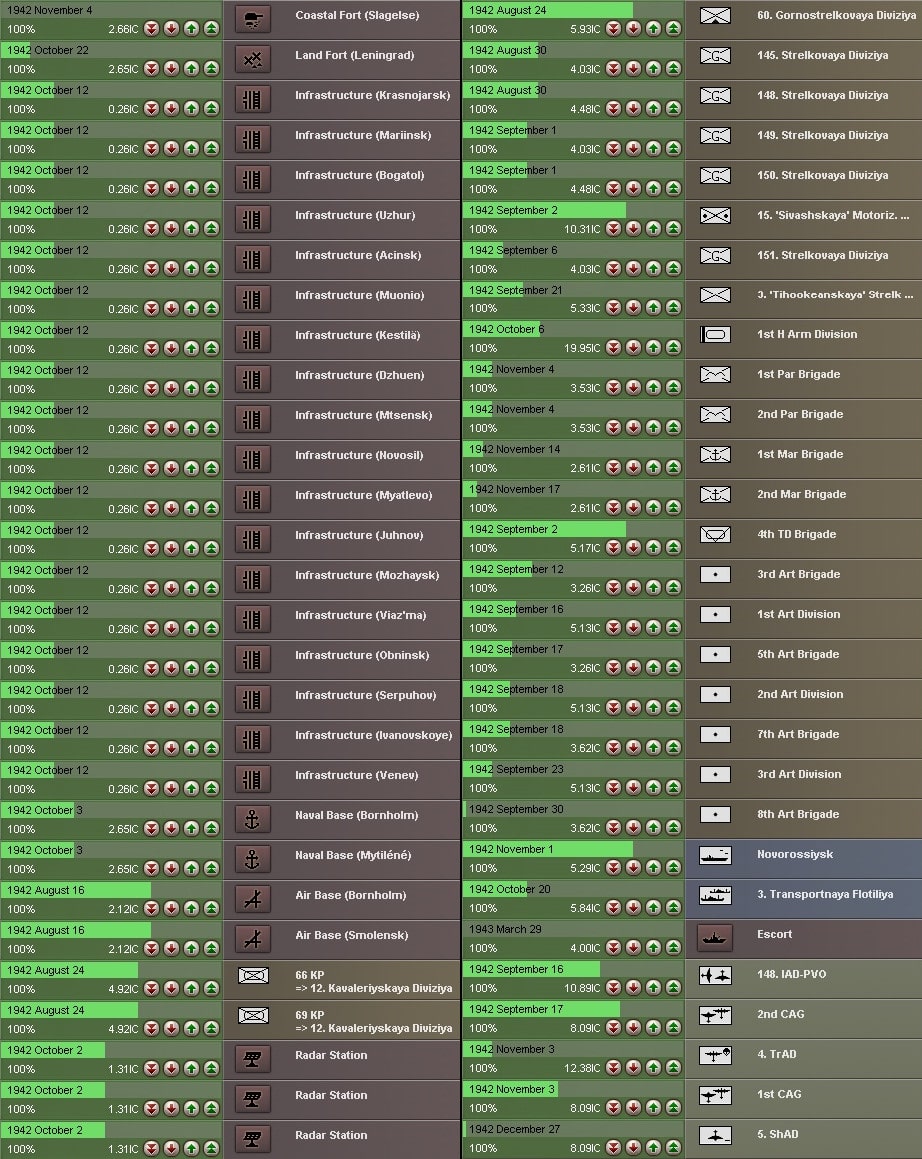 The production queue on the 1st of August, for reference. Below are the IC requirements for the production of lend-lease vehicles and aeroplanes that are under consideration for purchase. In total, about 60 IC of our own industry will become available, and 55 IC of the american Lend-Lease will go towards new production in the US, the fruits of which will be shipped to the Soviet Union:
​
CAG (F4F/SBD/TBD): 8,21 / 168 days

INT (P-39): 10,89 / 122 days

FTR (P-47): 11,07 / 125 days

CAS (A-20): 8,11 / 150 days

TRA (C-47): 12,42 / 108 days

STR (B-17): 10,89 / 222 days

MOT (US6 6x6): 4,22 / 90 days

SPART (M12): 6,21 / 111 days​
The increased capacity represents almost a doubling of IC available for production, I welcome any and all proposals pertaining as to what exactly we should be producing/ordering on top of current efforts. A decision will have to be made by noon tomorrow so the shipments, and the new production, can start. The GPW report will, of course, be published by 6pm as usual.

Uncle Sam is offering us free goodies, the crux lies in choosing the right ones.

I still have some work to do on the GPW report, though I have a feeling things will seem just a little less gloomy with those USSR-bound shipments from Uncle Sam in the back of my mind, together we will destroy the Axis for ever,

'Odin'​