I like to take my time playing Europa Universalis, and prefer focusing on my economy rather than constant wars. Recently I've been thinking a lot more of the use of ducats and monarch points, and this is the result of that. How I turned this:
Into this:
The game started as any other English game by conquering Ireland and Scotland, and rounding out the 1400s by forcing France into a PU. 1500 – 1700 was mostly spent colonizing and conquering Africa. In the early 1700s I enforced PUs on Spain and Russia, and got a bonus PU on Circassia. After that I focused on India and China (Mingplosion had already happened).
Monarch points
I spent a total of 51 097 ADM points, 42 521 DIP points and 38 387 MIL points throughout the game, excluding points lost in events.
The breakdown is as follows:
Coring: 20 467
Technologies: 11 379
Ideas: 10 711
Developing: 7183
Stability: 1299
Parliamentary debates: 58
I abandoned expansion ideas to make room for humanist ideas, which added about 2000 points.


Technologies: 13 934
Developing: 11 181
Integrating subjects: 5908
Ideas: 5112
Peace deals: 4444
Expelling minorities: 920
Leaders: 478
Promoting cultures: 375
Reducing liberty desire: 135
Parliamentary debates: 34
I never liked to use DIP points to pay for peace deals, but it turns out it's only 10% of the total. Expelling minorities definitely doesn't feel worth doing, except in very niche situations. Subject integration is a bit off due to temporary modifiers.


Technologies: 14 091
Developing: 12 383
Ideas: 7228
Leaders: 2361
Strengthening government: 1317
Wall breaches: 859
Harsh treatment: 103
Reducing liberty desire: 72
Attacking natives: 49
Parliamentary debates: 43
Forced march: 41
Assaulting forts: 5
I normally use more points to harsh treament to increase absolutism, but I was capped at 70. I forgot to write down the cost of a few early parliamentary debates, but the amount was insignificant.
Development
England starts with 333 development in 1444, I had 782 in 1560, 1048 in 1574, and after that it developed like this and ended at 12 336:
The integration of France finished in 1650 and Spain was integrated in 1805. In 1805 my subjects had a total development of 8776.
Along with conquests and subject integration, I also developed a fair bit myself, in total 30 747 points:
Technology

Besides the early game I typically teched up as soon as the ahead of time penalty went away. This is where most of my developing happened, while waiting for the penalty to expire.
Teching costs and timings looked like this:
Ideas

My tech order was Economic > Exploration > Expansion > Defensive > Humanist > Administrative > Offensive > Quality > Trade. I abandoned the expansion ideas at the end of the 1600s as almost everything had been colonized at that point, and I needed room for the Humanist ideas.
Idea timings:
Coring

In terms of coring it's pretty easy to see that I barely did any conquest at all in the first 100 years, but sped things up towards the end.
Said conquest resulted in the follow corruption costs:
Monarch point income
My average ruler was a bit above average, close to 3/3/3, but I did have some good ones (Frederick I <3).
I upgraded to level 5 advisors in the middle of the campaign:
The advisors were really cheap at the end thanks to a 30% advisors discount (the Meritocratic Recruitment reform, the Jane Austen event and the fur trade bonus, all giving -10%).
Colonies
In the past I've focused much more on the colonization of the Americas, but this campaign I only solidified the Thirteen Colonies and Newfoundland, and then went after Africa and South East Asia.
This resulted in Portugal and Spain going hard in the Americas, and I could essentially stop colonizing before the end of the 1600s, which allowed me to drop Expansion ideas. Afterwards I conquered Portugal and integrated Spain, getting their colonies for free.
Buildings and trade company investments
I didn't expect to see that buildings cost as much as they do, a total of 1 672 179 ducats, but that's in part due to trade investments costing 515 000 ducats, which I have not played too much with
The total costs break down like this:
Trade investments: 515 000
Manufactories: 399 605
Workshops: 354 872
Churches: 130 337
Universities: 91 190
Forts: 82 605
Conscription centers: 52 348
Marketplaces: 35 683
Centers of Trade: 30 320
Barracks: 28 926
Grand shipyards: 20 095
Courthouses: 6641
Drydocks: 4400
Furnaces: 3827
I was running out of buildings to build in the 1700s, so I started to build courthouses, naval and force limit buildings to burn money.
The breakdown of each century looks like this:
Military
This is how the military expanded over time, mostly to avoid the time penalties of transporting troops from Europe to Asia to Africa.
This is how the army distribution shifted over time: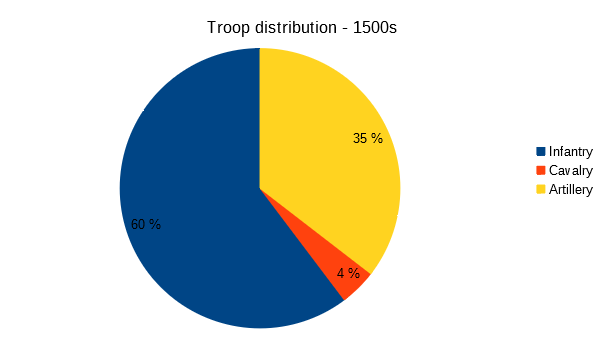 And the navy:
Income

So what fueled all of this? The income of course:
Above 100 income in 1540, above 500 in 1618 and above 1000 in 1662.

Stability
I see a lot of talk about stability, and how it's impossible to keep it high. As you can see here I'm keeping at +2 or +3 almost at all time, and all for the low cost of 1299 ADM points. The spikes high spikes in the early 1700s were to recover from -6 stab hits from forcing Spain, and then Russia and Circassia into PUs. And no, I didn't constantly use the Angelician +stab interaction. In fact I only used it a couple of times, all after the 1700s.
This, and my other games, seem to indicate that being at high stability will promote high stability.
It will of course cost you more ADM, and you'll be stuck at 0 or +1 if you like to stay above 100% OE in the late game, due to high OE events.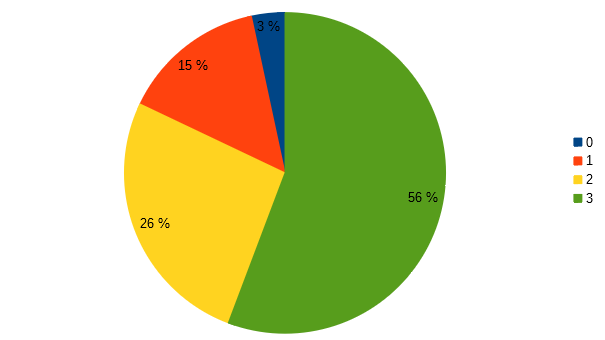 Prestige

And while we're at it, prestige is also often talked about, most big hits are due to placating subjects and disinheriting heirs:
The End
The end of the campaign looks like this, including all the colonies, PUs over Russia and Circassia, as well as the march Kingdom of Naples:
If there's interest I might do another run focused on innovativeness to see how that would affect the end result. Now I'll leave you with some wise words from an anonymous developer, maybe
@Johan
?