Finally, i'm ready to start my 6th AAR on this board. I had a very special game for me and i wrote an AAR about it while playing, so now that the game is finished and i catched my breath (meaning i spell checked everything and organized my screens) it is time to start this thing. I hope you enjoy!
Turkey, 1938 scenario
HOI2: DD Arma Vanilla 1.2a
GIP 0.6, later 0.7
Normal/Normal
Cheats: None
---------------------------
NO THANKSGIVING FOR TURKEY.
Turkey, as of 1938 was ambitious. The Great Turk President Mustafa Kemal Ataturk had greatly been working on reforms in the country, for peace, democracy and prosperity. However, Ismet Inönü and Mahmud Celal Bayar who both served as Prime Ministers under Ataturk where both not pleased with the way things where going, this build up towards peace and democracy seemed too weak for Turkey. So, when the Great Turk died on November 10th 1938 Inönü and Bayar took control of the government. They forced in a new constitution and new laws that gave them more power over the country.
Because of recent events in Germany and Italy the Turkish government was excited for a bold move and announced the plans of the rebuild of the Ottoman Empire. Rather then going for a democratic country friendly to the UK Turkey set its faith in the new Axis powers and their ambitions to revenge WWI. They didn't agree with Germany's "race struggle" though. They looked at Italy for political moves.
Turkey started to increase its industrial output in ways of research towards better machine tools and conquest that would be started as soon as the Turkish army has relocated to their more practical positions. Troops positioned near the borders of Greece and the Soviet Union where redirected and stationed at the border of Iraq. After a half a year the army was upgraded with better equipment and tactics. When Turkey got the "go ahead" from Italy and Germany Turkey declared war on Iraq on May 25th 1939. This caused great protests from the UK but according to many countries Turkey was well in its right to reclaim back the territory so the UK did nothing.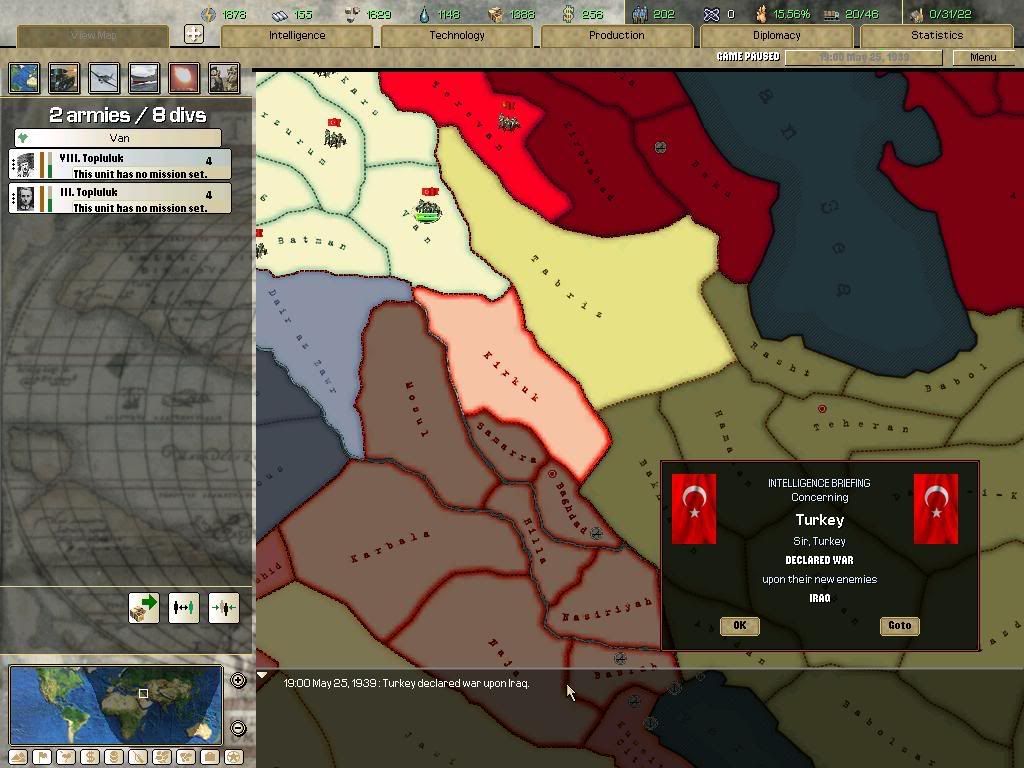 ---------------------------------
not really sure when and how much updates there a gonna be. Maybe 1 every 3 days or so, about the same length as this one.
Enjoy.